The Accounts Receivable Performance Toolkit
When it comes to improving your accounts receivable performance, you can't fix what you can't measure. That's why we've built this toolkit.

It contains everything you need to measure and improve your AR performance. It'll help your team (and your business) operate with more agility and make smarter decisions.
Download the toolkit and learn how to take raw data, interpret it, and effectively communicate what it means for your business.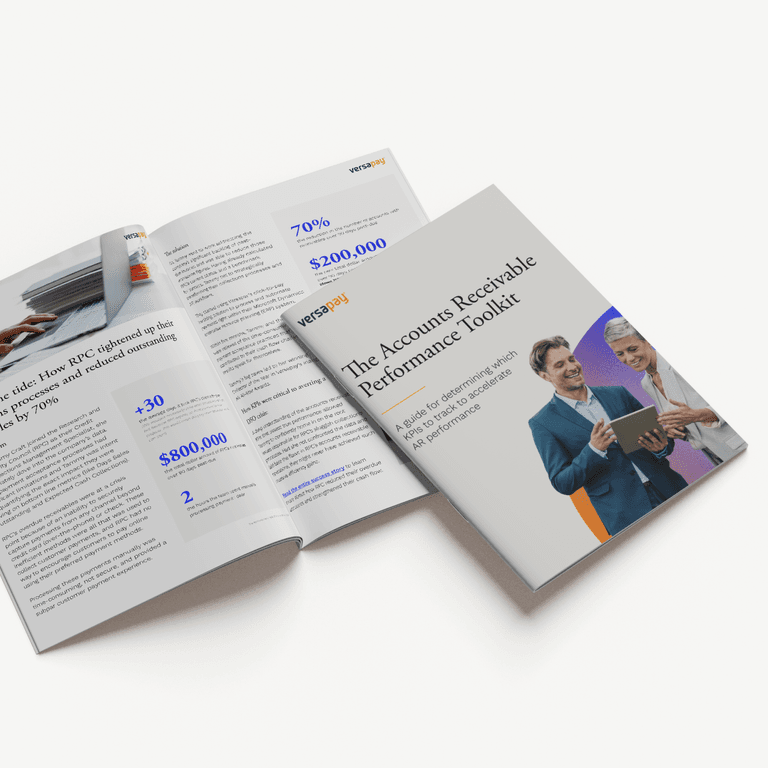 This toolkit includes the following:
An executive insight—A perspective on the power of reporting in accounts receivable from Versapay's CFO, Ward Schultz
A case study—An exploration of how The Research and Productivity Council (RPC) reduced their outstanding receivables by 70% and discovered a major source of lost revenue thanks to timely reporting
Tips and best practices—Unique insights from Versapay's customers on ways to optimize AR performance
A KPI cheat sheet—The top 11 KPIs for measuring AR performance, always at

your fingertips
Abstract
When it comes to improving your accounts receivable (AR) performance, you can't fix what you can't measure.
That's why it's important for AR teams to actively track a clear set of key performance indicators (KPIs)—which can include a mix of quantitative and qualitative data. Giving your team easy access to these insights allows them—and the business—to operate with more agility.
A data-minded AR team is better equipped to answer key questions, such as:
Is your team working as optimally as possible?
Should you grow your AR team (or reorganize to better align with priorities)?
Is it time to introduce automation into your invoice-to-cash processes?
But first, you must know what to measure and why you're doing it. After all, data is only as good as the story you tell around it.
AR Dashboards, Reporting and Analytics
Identify and interpret the data that really counts.