Advice From Commercial Real Estate Professionals on Finding Success With Accounts Receivable Automation
Commercial real estate is nuanced, which makes layering automation into the accounts receivable process a challenge for those in the industry.
In this blog, learn from other commercial real estate professionals on how they found success with AR automation and get advice on:
Accounting for different property types
Working with large tenants with well-established AP processes
Incentivizing tenants to use your online payment portal
And more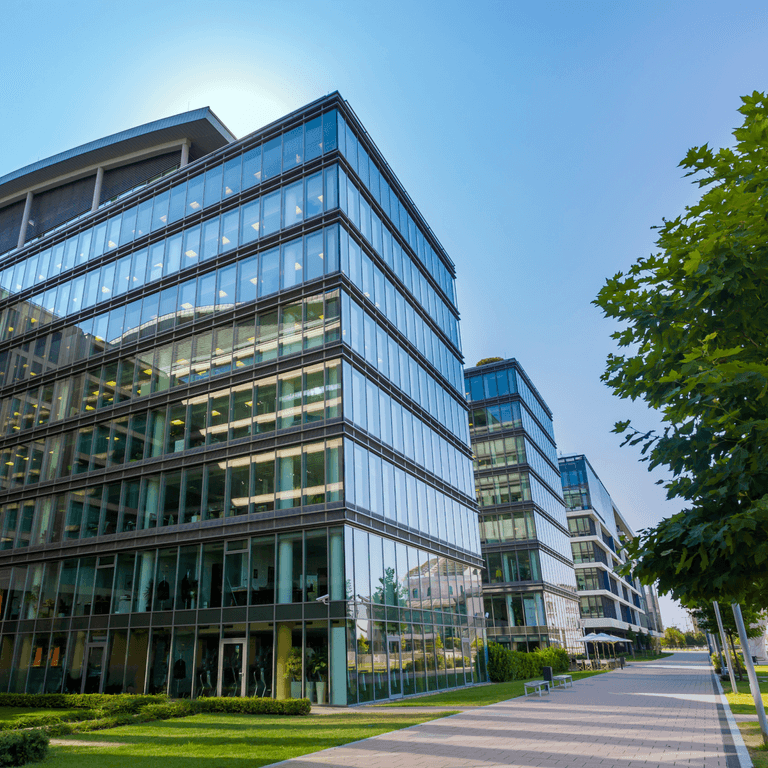 When dealing with any challenges, be they personal or professional, the most helpful advice comes from those who have walked the same path as you.
That's why we created an Industry Advisory Council (IAC) comprised of Versapay's clients in commercial real estate (CRE). The group meets annually to discuss their experiences managing accounts receivable (AR) and inspire one another with their tips and tricks.
During our 2021 IAC meeting, 16 CRE professionals came together to discuss the successes they've achieved with Versapay and the unique challenges of automating AR in commercial real estate.
They shared such great tips that we felt compelled to let you in on some of them. We've condensed their insights into this Q&A-style blog to help you navigate your own accounts receivable automation plans.
Jump to a topic to see our advisors' responses:
Q: What made you want to seek out an accounts receivable automation tool?
Julie Schwierling, VP of Treasury Services, Phillips Edison & Company (PECO)
PECO operates as a real estate investment trust (REIT) and is one of the US' largest owners and operators of grocery-anchored shopping centers. The company manages a portfolio of 300 shopping centers spanning 31.3 million square feet across 31 states.
"Prior to Versapay we used a different online billing and payment solution, but it just didn't give us the flexibility or the cash application support we wanted. When we began looking for a new solution, we wanted a full-service provider—something that our team could take full advantage of and that our tenants could have a positive experience with.
Our goals for the new solution were to increase the speed of payments, increase our cash flow, and manage the entire cash application process."
Jeff Phaneuf, VP of Finance and Planning, Boston Properties
Boston Properties operates as a REIT and is the largest publicly traded developer, owner, and manager of Class A office properties in the US. The company manages a portfolio of 189 properties spanning 48 million square feet.
"When we found Versapay, we were wanting to scale our enterprise, get rid of our outdated AR processes, and bring more of our operations into one system.
There were many things that were slowing us down and preventing us from getting to the smaller things. For instance, if we had an annual rent increase, it might take us three months to engage with a tenant to say 'hey, you forgot to update your payments.'
Also, before Versapay, we were mailing everything. Our department would be printing invoices and stuffing envelopes for hours, which I couldn't believe we were still doing.
It didn't make sense that we were operating Class A buildings, and yet our tenants would have to call a general number to find out what the mysterious document they'd received in the mail was."
Q: What unique challenges do commercial real estate companies face when implementing accounts receivable automation software?
1. Managing different property types
Automating collections is challenging when you must account for multiple property types with their own nuances and peculiarities. CMBS properties, for instance, have strict rules and financial reporting requirements for borrowers that came about as a result of the 2008 financial crisis.
Julie Schwierling, VP of Treasury Services, Phillips Edison & Company (PECO)
"It was important to us that our new solution work across all our properties, including those that are Commercial Mortgage-Backed Securities (CMBS). Our old provider couldn't provide this because it had issues with payment delays, which wouldn't work for the more regulated CMBS properties.
We have about 300 individual locations, some of which are CMBS and some of which aren't. This adds a layer of complexity and a need for flexibility that Versapay was able to help us maneuver. They were very willing to listen to us, understand our needs, and customize the system to make it work for us."
2. Providing supporting documents asynchronously
When supporting documents take longer to prepare, you might send them after your tenants have already received their invoices. But, this can create confusion for tenants and lead to more calls to your accounting and property management departments. Here's how some of our clients have solved this challenge.
Sara Campbell, VP of Property Accounting, InvenTrust Properties
InvenTrust Properties Corp. (IVT) is a premier Sun Belt multi-tenant essential retail REIT that owns, leases, redevelops, acquires, and manages grocery-anchored neighborhood and community centers as well as high-quality power centers. The company owns and manages 63 retail properties spanning 10.6 million square feet.
"We got around this challenge by utilizing the notifications feature. When we're posting billings related to a recovery true-up for common area maintenance (CAM), tax, or insurance, the notification is programmed to let tenants know they'll receive the reconciliation with support within three to five business days. This has reduced the volume of support calls we receive, and at the same time, we're able to post invoices as quickly as possible. It affords the coordinator some time to prepare this backup, which can be a time-consuming process, especially if they have a property with many tenants that require invoice support."
Recoverable expenses are expenses that a property manager or owner may incur while operating a property (related to maintenance, utilities, or property tax). These can be billed to tenants in addition to their agreed-upon rent.
3. Engaging with large national tenants that have strict AP processes
Implementing accounts receivable automation software can be challenging for CREs that have large national tenants. These giants often have well-established accounts payable (AP) systems and processes that they're unwilling to stray from.
Rather than make payments through your tenant portal, they'll usually require you to work around their technology. But, even if these large nationals are paying you through other means, AR automation software can still help you engage and collaborate with them online.
Jeff Phaneuf, VP of Finance and Planning, Boston Properties
"When we rolled out Versapay, we knew that some of the larger tenants may not pay through the platform. But, we still brought them all onto the system to receive their statements and invoices. So, while the big companies might not be loading their ACH information into Versapay, they're getting their invoices (complete with attachments) through the platform. We still have folks who prefer to receive a PDF invoice outside of the system, but most people go right into the portal to understand what their bills are.
Even large tenants like the idea that they can go into the portal and find their invoice and backup all in one place. In the past, they'd get a bill in the mail that would land on someone's desk, while the backup might land on someone else's desk. Now, when tenants call in looking for an invoice or a backup, we can bring them into Versapay, where they can self-manage."

Q: What strategies have helped you incentivize tenants to use your online payment portal?
Julie Schwierling, VP of Treasury Services, Phillips Edison & Company (PECO)
"We've essentially made Versapay the easiest method for our tenants to pay by omitting other methods from our standard leases. As we bring on new buildings and tenants, we don't put our lockbox information in the welcome packets anymore and instead refer tenants directly to Versapay. We've had success with this and have had people pay before their leases are even set up in the system.
Phasing our rollout of the tenant portal was also a big driver for our success. We started with tenants who were paying through the previous portal and were already current (phase 1), then invited tenants with outstanding balances (phase 2), then tenants who hadn't been paying us online before but didn't have outstanding balances (phase 3), then everyone else (phase 4)."
Jeff Phaneuf, VP of Finance and Planning, Boston Properties
When it comes to tenant onboarding, we opted for a "big bang" approach—especially since we didn't have a tenant portal before. This was more for our internal team's benefit, since we wanted to avoid potential confusion stemming from some staff being familiar with Versapay and not others.
In some cases, we also incentivize tenants to use the portal by waiving late fees. When, per the lease, a tenant is charged a late fee, usually they'll come back to us to dispute it. We tell them we'll gladly waive the late fees if they spend the next three months paying through Versapay. They also soon see that it helps them avoid future late fees.
We also met with all our property management teams to teach them how to use the platform since they are the first point of contact for our tenants. Getting buy-in from your own teams is important so that they can then sell the value of the platform to tenants."
Q: What main benefits have you uncovered from using Versapay's AR automation software?
Jeff Phaneuf, VP of Finance and Planning, Boston Properties
"Before, when all the team's communications with tenants were happening offline and independently, we had no single source of truth for collections. Now, with all that communication taking place within Versapay, our property managers can see what a tenant's last communications were before going to meet with them.
With Versapay, we've gotten a 98% platform adoption rate for tenants and collected 99% of office rents in 2020."
Julie Schwierling, VP of Treasury Services, Phillips Edison & Company (PECO)
"Our tenants love the platform because they can see all their open bills fairly easily. We were able to work with Versapay to customize a lot of the things needed to make the solution work for us.
It's also been great for our internal teams. We've been able to remove all the guesswork from our cash application process. And, by using the attachment feature to add supporting documents to invoices, both our tenants and collections staff can see everything in one place. Even if a tenant isn't using Versapay, a member of the collections team has all the information they need at their fingertips and can share it directly with a tenant.
We've been able to increase our cash flow since we're now getting cash in the door much faster, with some tenants even paying their bills minutes after they've been posted."
The main takeaways
The prevailing advice on finding success with accounts receivable automation in commercial real estate appears to be:
It's time to ditch paper-based billing and payments—your tenants and internal team will thank you for it
Look for a solution that offers a tenant portal, where tenants can self-serve, make payments, and easily communicate with you
You'll want a solution that's purpose-built for CRE, with customization options to account for your unique business
Getting buy-in from property managers and having them actively use the tool makes it much easier to get tenants interested
Learn more about Versapay's cloud-based accounts receivable automation software here. With our collaborative approach to AR automation, we help you communicate with tenants, accept online payments, manage invoicing and collections, and automate cash application.
About the author

Nicole Bennett
Nicole Bennett is the Senior Content Marketing Specialist at Versapay. She is passionate about telling compelling stories that drive real-world value for businesses and is a staunch supporter of the Oxford comma. Before joining Versapay, Nicole held various marketing roles in SaaS, financial services, and higher ed.
AR Management
The learnings you need to manage AR efficiently, effectively, and with way less work.