The Total Economic Impact™ of Versapay
Versapay commissioned Forrester Consulting to conduct a Total Economic Impact™ (TEI) study and examine the potential return on investment (ROI) enterprises may realize by deploying Versapay.
Download the complimentary study (December 2022) and get the framework used to evaluate the potential financial impact of Versapay on your organizations.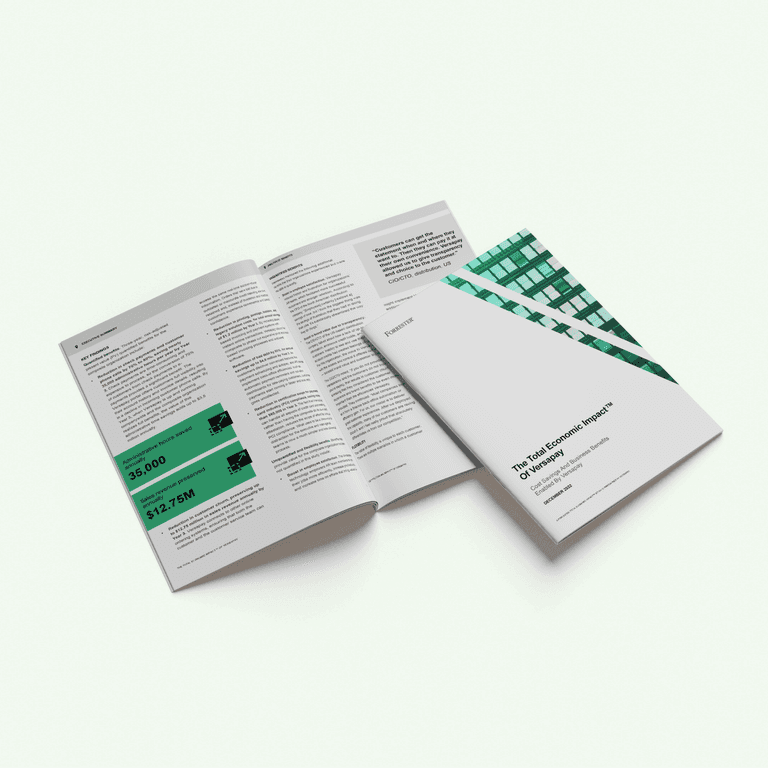 Discover the cost savings and business benefits Versapay enables
Determine the potential financial impact of Versapay on your organization. In this study you'll learn how Versapay quantifiably*:
Saved nearly 35,000 administrative hours per year
Preserved up to $12.75 million in sales revenue annually by reducing customer churn
Delivered total annual savings of $4.9 million by reducing bad debt
* All cost savings and business benefits are by Year 3 for a composite organization representative of interviewed customers.
Also see how Versapay:
Boosted employee satisfaction and empowers team members to bring greater value
Raised brand value by enhancing transparency and trust
Saved 2,000 kg of CO² every year by facilitating a shift to paperless payments
Abstract
To better understand the benefits, costs, and risks associated with investing in Versapay's Collaborative Accounts Receivable Automation software, Forrester interviewed five representatives at organizations that use Versapay to process B2B payments.
For the purposes of this study, Forrester aggregated the interviewees' experiences into a single composite organization that is a:
North American distribution company,
With 15,000 customers, and
Revenue of $3 billion per year
Prior to using Versapay, interviewees noted how their organizations sunk vast amounts of money into paper and postage every month to invoice their customers, only to struggle to stay ahead of account aging as incoming check payments were tedious to process.
After the investment in Versapay, the interviewees reported that a high percentage of their customers opted to use the online portal to receive and pay their invoices, resulting in a sharp decline in incoming check payments as well as in average account aging and uncollectible debt.
Also, their companies could leverage the time and skills of their AR teams better. Customers had a much better experience, leading to greater brand loyalty and sales retention. The conversion to mostly paperless invoicing benefited the environment as well, helping companies make progress toward sustainability goals.
AR Transformation
Everything you need to turn AR into a value driver once and for all.