Why Commercial Real Estate Firms Are Digitizing Accounts Receivable to Create Exceptional Tenant Experiences
CREs are turning to accounts receivable as the catalyst for creating exceptional tenant experiences.
In this blog, you'll learn:
Why they're using AR digitization to drive exceptional tenant experiences
CREs' use of checks and the shift towards digital payments
The AR functions they're most focused on digitizing
The barriers preventing CREs from digitizing, and
The best AR automation software for CREs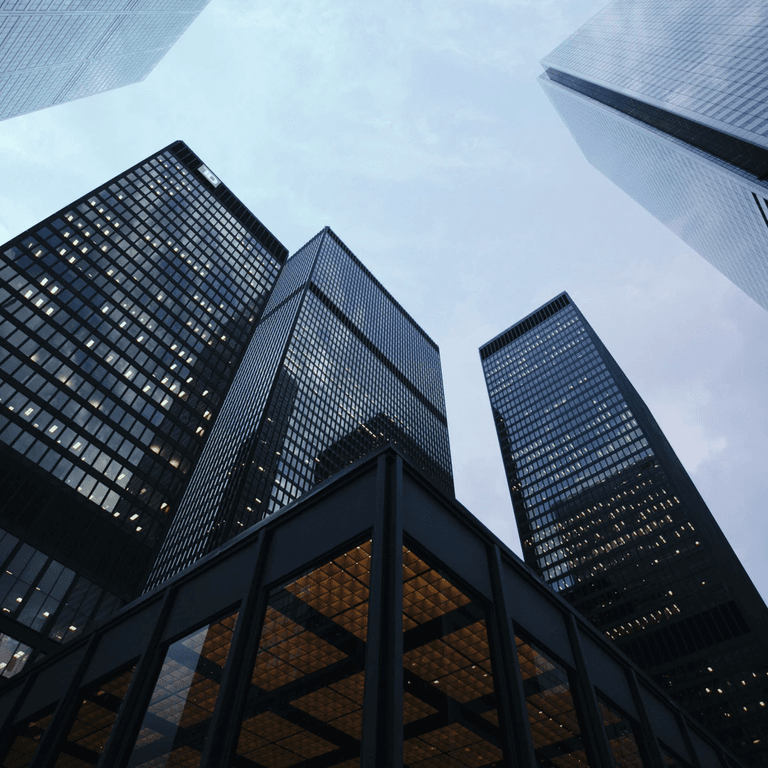 Commercial real estate (CRE) firms want to provide better tenant experiences and collect rent quickly. Yet, many CREs had trouble riding out the pandemic. In fact, rent collections dropped to 50% for US shopping center real estate investment trusts (REITs). Some REIT sectors—health care, retail, and lodging and resorts—experienced massive declines in funds from operations—as severe as 173%.

Looking to recover, CREs are strengthening and restructuring their asset portfolios. They're also transforming their finance functions to be more data-driven and customer-focused. Until recently, finance and accounting operations went untouched by CREs. But priorities are shifting. The CRE industry is generally a sector that's slower to adopt new technologies. But it's now optimistic that modernizing these operations can help it be more responsive, efficient, and adaptive in the future.

Commercial real estate firms are digitizing accounts receivable to drive exceptional tenant experiences
Tenants want convenience. And convenience happens to be the key to ensuring business continuity. We're all aware of the negative impacts of the pandemic. Yet, it has exposed the need for commercial real estate firms to assess how engaging their tenant experiences are.
CREs have realized there's room for improvement through digital transformation. They're now speeding up their use of technology to provide their tenants with more enjoyable experiences. From virtual property tours to online communication channels, CREs are reimaging how technology can support their day-to-day operations.
But that's only scratching the surface of what CREs are doing to overhaul the tenant experience.
CREs are no longer taking a reactive approach to digital transformation. Instead, they're looking at investing in various technologies—including cloud, automation, and artificial intelligence—and using them as the building blocks of their digital transformation and tenant engagement efforts. In fact, 53% of CREs with defined digital transformation roadmaps consider tenant experience a core competency.

CREs understand the value of exceptional tenant experiences. And many make decisions based on building trust and increasing tenant engagement. But how these experiences are created has long been rooted in front-office endeavors. To improve tenant experiences and inject new capabilities into the core of their operations, these firms have turned their attention to a traditionally non-tenant-focused function: accounts receivable.
Accounts receivable—with its invoicing and payment processes mired in inefficiencies, paper, and manual work—is no longer viewed as a back-office function. It's now viewed as essential to acquiring customers and maintaining long-term loyalty. And CREs are taking notice.
—
🚨 For CREs looking to drive efficiencies, accelerate cash flow, and boost customer experience, take our six-minute assessment and get personalized recommendations for how to transform your accounts receivable
Commercial real estate firms are reliant on checks, but steadily adopting digital payments
Businesses are transitioning from physical checks to using and accepting digital payment methods. In fact, 81% of respondents of a Citizens Financial Group survey said that they expect real-time payments to dramatically change the way businesses operate. But, despite this anticipation of companies going full-bore on digital payments, the check is still alive and well. And one of the industries preventing the death of the check, is none other than commercial real estate.
34% of CRE firms pay by check. This is a sharp contrast compared with other industries such as finance and insurance (28%), industrial and manufacturing (26.4%), and technology (20%). But while CREs have been slower to adopt digital payments, it's not been for a lack of pressure. Many CREs are dealing with siloed, time-consuming collections processes, excessive costs associated with mailing paper invoices, and payment delays.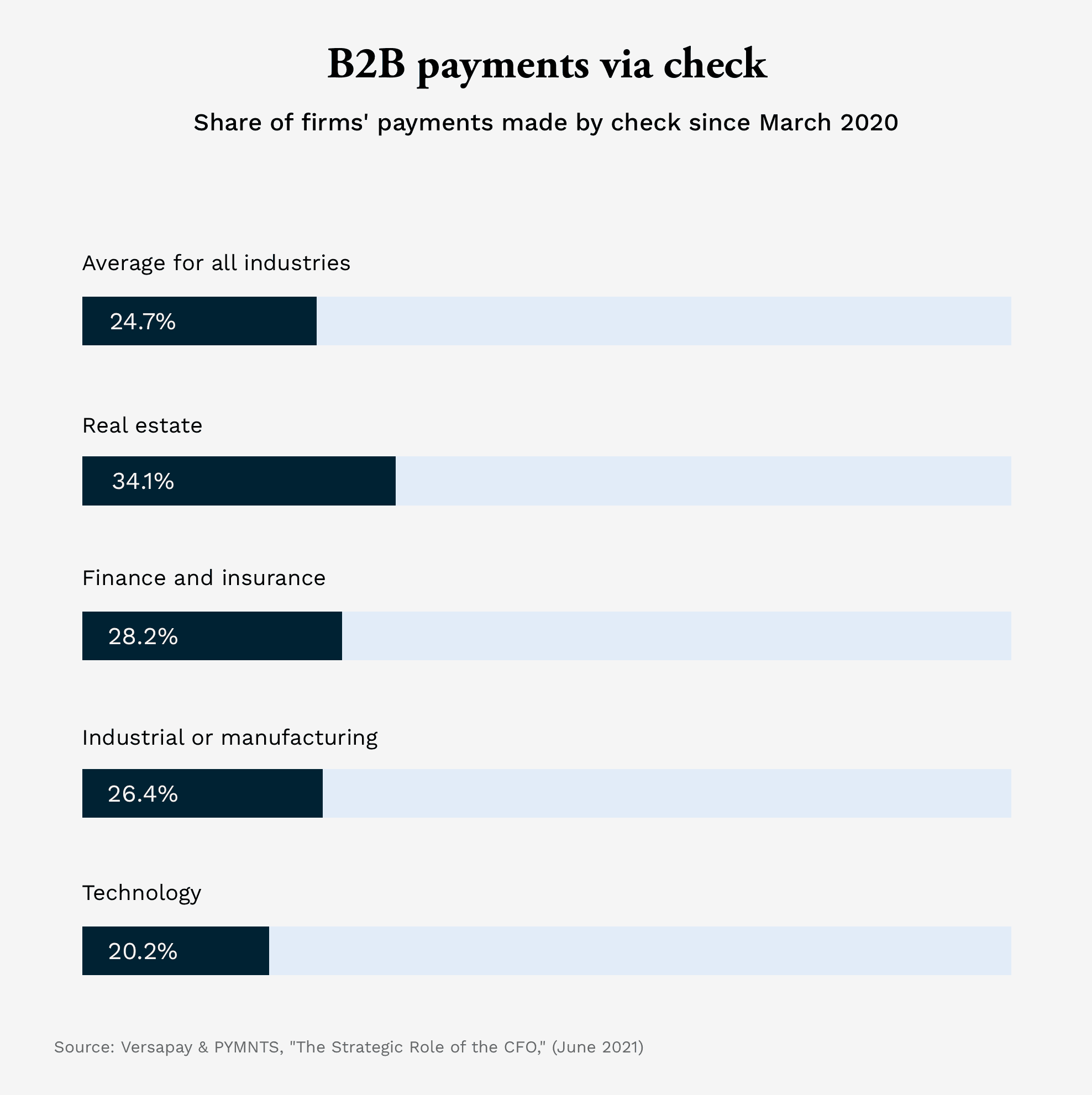 Commercial real estate firms are prioritizing the digitization of 5 accounts receivable functions
We know the desire for more engaging tenant experiences is driving a wave of digital transformation. But other factors are present amongst commercial real estate companies. For example, an anticipated lowering of costs has CREs focused on optimizing operations to improve efficiency.
Research from Deloitte shows that 75% of CRE companies in North America are looking to reduce costs by 11-40% over the next year or more. Most of this reduction will be a result of reduced discretionary spending. Yet, other changes to workforce related expenses will likely contribute. This includes reductions to compensation and work hours, and enacted furloughs and layoffs.
Accounts receivable is as an operation that CREs can enhance to navigate these challenges. And to position themselves for sustained success. Through automation and optimized AR processes, commercial real estate companies can accelerate their modernization efforts and cash flow and deliver major improvements to operational efficiency. All without incurring unwanted expenses.
In a survey of 400 CFOs, PYMNTS and Versapay report that CREs are prioritizing digitizing these five AR functions:
Payment processing (59.1%)
Tracking payments received and due (54.5%)
Collections (50%)
Settlements or payouts (50%)
Establishing customer identity (31.8%)
That's not to say automating existing processes such as preparing and mailing paper-based invoices and chasing and applying payments isn't important to CREs. They more-so view the digitization of accounting functions as an opportunity to bring new and better capabilities to their operations. Rather than automate existing ones.

Digital technology has made fewer inroads in commercial real estate. This is despite 95% of CFOs in all industries citing they're either digitizing AR operations or planning to within the next year. The majority of CRE firms across North America (57%) expect either no change or a decrease in their technology investments over the next 12 months. This is why it's understandable that executives are more likely to want to transform outdated practices.
Yet, 40% of CRE executives are still prioritizing automation to an extent. This indicates that how individual companies approach digitization should be flexible. CREs are divided between modernizing for efficiency gains or greater transformation. This further supports that the best solution for digitizing accounting processes is one that moves beyond automation. The best is a platform that's capable of enabling entirely new processes.
Commercial real estate firms face challenges when looking to digitize their AR.
The merits of digital processes over manual ones are well-documented. But becoming data-driven and embracing digitization is not as simple as flipping a switch. There are complexities and barriers each industry—and individual company—must overcome. CREs know that digital transformation and improved tenant experiences are imperative. But they might not have the capability to take on—and maintain—such monumental change.
33% of CREs don't believe they have the resources or skills needed to operate a digital savvy business. Only another third believes they do—with the remaining third unsure. Beyond that, nearly 60% of CFOs cite a lack of in-house expertise as the biggest deterrent to digitizing AR.
These statistics emphasize how important it is for CREs to work with the right technology provider. The right provider will understand the nuances of the CRE industry. They will also empower existing workers to lead the transformation of their AR processes, without the need for extra headcount or training.
The best accounts receivable software for commercial real estate firms
When evaluating accounts receivable automation software, commercial real estate companies should consider the following four things:
1. Does the software solve for your tenants?
Tenants are the lifeblood of CREs. And their experience will impact the success of your business. Traditional AR automation solutions won't solve for your most important stakeholder—your tenant.
To create better, more collaborative tenant experiences, your AR automation platform should go beyond automating existing processes. It should instead transform them by connecting your AR department with your tenants in the cloud, via a dedicated tenant portal.
The automation of core tasks, paired with the connectivity a cloud-based tenant portal affords you, will ensure you and your tenants have access to the same information. Invoices, disputes, payment history, documentation, and conversations will all be in one place.
2. Will the software scale with your business?
CREs are focusing on rent collection, rental growth, vacancy rates, and rising pressure to contain costs. This means many are finding it difficult to scale their headcount. Particularly in technology-centric fields.
An AR automation platform that's designed to scale with your business will reduce manual processes, accelerate cash flow, and drive more revenue. It'll also empower your crucial staff to perform more impactful activities and save you massive amounts of money
3. Is the software an integrated payments and AR suite?
Data shows CREs are prioritizing the digitization of 5 key accounting functions:
Payment processing
Tracking payments received and due
Collections
Settlements or payouts, and
Establishing customer identity.
Rather than install many disparate systems to address each operation, you should seek a strategic partnership with an AR automation technology provider who offers an integrated payments and AR suite.
A vendor that offers payment processing services should also facilitate business-grade online payments. And if they're deeply embedded within your ERP—either through native connectors or via an open API—it will be easier to automate inefficient, tedious, and manual processes and transform your accounts receivable.
4. Does the software enable real-time communication?
Landlords and property managers tend to have the most communication with tenants. Unfortunately, usual communication means letters, emails, and phone calls. These often result in confusion, missed payments, and lots of follow-up. An AR automation software that empowers your front-line workers to take part in discussions and collaborate with tenants in real-time, over the cloud, will create more engaged tenants, ensure greater alignment on statements, and accelerate payment speed.
Digital transformation drives tenant experience
CREs want financial strength and to cement themselves as leaders in their industry. This is why they're turning to accounts receivable as the catalyst for creating exceptional tenant experiences. Now seen as essential to acquiring new customers, maintaining long-term loyalty, and accelerating cash flow, CREs have begun to digitize their accounting operations. As such, they're becoming more responsive, efficient, and more adaptive.
Digital payments still have a lot of headway to make in commercial real estate. But there's been steady progress. CREs understand which AR functions to prioritize digitizing and are making strides to do so. And those that have already begun are seeing significant gains.
To transform your accounts receivable, give your tenants exceptional experiences, and learn how AR automation can drive massive improvements in efficiency, speak with a Versapay expert. To learn what's driving CFOs across all industries to digitize their AR and AP functions, read The Strategic Role of the CFO.
The impact of relying on manual, paper-based processes is profound. Particularly for CREs looking to deliver exceptional tenant experiences. Yet, the unpredictability of checks, and the inefficiencies associated with preparing, sending, and receiving them are significant. So, while CREs' love for checks is reducing, it's important they speed up their adoption of digital payments to drive productivity, capture more cash faster, and improve tenant relationships.
CFOs of commercial real estate firms view the digitization of accounting operations as transformation rather than automation
That same survey shows how CFOs of CREs view digitization compared to other sectors. Information-based industries like technology and finance view automation as a driving motive for the digitization of accounting operations. Yet, 59% of CRE executives see digitization through the lens of transformation.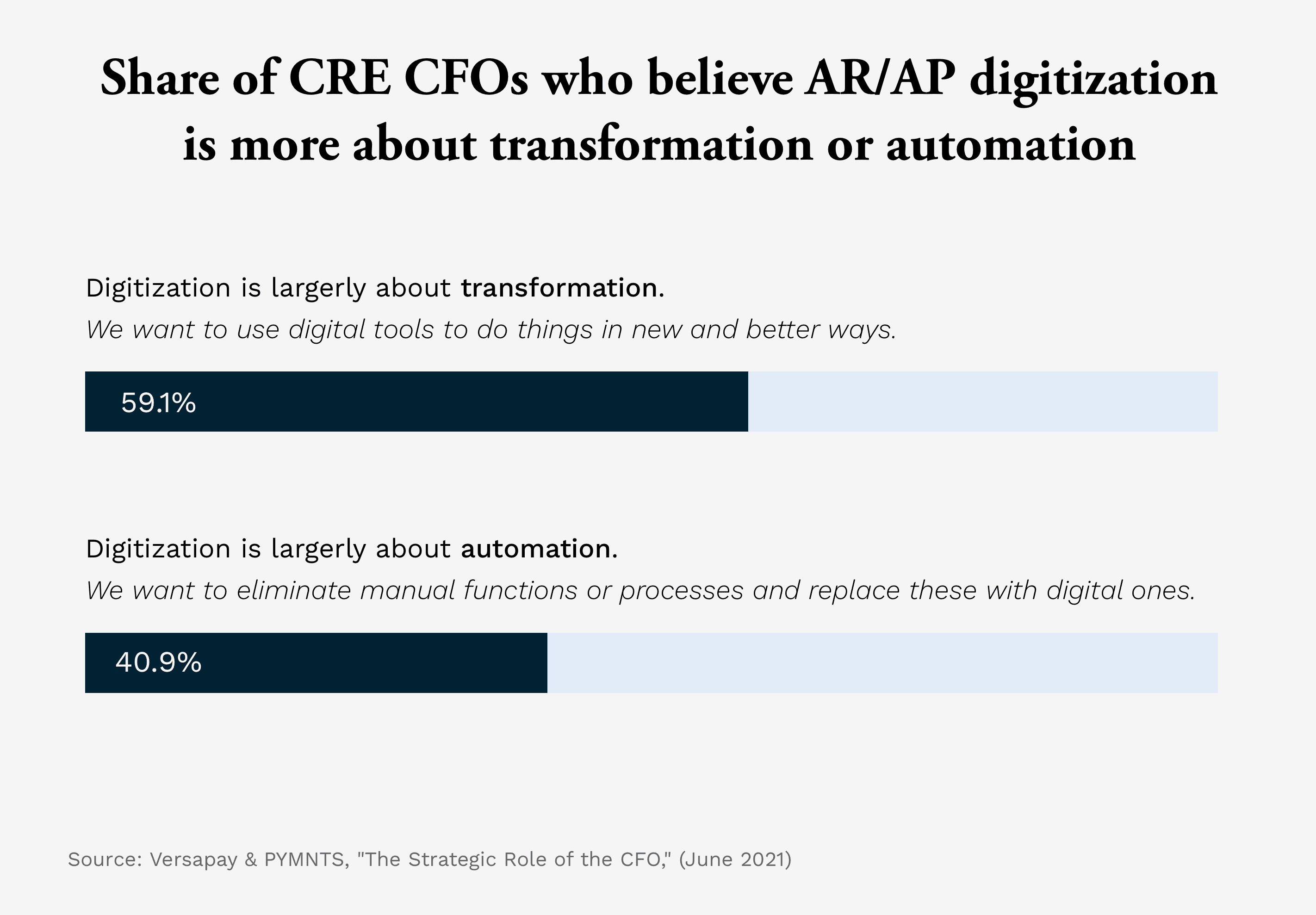 About the author

Jordan Zenko
Jordan Zenko is the Senior Content Marketing Manager at Versapay. A self-proclaimed storyteller, he authors in-depth content that educates and inspires accounts receivable and finance professionals on ways to transform their businesses. Jordan's leap to fintech comes after 5 years in business intelligence and data analytics.
AR Transformation
Everything you need to turn AR into a value driver once and for all.