Reconciling Receivables: The Biggest Pain Point for Businesses
In partnership with DadeSystems (since acquired by Versapay), the Aite-Novarica Group surveyed 294 businesses to uncover what their payment and AR automation strategies look like.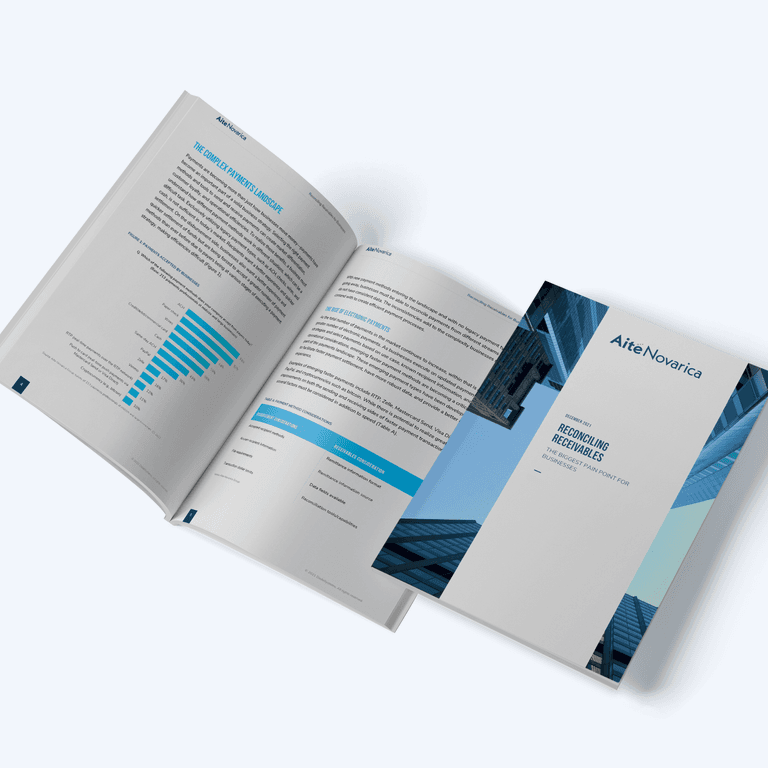 Abstract
As the payments landscape is becoming more complex with access to emerging payment types and technology, businesses are being forced to figure out how to make payments faster and more efficient.
Reconciling receivables is one of the biggest pain points that businesses are trying to solve, as payments and remittance information are coming in from so many different sources in varying formats. Matching payments to their respective remittance information is increasingly challenging as payments shift to electronic transactions, customer portals become more widespread, and accounts payable (AP)/accounts receivables (AR) workforces are more distributed.
The Aite-Novarica Group conducted two surveys exploring the current state of businesses' payments and accounting processes: the first of 213 US-based midsize and large businesses, and the second of 81 US-based businesses with annual revenue between US $100 million and $500 million.
Key takeaways from the study include the following:
The total number of payments in the market is increasing, and within that increase, electronic payments and faster payments are experiencing a surge in adoption much higher than legacy payment types.
Payment data inconsistencies add to the complexity businesses must contend with in order to create efficient receivables processes.
Recipients must be flexible in how they are accepting payments to ensure on-time payments from payees, but they also must be able to apply those payments quickly to maintain cash flow.
Implementing a robust integrated receivables or AR automation solution can increase straight-through processing (STP) rates and eliminate unnecessary manual intervention to apply payments.
A robust receivables solution should be able to pull remittance information from all necessary sources, regardless of payment type, and provide a user-friendly interface for decision-making and to apply exception items.
Businesses can implement a solution to automate their receivables process from a financial institution or a fintech provider directly.
AR Management
The learnings you need to manage AR efficiently, effectively, and with way less work.