Versapay Named Oracle NetSuite SuiteCloud Partner of the Year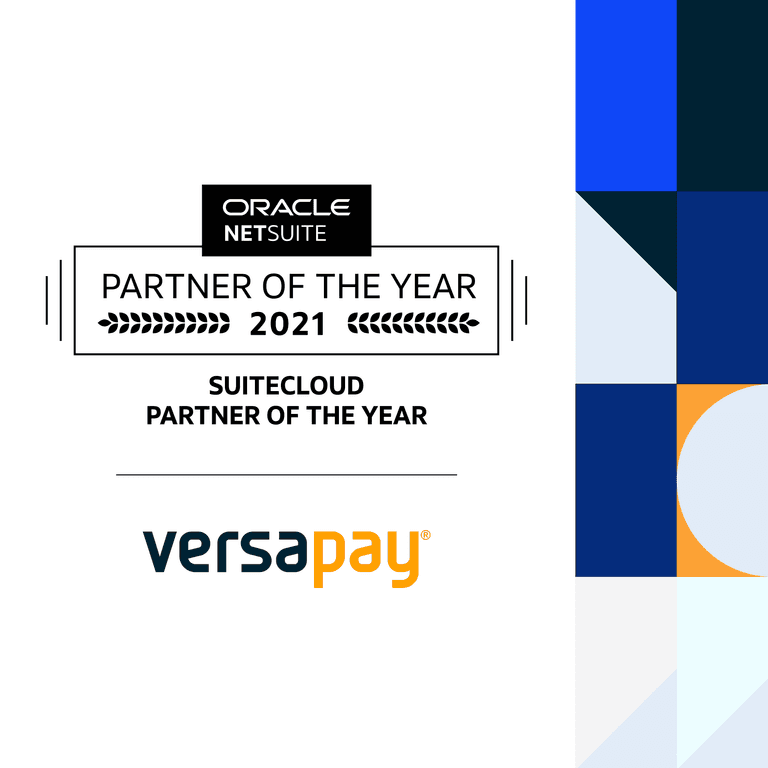 TORONTO—February 1, 2022—Versapay, a NetSuite SuiteCloud Developer Network (SDN) partner, today announced that it received the esteemed designation of SuiteCloud Partner of the Year at SuiteWorld 2021 for its ability to deliver its "Best in Class" embedded payments solution. Versapay continues to invest heavily to extend NetSuite by further enhancing workflows and accelerating cash flow through payment automation.
Versapay's Solupay for NetSuite SuitePayments provides a direct integration with NetSuite that helps finance departments drive efficiency and manage cash flow. It delivers a secure and straightforward way to issue multi-channel invoices, accept credit and debit card payments with a "Pay Now" button, support interchange optimization, provide Level III purchasing card support, execute advanced fraud management, offer alternative payments acceptance and in-house support, and much more. Versapay's Solupay for NetSuite SuiteApp is available for NetSuite users in the SuiteApp store here.
"Today, many organizations need a payments solution that's fully integrated with their ERP, such as NetSuite," said Craig O'Neill, CEO at Versapay. "From robust payment services to core tasks like invoicing, dispute management, and cash application, organizations are seeking to augment their ERP systems with a solution that accelerates cash flow and drives efficiency. We're honored that NetSuite recognized our partnership and innovation for customers with the NetSuite SuiteCloud Partner of the Year award."
Versapay solutions connect finance departments with customer payment needs, giving customers real-time shared access to account information–all while automating routine tasks to reduce manual processes and speed up payments. Versapay customers, on average, reduce manual processes by more than 50 percent, decrease past due invoices by more than 30 percent, save 20 percent on payment processing fees, and accelerate speed of payments by 25 percent.*
For information about Built for NetSuite SuiteApps, please visit www.netsuite.com/BuiltforNetSuite. For more information about Versapay's Solupay for NetSuite SuitePayments, please visit www.suiteapp.com.
*PYMNTS.com, The Strategic Role of the CFO, June 2021
About SuiteCloud
The Oracle NetSuite SuiteCloud platform is a comprehensive offering of cloud-based products, development tools, and services designed to help customers and commercial software developers take advantage of the significant economic benefits of cloud computing. Based on NetSuite, the industry's leading provider of cloud-based financials / ERP software suites, SuiteCloud enables customers to run their core business operations in the cloud, and software developers to target new markets quickly with newly-created mission-critical applications built to extend the power of NetSuite.
The SuiteCloud Developer Network (SDN) is a comprehensive developer program for independent software vendors (ISVs) that build apps for SuiteCloud. All available and approved SuiteApps are listed on SuiteApp.com, a single-source online marketplace where NetSuite customers can find applications to meet specific business process or industry needs. For more information on SuiteCloud and the SDN program, please visit https://www.netsuite.com/portal/developers/overview.shtml
About Versapay
Versapay is a leading provider of cloud-based integrated payments and AR automation, enabling businesses to provide a superior customer experience, streamline financial operations, and dramatically reduce AR aging and costs. Thanks to the merger with Solupay, Versapay is also an award-winning NetSuite partner, processing billions of dollars in payments for companies that rely on NetSuite to run their businesses. Serving over 1,200 NetSuite users, the Versapay Network is the first platform to provide AR Automation, Collaboration, and Integrated Payments designed and built to work seamlessly with NetSuite.
Since Versapay's inception in 2006, the company has grown into a global network of 8,000+ clients and 700,000+ users driving $17 billion in payment volume annually.
Based in Toronto with offices in Atlanta, Cleveland, Baltimore, LA, and Las Vegas, Versapay is owned by Great Hill Partners, a Boston-based technology investment firm.
Trademarks
Oracle, Java and MySQL are registered trademarks of Oracle Corporation.
Media Contact:
Danielle Ernst
Erika Willrodt for Versapay