Why the ROI of Collaborative Payment Portals is so High (According to CFOs)
CFOs see quantifiable returns in investing in collaborative payment portals. In this blog, learn:
How the performance of these technologies is measured,
The proven reasons for how they deliver massive ROI, and
Why a successful payment portal implementation is dependent on customer adoption.
Collaborative payment portals are the best solution for creating a more efficient, user-friendly accounts receivable system. These portals enable real-time communication and data-sharing, electronic and omnichannel invoicing, streamlined payment options, and easier dispute management. Customers and AR teams alike benefit from using these next-generation tools.

As a result, CFOs see quantifiable returns in investing in a collaborative payment portal. This is the case whether the portal is a net new investment or an alternative to a standard payment portal.

To further explore this, we conducted a survey in partnership with Wakefield Research, and asked 300 CFOs of mid- to upper-midsized enterprises to explain how their existing accounts receivable systems perform and how they assess the ROI on collaborative payment portals.

Their responses revealed both quantitative and qualitative proof that payment portals with collaborative features are valued more than those without.
Jump to a section of interest:
How CFOs measure the performance of collaborative payment portals
ROI calculations are increasingly complex. CFOs can no longer simply look at direct cost savings of efficiency increases from implementing a new technology. Accurately assessing performance of tech tools—especially those that impact customer-facing processes like invoicing and payment processing—involves looking at more subjective factors such as customer satisfaction, ease of use, and increased transparency.

How do we know? Well, we asked CFOs how they define—or would define—success when assessing the performance of a collaborative accounts receivable payment portal. Responses varied widely, ranging from the amount of transparency the portal enables to its ability to accelerate cash flow.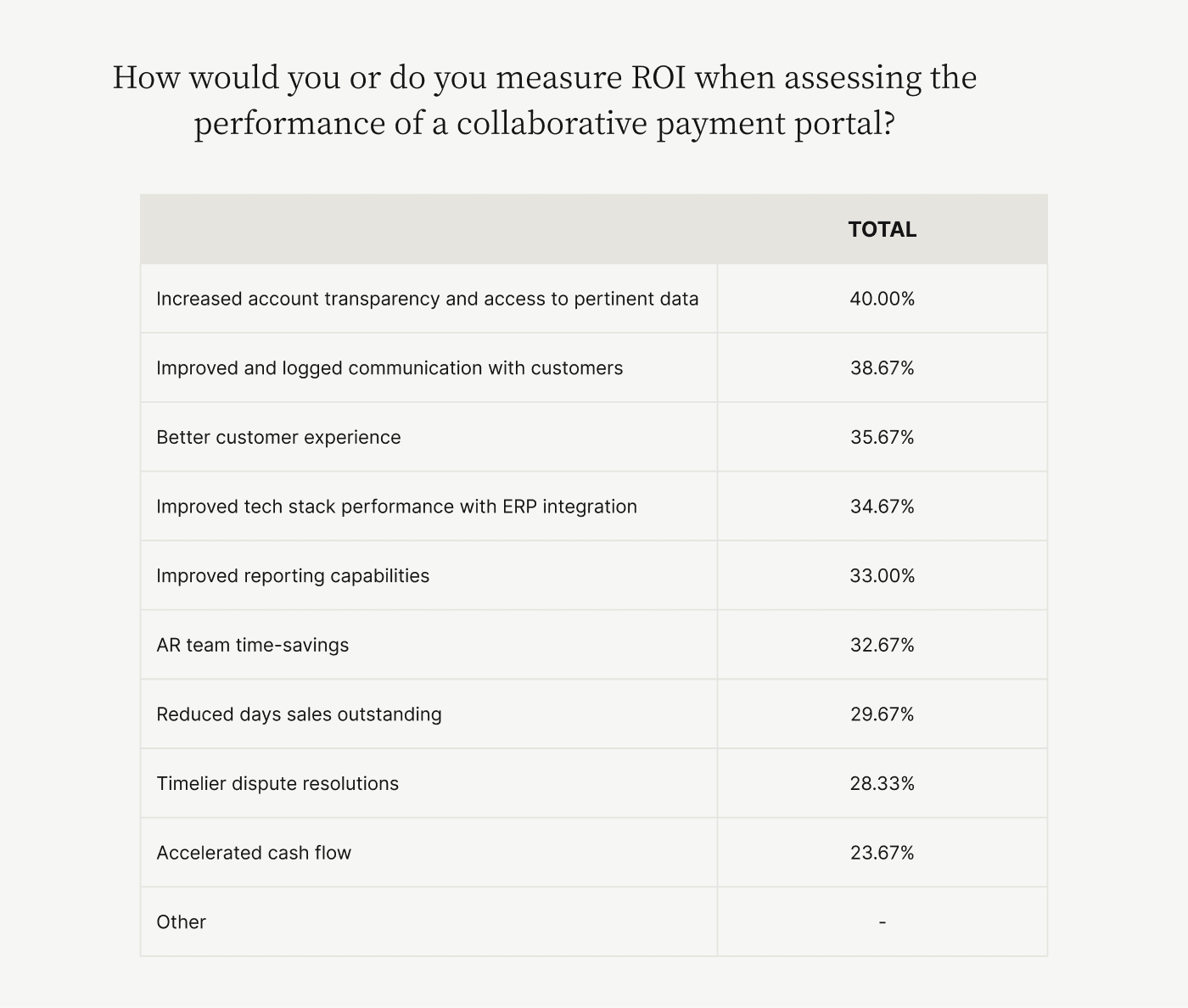 While CFOs' assessment criteria vary, there are some notable trends. Interestingly, these criteria are split into two general categories, with measurements indicative of improved customer experience and better collaboration between accounts receivable and accounts payable teams rising to the top, and measurements reflective of more direct labor efficiencies or time-savings settling nearer the bottom.

These results mirror CFOs' increasing involvement in front-office initiatives, like transforming finance into a driver of positive customer experience. With CFOs seemingly more focused on improving how customers interact with the business, it follows that collaborative payment portals are likely to be more valuable to their purposes than standard AR portals.

The proven reasons collaborative payment portals deliver massive ROI
While it's well and good to speculate about how CFOs determine performance and the success of payment portals, it's helpful to have quantitative findings that demonstrate how collaborative payment portals deliver better ROI to accounts receivable teams and their organizations.

Below, we'll look at how:

Collaborative payment portals reduce accounts receivable teams' manual work.

Collaborative payment portals reduce challenges in 4 key AR areas including transparency, accuracy, communication, and efficiency.
Collaborative portals reduce accounts receivable teams' manual work
AR teams have advanced skillsets, yet traditional invoicing and dispute resolution processes often require them to engage regularly in rote, manual tasks that take them away from more strategic priorities. More than half (53%) of CFOs report that their teams need to do this kind of work multiple times per week or more often.

Collaborative payment portals save accounts receivable teams a lot of rote work. In fact, mid- to upper-midsized enterprises that don't use collaborative AR payment portals are forced to resolve challenges on nearly $3.7 million worth of invoices every month. Having to manually remedy these challenges compounds the delays AR teams face, but more importantly, it keeps skilled accounts receivable teams from focusing on strategic collections initiatives.

While those that use collaborative payment portals must still do manual work in some instances, implementing such a technology allows AR teams to avoid manually resolving almost $1.7 million worth of invoices monthly. That's 44% more cash automatically brought in monthly, without requiring direct, human involvement.
In reducing the amount of manual labor accounts receivable teams must do, collaborative payment portals essentially improvecollection effectiveness index (CEI)—the percentage of its receivables collected during a given period—days sales outstanding (DSO)—how fast a business collects receivables—and restabilize cash flows by boosting the efficiency and effectiveness of collection activities.
Collaborative portals reduce challenges in 4 key AR areas
In addition to removing invoice processing logjams, companies that have implemented collaborative accounts receivable payment portals report fewer challenges in four key areas of AR than those without such a collaborative solution.
1) Transparency: AR teams using a collaborative payment portal report greater transparency of relevant data than those without, by a difference of 11 percentage points.
2) Accuracy: Errors with data reconciliation is less of a challenge for those using a collaborative payment portal, also 11 percentage points lower than for those who do not use a collaborative solution.
3) Communication: Internal communication is easier and more effective for teams that use a collaborative portal through which customers can contact the company about payment issues, a difference of 9 percentage points from those who do not use such portals.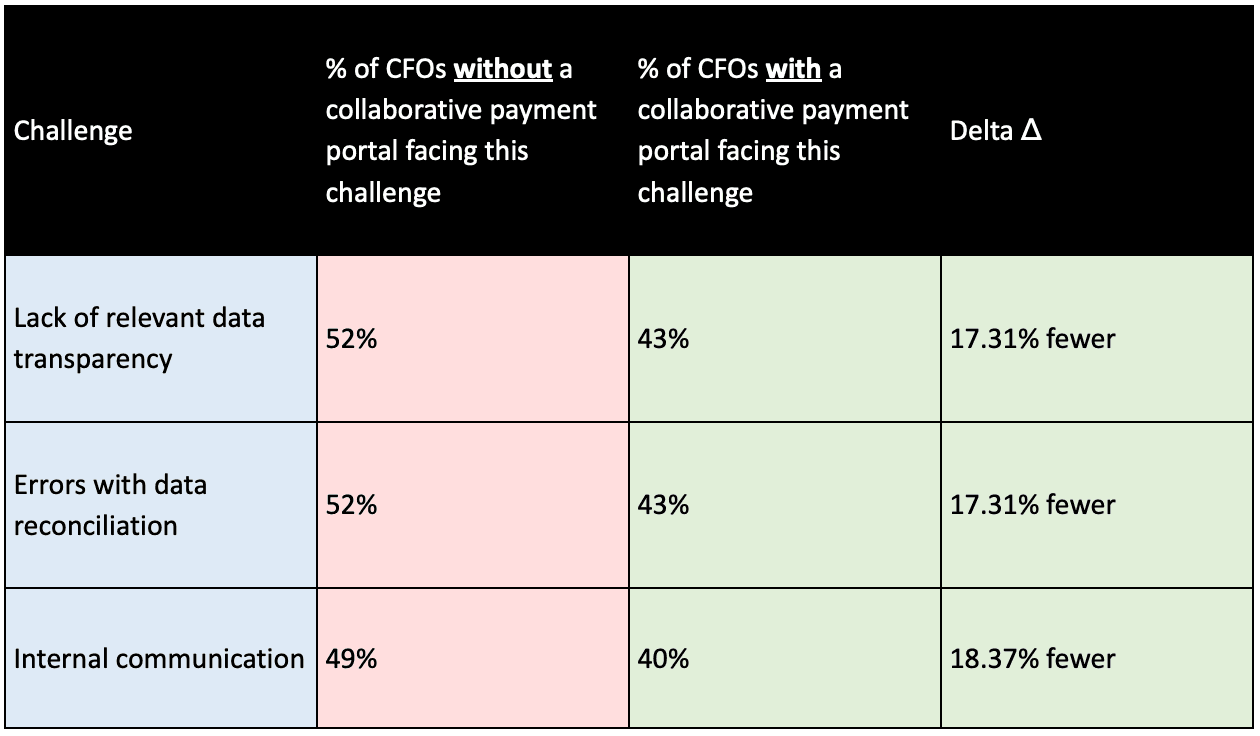 4) Efficiency: Teams that use a collaborative payment portal report fewer delays in payment processing than those without one; these teams differ by 12 percentage points in whether they say they are substantially behind or so behind they "will never catch up."
These findings indicate that collaborative payment portals represent a very high value for AR teams and their companies. They deliver a substantial ROI beyond what standard payment portals are capable of, and even more massive returns on traditional invoicing and processing systems. These collaborative solutions make the invoice-to-cash cycle better on a number of important levels, substantially improving the overall accounts receivable process.

Sustained ROI on AR tools depends on customer adoption
Regardless of whether a CFO implements a standard or collaborative payment portal for bettering its invoicing processes, customer adoption is essential to recouping a sustained ROI from that investment.

Our research shows that 86% of CFOs say that sustained ROI isn't possible unless a majority of customers use whatever payment portal is in place.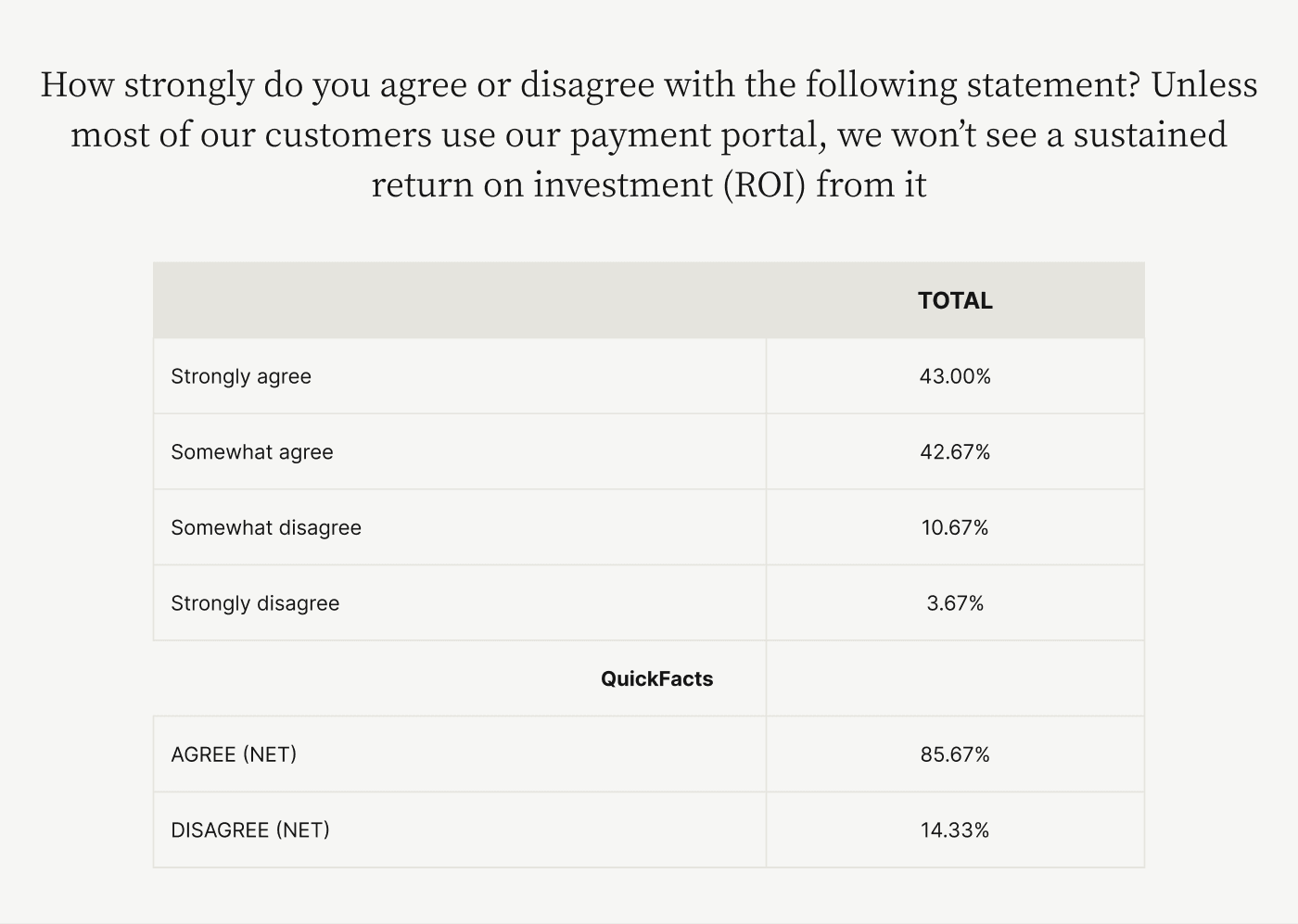 That is why a plan to ensure that customers are aware of and understand the tool's functionality should be a key element of any plan to implement a new accounts receivable payment portal—regardless of its type, standard or collaborative

After all, if the majority of your customers aren't using the online payment portal you've introduced, then you lose out on all the great benefits we discussed earlier.

💡 By the way, the industry average customer adoption rate for payment portals is between 20% and 30%. Versapay boasts the highest customer adoption rate in the marketplace (+80%), well above industry average.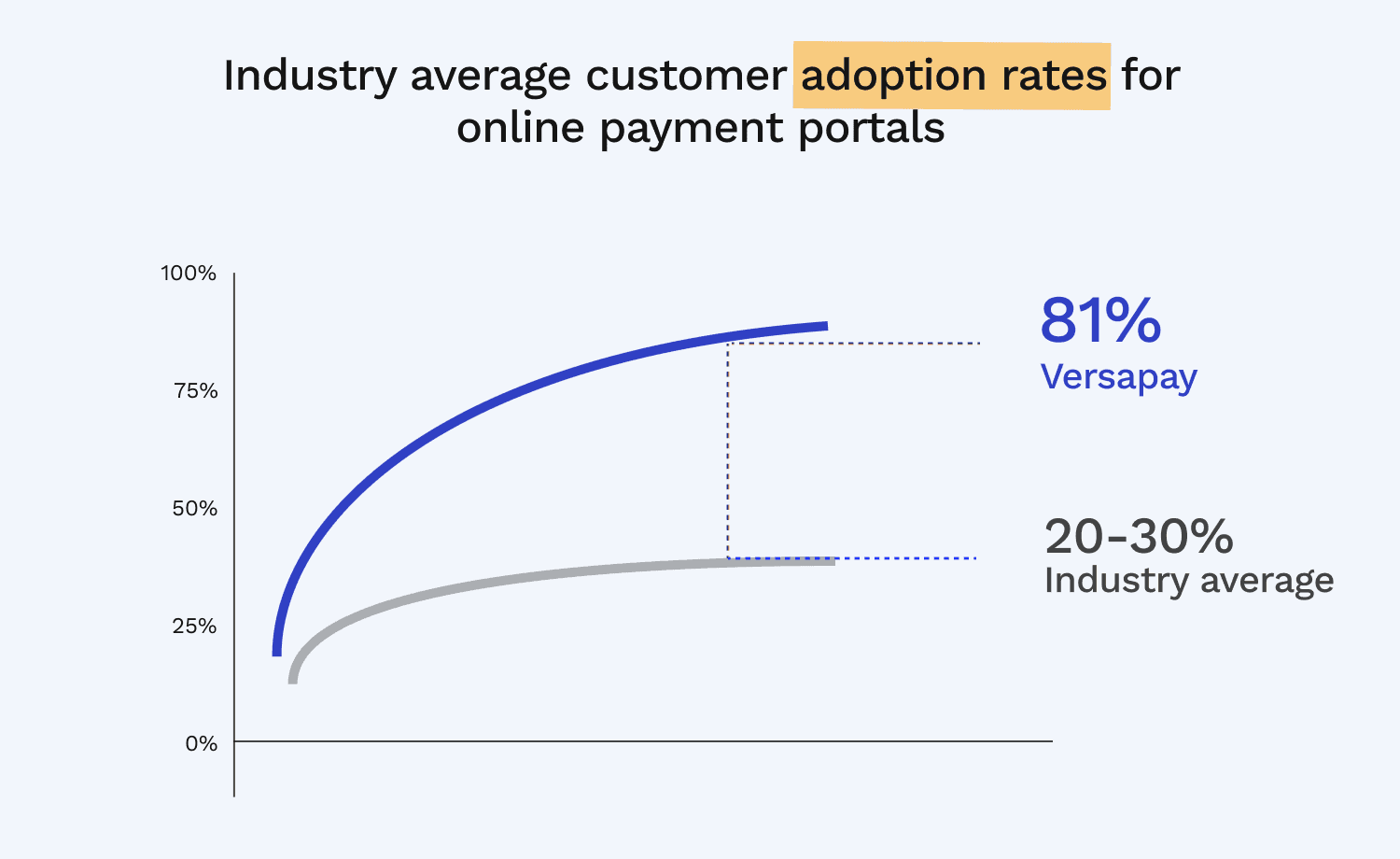 Notably, however, our findings suggest that collaborative payment portals deliver sustained ROI through multiple functions, not just the collection of payments.

This is revealed by the fact that 37% of CFOs whose companies have collaborative payment portals strongly agree with the need to have a majority of customers use the portal to get sustained ROI, while 49% of CFOs whose companies do not have collaborative payment portals strongly agree with that sentiment.

This discrepancy indicates that accounts receivable teams benefit from collaborative AR portals regardless of if their customers make full use of their functionalities. In possessing a collaborative payment portal, CFOs also benefit from having streamlined internal communications, greater data transparency, and more effective storage and traceability of information.

Get the best accounts receivable process with the highest ROI
Our research makes clear that collaborative AR payment portals are major contributors to creating a more efficient and effective AR workflow. They save accounts receivable teams and CFOs time and energy, increase transparency and ease of communication, reduce disputes and allow for faster resolution of those that arise, and save organizations money by streamlining invoicing, payment processing, and numerous other AR functions.

CFOs who shift from a traditional AR process or a standard payment portal to a collaborative solution will reap the rewards of employing the most state-of-the-art invoicing process. And using these best-in-class technologies provides their companies with the highest returns and most exceptional customer experiences.

Read our new research to learn more about how your organization can discern the potential ROI of implementing a collaborative payment portal.

About the author

Katie Gustafson
Katherine Gustafson is a freelance writer specializing in content for mission-driven changemakers such as tech disruptors, visionary nonprofits, and big-thinking startups. She is the author of a book about innovation in sustainable food, and her writing has appeared in Slate, TechCrunch, Business Insider, and Forbes, among other places.
Payment Portal
Learn how to manage online payment portals and what they can do for your business.