How To Get Customers To Use—and Love—Your Online Payment Portal
Customer payment portals give customers a self-service option for making payments online. Paired with AR automation, they can help eliminate tedious manual workflows for your team.
But, that's only the case if customers are actively using the platform. In this blog, you'll learn tips for getting customers to use—and—love your online payment portal.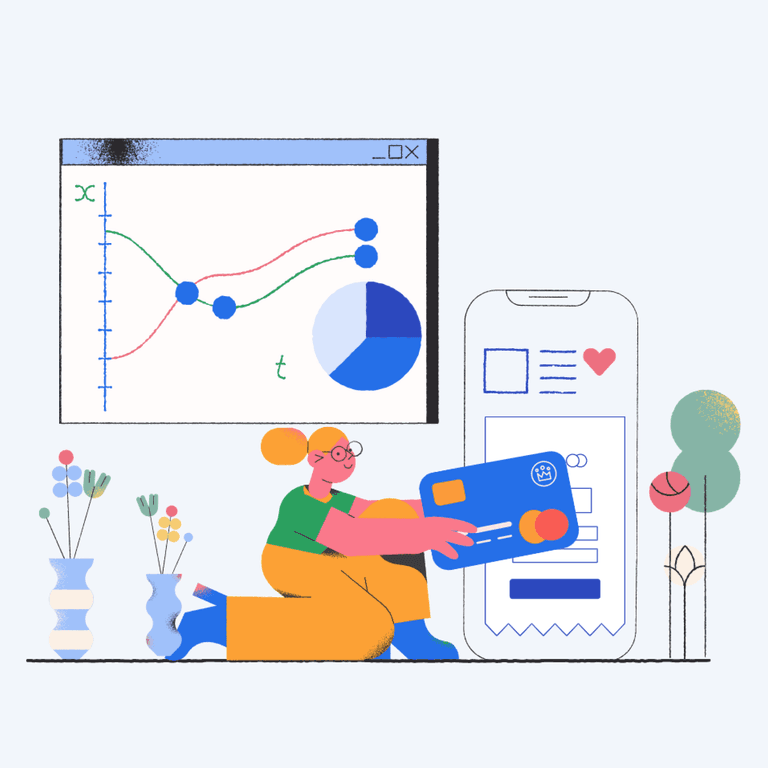 Accounts receivable (AR) teams looking to make their workflows more efficient will find huge benefit in setting up a customer payment portal.
A customer payment portal is a cloud-based system that allows your customers to pay with multiple payment methods whenever and wherever they want. It also serves as a way for customers to access their invoices and check the status of their accounts in a single place.
The most advanced self-service customer portals allow customers and AR teams to send messages to one another directly on relevant invoices. This is known as collaborative AR.
As with all new kinds of digital tools, user onboarding and software adoption can be a challenge when it comes to customer payment portals. With 49% of business and finance leaders reporting that they have yet to transition their AR processes to cloud computing in any respect, many AR teams don't have rich experience with these kinds of solutions to begin with.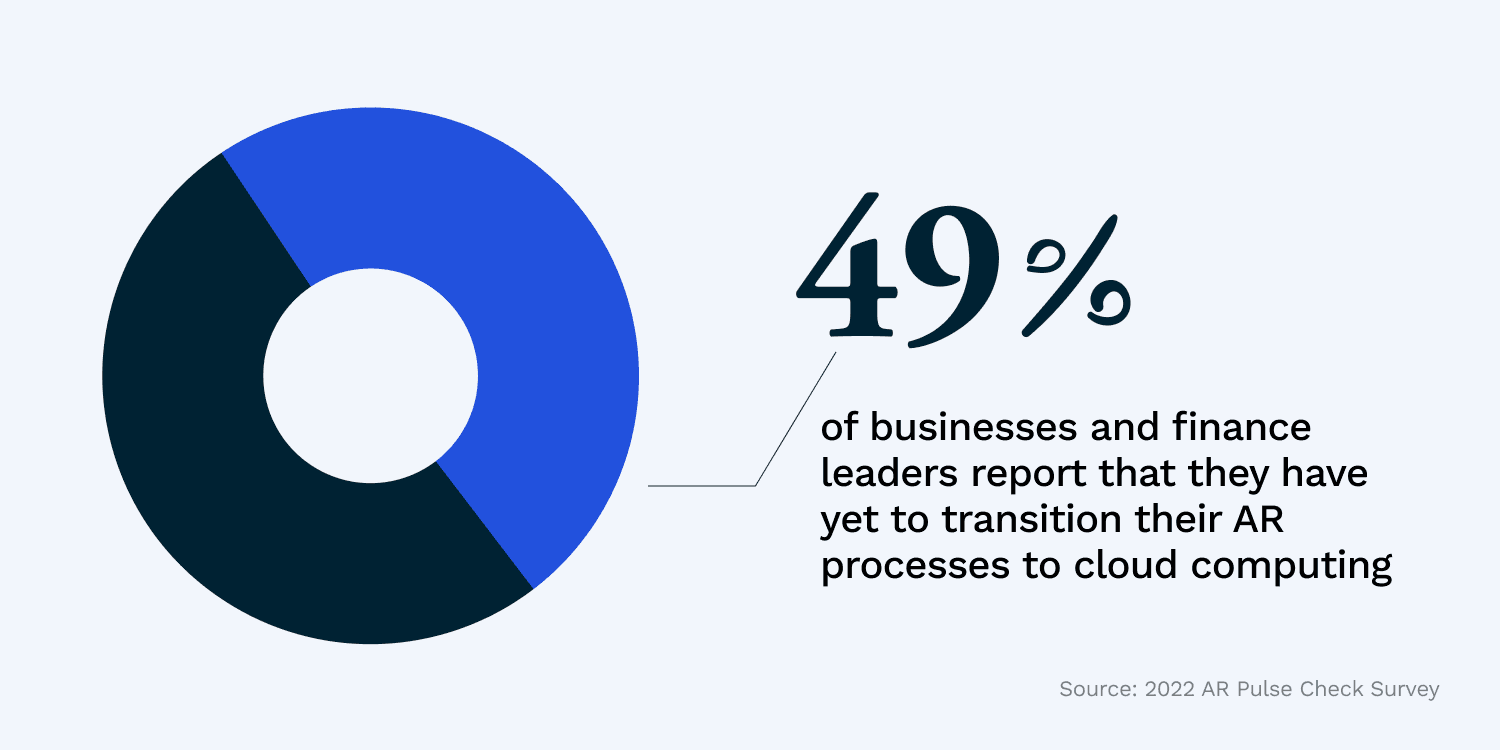 But, the destination is well worth the journey. Read on to learn more about the benefits of customer payment portals and how you can help your customers learn to use—and love—them too.
Jump to a section:
Why you need a customer payment portal
Online payment portals provide numerous benefits to both customers and suppliers. Customers appreciate the ability to view all their account activity and make payments in one place. Suppliers benefit from faster and easier payments, higher digital payment volumes, and access to relevant data that enables greater insight into the health of collections.
Consider some of these advantages of implementing a self-service payment portal: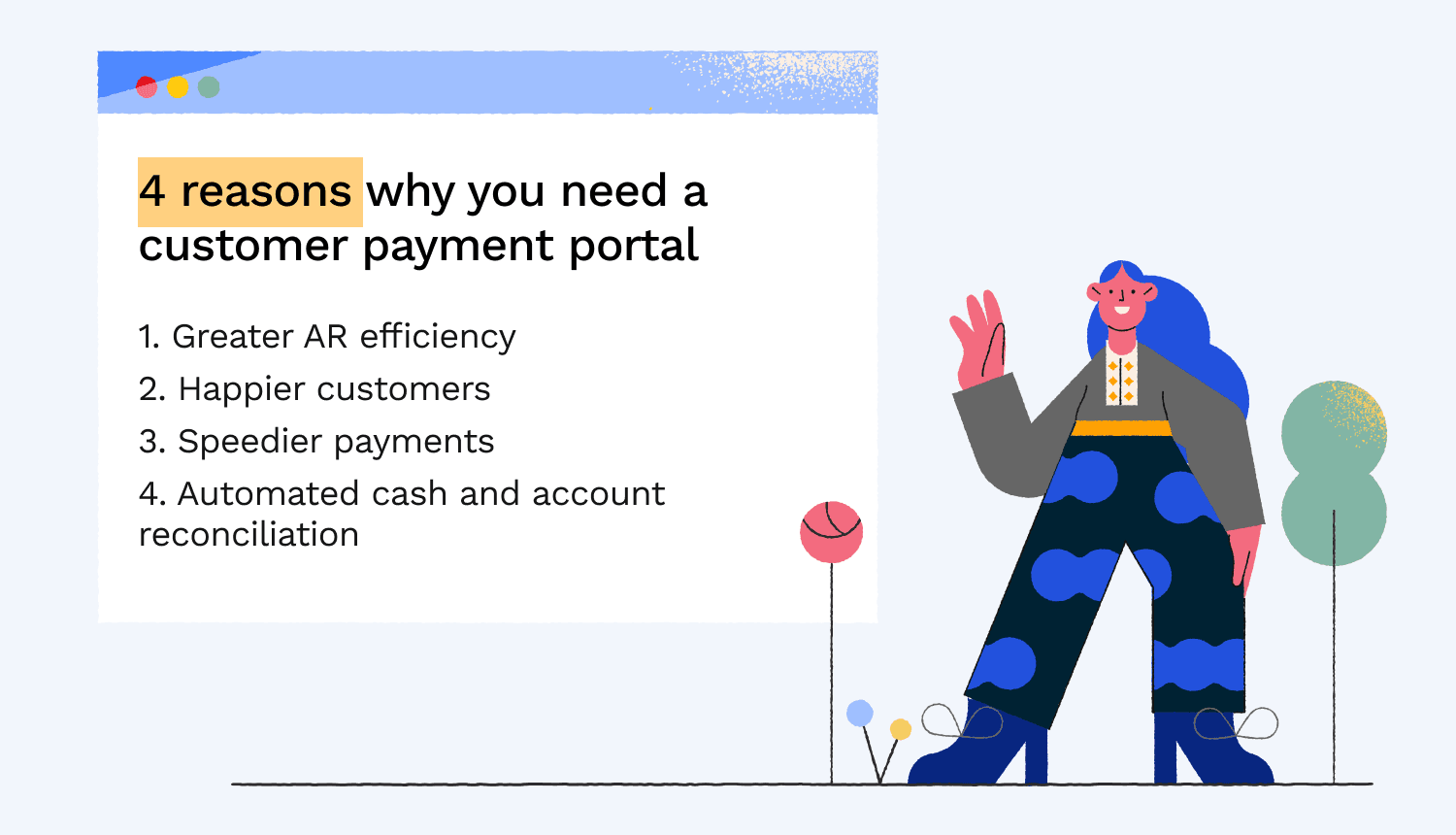 1. Greater AR efficiency
With a customer payment portal, you can accept online payments via ACH, bank payment, or credit card with ease. In many cases, you can also quickly reconcile payments back to your financial management system using native integrations and APIs.
With a platform that includes collaborative AR, you can streamline collections further by eliminating the traditional back and forth over email and phone calls.
2. Happier customers
With a self-service portal, your customers get the option to easily and securely via multiple payment options. They can also stay on top of their outstanding invoices with real-time updates and reminders. With 85% of B2B buyers reportedly valuing the purchasing experience just as much as the products and services they pay for, making the payment process as convenient as possible can lead to higher customer lifetime value.
3. Speedier payments
Traditional billing and payment processes are slow and inefficient, resulting in high days sales outstanding (DSO). A Customer payment portal can help speed up collection times because customers can settle their accounts right then and there with a credit card or ACH payment. No need to wait for their check to come in the mail.
And with more opportunities to collaborate with customers online (through tools like Versapay that let customers make short payments, dispute charges, and leave comments directly on invoices), you can resolve payment disputes faster.
4. Automated cash and account reconciliation
Customer payment portals are inherently good for automating the task of applying payments to their respective invoices. This is because in most cases, customers are self-selecting the invoices they want to pay. This can really save time for your AR team as they won't have to guess this for themselves.
The importance of user adoption for customer payment portals
While the many benefits of customer payment portals make them a must-have for any AR team, they're only effective if customers actually are using them.
In a joint survey by Versapay and the Shared Services and Outsourcing Network (SSON), 67% of respondents said they correspond with customers by email, while only 10% reported communicating via customer portals.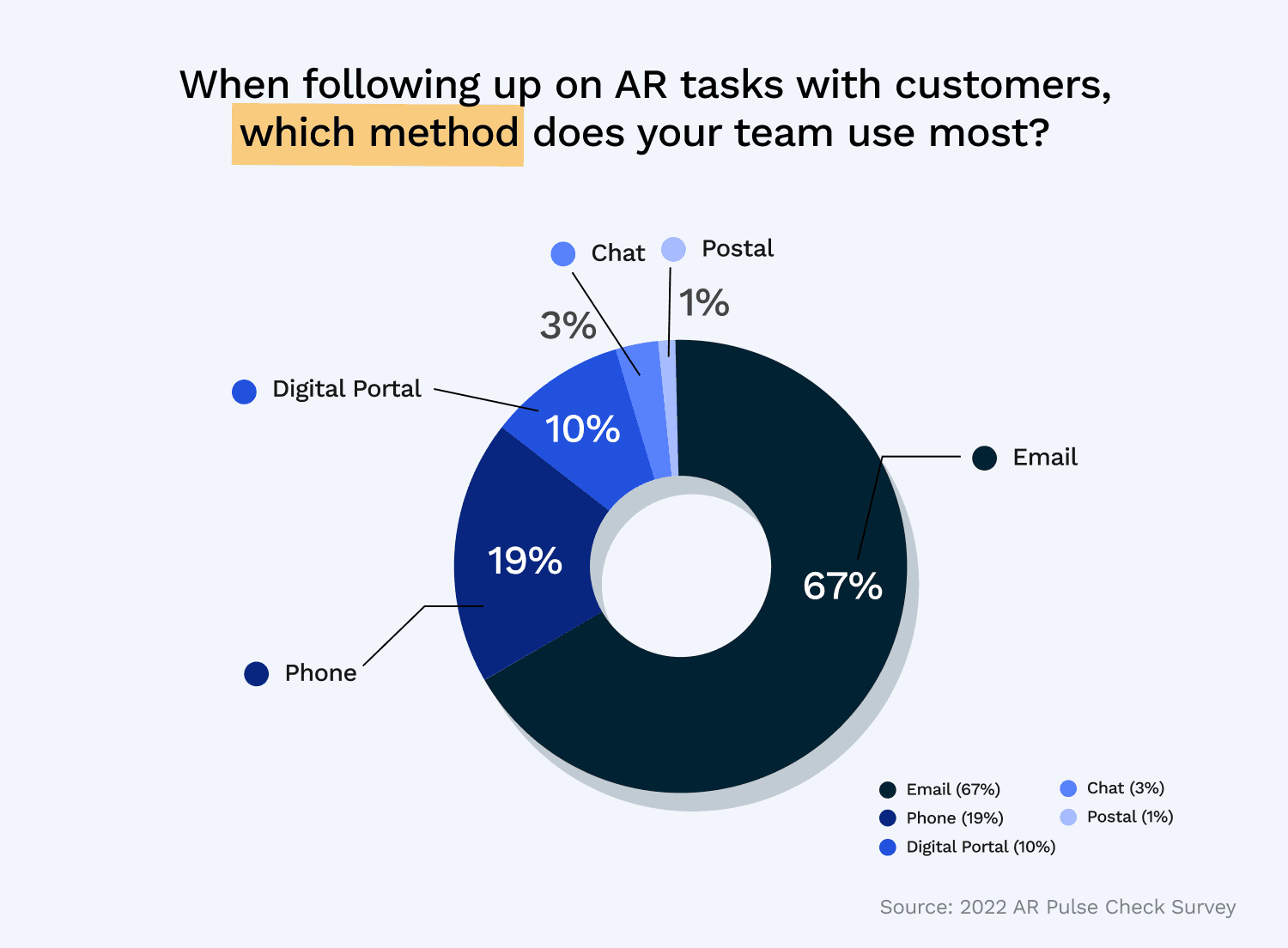 If the majority of your customers aren't using the online payment portal you've introduced, then you lose out on all the great benefits we discussed earlier. When customer payment portals are paired with AR automation, then this opens up the possibility to automate a lot of traditionally manual AR workflows. But of course, you can't automate what you can't access.
If you want to avoid managing customer communications about invoices and payments in multiple separate channels and processing payments in multiple places, it's in your best interest to get as many of your customers using and paying through the portal as possible.
The industry average customer adoption for online payment portals is between 20% and 30%. To get the most functionality out of the platform, however, you'll want to encourage a far higher number. Versapay is proud to have an end-user adoption rate of 81%.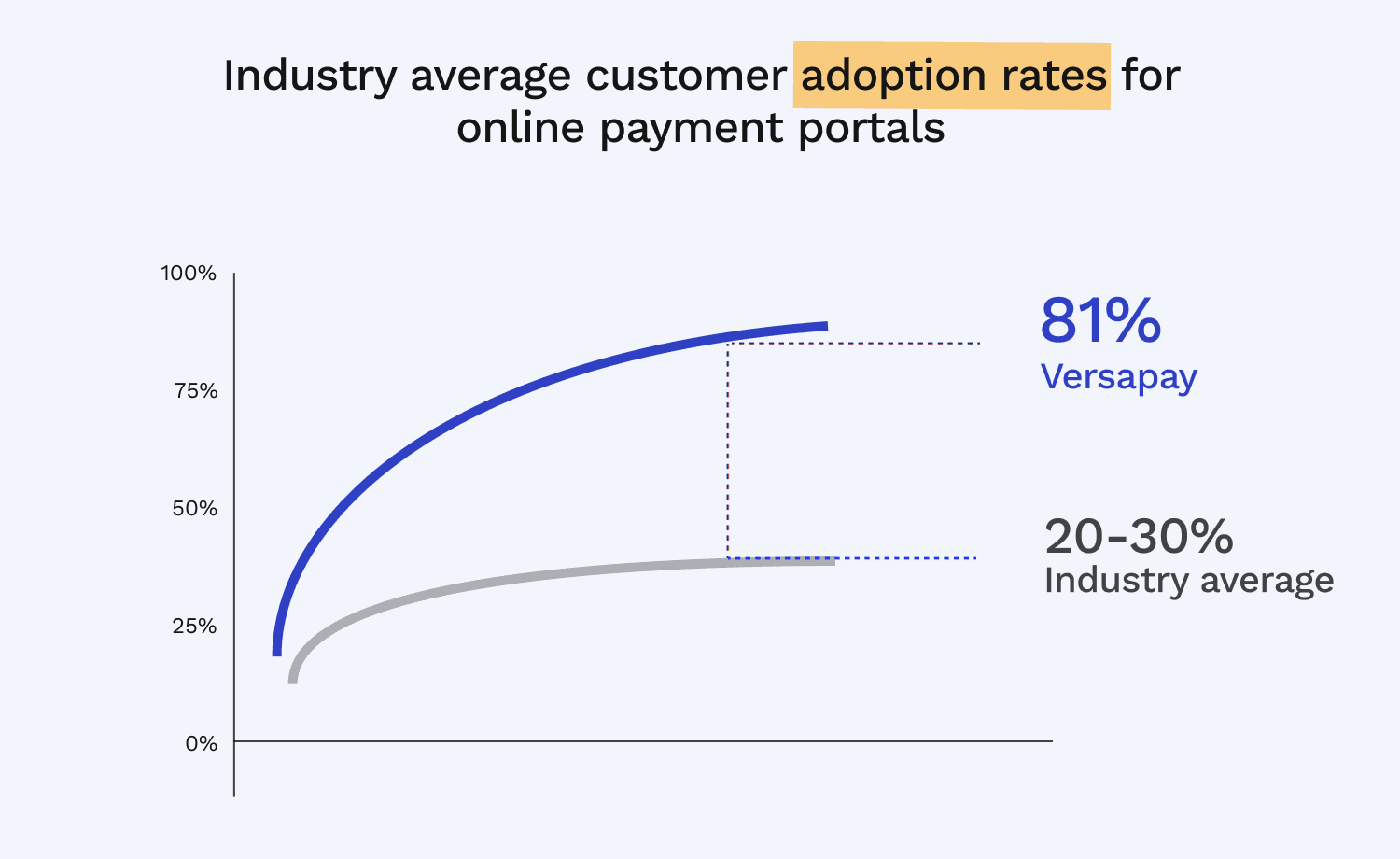 You can work to increase software adoption via an effective user onboarding strategy (more on that later).
How to measure customer adoption
There are three metrics we recommend looking at when measuring customers' adoption of your online payment portal: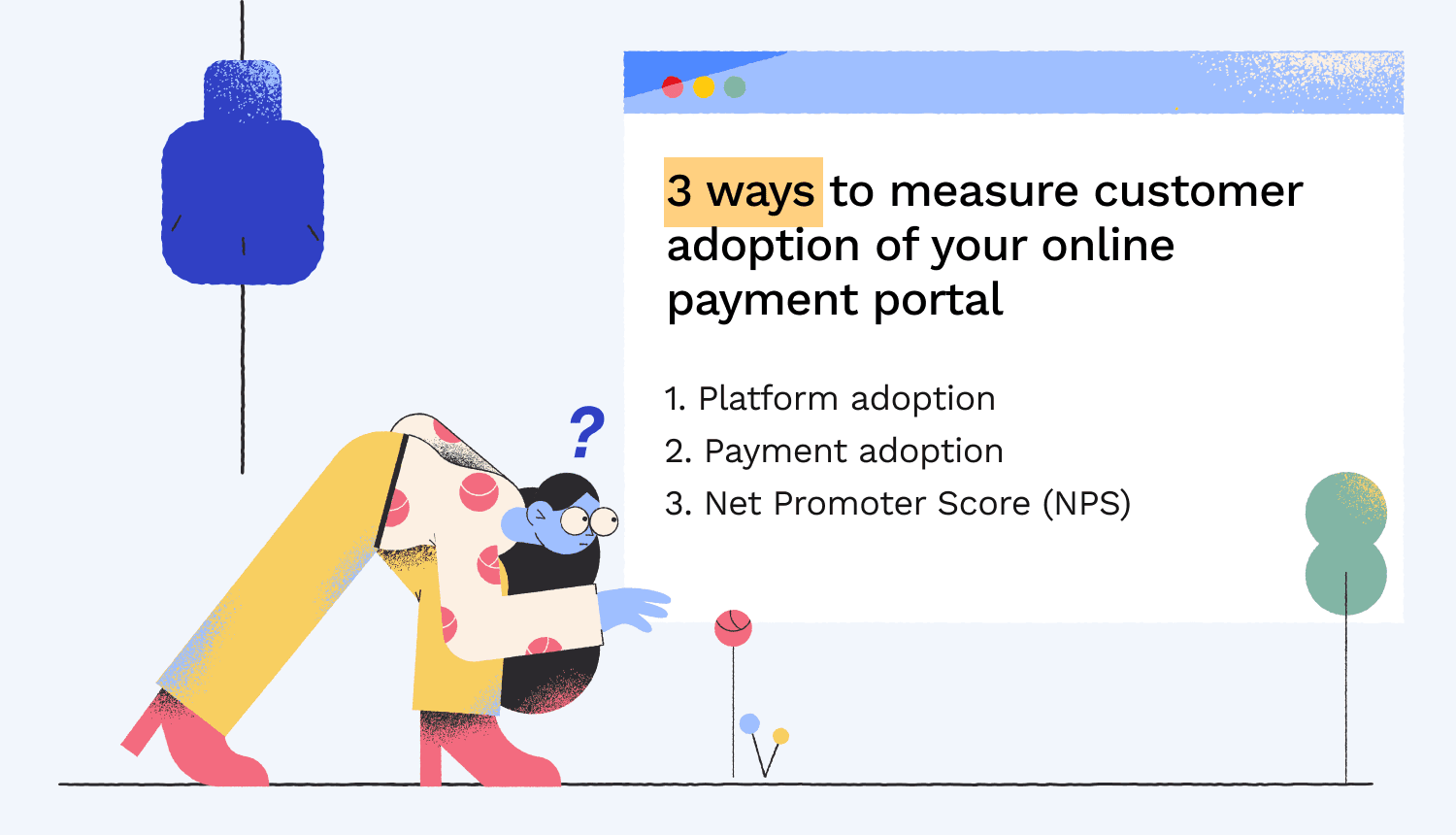 1. Platform adoption
This measures the percentage of customers using your platform, either to pay invoices or just to access account information, view invoices, or communicate with you.
2. Payment adoption
While some customers may only be using the portal to do things other than making payments, an important metric to track is the percentage of customers paying through your portal. Ideally, your onboarding and customer engagement strategies will help customers who are using the portal for informational reasons graduate to using it as a payment method.
3. Net Promoter Score (NPS)
Net Promoter Score (NPS) is based on customers' willingness to recommend a company, product, or service to others. You can survey your customers about how likely they would be to recommend your customer payment portal to a peer. Those who are exceptionally active users are far more likely to recommend it to others, so a high NPS suggest high levels of adoption.
How to get customers to actively use your online payment portal
Pre-launch best practices
1. Inform and educate internal teams
Getting your internal teams excited about your new customer payment portal from the get-go will help your organization achieve its goals. Start by engaging your AR staff as early as possible and work with them to determine what processes and day-to-day activities of theirs will change. Then, schedule a training session (or two) for those team members who will be affected by the implementation.
2. Review customer email data
Your organization will need customer email addresses in order to invite them to begin using the customer payment portal. Review the contact information you have in your records, make it's correct, and gather any missing contact information.
3. Build customer awareness
Before the official launch, an introduction email can help educate your customers about this new, simpler way for them to manage their invoices with your company. Include a summary of the features, how a self-service payment portal benefits them, and when it will be rolled out.
Most businesses have email filters in place to weed out potential spam. By advising customers of the emails they'll receive from the new system ahead of time, you can get them to whitelist the sender so they don't miss important communications.
Launch best practices
1. Invite customers to the portal
Send your customers an email invitation directly from within the new platform. It's best to have the email include your company logo, highlight what's in it for your customers, and include a link to where customers can activate their account.
You can decide to enroll customers in phases or all at once. Inviting customers in phases can allow you time to fix problems with user onboarding as you go. Meanwhile, enrolling everyone at once can prevent potential confusion stemming from some of your staff being familiar with the new system and not others.
2. Promote the self-service customer portal wherever possible
For your customers to start paying online through the portal, they need to know how. Your company can educate them by calling out the new payment portal in as many customer communications and channels as possible. Many of Versapay's clients add a note in their email signature directing customers to where they can pay online through the self-service portal.
3. Use email notifications
The vendor you choose to facilitate your payment portal should offer a wide variety of email notifications to invite customers to use the platform. Ideally, it should alert internal team members about customer activity.
4. Create incentives for customers to use the portal
If your company is going to offer an incentive program, it's best to introduce it immediately to get customers excited. Include benefits such as the multiple payment options available, autopay, and enhanced security in your communications. If you introduce a penalty program, make sure to update any relevant term sheets.
Post-launch best practices
1. Engage customers who haven't signed up
After the initial launch of your customer payment portal, you'll likely have some customers who've visited the portal but haven't used it to make payments yet (as you'll recall, this is what we mean by platform adoption vs. payment adoption).
Send a targeted message to this group about how easy it is to set up their card or bank account information and pay online, including scheduling payments on their due date or a specified date.
2. Incentivize internal teams
Promote the new customer payment portal internally and reward teams that sign up the most customers. You may want to consider establishing a regional contest and setting sign-up targets by collectors.
Having a partnership mindset
All of the above best practices for increasing customers' adoption of your payment portal will be most successful if your team adopts a certain mindset: that of partnership.
It's important that the entire implementation process of your customer portal is based on the idea that the new tool is something you'll use with your customers, as opposed to something you're imposing on or demanding of them.
This mindset may even shift the way you approach your implementation. For instance, at TireHub, a distribution logistics company servicing tire manufacturers, the sales team was instrumental in bringing customers into the new online payment portal.
"Having our sales team involved was great because they're the voice of the customer," says Peter Gibbons, TireHub's former CEO. "We presented this not as something we decided to impose on the customer, but an initiative we were doing that we wanted to make sure customers came alongside."
The key, Peter says, is not to tell customers they need to change but to invite customers to work with you in a new way to make things better for everyone.
—
Learn more about how Versapay's customer payment portal lets you accept payments online and work collaboratively with your customers to speed up cash flow.
About the author

Katie Gustafson
Katherine Gustafson is a freelance writer specializing in content for mission-driven changemakers such as tech disruptors, visionary nonprofits, and big-thinking startups. She is the author of a book about innovation in sustainable food, and her writing has appeared in Slate, TechCrunch, Business Insider, and Forbes, among other places.
Payment Portal
Learn how to manage online payment portals and what they can do for your business.