Why Customer Experience Should Be Finance's Top Priority
Finance departments have a customer experience problem, often doing more harm than good.
In this blog, learn:
Why this is,
How finance departments can help improve customer experience,
How digitizing communications builds better customer relationships, and
Why collaboration is key to boosting CX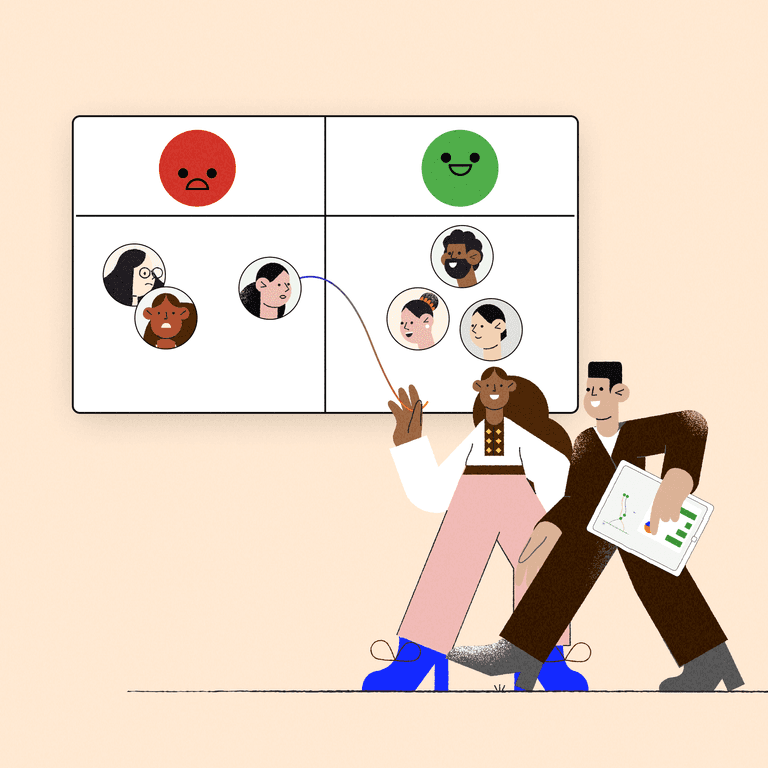 Business is changing, and ideas about how to manage customer experience (CX) are top of mind. While customer-facing departments like marketing and professional services are usually tasked with delivering positive CX, it's increasingly clear that many stages of the business cycle can impact this important element of operations.

New research from Versapay improves our understanding of what business relations with customers actually look like. Using the Gartner Peer Community platform, Versapay surveyed 400 finance and business leaders to determine which departments need to boost their CX efforts and whether digitization is a feasible solution to CX problems.

Here's what they found:
Finance departments have a customer experience problem
Notably, Versapay's survey found that the finance function is often a prominent cause of CX problems.

Indeed, finance is widely viewed as having little positive effect on customer experience. Only 4% of respondents selected finance/procurement when asked which three departments have the greatest positive impact on customer experience. Finance and business leaders preferred customer service (69%), customer success/professional services (47%), and marketing (40%) as the departments contributing most to good CX.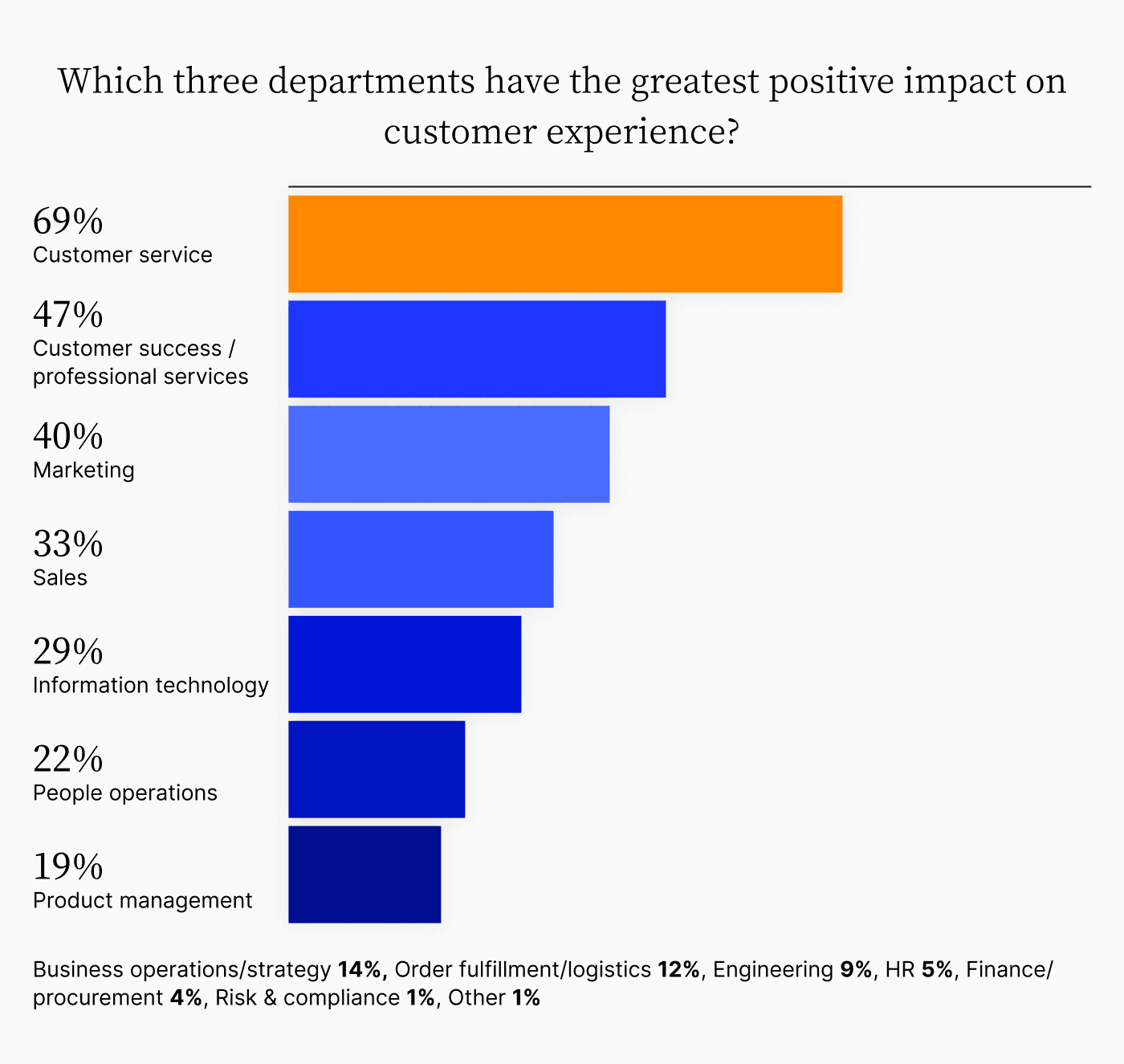 This poor perception of finance's role in CX may be due to its traditional positioning as a back-office function that has been generally slower to evolve than customer-facing departments in a fast-moving business environment. The role of the CFO has expanded in recent years in many companies, but finance as a whole has changed its methods of operations far less than other business functions.

The study shows that finance actually fares worse than being simply unhelpful to CX; business leaders see finance as putting active downward pressure on this metric. Survey respondents ranked finance as the second most-likely department to provide a negative experience to customers, beat out only by risk & compliance.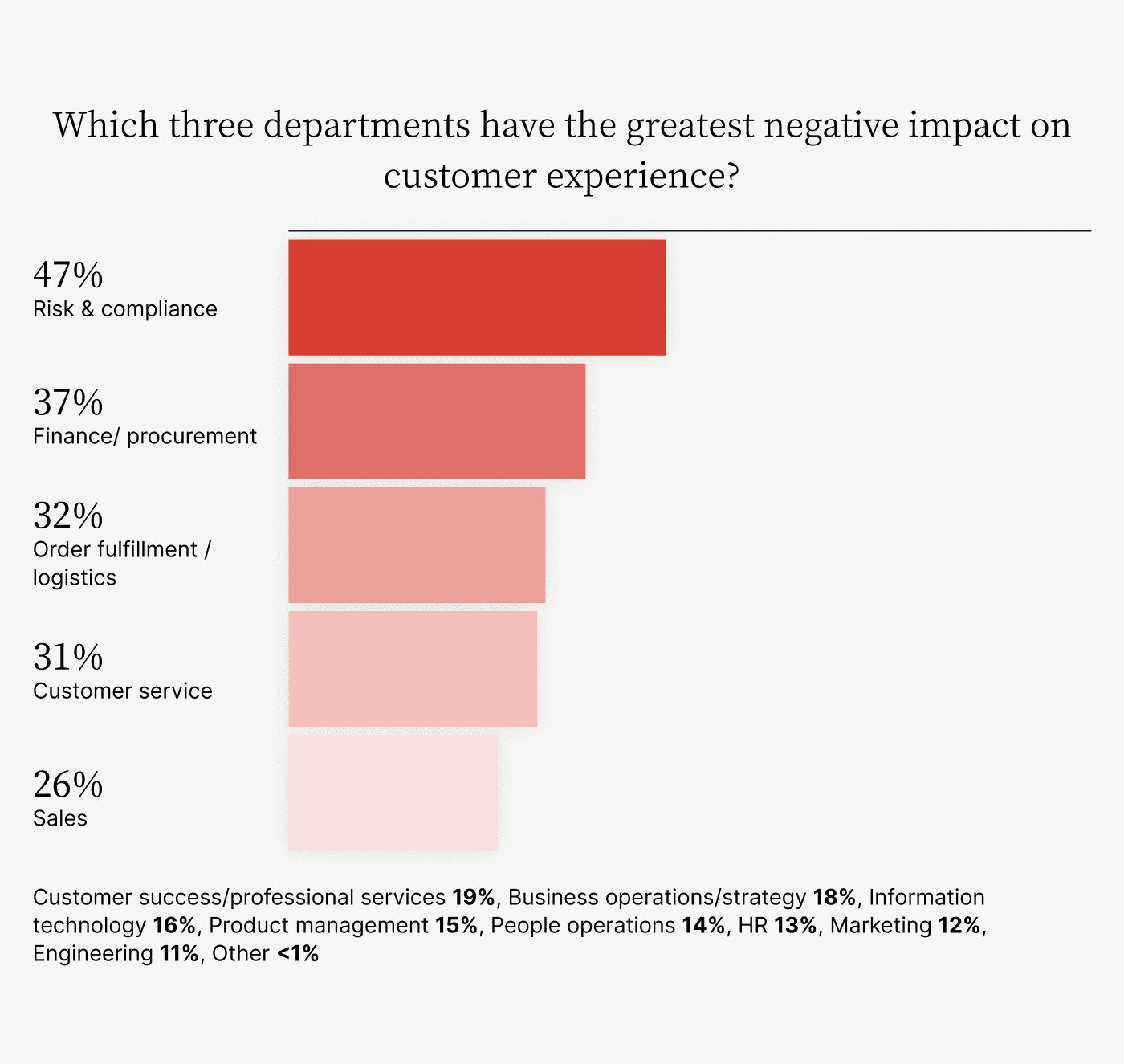 This is because collections and payment processes are notorious for worsening customer experiences, with 43% of respondents saying that customers tend to express the most frustration over collections cycles (second only to 45% who express annoyance with onboarding).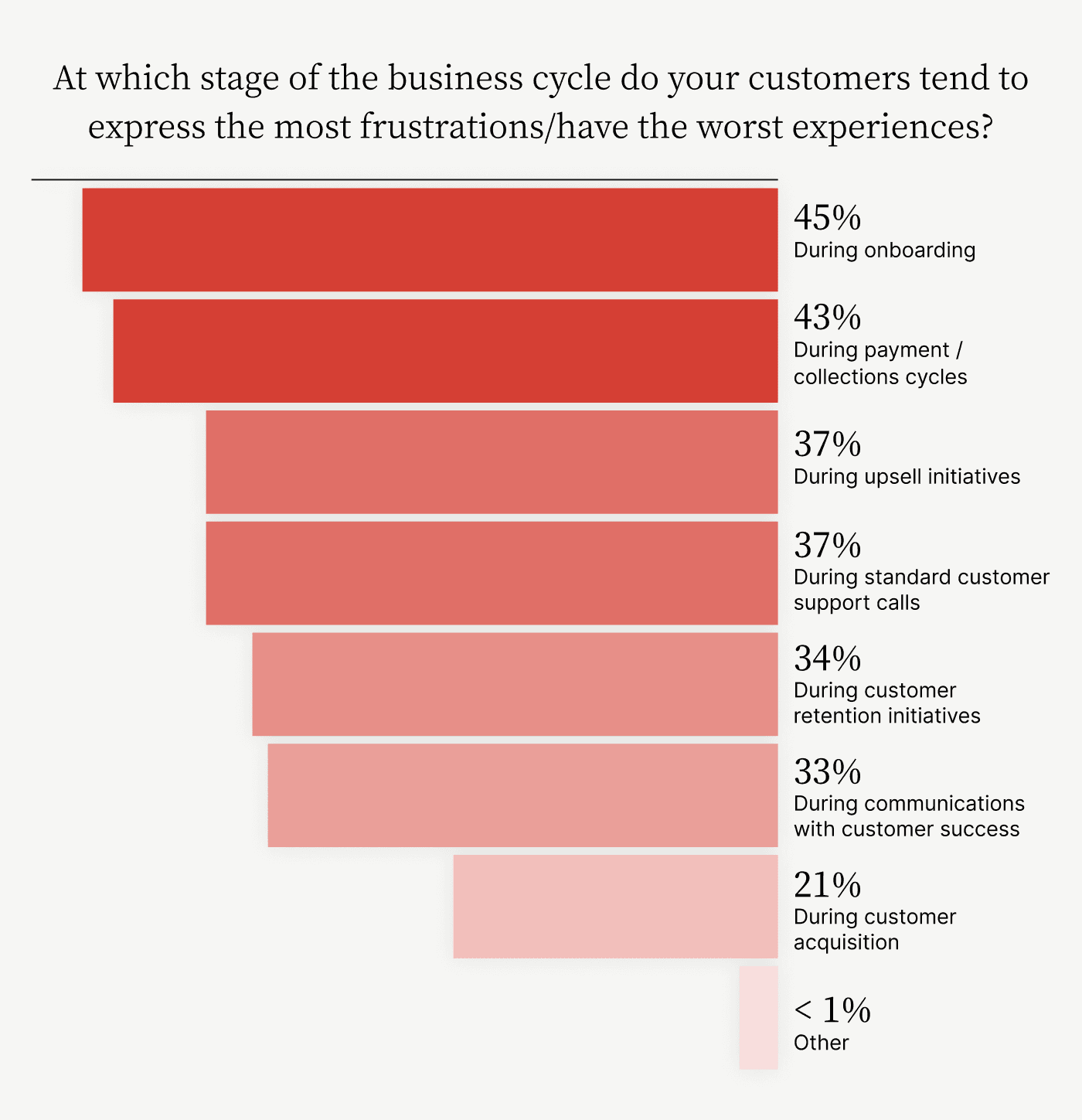 The frustration that customers report is due to a range of issues common to finance operations:

Omnipresent human error in traditional payment processes

Collections cycles rife with communication challenges and back-and-forth over antiquated channels, and

Slow or laborious procedures for addressing mistakes or other problems.
Customer relationships tend to strain in dealings with finance departments, and invoice disputes increase when customer relationships break down.

Finance should pay attention to customer experience
Finance departments can no longer neglect the work of establishing positive customer experience. Business leaders are ready for them to step up: data shows that leaders believe that finance needs to contribute more to building better customer relationships.

Specifically, the survey findings imply that CX and customer relationship-building is a company-wide initiative, yet finance isn't usually pulling its weight. More than three-quarters (76%) of respondents either agree or strongly agree with the idea that finance teams need to do more on this front. Fewer than 6% of respondents disagree or strongly disagree with the sentiment, meaning it is an almost universal belief among business leaders.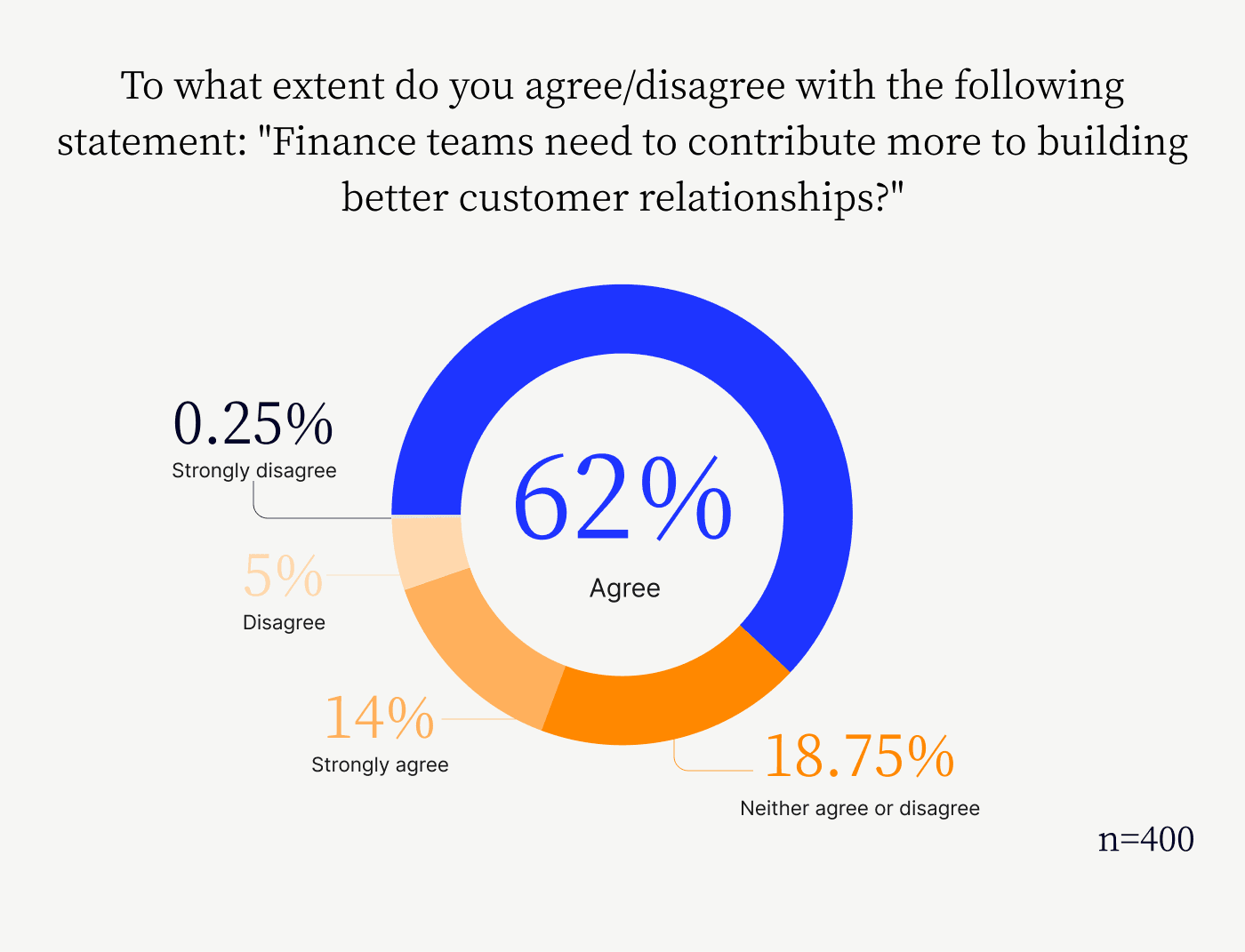 Despite the quantitative proof that finance departments are seen as hurting CX in many businesses, companies are generally not making much progress in fixing this well-acknowledged issue. In fact, only about one in five (21%) finance and business leaders say that their customers are somewhat or very satisfied with this aspect of their business. Additionally, about half of them (49%) say they believe their customers are either somewhat or very frustrated with their collections experience.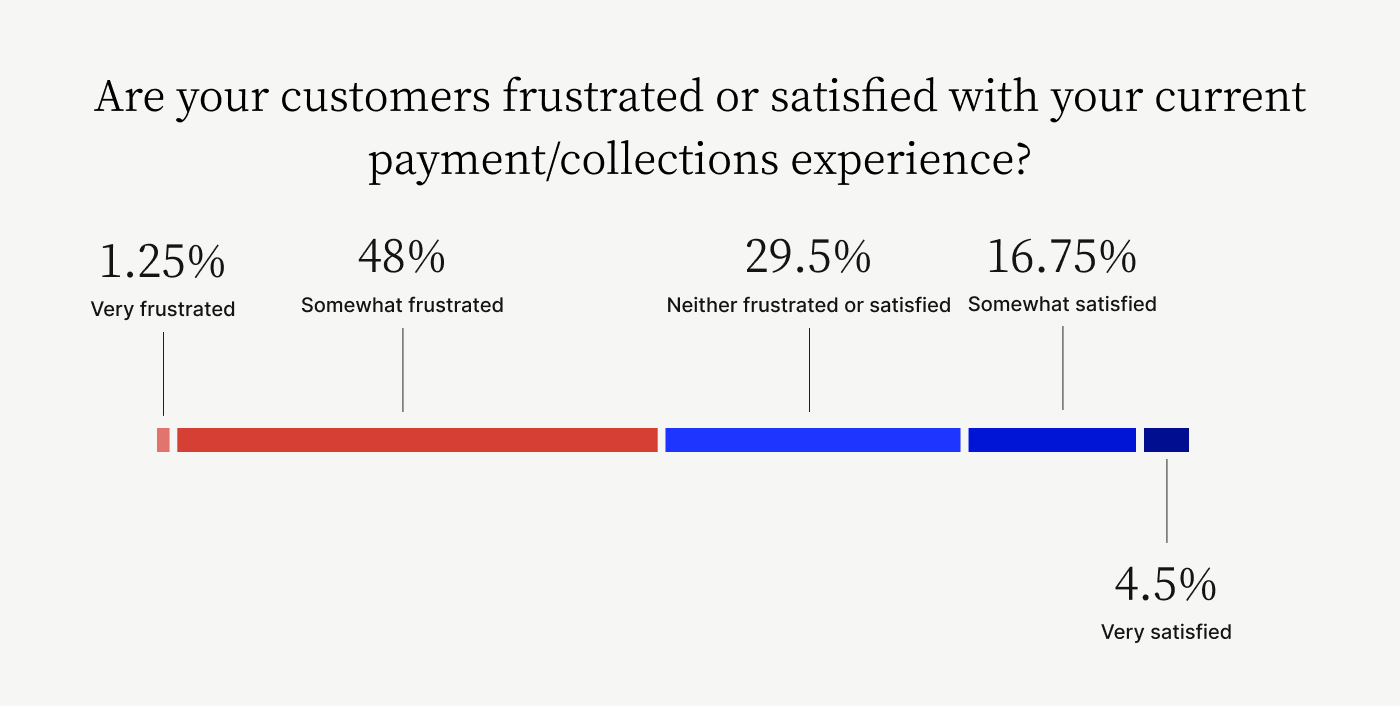 This dismal level of customer satisfaction related to finance processes should have CFOs' full attention. Simply put: there's a problem here, and finance leaders aren't doing enough to fix it.

How finance departments can help improve customer experience
CFOs can maximize the impact they—and their teams—have on their organizations by taking the above information as a useful guide to improving their customer-focused orientation. According to other research by Versapay and Wakefield, 89% of C-level leaders feel that CX is an essential measurement of business leadership's effectiveness.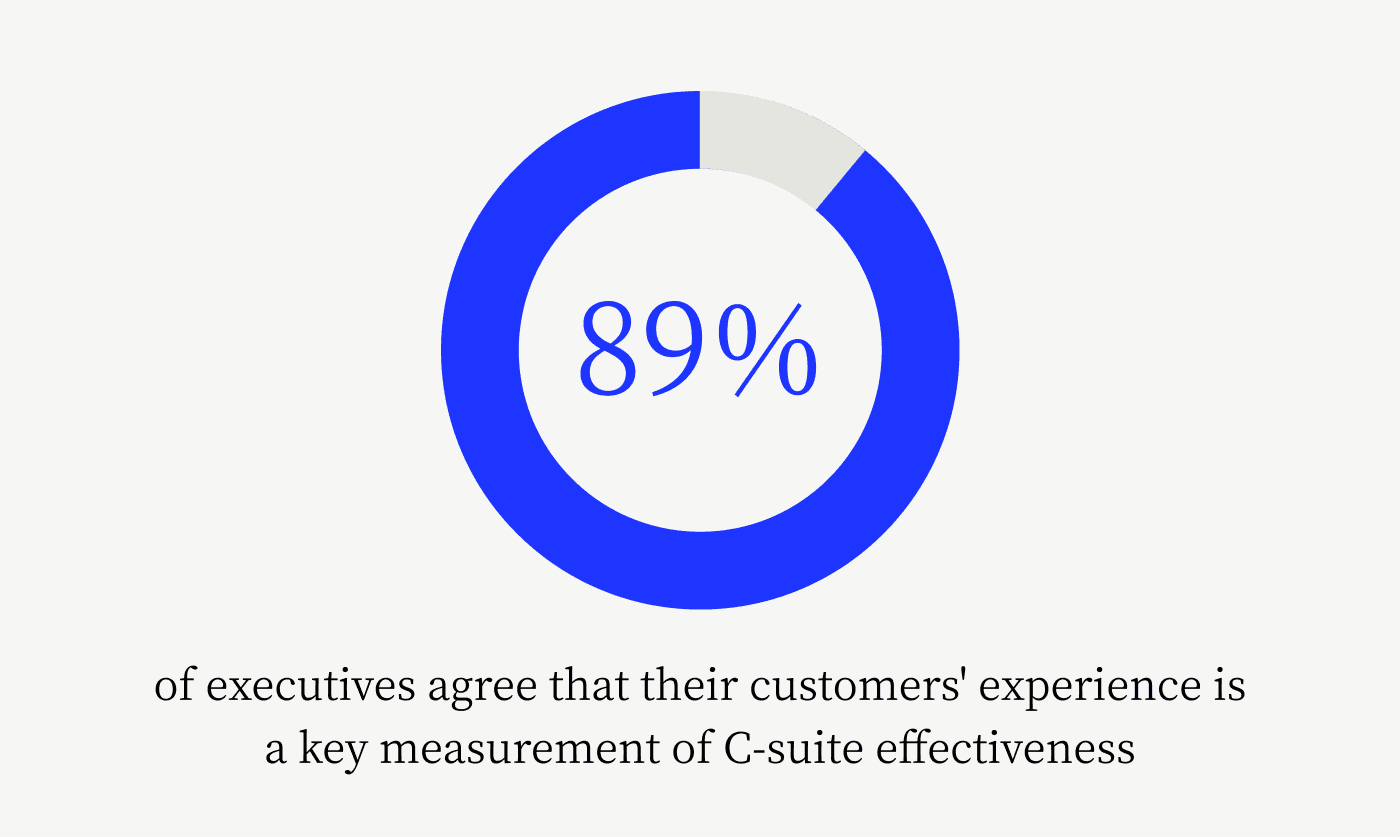 The executives surveyed also see finance as a key focus of potential improvement for CX, with 72% saying that accounts receivable should be more customer-oriented.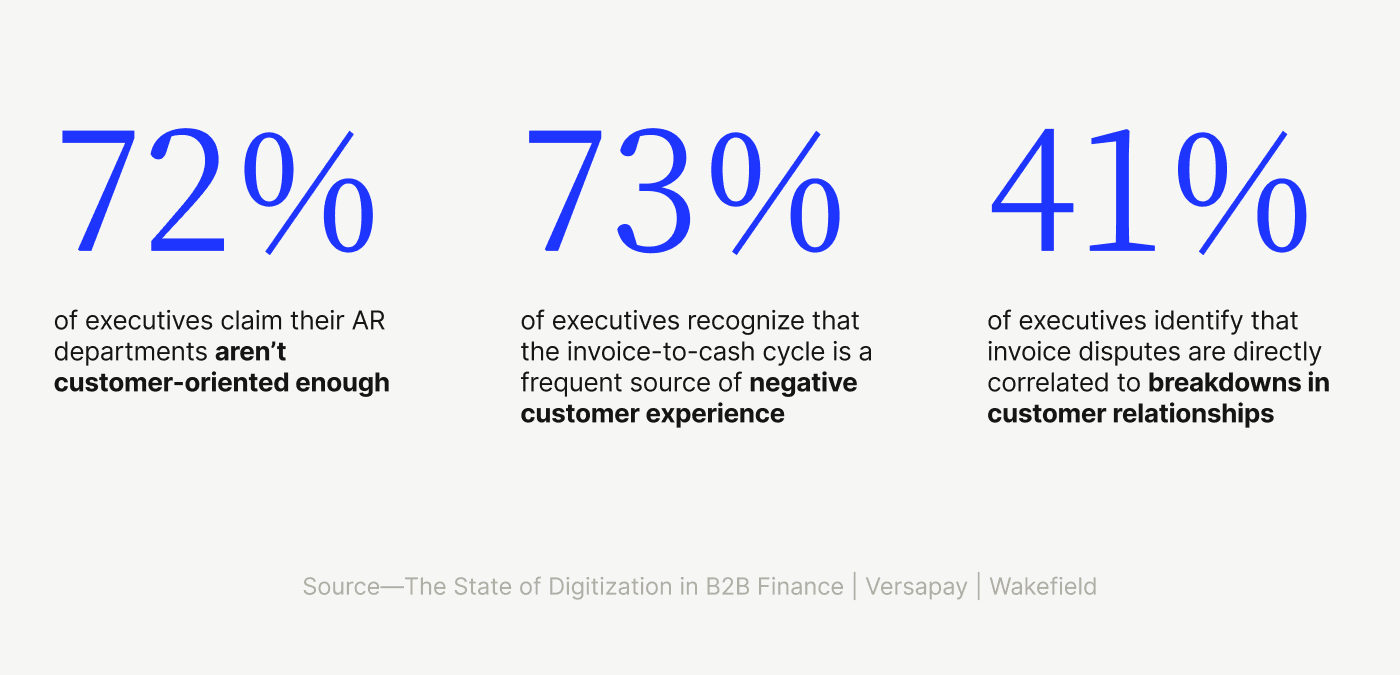 CFOs looking to improve their department's contribution to CX should prioritize enabling better communication with customers to enhance customer relationships. Finance departments are well aware that significant issues can arise from poor communication between accounts receivable departments and a company's customers. This "AR Disconnect" can contribute to a host of problems including:

Data shows that 41% of C-level leaders see communication as a significant cause of invoice disputes.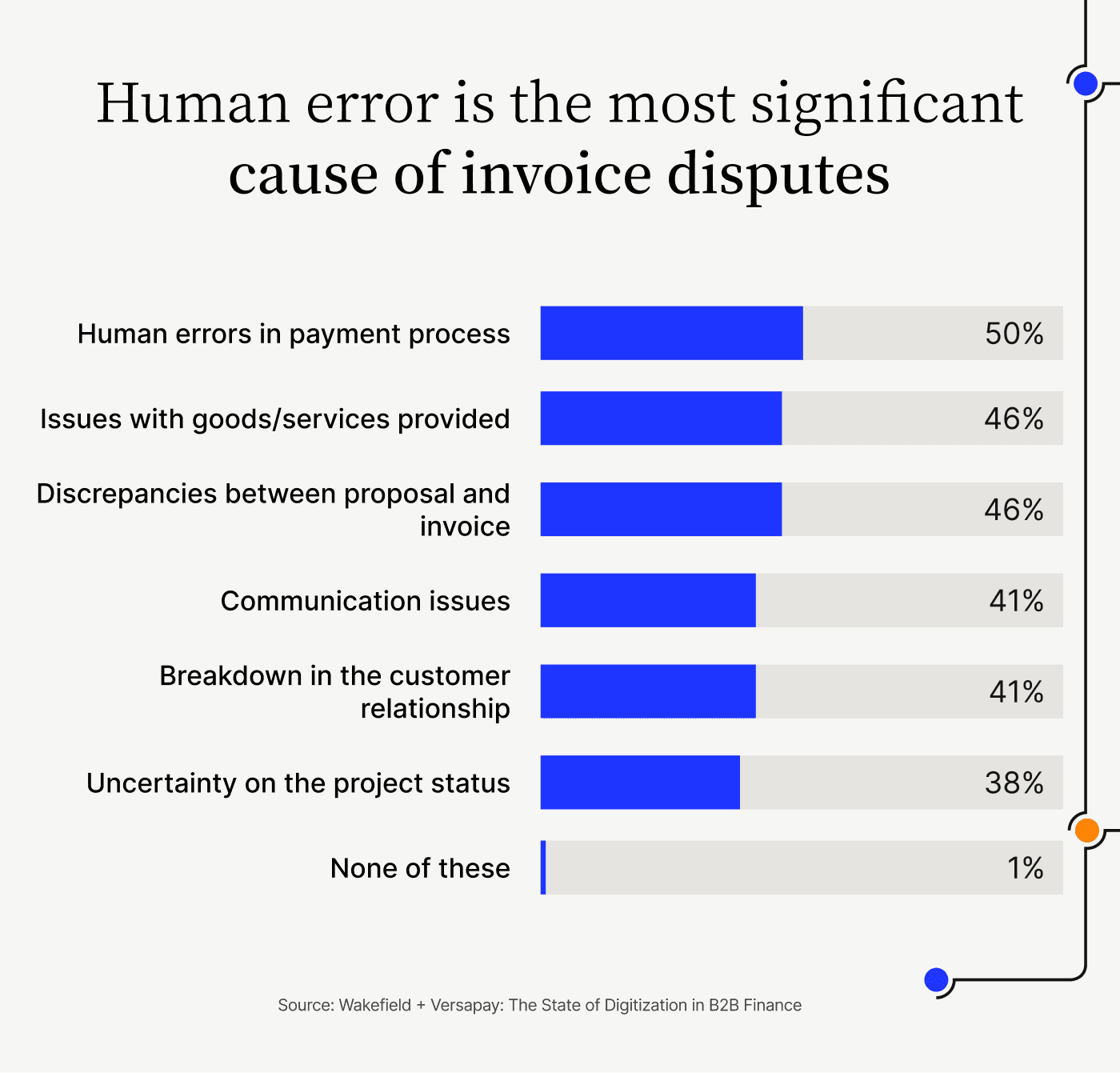 Digitize communications to build better customer relationships
Business and finance leaders can improve communication with customers by adopting digital tools designed to support this function. The tools they currently use for customer communications are generally outmoded.

According to Versapay's new study, the vast majority of business and finance leaders (88%) report using email to communicate with their customers, and nearly three-quarters (72%) report using the phone. Less than one-fifth of leaders report using modern communication channels like those found in-application (18%) or shared customer payment portals (17%).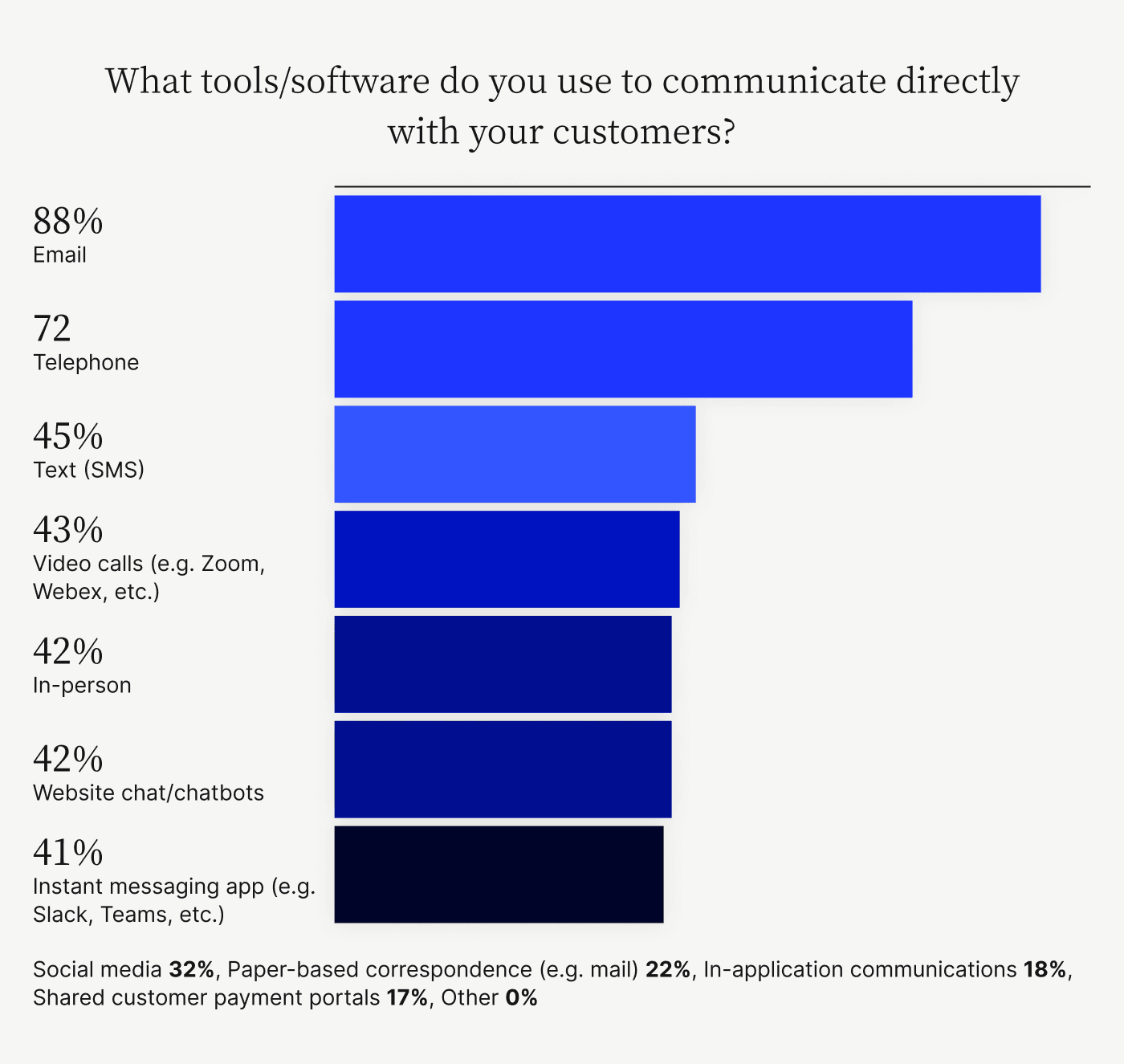 Use of inefficient communication methods is an organization-wide issue, but it affects finance departments particularly badly because the stakes of poor communication can be so high. Miscommunication about invoices can result in problems with immediate and quantifiable business impact, such as late payments and legal entanglements.

Digital communication, especially through a customer portal, is a more efficient and streamlined way to communicate. By using such a portal or other in-app communication function, finance can encourage better customer relationships by viewing collections as a collaborative two-way process.

There are cutting-edge digital solutions to enable this transition: Collaborative AR is a way to manage accounts receivable that improves CX and increases customer lifetime value.

These systems boost transparency of shared data and visibility into the payments process to help finance professionals and customers communicate more effectively. The built-in communication tools allow real-time exchanges in a shared space, facilitating quick resolution of inquiries and preemptive conflict resolution. These platforms also allow AR—the seller—and accounts payable teams—the customer—to collaborate better and solve problems faster.

Collaborative AR tools help finance teams reduce the time dedicated to managing invoices and payments; accelerate cash flow via streamlined communication and faster digital payment methods; and heighten CX, customer satisfaction, and customer retention. In fact, Versapay's customers who have transitioned to Collaborative AR have found the platform can:

Cut staff time spent on managing receivables by 50%,

speed up payments by 25%, and

Decrease past-due invoices by 30%.
These sellers report having strengthened their relationships with their customers and increasing trust.

"Versapay has found a way to solve a mundane and complicated problem that companies spend a tremendous amount of time, energy, and dollars trying to," says TireHub's CTO and CIO Ashok Vantipalli. "And somehow, they found a simple way to solve the problem that also increases customers' trust. After deploying Versapay, our customers are really happy that they have a handle on everything and can have more meaningful, natural interactions with us."

Collaboration is key to boosting customer experience
Business leaders looking to improve customer experience need to urgently address how their finance departments interact with customers. The most effective way of doing so is implementing technology that can modernize communications, streamline workflows, and enable easier, faster payment. Collaborative AR software can take finance departments from being a drag on CX to being a driver of customer satisfaction.

Check out the "Building Better Customer Relationships" report by Versapay to learn more about the data covered in this post and how accounts receivable teams can benefit from Collaborative AR technology.

About the author

Katie Gustafson
Katherine Gustafson is a freelance writer specializing in content for mission-driven changemakers such as tech disruptors, visionary nonprofits, and big-thinking startups. She is the author of a book about innovation in sustainable food, and her writing has appeared in Slate, TechCrunch, Business Insider, and Forbes, among other places.
Customer Collaboration and Experience
See how true collaboration in AR creates better results for both you and your customers.