Collaborate with your customers for more intelligent collections
Automate your collections efforts and connect with your customers over the cloud to drive major improvements to efficiency and improve DSO.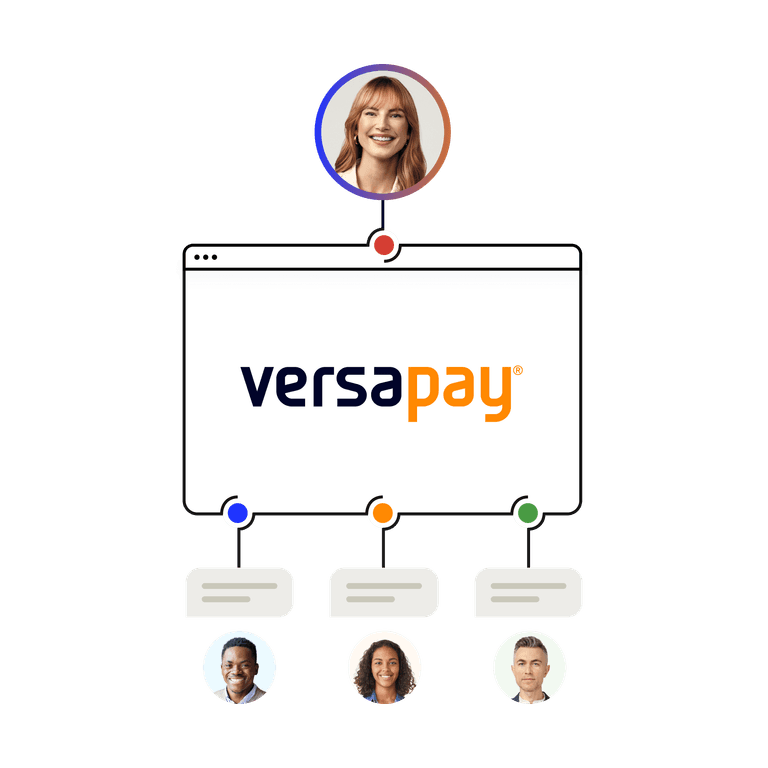 How automation can streamline accounts receivable collections
Zero-touch collection:
Quit reactively nudging your customers by easily targeting them before they become delinquent.

Real-time communications and dispute management:
Chat with your customers in real-time over the cloud and manage disputes and answer questions as they arise.

Timely notifications:
Receive notifications and other timely prompts to stay on task and focus on your collections priorities.

Clean audit trail:
Efficient collections begins—and ends—with centralized visibility of all customer interactions. A shared, online portal ensures all interactions are tracked and up to date.

Guide and prioritize collector activities:
Gain valuable, actionable insights into which customers require immediate attention and intervention, and let the software handle the rest.

Detailed reporting and customer management:
Establish a central, single source of truth for everything related to your customer's open AR and better understand the effectiveness of your collections efforts. Consider this your CRM for accountants.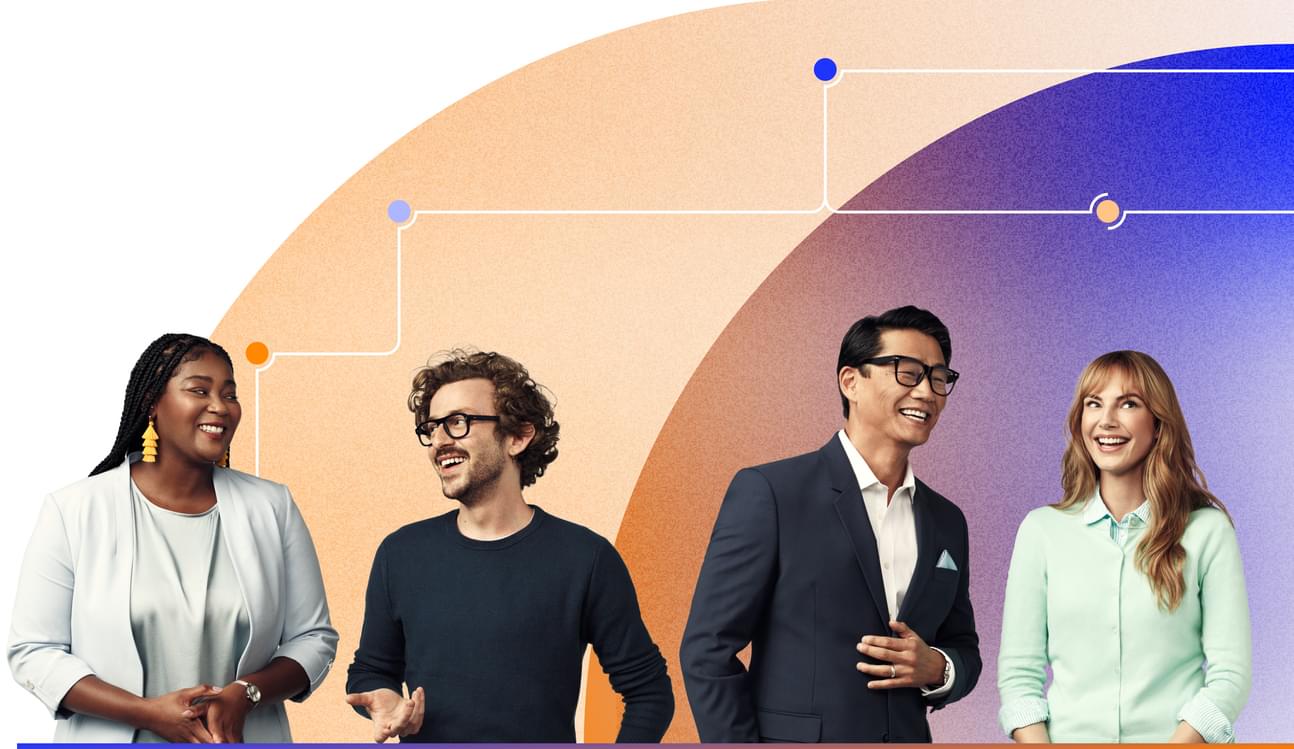 Work smarter not harder
Traditional AR collections processes are manual, inefficient, and tedious. Provide a better customer experience and significantly reduce your workload by segmenting your customers, tailoring your communications, and automating your collections efforts.


Real-time dashboards and data for real-time decision-making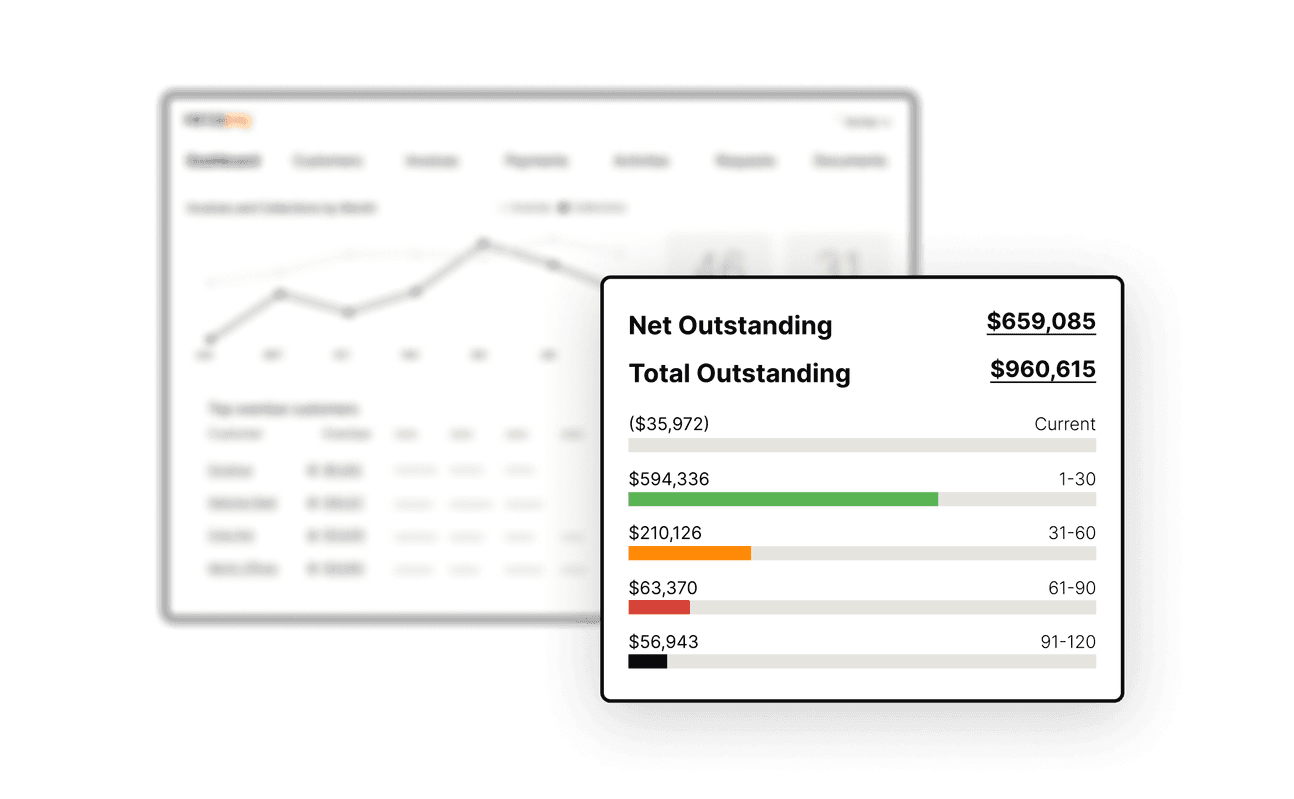 Outstanding receivables analytics
All the billing and AR collections information you need at your fingertips, fully synced with your ERP. Get access to real-time views of your outstanding receivables, and quickly navigate through company, division, invoice, and line-item data. Bid adieu to stale aging reports, data exports, and spreadsheets.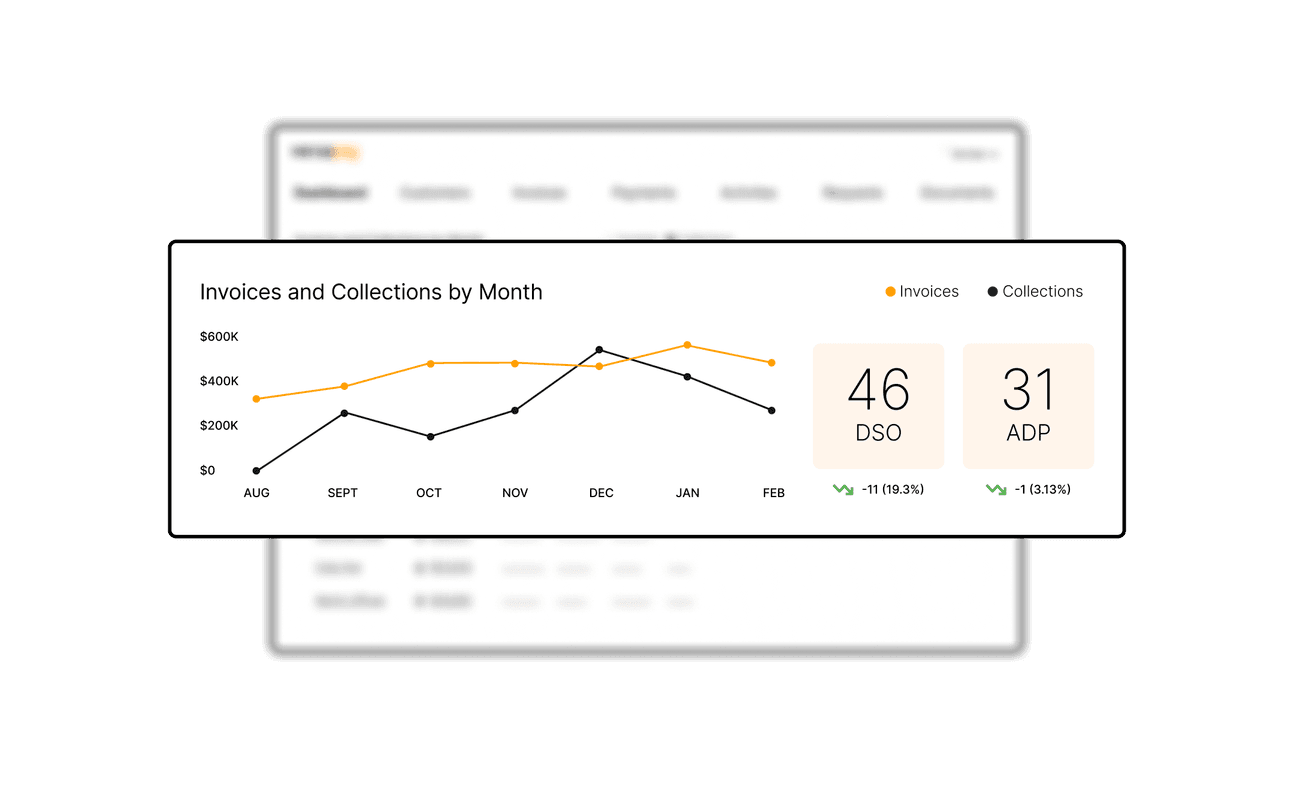 Customer behavior analytics
Get total visibility into your customer accounts. View entire account histories, drill into invoices, payments, credits, and customer interaction data to drive key insights such as late payment patterns or the effectiveness of weekly invoice notifications.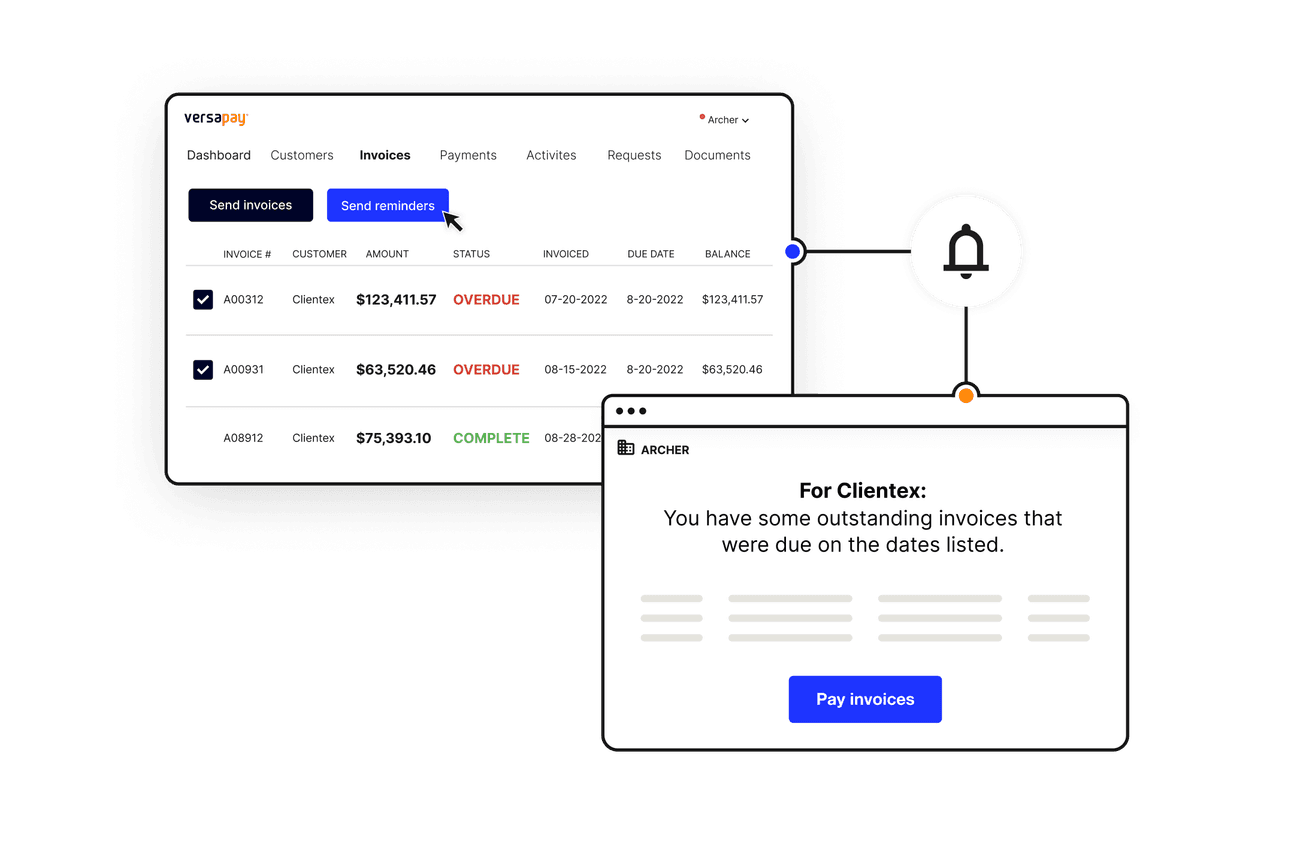 Maximize AR collections efficiency and impact
Automate smaller, time-consuming tasks so your staff can do what they do best: solve customer issues and collect payments. Create an accounts receivable collections process that scales, by empowering collectors to build great customer relationships and personalize their outreach.
Collaboration is the key to faster collections
Resolve issues quickly and get paid faster. Simplify the payment experience by giving your collectors and customers tools to easily share information over the cloud and address questions, errors, omissions, or missing documentation.
The CFO's Guide to Accelerating Collections
When it comes to increasing AR collections' effectiveness, adopting a more collaborative approach is the best thing businesses can do right now.
In this guide, you'll learn:
Why increasing collaboration is so critical
The power of an automated AR collections process
How to foster a more collaborative approach to collections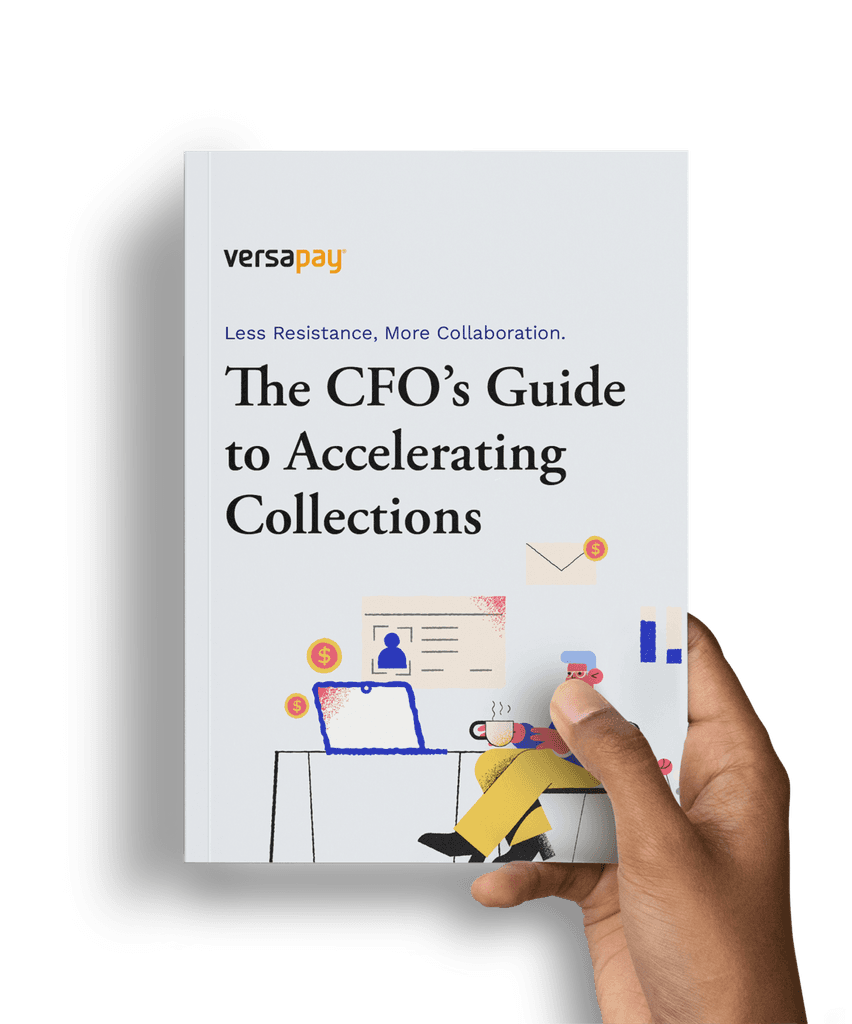 Intelligent collections FAQs
Put simply, "collections" is one part within the greater "accounts receivable" process. While accounts receivable refers to the money an entity is owed, collections refers to the actions taken to collect those funds.
While the process differs for each company and AR collections software, there are a few common steps:
Step 1: After a purchase is made by a buyer, the supplier's software automatically creates an invoice containing details like the price, items purchased, and payment terms.
Step 2: The invoice is sent—most frequently via email—to the buyers' accounts payable department.
Step 3: The seller's AR collections software may send reminders of upcoming payment due dates, and will very likely send additional requests should payment become overdue.
At Versapay, our AR collections software keeps payments coming in on time in several ways:
Zero-touch collections: By automating payment reminders, you can ensure customers know what they owe and when payment is due.
Real-time communications and dispute management: Chat with your customers over the cloud to manage disputes and answer questions as they arise.
Timely notifications: Receive notifications and other timely prompts to stay on task and focus on your collections priorities.
The AR collections period shows the average time it takes a business to collect receivables and convert them into cash. While average collection period varies by business and industry, shorter is generally seen as better. There are exceptions, such as government contracts, which have an almost guaranteed chance of getting paid but tend to get slowed down by bureaucratic challenges.