Amid Great Resignation, AR Automation Key to Retaining Talent in Finance
With record numbers of employees choosing to leave their jobs, finance leaders who want to avoid the damaging impacts of high turnover should turn their attention to enabling long-term remote work and prioritizing employee satisfaction.
In this blog, we'll discuss how accounts receivable automation can support both these initiatives and enhance talent retention within finance departments.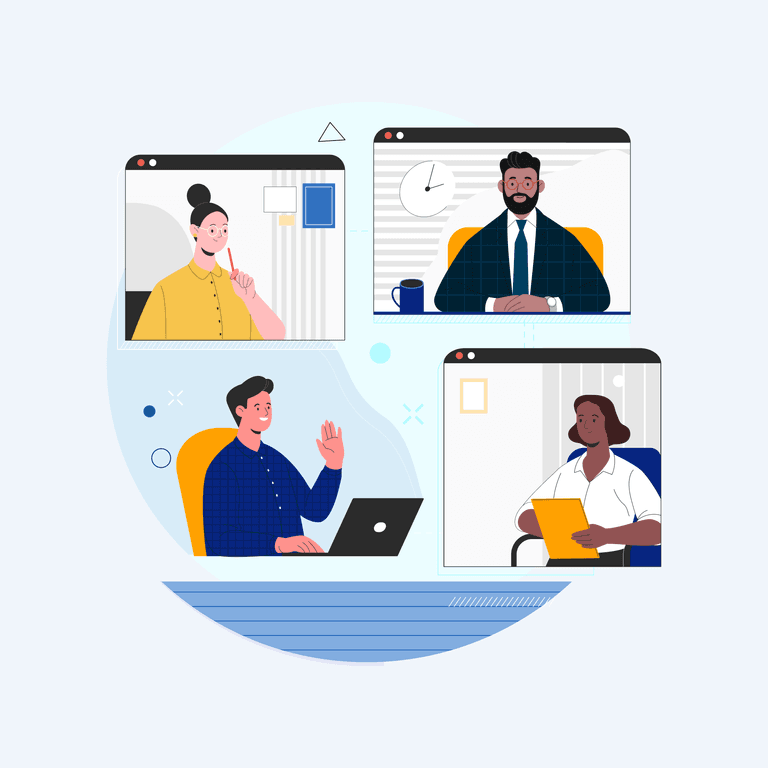 As the great resignation carries on into 2022, finance leaders are feeling the brunt of its effects. A survey run by Duke University found that Chief Financial Officers' (CFOs) most pressing concern in the latter half of 2021 was a lack of labor quality and availability.
Widespread difficulty in attracting and retaining top-tier talent means companies must cope with rising hiring costs and understaffed teams. The cost of replacing a single employee reportedly ranges from six months to two years of their salary.
But what are the causes behind this employee exodus?
What is the "great resignation"?
Coined by Texas A&M University professor Anthony Klotz, the great resignation refers to the record number of people leaving their jobs during the late stages of the COVID-19 pandemic.
A big part of these voluntary exits are a result of pent-up resignations. With the economy in recovery, many employees no longer feel the need to stay in dissatisfying roles because of uncertainty. Instead, they're exploring their options elsewhere.
In March 2021, the number of open positions in the United States reached a record high, along with the number of workers voluntarily leaving their current positions. In the following month alone, 4 million people quit their jobs according to the US Department of Labor.
One reason for this is office workers' desire to continue working remotely long-term. While many employers are keen to get their staff back in the office, their employees don't necessarily share the same sentiment. A survey from the staffing agency Robert Half found that one in three professionals currently working from home would look for a new job if required to return to the office.
The rise in employee departures can also be attributed to a shift in priorities. Over a year of pandemic hardship has put life into greater perspective for many workers, with work-life balance and personal fulfillment emerging as top priorities.
What will the great resignation mean for finance leaders?
With employees' increasing bargaining power, CFOs need to provide flexible work from home arrangements and more opportunities for career progression if they hope to attract talent and shore up retention.
Pivoting paper-based processes for remote work
For many finance and accounting executives, the transition to remote work has been a challenging one.
These departments have historically relied on teams being on-site, with the accounts receivable (AR) department being the perfect example. AR staff often rely on sending invoices and receiving checks by mail, which proves difficult when working remotely.
To keep cash coming in the door and allow their AR teams to operate successfully from home, many businesses turned their attention to digitization. In a joint survey by Versapay and CFO Dive, 44% of finance executives say they've already integrated digital technologies into their AR processes. Another 25% say they plan to do so in the next year.
To satisfy employees' desires to work remotely long-term, finance leaders who have yet to implement any form of AR automation will need to act fast.
Appealing to Millennials' desire for meaningful work
Bringing automation into core AR functions also has an inherent positive impact on employee retention. By minimizing manual efforts involved in invoicing, collections, payment processing, and cash application, finance leaders allow their staff to focus on more strategic work.
It's worth noting that the highest number of resignations in the US over the last year were among mid-career employees, aged between 30 and 45. By and large this group is comprised of Millennials, who incidentally make up the biggest portion of the labor force.
In contrast to their predecessors, Millennials are less content with repetitive and tedious work like manual data entry. Instead, they favor work that allows them to be strategic, analytical, and creative.
In line with these labor trends, finance leaders should slash highly manual work by introducing more automation into their processes.
How accounts receivable automation helps retain talent in finance
In our recent survey, 75% of finance executives cited that a top benefit of AR automation is the ability to increase their team's bandwidth to take on strategic initiatives. 73% cited an improved ability to attract and retain accounting and finance talent as a top benefit.
Implementing accounts receivable automation software advances these goals in a few key ways:
1. Digitizes billing and payment processes for work from home (WFH) continuity
While efforts to digitize billing and payments were on the rise well before the pandemic, the sudden shift to remote work forced many B2B businesses to accelerate their plans.
With AR automation software that takes a collaborative approach to the invoice to cash process, collections staff find that they're working more effectively than ever before.
These kinds of solutions allow AR staff to send invoices, request payment, and communicate with customers through a cloud-based online portal. Instead of chasing after customers over the phone or through email, AR clerks can clear up questions or disputes right in the portal, in real-time.
Crucially, this kind of software also allows AR team members to more easily collaborate with one another while working remotely. With AR software that centralizes all active receivables in one place, team members can collaboratively track and manage the invoice to cash process and assign tasks to one another.
This shift in operating model couldn't come at a better time, as many finance leaders anticipate much of their accounting staff will continue working remotely long-term. Our survey found that 25% of finance executives expect between 41% and 60% of their staff to work permanently off-site. Another 28% expect this number to be even higher, falling between 61% and 100%.
2. Eliminates the tedium from collecting on accounts receivable
Without automation to support the invoice to cash process, much of the role of an accounts receivable professional is focused on completing highly manual tasks. This might look like:
Printing invoices and stuffing envelopes
Running an AR aging report to determine which payments are overdue, then preparing and sending dunning letters
Calling and emailing customers when dunning efforts don't result in payment
Manually processing credit card details received over the phone
Manually keying in payment details in the company's accounting system to close out open receivables
But with AR automation software, many of these tasks either resolve themselves or become obsolete. As a result, AR staff spend less time on repetitive and tedious work and encounter fewer errors (as manual data entry is never perfect).
3. Empowers AR professionals to take on strategic work
No longer consumed by tasks that have the potential to be automated, AR professionals are freed up to focus on more strategic work. In some cases, this can even unlock potential opportunities for career advancement.
For example, when the Research and Productivity Council (RPC) introduced AR automation into their processes, this laid the foundation for their Credit and Collections Specialist to expand her role.
Empowering AR staff to take on more complex projects can also elevate the status of the AR department as a whole.
For businesses willing to be agile, the great resignation can serve as a call to action to focus on employee experience and satisfaction. And with newfound bargaining power, employees are making themselves heard—they want flexibility, work-life balance, and meaningful work.
For finance leaders, embracing AR automation has the potential to fulfill this mandate and unlock operational efficiencies at the same time.
Learn how finance teams can set themselves up for success in a remote world in our report, "Digital by Design: How Accounts Receivable Automation and Digitization Can Enable Long-Term Remote Work."
About the author

Nicole Bennett
Nicole Bennett is the Senior Content Marketing Specialist at Versapay. She is passionate about telling compelling stories that drive real-world value for businesses and is a staunch supporter of the Oxford comma. Before joining Versapay, Nicole held various marketing roles in SaaS, financial services, and higher ed.
Remote Work Enablement
Here's what you can do to help remote finance employees thrive.