The Key to Accelerating Cash Flow is Accounts Receivable Digitization
Good cash flow is an important component of a healthy business. And the key to accelerating cash flow lies in leveraging accounts receivable. More specifically, in taking advantage of the digitization of accounts receivable.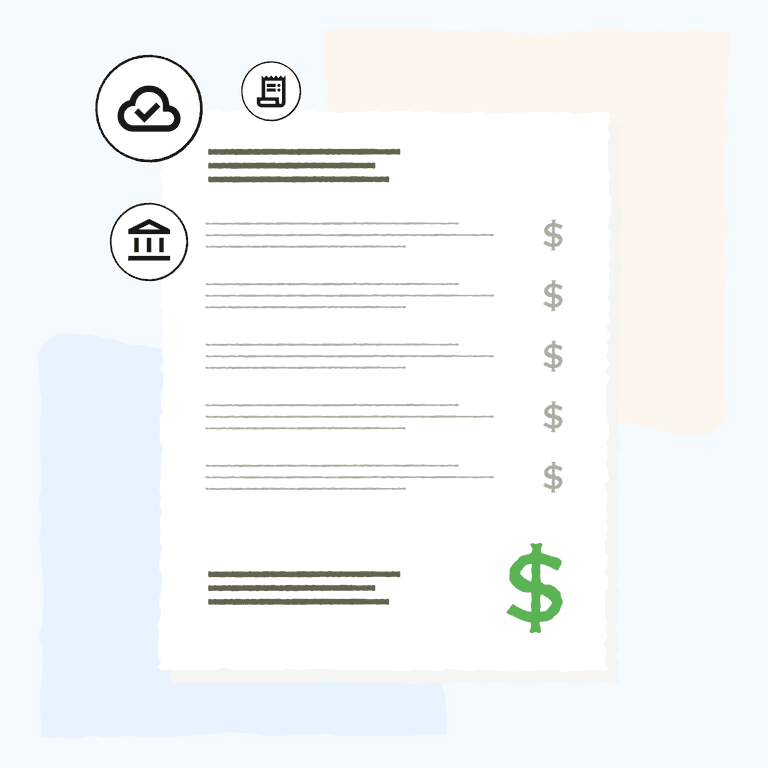 Most business operations have been subject to digitization—including media, professional services and commerce—with the effects of the past year accelerating transformation and automation even further. Years of change have taken place in a fraction of the time (as much as 7 years' worth of transformation in just the first half of 2020).
With the pandemic exposing the limitations of paper-based, manual processes, and businesses becoming more aware of how integral the payment experience is to building flourishing customer relationships, the accounts receivable function suddenly finds itself thrust into the spotlight as an operation that's ripe for change.
While undoubtedly important, accounts receivable is often an overlooked function. Now, it presents itself as a catalyst for driving business efficiency, accelerating cash flow, and creating exceptional customer experiences.
—
🚨 If you're looking to drive efficiencies, accelerate cash flow, and boost customer experience, take our six-minute assessment and get personalized recommendations for how to transform your accounts receivable.

3 reasons use accounts receivable digitization as a strategic lever

Your ability to predict cash flow, along with how quickly you collect that cash in the first-place, hinges on the efficacy of various accounts receivable activities including invoicing, payment acceptance and processing, and collections management. Highly manual processes can hamper all these functions. Having now realized this, CFOs are taking immediate action, as evidenced by the significant shares of firms currently investing in the digitization of these three payments-related operations.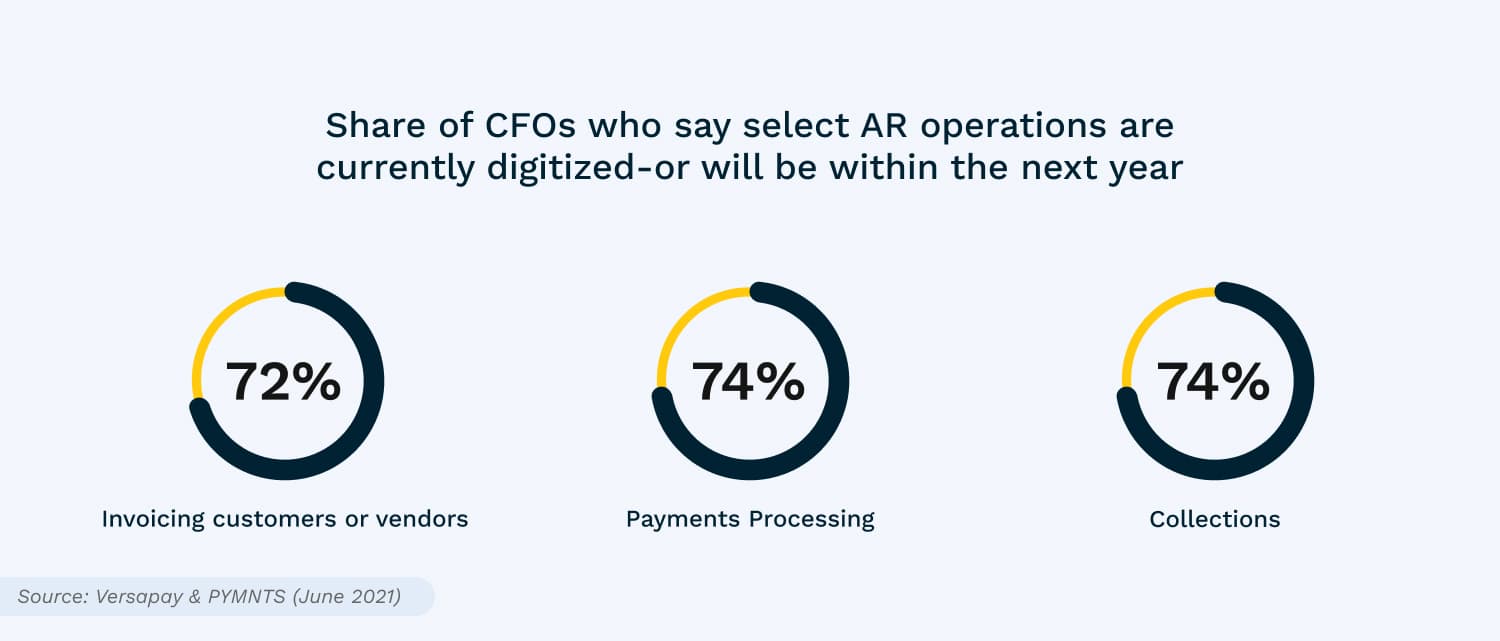 Currently, most accounts receivable processes are largely manual, which may result in inefficiencies that make it difficult to accurately assess the state of receivables. In prioritizing the modernization of accounts receivable and adopting a more comprehensive and strategic view of AR digitization, companies can gain considerable advantages over those that are still relying on manual processes.

No longer are payments and accounts receivable viewed predominantly as behind the scenes activities that must be done after contracts are finalized. CFOs increasingly consider these functions—and their transformation to digital and collaborative experiences—to be crucial for building strong customer relationships and cite this as their top reason for digitizing their operations.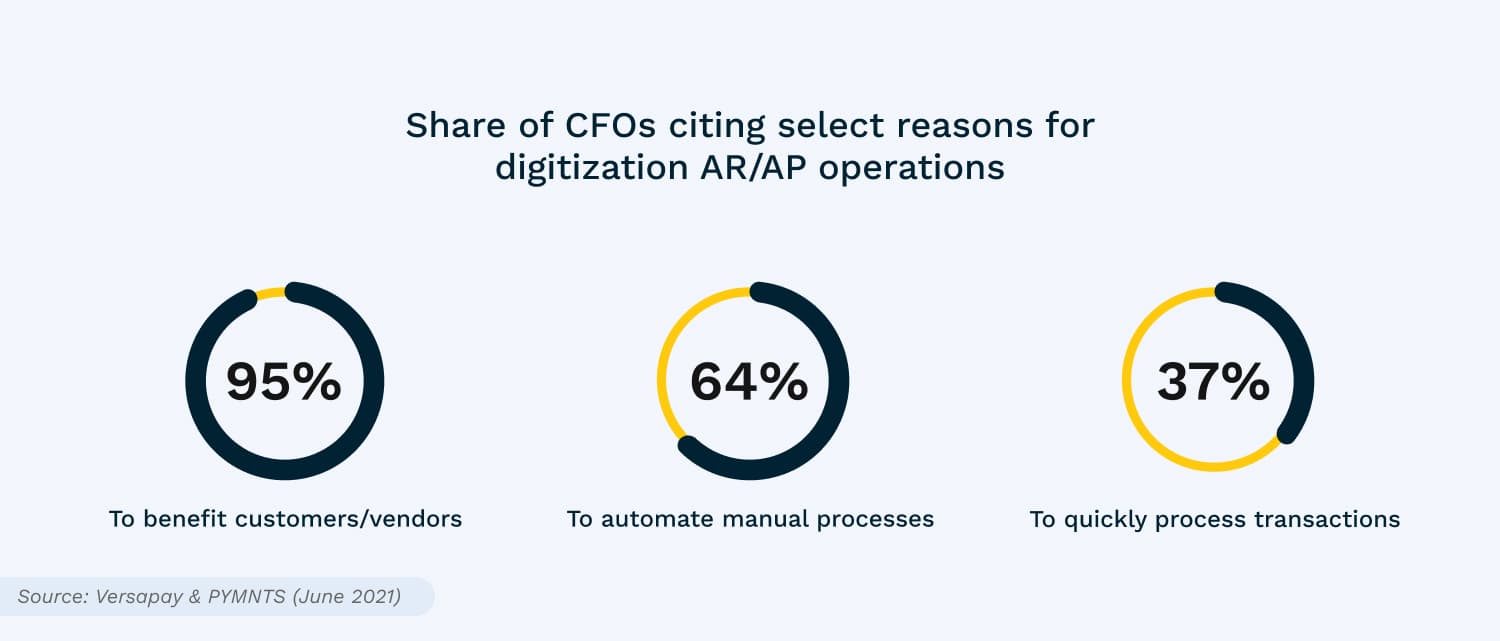 1. Traditional invoicing processes cause payment delays

While the pandemic has accelerated this digital shift, it's also forced employers and workers to adjust to a more remote, virtual working environment—with many employees reporting they'd like to continue working from home even after offices reopen. A survey from Gartner also found that nearly 75% of CFOs intend to shift a portion of their on-site workforce to permanently remote positions once the pandemic recedes—demonstrating that this desire is mutual.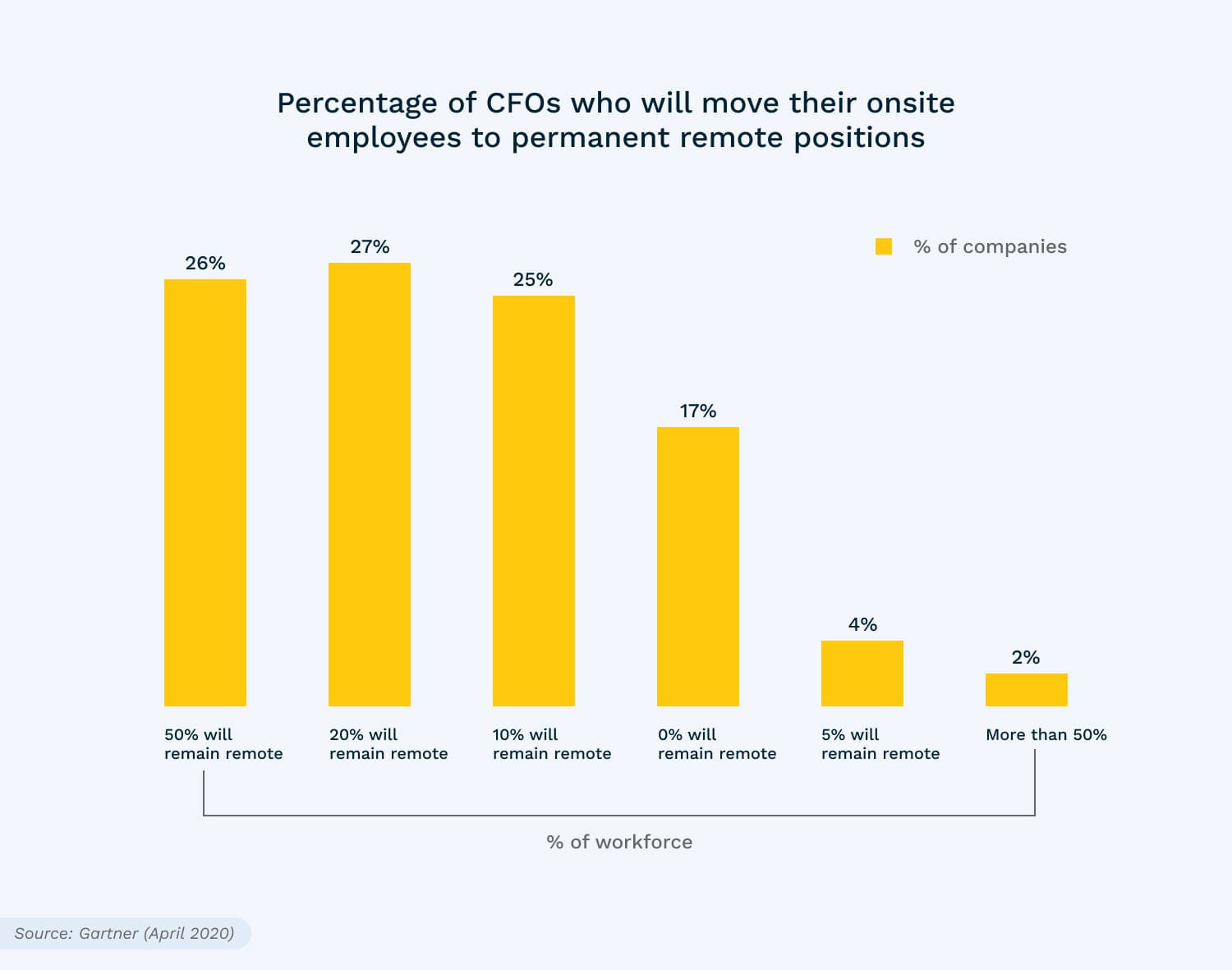 This trend lends itself well to the emergence of cloud-based operations—not to the continuation of traditional invoicing processes. This means businesses must find long-term solutions to processes that once depended on staff being in office—like printing and mailing invoices. Unfortunately, many businesses aren't yet automating how they deliver invoices and instead are relying on manually preparing and sending physical invoices. This reluctance to digitize and divert from the status quo does more than invite payment delays—it directly inhibits cash flow.
Improving cash flow begins with improving invoice delivery. It takes businesses on average 10 days to process a single invoice, which can delay receiving payment up to 30 days. The pandemic has compounded payment delays even more, further highlighting the challenges of manual invoicing. It's possible to circumvent this issue and eliminate that lead time by delivering invoices, statements, and supporting documents online automatically.

Businesses that upgrade their invoice delivery processes to make use of shared online portals, provide multi-channel invoicing options and empower their customers to choose the invoice format that best suits their needs are better able to audit and track delivery and ensure payment information is received where and by whom it's needed.
2. Customers crave digital payment experiences
The reign of paper is over, with the use of checks steadily declining over the past two decades—a trend only exacerbated by the pandemic. B2B customers are now looking to pay digitally—a new study shows that 40% of CFOs say their use and acceptance of checks is less prominent as a result of digitizing accounting operations. They also report a preference for doing business with companies that empower them to pay using their preferred methods. Having grown accustomed to the payment experiences they engage with in their daily lives as consumers, B2B buyers are demanding—and expecting—similar flexibility in how they purchase from businesses.
Accounting digitization can help businesses accelerate their use of digital payments and allow them to reduce their reliance on paper checks. As a result of the recent digital boom, businesses' acceptance—and subsequently, customers' use—of credit cards has increased, with 64% of CFOs citing an increase in credit card payments. Other payment types experiencing growth include ACH, wire transfers, virtual cards, and real-time payments. This is encouraging, as acquiring the ability to accept digital payments is a necessary first-step in transforming the AR department.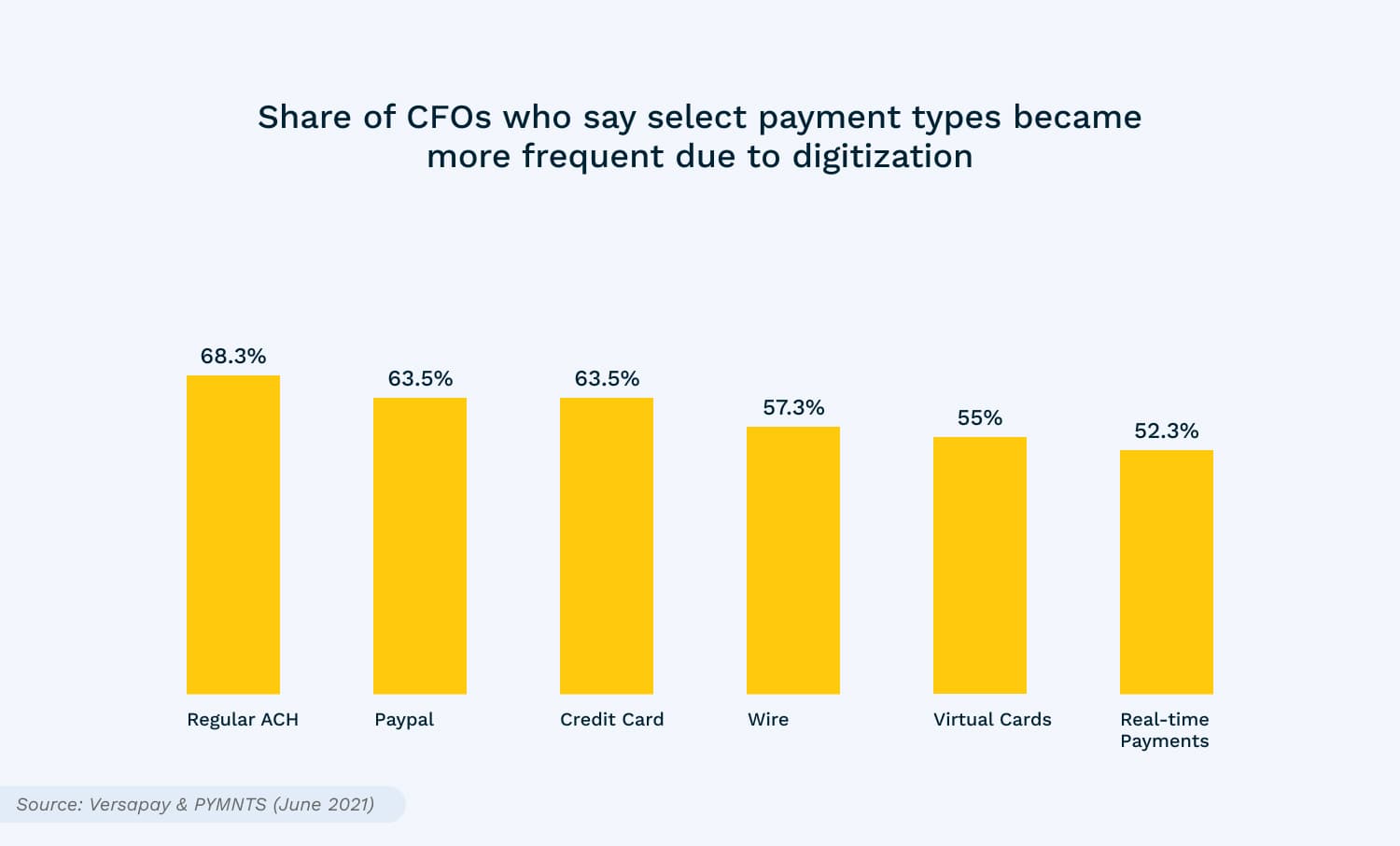 By empowering their accounts receivable teams to accept and process more digital payments, businesses are further impacting the overall health of their businesses and accelerating cash flow. Beyond giving their customers a better online, interactive experience, digitizing and automating payments helps businesses decrease costs—a single check costs up to $20 to process—and reduce manual processes.
3. Cloud-based collaboration is critical to optimizing collections
Businesses lose 52% of the value of their receivables not paid within 90 days of their due date. This is often due to the manual, laborious nature of collections processes—along with a lack of time and required financial resources. A healthy business depends on a steady flow of cash, and an inability to collect payment promptly can severely compromise growth. Without a structured, sustainable approach to collecting past-due invoices, accounting teams get lost in the shuffle and are forced to prioritize only the highest unpaid balances.
Digitization presents an opportunity for businesses to collaborate over the cloud with their customers to streamline collections and substantially reduce the volume of invoices past-due. Through collaborative practices—and by leveraging software that enables and fosters that collaboration—businesses can simplify how they communicate with customers, automate routine operations, and eliminate the need for much manual intervention.
Those that take advantage of AR technology to segment their customers and send personalized communications and reminders are better positioned to improve critical cash flow metrics such as AR Aging and Days Sales Outstanding.
Drive efficiency and cash flow through automation
Digital transformation has taken the economy by storm this year, and we're now seeing this trickle down to companies' accounting and finance departments. In digitizing accounts receivable, businesses can automate virtually all routine AR tasks in the cloud, including invoicing, reminders, payment processing, collections and dispute management, and invoice matching and reconciliation.
Learn more about how finance leaders currently view accounting digitization in our report, The Strategic Role of the CFO, in collaboration with PYMNTS.com.
About the author

Jordan Zenko
Jordan Zenko is the Senior Content Marketing Manager at Versapay. A self-proclaimed storyteller, he authors in-depth content that educates and inspires accounts receivable and finance professionals on ways to transform their businesses. Jordan's leap to fintech comes after 5 years in business intelligence and data analytics.
AR Transformation
Everything you need to turn AR into a value driver once and for all.