How to Modernize B2B Customer Invoicing: 6 Invoicing Best Practices
Traditional, paper-based invoicing is wasteful, inefficient, and leads to a host of issues including slow payments and poor customer experiences.
In this blog, you'll learn the six best practices to modernize your customer invoicing and dramatically improve accounts receivable.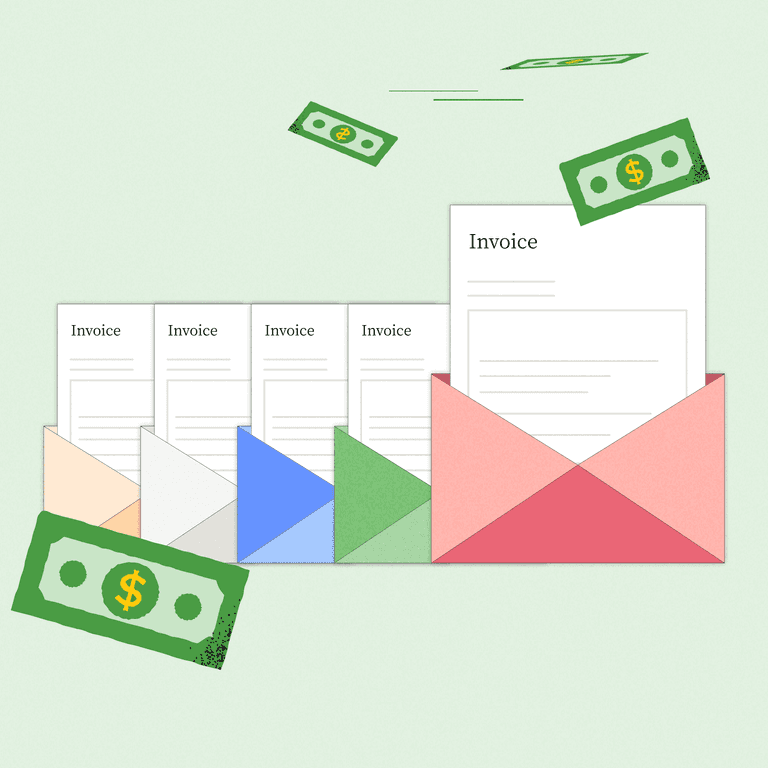 For many B2B companies, invoicing is a locus of inefficiency and frustration. Repetitious, manual processes; errors and disputes; and slow payments all create a drag on the accounts receivable (AR) team and make a dent in the bottom line.

Companies that relate to this situation have a simple solution: Modernize your B2B customer invoicing process.

Paper invoicing results not only in the problems above, but also wastes resources, requires cumbersome communications with customers, and is typically characterized by disorganized supporting documentation.

Modernizing the B2B customer invoicing process can make a big difference on all these aspects, which add up to an improvement in both efficiency and profit margins, not to mention the great satisfaction of AR workers. With rote tasks automated, communication streamlined, errors and disputes reduced, and digital tools speeding everything up, staff can work on higher-order priorities, delivering greater value to your organization.
As for your customers, they too have a better experience when you modernize this essential function. They receive invoices via preferred channels, are enabled to pay the way they want, and have transparency on data and smooth communications.

First, it's important to put the basics of good invoicing in place, but there are key best practices beyond those basics that will bring your invoicing process into the 21st century. Let's take a look:

Jump to a section of interest:
Master the fundamentals of B2B customer invoicing
Before you can modernize your invoicing process, it must be running on sound fundamentals. This means having a system in place to ensure that you send accurate, timely invoices; keep documentation in order; and ensure disputes can be resolved efficiently.

There are many aspects to a well-ordered B2B customer invoicing process:

Have a system in place

Set expectations during customer onboarding

Verify customer information

Invoice promptly

Double-check invoice details

Maintain organized documentation

Offer early settlement discounts

Tighten payment terms

Include late fees

Perform credit risk assessments

Create a dispute resolution procedure
It may be tempting to work on transforming your accounts receivable process using technology before you've done the grunt work of getting a solid manual system in place. But skip ahead at your peril: A well-honed B2B customer invoicing procedure will translate far better to digital transformation than a disorganized and underdeveloped process will.

Modernize your B2B customer invoicing: 6 best practices
Once you've mastered the fundamentals of invoicing, you're ready to modernize your system. Here are the six best practices for modernizing your B2B customer invoicing function.

Ditch paper invoicing for electronic invoicing →

Automate routine invoicing tasks →

Customize your invoices →

Use personalized invoice delivery →

Accept online payments →

Modernize using a collaborative AR payment platform →
1. Ditch paper invoicing for electronic invoicing
Electronic invoicing reduces resource use, including labor, paper, printing ink, and shipping costs. It also allows you to streamline the invoicing process by empowering you to easily fix errors digitally instead of having to reprint and re-mail invoices.
With electronic invoicing you can also speed up the payment process by delivering invoices immediately via digital means and enabling customers to pay instantly and digitally, which can help improve your cash flow.
2. Automate routine invoicing tasks
Automating routine invoicing tasks will save staff time by reducing the need to print and mail invoices, and by enabling automated scanning, matching, and validating of invoice data.

Much of your pertinent invoicing data exists in your ERP already, so it's easily retrievable. With automation software, you can leverage invoices made in your ERP and push them through to customers automatically. Other typical, rote, routine invoicing tasks—like following up on delinquent accounts—are also good starting points for modernization, which automation can make substantially more efficient.

3. Customize your invoices
Customize invoices to improve the customer experience by creating seamless, branded AR communications. Modern AR tools allow you to customize design and layout, business unit and geography, or any other aspects of your invoices.

Such functionality allows you to present your business as professional, sets you apart from the competition, and enables you to give each customer exactly the information they need most.

Here's an example of a personalized invoice created using Versapay's invoicing software. Notice that it includes custom fields like PO#, who made the order, sales codes, and an item description, making it easy for the client's AP team to review and approve: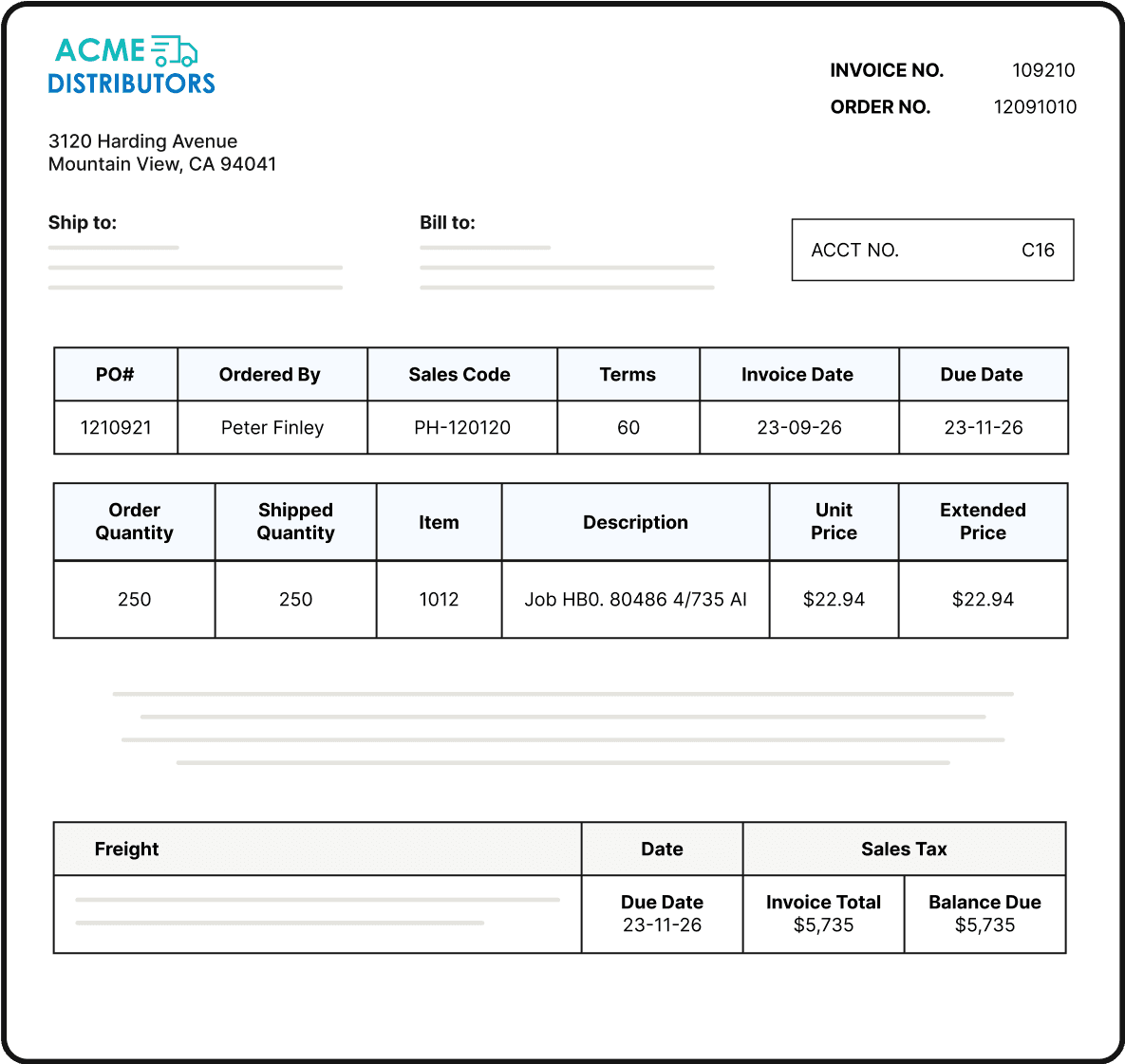 4. Use personalized invoice delivery
Customers have preferences for how to receive invoices, with many desiring digital delivery these days. You can make your customers happy by personalizing invoice delivery and sending invoices via the channels they prefer.

Greater reliance on digital delivery reduces AR workload both by reducing manual work in sending invoices and by encouraging customers to pay digitally.

Another major advantage of modernizing your systems is that you can gain the ability to customize invoice delivery to suit large clients. For example, using an invoice delivery system that can automatically push invoices to a client's AP portal can help you retain the business of major clients you don't want to lose.

5. Accept online payments
Incorporating digital payment acceptance as part of your B2B customer invoicing process can help you improve customer experience, as many customers now find it most convenient to pay digitally, and using methods they're increasingly accustomed to as consumers.

You can also accelerate cash collection on outstanding invoices by streamlining payment acceptance and accepting a wider variety of B2B payment methods.

6. Modernize using a collaborative accounts receivable payment portal
Implementing an accounts receivable payment portal is the final step in modernizing your invoicing. Beyond transforming your invoice creation and delivery processes, this type of solution automates the cash application process and increases the efficiency of your AR system—the processes and people involved in them.
Using a collaborative AR payment portal, the accounts receivable—internal—and payable—external—teams involved in the B2B customer invoicing process can communicate, send documents, and remit payments directly through the portal, over the cloud. This eliminates the need for communication via email or phone, streamlines all information-sharing, increases transparency, allows for fast payment, and automates many elements of the invoicing process.

💡 To see why collaborative accounts receivable payment portals are the best solution for fixing your invoicing woes, get your copy of The Path to Better Invoice Processing, our survey of 300 CFOs on their most mission-critical function: invoice processing.

The benefits of a collaborative accounts receivable payment portal
A collaborative AR payment portal has many benefits. A major one is that payments made through the portal on invoices uploaded to the portal are automatically synced to your ERP. In this way, payments post immediately with no human intervention.
Other advantages to using an AR payment portal include:
Increased transparency via the greater organization and availability of supporting documentation
Cost- and time-savings from automating tasks and communicating with customers in a streamlined manner
Reduced disputes and time to solve potential disputes via proactive communication and transparent data-sharing
Better relations between AR teams and their AP customers by making the B2B customer invoicing and payments process intuitive and easy
Improved customer experience by making the invoicing and payment process smoother, faster, more transparent, and more collaborative
While all aspects of modernizing your B2B customer invoicing process are valuable, implementing a collaborative AR payment puts you immediately onto a whole new level of functionality and efficiency.

Get ahead with better B2B customer invoicing
With technology advancing quickly, the most comprehensive way to fully modernize your B2B customer invoicing process is to move to a collaborative AR payment portal. Customers increasingly expect to be able to pay, communicate, and view data via a central portal or dashboard.

Providing customers this option, which enables them to receive invoices and pay bills in the ways that work best for them, will improve customer experience and loyalty.

Companies that do this find that their expenditures on AR go down while cash flow accelerates. That's why putting a collaborative AR payment portal in place can equate to a +300% ROI within three years, according to an analysis of Versapay by Forrester.

—

Learn more about how to modernize your B2B customer invoicing in The Executive's Guide to Electronic Invoicing.

About the author

Katie Gustafson
Katherine Gustafson is a freelance writer specializing in content for mission-driven changemakers such as tech disruptors, visionary nonprofits, and big-thinking startups. She is the author of a book about innovation in sustainable food, and her writing has appeared in Slate, TechCrunch, Business Insider, and Forbes, among other places.
Invoicing and Billing
Tips for creating and tracking invoices so you can get paid on time with less work.