How Accounts Payable Invoice Integrations Help You Boost Cash Flow and Land Bigger Customers
No one wants to spend time manually keying invoice data into customers' accounts payable portals. Learn how you can automate the delivery of your invoices to customers' AP portals instead, saving you time and allowing you to land bigger customers.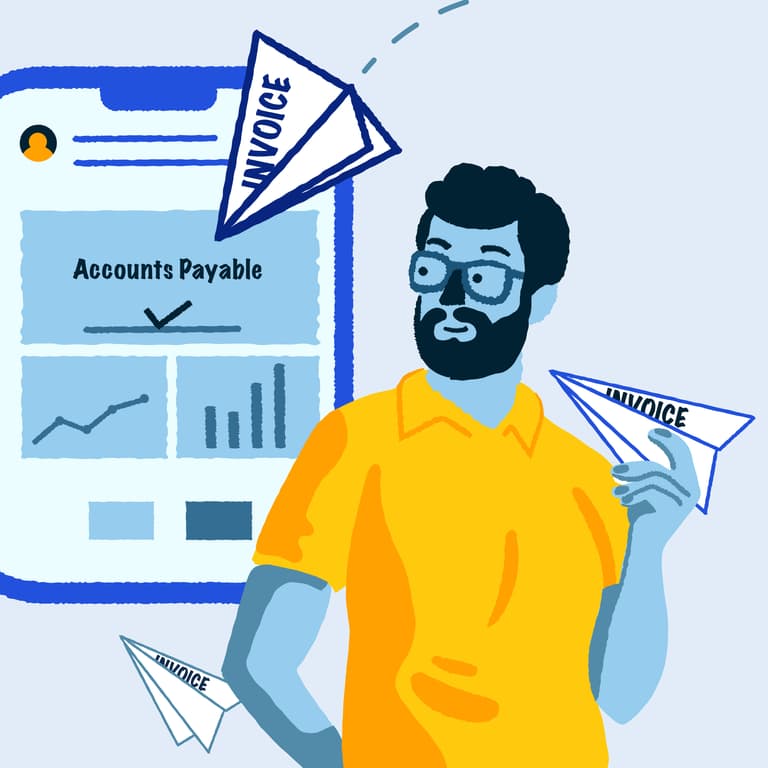 Here's a B2B Catch-22: Your business has qualified for a lucrative contract with a huge customer. There's a $1 million purchase order (PO) with your company's name on it. The catch? Every last one of those thousands of invoices you'll submit needs to be manually keyed into their accounts payable (AP) portal.

You'll need to dedicate hundreds of hours of accounts receivable (AR) staff time to this ongoing manual task. It's a cumbersome process that will undoubtedly delay payments and open the door to human error, which could further delay payments. There go any cash flow gains for your business. What's worse, is that this prospective whale isn't willing to budge. It's their way or the highway.

Is the cost of getting paid too high to take on this customer?

This incredibly frustrating conundrum is a reality for many small and mid-size businesses who are forced to adapt to the many AP automation portals flooding the market to service their customers. Having to manage multiple logins and keep track of payment information in multiple locations also creates portal fatigue for those beleaguered accounting teams. And that's just the tip of the iceberg.
To understand this very real and expensive problem (and possible solutions), we spoke to one of our senior product managers Aiham Hatem.
AP portals: How did we get here?
Invoice automation is a smart way for bigger companies to efficiently and cost effectively process high volumes of invoices.

"As companies get larger and their revenues and expenses increase, the purchasing and procurement cycle gets very complex. Many will get an AP portal and procurement system to manage their expenditures and be able to purchase in an organized way," explained Aiham.

"They basically say [to their suppliers], 'We're going to need every single invoice keyed into this system or your AR system needs to integrate with it. If you can't do that, I'm going to find another vendor.'"

Some companies have even begun to include this requirement into their RFPs to weed out suppliers who can't work within their AP systems. And it's becoming a serious problem.

And it's not just smaller companies needing to deal with the monolithic AP systems of their much bigger customers. The reverse situation can also be a problem.

"In many cases, you want to buy from a vendor because their product is great but they're much bigger than you and they're not going to key their invoices into your AP system. They just give [the invoice information] to you and you have to do it," said Aiham.

"Sometimes you just can't buy from the company you want to buy from because there's not enough time in the day to manage the invoices."

Aiham says these situations have forced many smaller businesses across North America to either hire more staff or rush out and find IT solutions that help them connect to their customers' or suppliers' AP portals.
A tale of two systems: Before and after AP invoice connectors
One solution to bypass the drudgery of manually keying in invoice data is to use an AR automation system with integrations capable of connecting to another company's AP portal.

To help us get a clear picture of the difference between having an AP invoice connector and not having an AP invoice connector, Aiham walked us through both processes for AR teams.

Managing the AR process without an AP invoice connector
Businesses will typically create an invoice in their enterprise resource planning (ERP) system, approve it, post it, and send it to their customer.

If they work with an AR automation solution like Versapay, they can be assured that the invoice will be sent to the customer in whichever way they specify, whether that's snail mail, email, electronic data interchange (EDI), or through the Versapay portal itself.

If their customer has a proprietary AP portal, however, an AR clerk must take the extra step of logging into that environment, locating the purchase order provided to them, and going through the process of re-generating each invoice, line-by-line. This includes reviewing and/or populating a number of fields to ensure everything from the shipping addresses to tax amounts are correct.
He estimates that AR clerks could easily spend multiple days each month keying invoices into AP portals. Some businesses might even have full-time positions dedicated to this job. It's a costly system—and one that's prone to errors.

"You've got a person doing something extremely boring for hours at a time. Mistakes are bound to happen," said Aiham.

And that's not the only problem. "You're also taking ages to get those invoices into your customer's system, which means it's going to take additional days to get paid. It will quickly become a cash flow issue for any company," he said.

Managing the AR process with an AP invoice connector
A technology solution that connects your AR automation provider to any industry-standard AP portal can turn this cumbersome, multi-step task into one that's done quickly and automatically.

"With an AP invoice connector, an AR clerk would issue the invoice from their ERP system, post it, approve it, and get it out the door as they usually would. Then they will log into [their AR automation solution] and confirm that each invoice was automatically entered into their customer's AP portal with an error or success message," said Aiham.

Even error messages are a good sign because they allow the AR clerk to immediately identify and fix any errors rather than wait for the customer's system to flag the problem, which can often take days or weeks.
"Having access to and control of all your invoices in one centralized spot—instead of logging into multiple systems—will not only save time but will also help you see the status of everything at once. This line of sight is helpful if AR clerks need tocollaborate with a supervisor to address a number of rejected invoices, as they can resolve all the issues in one go," said Aiham.
What are your options if you encounter a customer with their own AP portal?
If you haven't been faced with the challenge of working around a customer's AP portal, it's only a matter of time before you are.

An AP invoice connector is one solution, but there are others. To solve the challenge of working around customers' accounts payable solutions, your options are:

1. Tell the customer that you don't support their AP portal
If you don't want the hassle of keying invoices into an AP portal and you're not open to making changes within your own AR processes, you can simply reject their business. No harm, no foul. (And no profits.)

2. Hire more employees to manually key invoices into customers' AP portal
If you've got a customer whose business you can't resist, you may choose to invest in more staff to do the work of entering all those invoices.

You'll need to do the math to determine how much the additional salary costs will cut into your profits. And don't forget to factor in the potential delays associated with human error. As Aiham noted, the main job of your new AR clerks will be repetitive tasks in which it's easy to make a small but costly mistake.

3. Invest in building your own AP portal integration
It's possible that most of your core customers have their own AP portals and you want to create an in-house IT solution that integrates with all of them. While a custom-built integration has its advantages, it also has some serious drawbacks.

"Building things in-house is not easy. If you hire an expert in the industry who has built integrations like this for other clients, you're going to pay higher rates. If you hire an IT specialist who hasn't, they'll likely experience pitfalls that the experts have learned to avoid," said Aiham.

"Once your in-house solution is built and functioning, you'll need to keep at least one to three IT developers on board long-term to maintain the system."

4. Use a third-party automation software's AP invoice connector
Partnering with a solution like Versapay allows you to automate the entire process of getting an invoice in or out of an AP portal. The advantage of this option is that the product is already built and proven to function well across a wide range of AP portals.
"If your core business is not software, you're better off investing in other things than paying the salaries of developers. Even one person is way more expensive than paying for a software as a service subscription," said Aiham.
"The price point to getting an IT solution for this tends to be a lot more competitive than an extra salary. And it can handle the work of potentially hundreds of employees for years to come vs. having to hire one new AR employee every 3-4 months to keep up with the volume–or because of burnout."
Automated delivery of invoices to AP portals is the solution to your Catch-22
If your business is intent on selling new contracts to large companies or expanding sales through existing contracts, you need to think about how you'll handle the challenges associated with supporting multiple AP portals.

"With an AP invoice connector, you can process a high volume of invoices. And it'll help you speed up the process and get paid faster," said Aiham.

"Here at Versapay, we've created an AP invoice connector that connects to any kind of AP portal. It will allow companies to publish their invoices out of their ERP system, then we automate the rest."

Versapay's new AP invoice connector, which will work with any industry-standard AP portal, is currently in beta and is expected to be available by summer 2022.

About the author

Heather Hudson
Heather Hudson is a Toronto-based journalist and writer who specializes in writing compelling content for SaaS businesses, particularly in fintech and personal finance.