How Personalized Invoice Delivery Leads to Better Cash Flow and CX
Omnichannel invoice delivery—delivering invoices per customer preferences, both format and channel—is critical to efficient invoice processing.
In this article, you'll learn why omnichannel processing and personalized invoice delivery methods matter.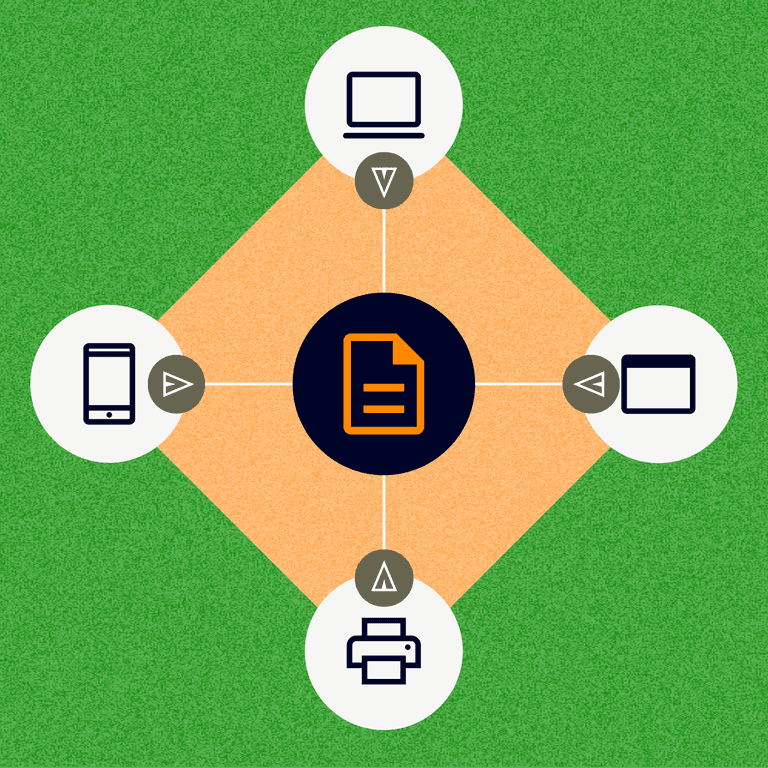 Key takeaways

Invoice delivery is a less-thought-about aspect of customer experience. However, it is a growth roadblock for companies using manual invoicing processes.

Omnichannel—or personalized—invoice delivery helps you meet customer invoicing expectations at all times—whether electronic or physical.

It removes rigidity in invoicing, reduces accounts receivable workload, and helps you customize invoice delivery to suit large clients.

Adopting a cloud-based e-invoicing portal is the best way to transition to personalized invoice delivery.
—
Your choice of invoice delivery channel is unlikely to bankrupt your business. However, it will create several compounding customer experience (CX) impacts that affect customer relationships and long-term resilience.

For instance, having limited invoice delivery methods might make working with large customers with fixed accounts payable (AP) processes impractical. A high-quality product or service may help you overcome this hurdle initially, but a poor invoice delivery workflow will leave customers with poor impressions of your ability to meet their needs long term.

Omnichannel invoice delivery—delivering invoices per customer preferences, both format and channel—is critical to efficient invoice processing. In this article, you'll learn why omnichannel processing and personalized invoice delivery methods matter, along with the following:

What is omnichannel invoice automation?
Omnichannel invoice automation, or customizable invoice delivery, is a set of processes that automatically delivers invoices to customers via their preferred channel. For instance, some customers prefer emailed invoices, while others demand suppliers log into AP payment portals like Coupa or Ariba and upload their invoices there.

Customizable invoice delivery helps you meet both those demands and more, like EDI and paper-based delivery.

Is omnichannel invoicing the same as electronic invoicing?
Electronic invoicing is a subset of omnichannel invoicing. For example, some customers might prefer paper invoices delivered by snail mail. This non-electronic channel falls under the omnichannel—or personalized—umbrella, along with electronic invoice delivery methods such as EDI or direct to AP portal.

Why do existing invoicing processes need an overhaul?
Inefficient invoicing processes in companies create revenue losses and negative CX impacts. In Versapay's survey detailing the impact of CX on B2B payments, 82% of Chief Experience Officers (CXOs) admitted to losing revenue to conflicts during the invoice-to-cash (I2C) process.
These conflicts occur due to accounts receivable and finance teams lacking customer focus. The survey revealed that 81% of CEOs are concerned that their AR department is not customer-oriented enough, with a similar number of CFOs sharing that sentiment.

There are plenty of reasons why accounts receivable departments are often at odds with customers, including:
Rigid invoicing and payment processing workflows—Beyond propagating human-errors, which are rife in manual invoicing practices, traditional accounts receivable processes create a disconnect with customer needs. AR lacks the electronic tools necessary to cater to customer demands quickly.
Limited visibility into stakeholder activities—Accounts receivable lacks visibility into sales terms, for instance, leading to pricing discrepancies when invoicing. These errors often result in disputes, the repercussions of which are costly, occasionally leading to customers churning.
A back office approach—Companies measure AR success by metrics like collection efficiency and DSO instead of CX. An ROI focus dominates as a result, with companies viewing AR as a liability instead of an asset. This focus leads to poor electronification programs, further exacerbating the problems AR teams face, and a greater disconnect with customers.
These factors have left accounts receivable teams at a crossroads. Companies can continue with inefficient AR processes, leading to poor customer alignment and unpredictable cash flow. Alternatively, companies can leverage invoicing—the first customer-facing step in the I2C process—as an opportunity to leave a positive impression.

Personalized omnichannel invoice delivery demonstrates a willingness to boost CX and empathize with customer needs. It transforms AR from a back-office function to a CX giant.

5 advantages of omnichannel invoice delivery
Omnichannel invoice delivery can turn your AR department into a customer experience champion. Here are 5 advantages it delivers that traditional invoicing cannot match:

It removes errors borne from manual processes

It removes roadblocks to growth

It boosts cash flow

It offers clients real-time visibility

It delights customers
1. Omnichannel invoice delivery removes errors borne from manual processes
Manual errors plague traditional invoicing workflows, leading to disputes that drag CX and cash flow down. Omnichannel invoice delivery eliminates these errors even though invoice creation occurs before delivery.

Customized invoice delivery forces companies to reorient their AR departments around customer needs. They automate time sinks that increase workflow times, freeing employees to conduct value-added work.

For instance, instead of forcing AR teams to create invoices manually, a tool that integrates with your ERP and incorporates omnichannel invoice delivery can pull data from sales contracts and create invoices with entries based on inventory management inputs. A collaborative AR portal that boasts omnichannel invoice delivery goes further and delivers notifications to customers automatically, alerting them to new invoices that need processing.

This process removes traditional invoicing errors and automates follow ups while delivering invoices through the channels customers prefer.

2. Omnichannel invoice delivery removes roadblocks to growth
Working with large customers is critical to your business' growth. However, these customers bring unique demands. For example, they insist on invoice delivery to AP portals as a prerequisite to signing contracts.

A platform with omnichannel invoice delivery methods will come equipped with AP portal connectors. Smaller businesses can automatically push invoice data to their customers instead of employing a small (and costly) army of finance professionals to manually key in invoice data.

Omnichannel invoicing levels the playing field by allowing smaller companies to court large customers. AP portal workloads are no longer an impediment to growing your business.

3. Omnichannel invoice delivery boosts cash flow
Traditionally, companies aim to reduce DSO and boost CEI when making AR more efficient. However, these metrics are the result of AR workflows, not the cause of any inefficiency. Customized invoice delivery shifts AR's focus to the primary driver of cash flow—CX.
Customers are more likely to clear their invoices quickly if they receive them on preferred channels. Omnichannel invoice delivery reduces the hurdles customers face when initiating payments, leading to faster cash flow.

By making it as easy as possible for customers to receive invoices, companies also demonstrate their ability to empathize with their customers' processes—a critical CX driver.

4. Omnichannel invoice delivery offers clients real-time visibility
A manual accounts receivable process is an opaque box that pushes customers to contact AR teams for status updates. Cloud-based electronic invoicing portals—which possess omnichannel invoice delivery capabilities—pull critical data when creating invoices and aggregate information in an intuitive UI, offering customers real-time visibility into invoice statuses.

These platforms work well due to their powerful integrations with ERPs—a functionality that also powers omnichannel payment acceptance. As a result, customers can view invoice and dispute statuses in real-time, removing the need to seek clarification for trivial issues. Omnichannel invoice delivery thus creates this highly desirable situation.

5. Omnichannel invoice delivery delights customers
Omnichannel invoice delivery delights customers since it reduces roadblocks to payment by presenting invoices in the most convenient way possible. It displays empathy by acknowledging that their AP processes are unique and you care about their needs. AP teams do not have to subscribe to a vendor's invoicing wants and can run a payment process that suits them the best.

Offering invoices through customer-preferred channels also lends an air of sophistication and professionalism. Customers are more likely to trust a company that offers seamless workflows, boosting the likelihood of future business.

How to transition to a cloud-based e-invoicing platform
Cloud-based AR platforms are essential to adopting omnichannel invoice delivery. Here's how companies can transition to one:

Spot labor inefficiencies

Identify customer experience gaps

Onboard customers piecemeal
1. Spot labor inefficiencies
Examine your accounts receivable process and workflows to spot labor inefficiencies that increase invoice processing costs. Some examples include collecting invoice data on spreadsheets, creating paper invoices, and communicating with multiple departments when resolving disputes.

Evaluate accounts receivable automation platforms to determine how much time a cloud-based AR portal will save you and whether it can automate your biggest time sinks. Here are some criteria to consider when looking to automate invoice delivery across multiple channels: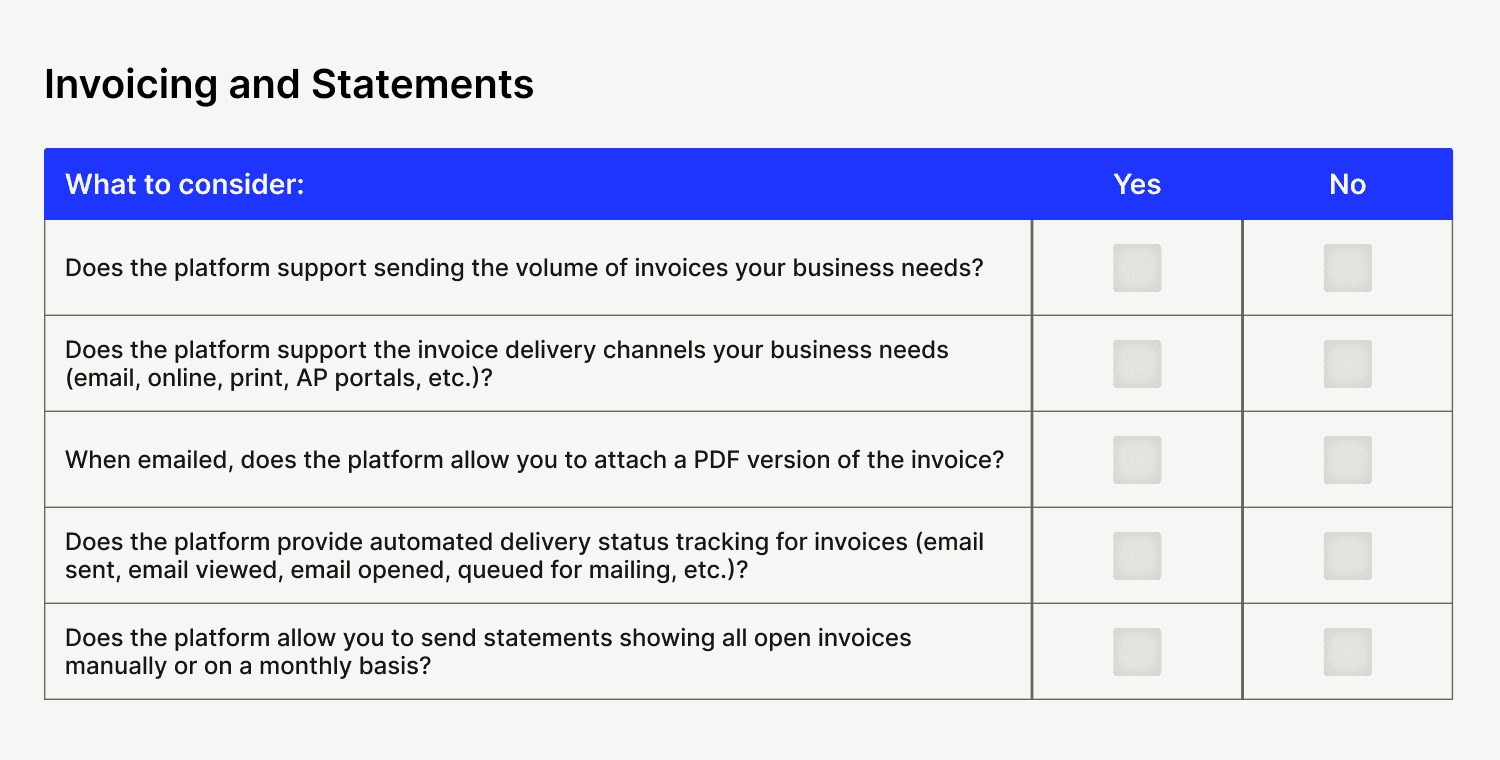 2. Identify customer experience gaps
Your cloud-based e-invoicing portal must ease customer's burdens when receiving—and paying—invoices. Identify the biggest CX friction points during payment and evaluate your e-invoicing portal choices accordingly. For instance, does a portal allow your AR team to transform invoices and deliver them seamlessly even when a customer's preferred invoice channel changes?

Prioritizing customer experience in software purchases, instead of ROI, is critical. Versapay's survey on Gartner's Peer Community revealed that 60% of executives prioritize impact on customer relationships when evaluating new software, making it the number one purchasing decision criteria.


Good CX ensures repeat business and customer support during challenging times—something every business needs to grow in the long run.

3. Onboard customers piecemeal
Onboarding is an opportunity for you to ensure your customers embrace the transition to omnichannel invoice delivery methods. Bettering their adoption of your e-invoicing solution will ultimately deliver the greatest positive impact on customer experience. Eighty-three percent of respondents to Versapay's survey believe that high customer adoption rates are a critical success metric when deploying new software.

Identify a pilot group of customers and onboard them first. Communicate your goals and reasons for switching platforms to secure their buy-in. Monitor their usage and iron out any kinks that might crop up.

Once done, onboard customers in manageable cohorts to reduce the burden on your customer support teams. This ensures great CX throughout the onboarding process and guarantees high adoption.

—

Omnichannel invoice delivery is just one portion of your I2C cycle. However, it has an outsized impact on customer experience, helping you secure strong customer relationships and reduce cash collection times. The digital transformation it spurs in your organization brings additional benefits, positioning your accounts receivable team as a CX champion, instead of a back-office cost center.

Learn how Versapay's omnichannel invoicing reduces costs, boosts CX, and ensures high customer adoption rates.

About the author

Vivek Shankar
Vivek Shankar is a content writer specializing in B2B fintech and technology. He is ambivalent about the Oxford comma and covers the institutional finance markets for industry trade publications. An avid traveler and storyteller, Vivek previously worked in the financial sector as a data analyst.
Invoicing and Billing
Tips for creating and tracking invoices so you can get paid on time with less work.