How Electronic Invoicing Drives Efficiencies, CX, and Improves Cash Flow
In this blog, you'll learn:

The differences between electronic and manual invoicing

The advantages e-invoicing can bring to your business, and

Advice on how to make the transition from manual to electronic invoicing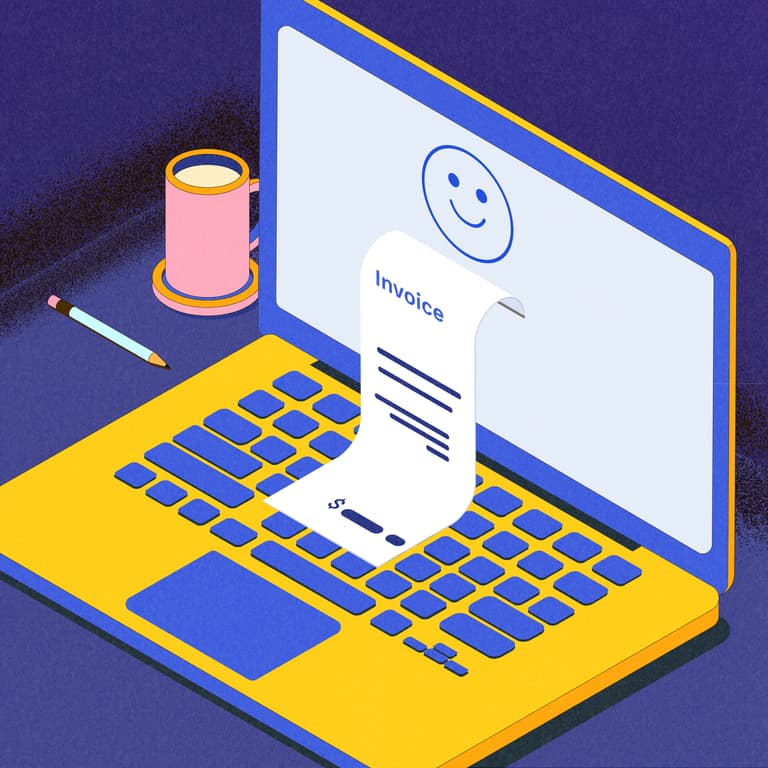 Businesses looking to bring new efficiencies to their accounts receivable (AR) department need look no further than electronic invoicing.

The practice, which has already been mandated in countries like India, Egypt, and Albania—and soon will be in China, France, Japan, and the Philippines—is one of the most straightforward ways to streamline the invoicing process.
In the US, a PYMNTS study finds that 63.5% of companies are already shifting away from physical invoices. Electronic invoicing could be the quiet revolution your AR department needs to drive much-needed efficiencies.
What is electronic invoicing?
An electronic invoice—or e-invoice—is created, sent, received, processed, and recorded electronically using a software-based solution. Typically, e-invoicing software will be integrated with your company's Enterprise Resource Planning (ERP) system.

Electronic invoicing eliminates the need for your AR team or customers to handle reams of paper. With electronic invoicing, they can access invoices securely online.

What is the difference between an e-invoice and a manual invoice?
A manual invoice is usually created using a stand-alone software program. It may be as rudimentary as Word or Excel but is more likely to be a business, financial, or accounting solution. Once the invoice is created, it's printed, sorted, and processed with other invoices to be mailed to the customer.

One or more AR staff members may be involved with creating, processing, and mailing manual invoices, which can be a multi-day process. This creates work on your customer's end too, as employees in their accounts payable (AP) department will need to manually open, process, and pay the invoice. This may take days or weeks.
Finally, when you receive the payment—digitally or by check—your AR staff will need to process and match it with its corresponding invoice.

This process is not only labor-intensive, but it also often results in delayed payments. Late payments can have downstream effects on your business like stalled cash flow and higher days sales outstanding (DSO).

In contrast, an e-invoice can be created, sent, received, and processed in mere minutes. With some of the more sophisticated e-invoicing software options out there, you can store invoices in a cloud-based portal that both you and your customers can access.
Electronic invoicing can also pave the way for automating the cash application process too. Electronic invoicing that's integrated with your ERP sets you up to be able to apply payments automatically. This is especially the case if customers are paying electronically through a solution like Versapay, where payments are automatically associated with their related invoice and synced with your ERP.
Can a manual invoice be turned into an electronic invoice?
A common misconception when it comes to electronic invoicing —or digital invoicing— is that simply saving an invoice as a PDF transforms it into an e-invoice. This is not the case. Just because you send an invoice by email doesn't mean any of the other manual processes we discussed earlier have been eliminated.

An AR employee still had to create the invoice, save it as a PDF, attach it to an email, and send it or upload it to a payment portal. Your customer's AP department still had to process it manually. When your AR team receives the payment, they'll still need to match it with its corresponding invoice and key that information into the ERP.

While this kind of "digital" invoice may allow AR departments to skip the printing and mailing, it's still a very manual process that consumes employees' time.

8 advantages of electronic invoicing
Businesses that transition from manual to electronic invoicing can expect to save time and money. They'll also discover improvements to their cash flow and customer experience. Here's how:

1. Reduced chance of human error
By automating the invoicing process, you create fewer opportunities for data to be keyed in inaccurately, files to be lost, or payments to be applied incorrectly.

2. More efficient use of resources
AR professionals will have more time for high-value, strategic work if they are relieved of tedious tasks like printing invoices and stuffing envelopes.
Plus, the cost of printing and mailing invoices can get steep. Before Boston Properties went paperless, they were spending 55 cents on each invoice they mailed to tenants. When you factor in the fact that they have 2,200 tenants receiving statements monthly, the annual cost is astronomical.

3. Better customer relationships
When you make electronic invoices available in a shared, cloud-based portal, customers can view them whenever they want. An electronic invoicing system like Versapay also allows for attaching relevant documents to the invoice, so that no information gets lost. Better communication and transparency makes for more positive customer relationships.

4. Improved cash flow and lower DSO
Businesses that rely on manual AR processes often have 30% longer average days sales outstanding (DSO) compared to firms that rely on medium or high levels of automation to collect receivables. Eliminating the time your team spends preparing and mailing invoices can also mean that you receive payment faster. Without having to wait for invoices to come in the mail, customers can settle their accounts mere minutes after you've posted the invoice.
5. More space and less waste
Getting rid of paper invoices is also kinder to the planet. Opting for electronic invoicing cuts paper consumption and carbon emissions associated with mailing. You'll also economize office space by eliminating the need to file all that paper.

6. Increased security
When you invoice electronically using a solution that is integrated with your ERP, you can seamlessly transfer information between the two systems. This ensures all invoice and data is secure—with payment data being encrypted, too.

7. Ability to trace data and invoices
Having a clean audit trail that shows all your interactions with customers in a centralized view is key for finance teams. With electronic invoicing, there's no more wondering if an invoice got lost in the mail. The most advanced electronic invoicing solutions will also automatically track exactly when an invoice has been opened.

8. More flexibility
Electronic invoicing means that if employees can't be in the office because of circumstances like a global pandemic, AR and AP processes don't need to stop. With the right credentials, staff can access everything they need remotely to continue to send invoices. Implementing AR automation software, including e-invoicing, means your company is prepared to enable long-term remote work.
How to make the transition to electronic invoicing
With all the benefits electronic invoicing offers, it's time to transition away from manual invoicing. Luckily, it can be as simple as adopting the right technology.

AR automation software like Versapay allows you to send electronic invoices automatically across a variety of channels. Customize your invoice delivery based on the channel your customers prefer, including email, customer portal, accounts payable portal, and more.

When it comes to making the transition to e-invoicing, a strong communications and rollout plan is essential to getting customers bought in. Versapay works with you to create a tailored rollout and communications plan when it comes time to launch.

Introducing electronic invoicing is a proven way for businesses to improve efficiencies and cash flow. It creates a natural pathway for digitizing customers' payments and empowers AR staff to focus on more strategic, high-value work.

About the author

Heather Hudson
Heather Hudson is a Toronto-based journalist and writer who specializes in writing compelling content for SaaS businesses, particularly in fintech and personal finance.
Invoicing and Billing
Tips for creating and tracking invoices so you can get paid on time with less work.