How Invoice Personalization Improves AR Customer Experiences
Invoice personalization creates seamless branded AR experiences that improve customer satisfaction, builds brand credibility, and accelerates cash flow.
In this article, you'll learn what customized invoices are, the importance of personalizing invoices, best practices for customizing invoices (with real examples), and how modern accounts receivable automation platforms can streamline the process.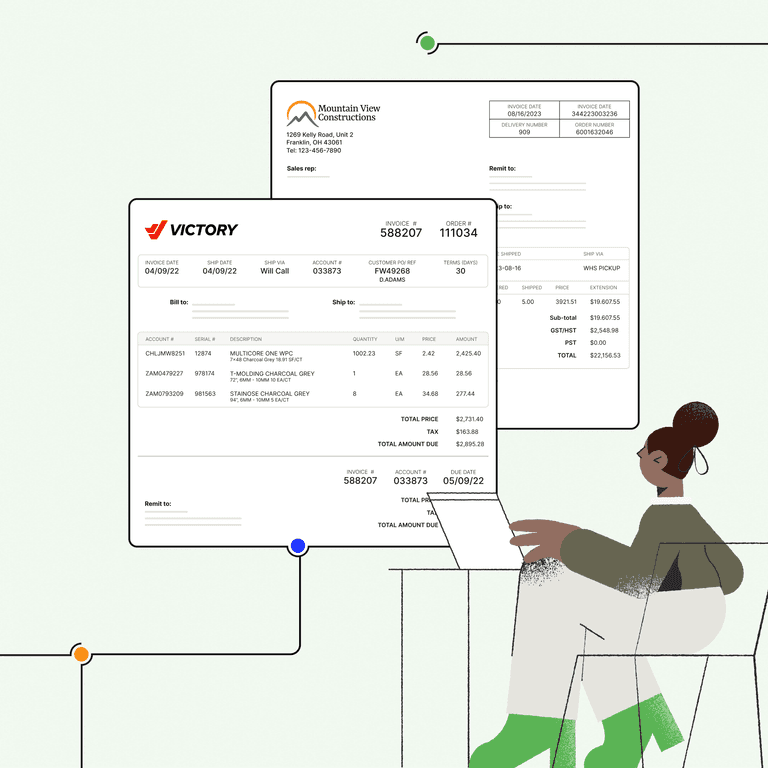 Invoices are more than just bills or documents of record; they're important touchpoints in the customer's payment experience. Personalizing an invoice with customer details and corporate branding can drive business growth, enhance customer experience, and create a positive impression of your brand.

By personalizing invoices, you can get paid faster, reduce invoicing errors, and increase the chances for future work engagements.

Customized invoices help create a seamless, branded accounts receivable (AR) experience that improves customer satisfaction, builds brand credibility, and furthers a positive customer relationship. It may sound like additional work to customize an invoice, but modern AR platforms can automate and simplify the process.

In this article, we will explore the concept of invoice personalization, why it matters, how it can positively impact customer experiences and cash flow, and best practices for achieving success.
What is invoice personalization?
Invoice personalization involves tailoring invoices to meet a variety of business cases and suit individual customer needs and preferences. Elements of personalization include unique branding elements (like adding your customer's logo), customer information, appropriate tax or information fields, delivery preferences, and detailed accounts of work delivered to increase the perceived value.

Customized invoices create a personalized experience for the recipient. When an invoice is tailored to its recipient, it's much more likely to be recognized, accepted, approved, and put into the payment queue without delay.
You never want someone to open your invoice and say, "What's this about? Do we need to pay this?" It can be confusing to a recipient if they receive an invoice for a project, but the logo and company details are for a parent organization. (Or worse, another customer!)

Adding personal touches to an invoice can make a big difference if you're a large enterprise sending a bill to a smaller company. It makes your customers feel important, no matter how much their expense plays into your company's financial future.

Finance leaders are prioritizing customer experience because of its significant positive benefits on long-term cash flow. Invoice personalization is a low-lift tactic for improving the purchase-to-payment journey. With the right tools, teams can easily implement and maintain personalized invoicing standards.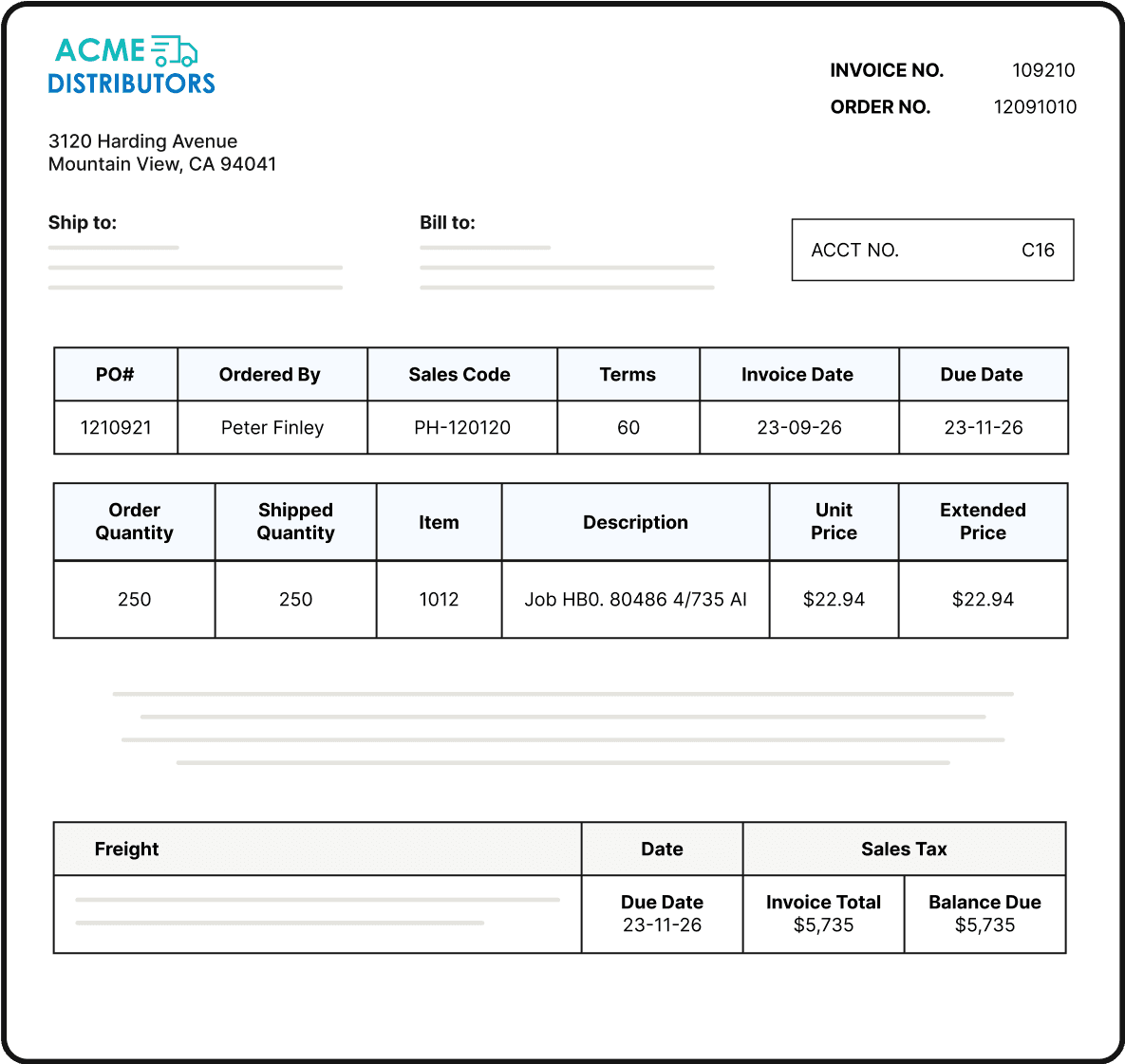 Why does invoice customization matter?
Customized invoices can help improve customer experience, accelerate cash flow, optimize invoice delivery, reduce errors, and mitigate customer disputes. Here's how:

1. Customized invoices improve customer experience
Bills are usually soulless, black and white demands for money, which don't evoke positive feelings. Personalization adds a human touch. Addressing customers by name, including details of your company and theirs, and delivering invoices through their preferred channels helps your business build long-lasting, positive customer relationships.

Including your business information on an invoice can reinforce your brand and a customer's positive experience working with you. Including customer-specific information, such as discounts or recommendations, shows your recipient that you value them and their own interests even when asking them for payment.

Especially if you are a larger business invoicing a smaller one, adding personalization shows you value the relationship enough to create an invoice just for them. Ending a project on a high note makes it more likely the customer will want to do business with you again. If you primarily invoice your customers on a recurring basis, this is even more important.

Finance executives know the power of personalized invoices. In fact, 36% of finance execs say custom invoice delivery options are most needed in an automated accounts receivable solution. This indicates that invoices are about to enter their customization era, and even executives are here for it.

2. Personalized invoices get paid faster
Clear, accurate, and personalized invoices reduce delayed payments and accelerate cash flow. Here are some reasons why:
AR teams will make fewer mistakes: If your team is still creating invoices manually, putting customer information directly on an invoice can reinforce which customer they are billing and reduce common errors like billing one customer for another's service. If your team uses automation for invoicing templates and template customization, that automation will reduce similar human errors.
Personalized comments add clarity and connection: Personal messages, mentioning specific milestones, or including more detail about a service can help your customer's AP team more quickly understand what an invoice is for. Plus, it adds the element of personal connection. When customers feel more connected, they're more likely to pay in full and pay on time.
Customized invoices are clearer: Every invoice will be built from some sort of template, then personalized from there. Templates standardize invoice information and ensure elements like information, item descriptions, quantities, payment terms, and deadlines are all included. With clear payment instructions (which should be customized to the client's preferences), clients will be able to pay quickly and easily
3. Optimize invoice delivery as part of invoice customization
Invoice delivery is a key component of personalizing invoices. When customers can decide how they want to receive (and pay) their invoices, they can choose a method that best suits their own business processes.

To do this, your team must have a system for electronic invoice creation and delivery in place. The system will make the client's process of receiving and paying invoices intuitive and easy, instead of a separate, potentially frustrating process. That means a better customer experience and an accelerated cash flow.

💡 Did you know? Collaborative AR payment portals leverage omnichannel invoice automation to deliver invoices through the customer's preferred channel. This gives your customer real-time visibility into amounts owed and instant access to documentation. Collaborative AR payment portals help AR teams reduce manual errors, invoice automatically and consistently, and receive payment faster.

4. Personalizing invoices reduces invoicing errors
Customized invoices all come from some form of initial template. Not only do templates make invoices clearer, they also reduce invoicing errors through standardized templating, automated calculations, and systematic record keeping. Automating calculations reduces human error and speeds up the invoice creation process, and standardizing those base templates improves data accuracy and reference.

Maintaining this consistency can be especially challenging as your AR team scales their processes. Having base templates with consistent design and electronic invoicing capabilities make it easier to ensure accuracy even as you create more invoices. Establishing such a process decreases invoicing errors, diminishing customer disputes and speeding up your order to cash cycle.

5. Customized invoices mitigate customer disputes
Customers are much less likely to dispute an invoice when:

It's clear what they're paying for.

The invoice is specifically and personally addressed.

There is enough commentary to provide context and justify the invoice.

The invoice arrives on time and according to their expectations.
Consider including supporting documents or information that provide a full picture of the transaction and customer payment history. When customers can reference important documents, they'll be less likely to reach out with disputes, questions, or requests for more information.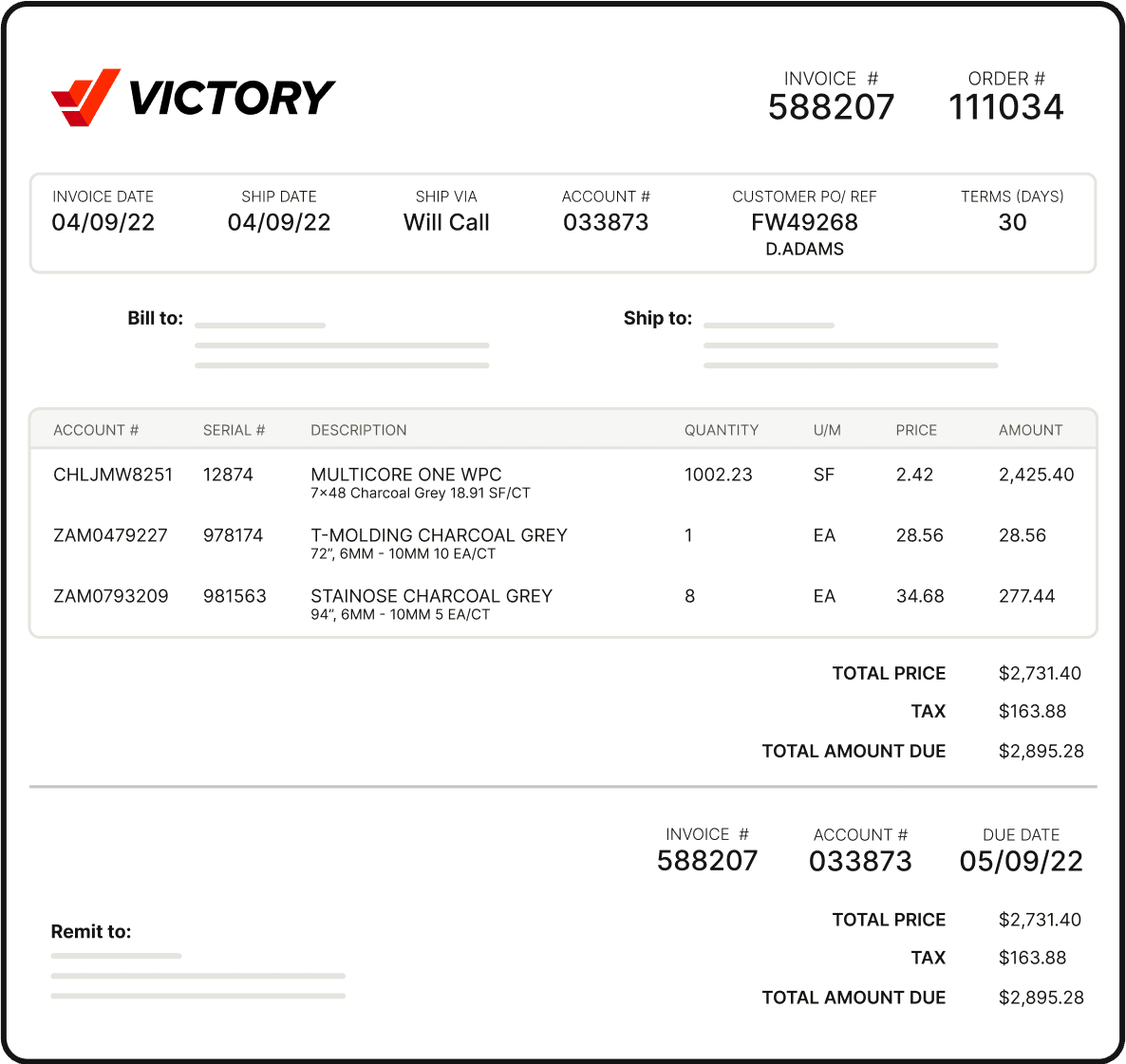 Best practices for customizing invoices
Personalizing invoices doesn't have to be hard or time consuming. Follow a few simple best practices to take your invoices from boilerplate to personalized.

1. Customize invoices per client use case
Customize invoices based on the specific business unit or department you are billing and according to client geography. Depending on their location, they may require extra customs information like country of origin, value, and description of goods. This makes the AP process smoother for the customer and reduces payment delays.

Use the comments section to add a personalized message or relevant information, and make sure to mention the customer by name.

2. Personalize per invoice use case
Simplify your invoicing strategy by using unique templates for each invoice type, then personalize them further by customer. The design templates should meet unique invoice use case requirements to ensure clarity and accuracy.

The most common types of invoices that require customized designs include:

Summary invoices: Invoices that provide an overview of multiple transactions or charges during a specific time period. Rather than itemizing each transaction, a summary invoice presents a breakdown of the total amounts owed and paid.

Statements: Statement invoices, account statements, and billing statements show an overview of all transactions, invoices, and payments over a specific time period between a seller and buyer. These serve as a record of financial activity and are sent on a regular basis, like monthly, quarterly, or annually.

Pro forma invoices: A preliminary invoice that serves as a quote or detailed cost estimate prior to work being completed. These are not legally binding documents and do not demand payment.

Recurring invoices: Recurring billing invoices, or subscription invoices, that are generated and sent at regular intervals.

Credit invoices: Credit invoices, notes, and memos are documents that indicate a reduction in the amount owed or a refund to the buyer. Credit invoices adjust an existing invoice when changes occur like returned goods, price adjustments, etc.

Debit invoices: Sellers issue debit invoices and notes to request additional payment for goods or services already provided. Debit invoices are the opposite of credit invoices, as they indicate an increase in the amount owed.

Past-due invoices: Past-due invoices, overdue invoices, and outstanding invoices are those that have not been paid within the agreed-upon payment date.
All of these invoice types have signifying characteristics, elements, and fine print that must be included in the design.

3. Invest in good design
Incorporate corporate branding elements to maintain consistency and reinforce brand recognition. Make invoices easy to read and understand by including a clear invoice number, contact information, and payment terms. Invest in good design to ensure that adding supporting documentation to the invoice is not visually overwhelming for the recipient.

4. Implement automated omnichannel invoice delivery
Automated omnichannel invoice delivery allows AR teams to deliver invoices by email, through a shared portal, EDI, and more. Regular, automated delivery ensures AR teams can meet customer invoicing expectations at all times, improving their entire customer experience.
The delightful result? By delivering invoices in a manner personalized to the client, omnichannel delivery makes it easier for customers to pay, so businesses can receive payments faster and accelerate cash flow.

How Versapay makes invoice personalization easy
Versapay's collaborative AR platform simplifies invoice customization and automatically delivers invoices across all channels.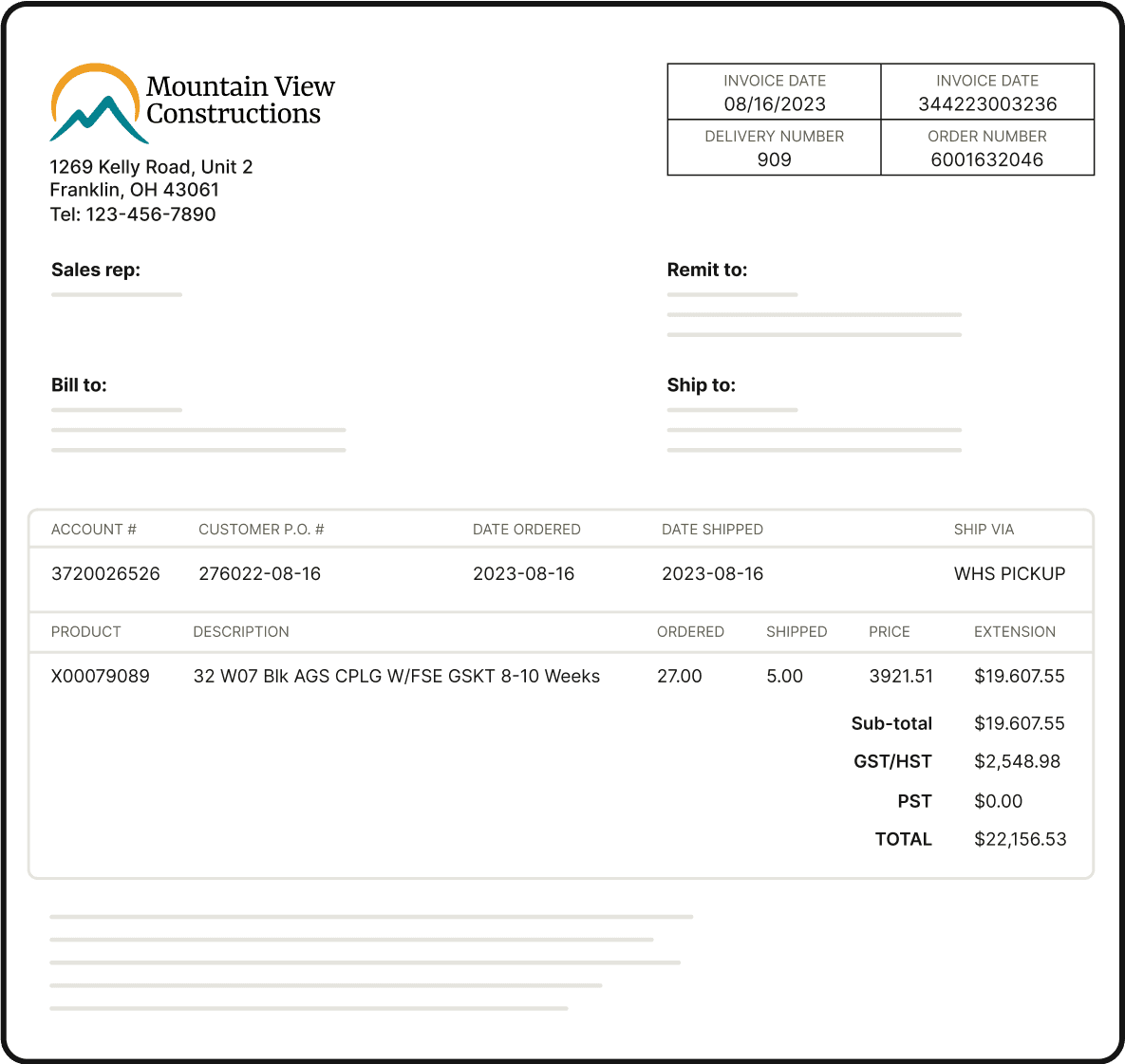 Versapay makes it easy to create a seamless, branded AR experience by customizing invoices by:

Leveraging existing invoices generated by your ERP

Leveraging an existing Versapay template format

Creating custom invoice templates
Need to customize different invoice types? Versapay supports customization for summary invoices and statements, too. Like what you've seen in this article? They're all customized invoices made through Versapay.

Our automated invoicing software easily links invoices with their relevant documentation, so no one has to play email attachment hide and seek. All this comes together to improve the customer experience and help your AR teams build strong, positive relationships with clients and their AP teams.

Get a demo and we'll show you the benefits of personalized invoices and more with Versapay.

About the author

Jordan Zenko
Jordan Zenko is the Senior Content Marketing Manager at Versapay. A self-proclaimed storyteller, he authors in-depth content that educates and inspires accounts receivable and finance professionals on ways to transform their businesses. Jordan's leap to fintech comes after 5 years in business intelligence and data analytics.
Invoicing and Billing
Tips for creating and tracking invoices so you can get paid on time with less work.