Finding the Right Balance Between CapEx and OpEx
In this article, you'll discover the pros and cons of both CapEx and OpEx and how to effectively strike the right balance between the two.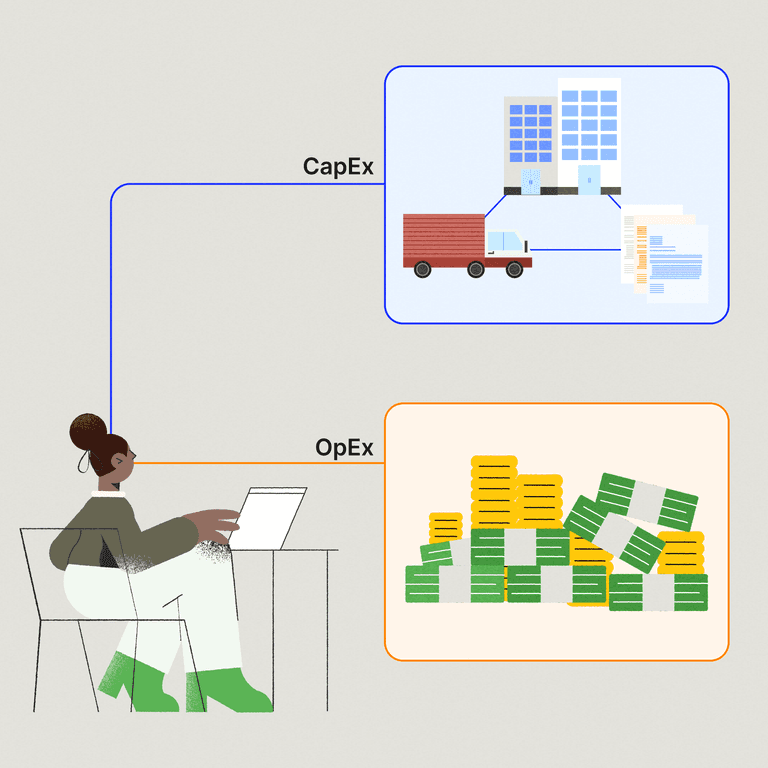 Overall, businesses aren't spending a lot of money right now. But if we look at IT spending specifically, it's thriving. Consider overall spend from Q4 2022 to Q4 2023; it only increased by 1.2%, but IT spending increased between 5% to 6%. Why is that?
One reason companies are more willing to spend money on IT is because it can provide a greater return on investment through streamlined processes, increased efficiency, reduced costs, and helping companies stay competitive.
Advances in cloud technologies and the availability of "as-a-service" business models give companies new reasons to pay for IT products and services as a capital expenditure (CapEx) or as an operational expense (OpEx).
This blog will explain the pros and cons of each method, assuming that any investment, no matter how it's paid for, is made to help a business drive growth.
Jump to a section of interest:
What is CapEx?
CapEx is upfront spending on fixed assets that can depreciate over time such as machinery, vehicles, and computers. Depending on the asset, depreciation can be spread out anywhere between three years and 20 years.
Depreciation is determined by taking the cost of the asset and dividing it by the number of years in its useful life. The resulting amount is the annual depreciation expense a company will record on its income statement. These annual depreciation expenses reduce the company's taxable income.

What is OpEx?
OpEx covers the costs a business incurs for day-to-day business needs. These expenses are typically recurring and include items such as rent, consumable supplies, subscriptions, contracted items, utilities, and payroll. Operating expenses are fully deductible in the year they're incurred.

The pros and cons of CapEx and OpEx
CapEx and OpEx each have a place in business spending, and with certain investments, there may not be a choice. But with products and services such as IT, you may have to decide between one or the other.
Infrastructure-as-a-Service (IaaS), Platform-as-a-Service (PaaS), Software-as-a-Service (SaaS), and Database-as-a-Service (DBaaS) make it easier for companies to purchase IT from their operating budgets. These services can be contracted monthly or annually and managed in the cloud, instead of built and deployed on-premises with company-owned equipment and proprietary applications.
According to Harvard Business Review, most companies are making technology investments a top priority, just to "keep up with the rising table stakes requirements of the digital age."
Among its recommendations for more strategic tech spending, the publication suggests, "Creating amazing outcomes for customers doesn't always mean you have to do everything in-house or have your own unique customer solution. The opportunities for innovation via ecosystems are rapidly growing as companies bring new technology capabilities to market every day." It further suggests that businesses shouldn't "be afraid to integrate technologies offered by others" yet should "customize and innovate only where it leads to true competitive differentiation—and where that differentiation is something your customers are willing to pay for."
In other words, business value should be a primary factor in determining which projects should be CapEx and which should be OpEx. If you can't justify a large capital expenditure, then you might be able to find an OpEx alternative.
Other factors that go into a company's choice between CapEx and OpEx include:
Cost: If you don't have cash on hand or can't get financing, then OpEx may be the best option

Approval process: OpEx approvals are usually easier to get. CapEx approvals must often go through multiple layers of management, which can delay the purchase

Supporting infrastructure: If you have your own data centers and existing IT infrastructure, CapEx may be the way to go for new technology initiatives. If you don't, OpEx items under a hosting contract cover everything from redundant power supplies to maintenance for reliable uptime

Company policies: Companies have different policies when it comes to IT products and services. Some specify that these items cannot be leased or rented through a managed service provider

Forecasting needs: With capital items, companies often need to predict all the capabilities they think they might need in advance. This can result in overbuying an asset with features that might not be used right away, or paying for peak performance at all times even if your business is cyclical. OpEx items usually provide more flexibility to scale up or down as needed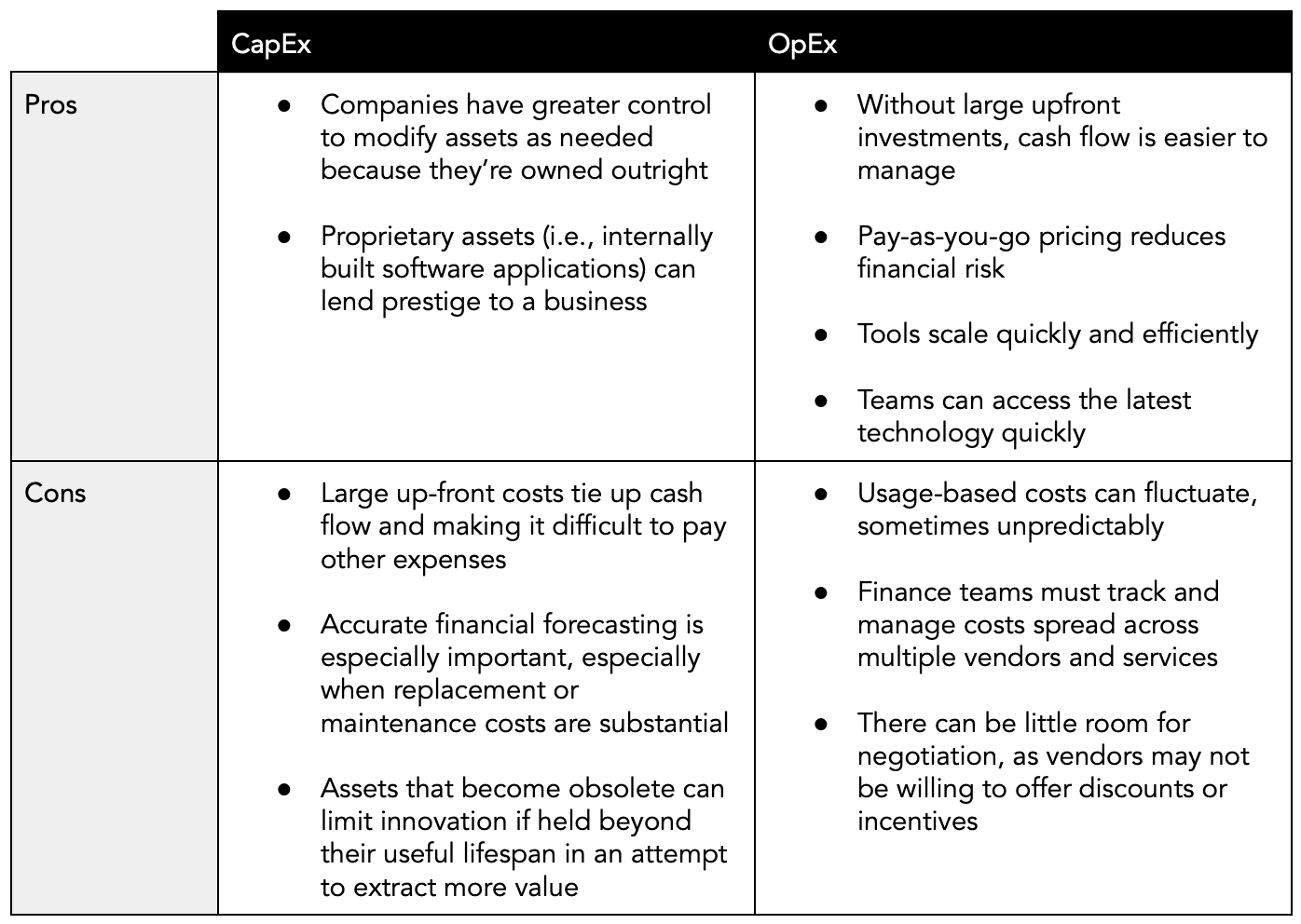 🧰 Determining how to balance CapEx and Opex to optimize your cash flow? Accounts receivable automation can accelerate your cash flow by reducing manual work and payment delays. Learn more.
The cash flow to capital expenditures ratio
A simple formula called the Cash Flow to Capital Expenditures Ratio can help you determine if you can acquire capital assets using your free cash flow. Calculate the ratio by dividing cash flow from operations by capital expenditures. Both items can be found in your cash flow statements.
Here's an example cash flow statement: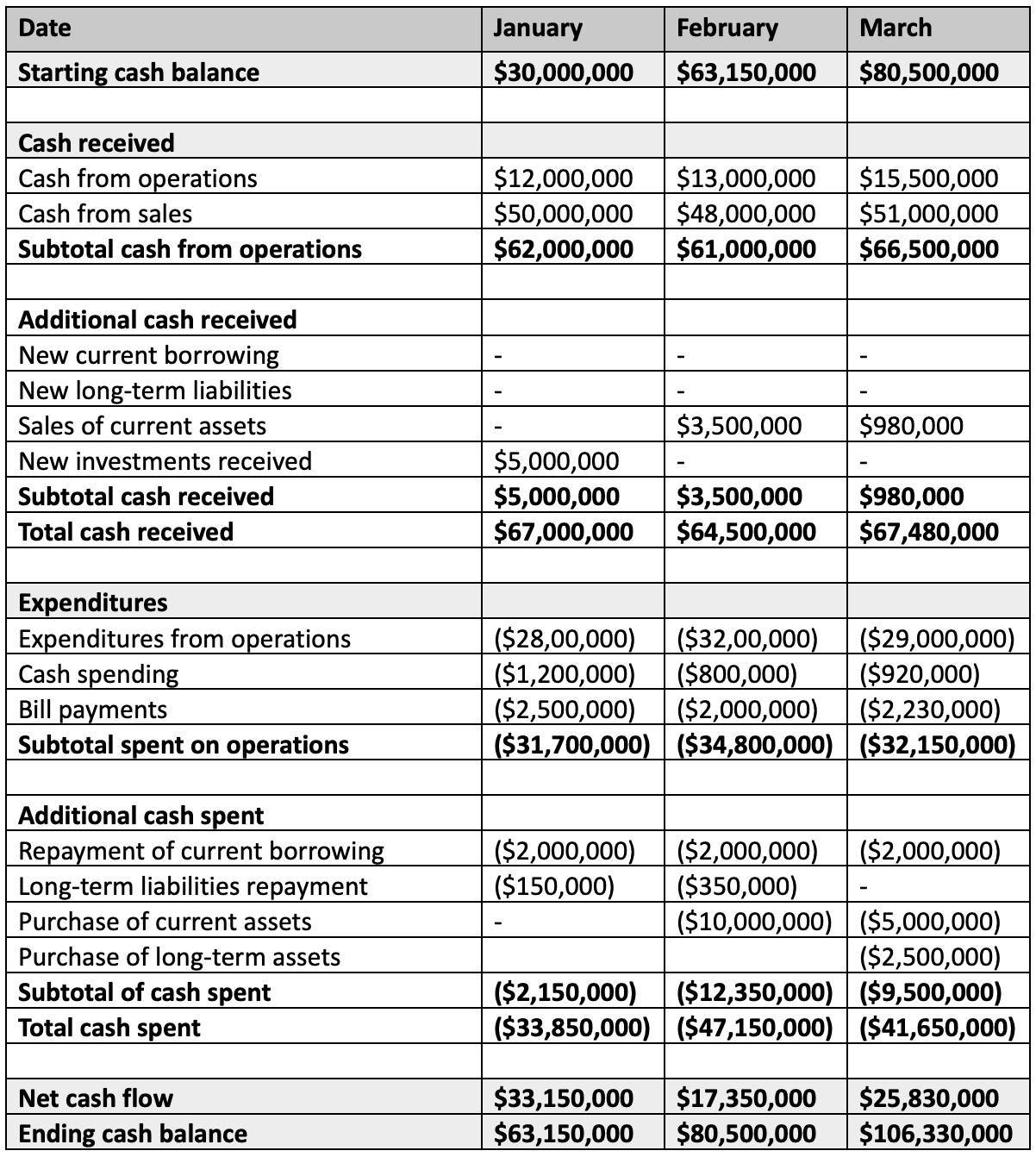 Calculate cash flow to CapEx ratio from a cash flow statement
Using the example above, let's calculate the cash flow to CapEx ratio. Here's the formula:
Cash Flow to CapEx Ratio (%) = Cash Flow from Operations / Capital Expenditures
For the cash flow statement above, here's how we'd do that for January:
$67,000,000 (Total cash received) / $31,700,000 (Subtotal spent on operations) = 2.11
💡Did you know? A high ratio means you may not need to use debt funding or equity funding to support your CapEx requirements. A low ratio means you may need to retain fixed assets longer or switch to an OpEx model.

Balancing CapEx and OpEx
As cloud technologies improve and become more commonplace, OpEx may make more sense for certain types of purchases. At the same time, many companies will still prefer to make capital expenditures based on depreciation benefits, greater control over assets, the need for innovation, the prestige of ownership, and more.
The important thing to do is to understand the trade-offs and base your decision on what will benefit your business the most. One way to do this is through better collaboration between Finance and IT. In fact, a recent study of ours on the growing need for CFO and CIO collaboration found that 96% of IT and finance leaders agree that the CFO/CIO relationship is critical to identifying future business needs.

About the author
Ben Snedeker