What Is Cloud Accounting and How Is It Transforming Accounts Receivable?
Cloud accounting software allows finance teams to manage key processes from anywhere as long as they have an internet connection. In contrast, traditional on-premise accounting software can only be used on specific devices.
Learn more about cloud accounting and the opportunities the cloud affords for accounts receivable digitization.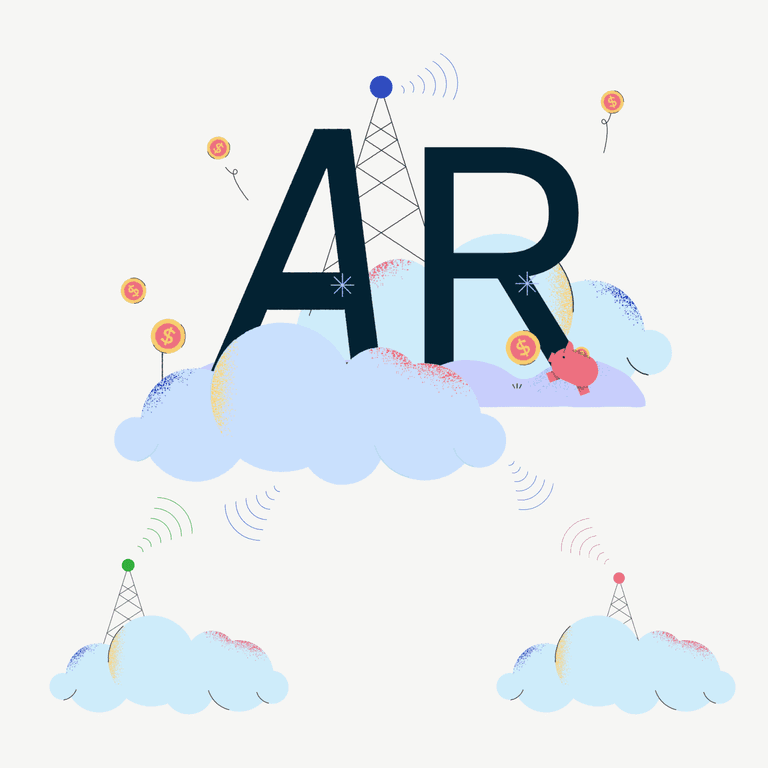 The rise of cloud accounting is perhaps the biggest example of technology's impact on finance departments.
The cloud has fundamentally transformed the way accountants get their work done. This is especially the case when it comes to accounts receivable (AR), which is traditionally one of the most manual and paper process laden areas of business.
In this article, you'll learn what cloud accounting is and how it has allowed finance teams greater automation of key tasks and more data visibility.
We'll explore:
What is cloud accounting?
Cloud accounting refers to the process of using accounting software on remote servers to complete finance related tasks. In contrast, on-premise accounting software must be installed on your devices' hard drive. Cloud accounting software uses the software-as-a-service (SaaS) model.
Operating over the cloud helps streamline and automate a company's financial workflows, resulting in greater efficiencies and more time available for analysis and forecasting.
Why move to the cloud?
Cloud accounting software makes it easy for accounting staff to collaborate with one another and even with individuals from other departments. Without software being restricted to certain devices (as with traditional accounting software), team members can be looped into workflows wherever they are.
Cloud accounting software is also cheaper for businesses to maintain. Research by McKinsey and Company noted that after adopting the cloud, IT teams spend far less time on infrastructure and production support, and more time on developing business requirements.
Traditional, desktop-based accounting software also limits a company's agility and integration capabilities, creating bottlenecks when a company expands into different regions. With every department essentially operating on its own, financial reporting can be exceedingly complicated for CFOs. Cloud accounting brings your company's financial data into a single place that is accessible by all.
Is cloud-based software secure?
Reputable cloud accounting providers adhere to industry best practices when securing data. They locate their servers in a remote facility, and employees cannot view stored data. Also, they encrypt all data to the highest standards by using Security Sockets Layer (SSL) protection on in-transit data and public/private key combinations to decode data.
With a SaaS model, cloud providers are focused on continually upgrading and maintaining their infrastructure. When software updates are completed automatically (you'd have to remember to complete updates yourself if using on-premise software), this reduces the chance of software vulnerabilities being exploited in a breach.

Why is cloud accounting gaining popularity?
Greater adoption of cloud accounting software is part of a broader digital transformation trend. Research firm Forrester notes that the COVID-19 pandemic accelerated cloud adoption as firms sought to improve efficiencies in their processes. There's also no doubt that the move to remote work expedited the switch.
By embracing the cloud, your accounting team can access their tools and systems from anywhere, as long as they have an internet connection. With many employees preferring to work from home even after the end of COVID-19 restrictions, this is a great asset to companies.

Moving accounting and finance functions to the cloud also helps remove data silos and enables organizations to adopt a data-driven culture. Research from McKinsey and Company revealed that cloud adoption boosts technology infrastructure ROI by 29% and reduces downtime during data migration by 57%.
Cloud accounting vs. on-premise accounting software
By now you know some of the main differences between cloud and on-premise accounting software, chief of which is the fact that cloud software doesn't need to be physically installed on a device.
Here's a deeper breakdown of the differences between cloud accounting software and on-premise accounting software.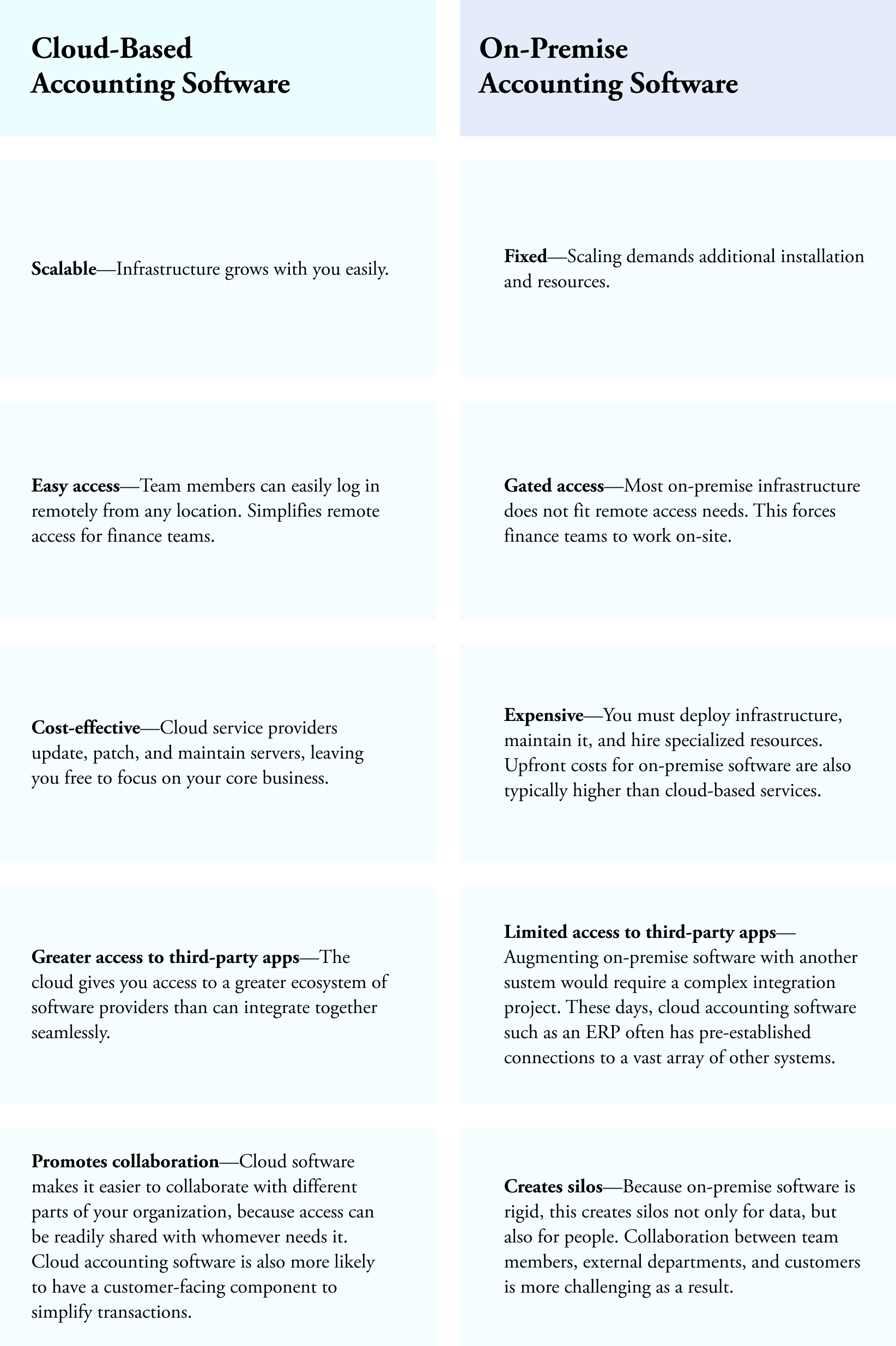 The cloud and accounts receivable: a powerful combination
The online nature of cloud accounting is particularly transformative when it comes to accounts receivable.
Some of the most annoying challenges plaguing AR teams (late payments, invoice disputes, ignored emails) arise from a lack of effective communication between buyer and supplier. We call this the AR Disconnect.
With a cloud based accounts receivable solution, however, you can give not only team members easier access to important information like outstanding invoices, but customers too.
A collaborative AR solution like Versapay unites every aspect of the order to cash process—from invoicing, to payment processing, to collections, to cash application—in the cloud. In this single platform, accounting staff, members of external departments like sales, and customers are able to collaborate more easily. Sales team members are less likely to offer discounts or payment terms that AR hasn't approved, and customers can raise potential issues about their invoices faster.
As a result of collaborative AR, you'll encounter fewer payment disputes, get paid faster, and build stronger customer relationships.
The cloud is what makes collaborative AR possible, because the goal is to give multiple parties (AR staff, external team members, and customers) that could be located anywhere in the world access to shared data.
5 key features to look for in cloud-based accounts receivable software
Here are five critical features that the best cloud software for AR possesses:
1. Seamless automation
Accounts receivable typically involves a lot of manual work. When looking to adopt a cloud-based software for AR, look for one that will help you automate as many traditionally tedious processes as possible.
For example, look for a platform that can:
Send customers their invoices automatically in whatever format they desire (including AP portals)
Send collections reminders automatically
Accept multiple forms of digital payments
Create journal entries in your main accounting software as payments come in
As a result, your AR team will have more of their time freed up to focus on more strategic work like cash flow analysis and forecasting.
2. Intuitive data visualizations
Cash flow is tough to predict and model. A good cloud accounting platform gives you the most critical data—like days sales outstanding—right at your fingertips. And if it can present this data to you in an intuitive and visual format, then you'll be able to complete your analysis faster.
Versapay, for instance, shows you a real-time interactive dashboard of your AR aging right when you log in.
3. Automated cash application
Cash application, the process of matching incoming payments with their respective invoices, is one of the most time-consuming and error-laden tasks in AR. Our AR Pulse Check survey with SSON revealed that 84% of accounting staff are still regularly matching payments and remittance data manually.
Cloud-based AR automation software can make this process much less painful. Versapay's cash application uses machine learning and AI-based matching to associate payments like checks and ACH with the right invoice(s) with over 90% accuracy.
Fewer errors from manual data entry leads to fewer disputes and shorter invoice-to-cash cycles.
4. ERP integrations
Your enterprise resource planning (ERP) system is already host to most of your business operations. For maximum efficiency, look for an accounts receivable software that can integrate with your ERP instance. Cloud-based platforms are easy to integrate, thanks to APIs.
Versapay not only allows for sharing information like invoice data with your ERP, but it also allows you to process payments directly within the ERP environment. This allows you to capture settlement data in your ERP and post payments to your ledgers automatically.
5. Online customer portal
An online customer payment portal allows your customers to make payments online whenever is convenient for them. Basic payment portals do only that, while more robust options also allow customers to view their invoices and check the status of their account.
Versapay's online customer portal goes to the next level by giving customers the ability to leave comments directly on their invoices to request clarification or raise an issue. Your AR team can then reply directly in the thread.
—

With more and more businesses' systems becoming cloud-based, it's in their best interest for system compatibility and flexibility to embrace cloud accounting. As the basis of collaborative AR, the cloud is also what will allow you to deliver an exceptional billing and payment experience to your customers.
Learn how Versapay's Collaborative AR let's you automate accounts receivable tasks and collaborate with your customers over the cloud.
About the author

Vivek Shankar
Vivek Shankar is a content writer specializing in B2B fintech and technology. He is ambivalent about the Oxford comma and covers the institutional finance markets for industry trade publications. An avid traveler and storyteller, Vivek previously worked in the financial sector as a data analyst.
Cloud-based Accounting
Discover how the cloud empowers AR teams to collaborate effortlessly, work more efficiently, and keep cash flowing.