Why Customer Experience is as Important as Efficiency Gains in AR Automation Projects
To transform accounts receivable, meaningful connections need to be built between buyers and sellers. Only when AR embraces customer experience will that be possible.
In this blog, we'll:
Discover how customer-oriented your AR processes are
Explore the consequences of automating AR without considering CX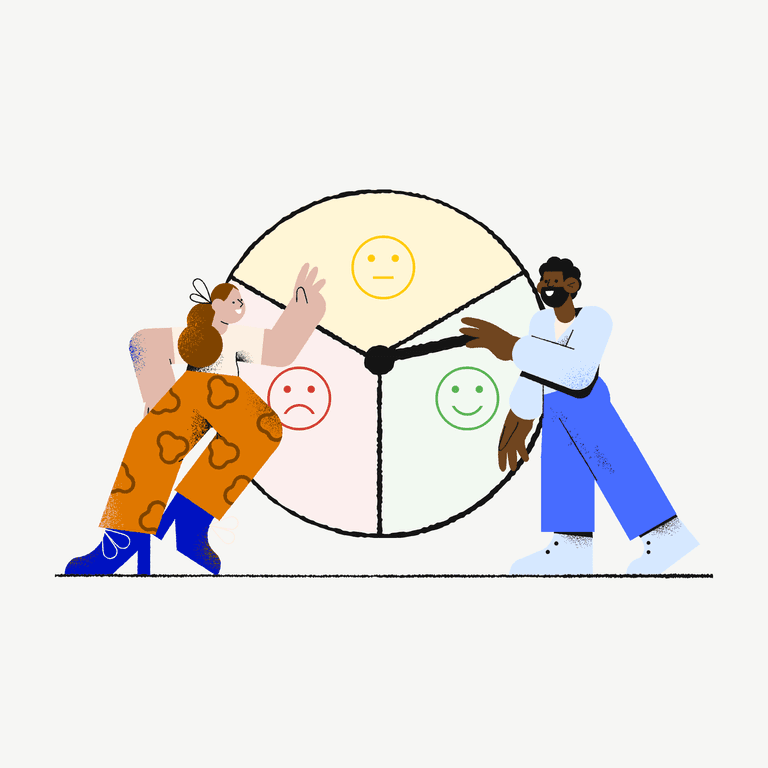 Customer experience (CX) is among the top priorities for executives across all business functions, with 89% of C-level leaders agreeing that their customers' experience is a key measurement of the C-suite's effectiveness.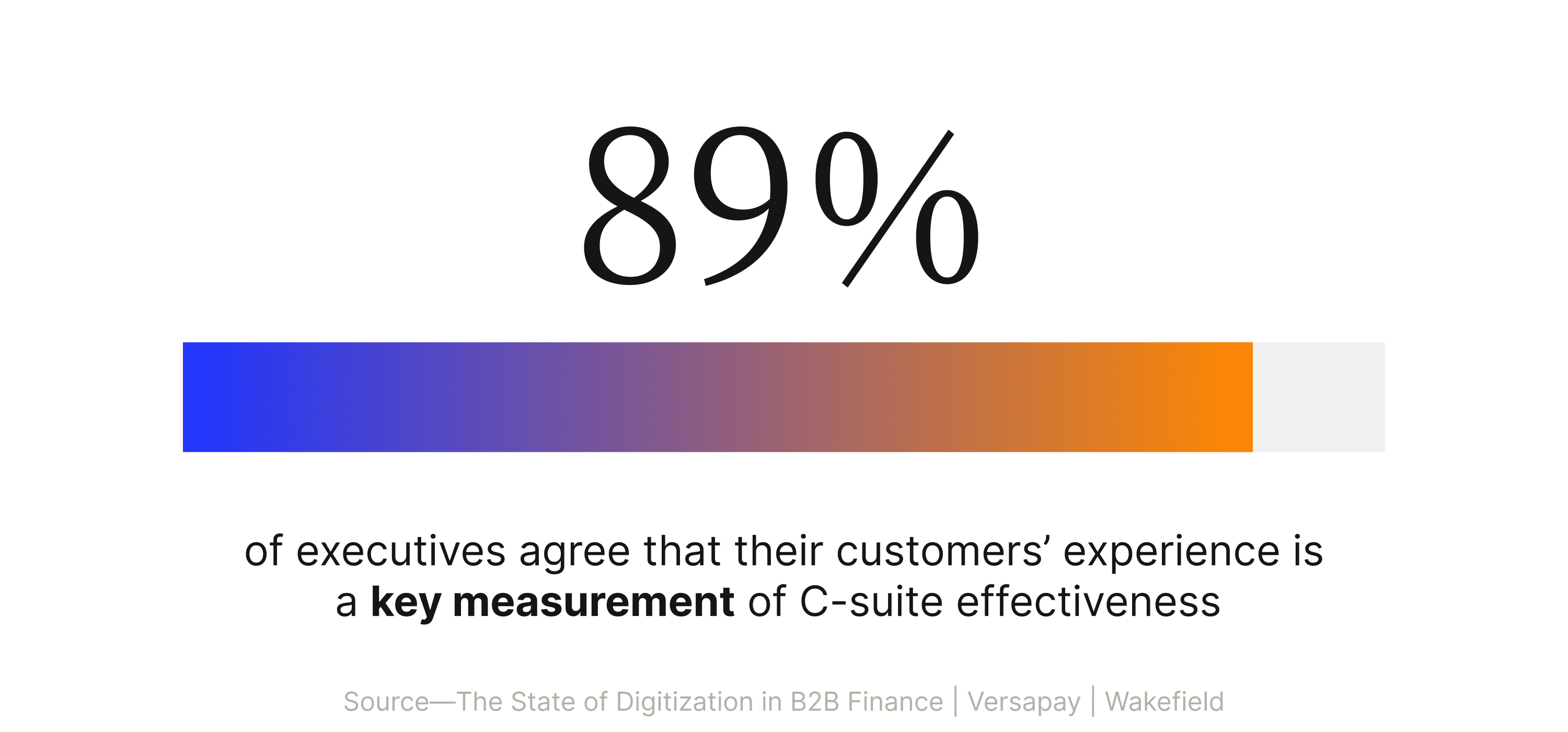 Across an organization, CX is a core measure of success. Executives overwhelmingly share this belief and are likely to invest resources in support.

Unfortunately, many leaders have yet to nurture the connection between accounts receivable (AR) and customer experience. Instead, when undertaking digital transformation projects in AR, executives frequently prioritize basic efficiency gains over technologies that are known to also elevate CX—like cloud-based technologies—failing to recognize that they can achieve both efficiency and better CX with the right digital technologies
When it comes to accounts receivable—and digitization options available for improving efficiency and accelerating cash flow—our research shows that C-level leadership routinely fails to see a direct connection to customer experience. Rather, executives tend to view AR as an isolated, back-office function, overlooking the fact that it's one of the most consistent and vital connection points in the customer journey.

Nearly three quarters (72%) of executives claim their AR departments aren't customer-oriented enough. That's problematic, because 73% also recognize that the invoice-to-cash cycle is a frequent source of negative customer experience. Moreover, 41% of executives identified that invoice disputes are directly correlated to breakdowns in customer relationships.

It's time for this to change. It's time to recognize that better CX should be a key goal in AR digitization.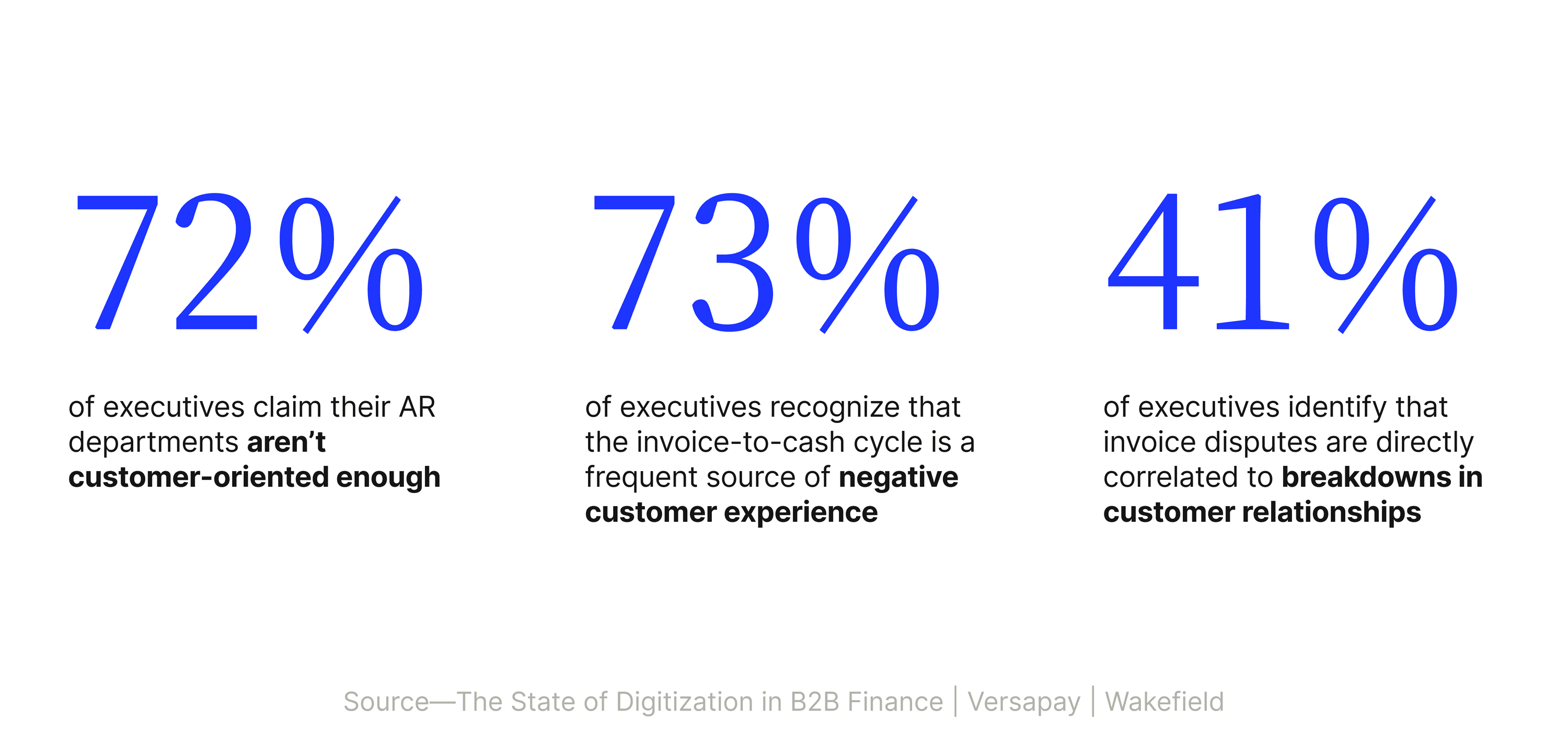 There's a clear connection between accounts receivable and customer experience. But do you see it? Are you carving a new vision for collections, and are your customers at the helm?
To truly transform accounts receivable, meaningful connections need to be built between buyers and sellers that add efficiencies on both sides—while at the same time making it easier to work together to resolve difficult payment issues. And only when AR embraces CX will that be possible.
In this article, we'll explore:
Five questions you need to ask to understand how customer-oriented your AR processes currently are
The implications of automating accounts receivable without considering your customers' experience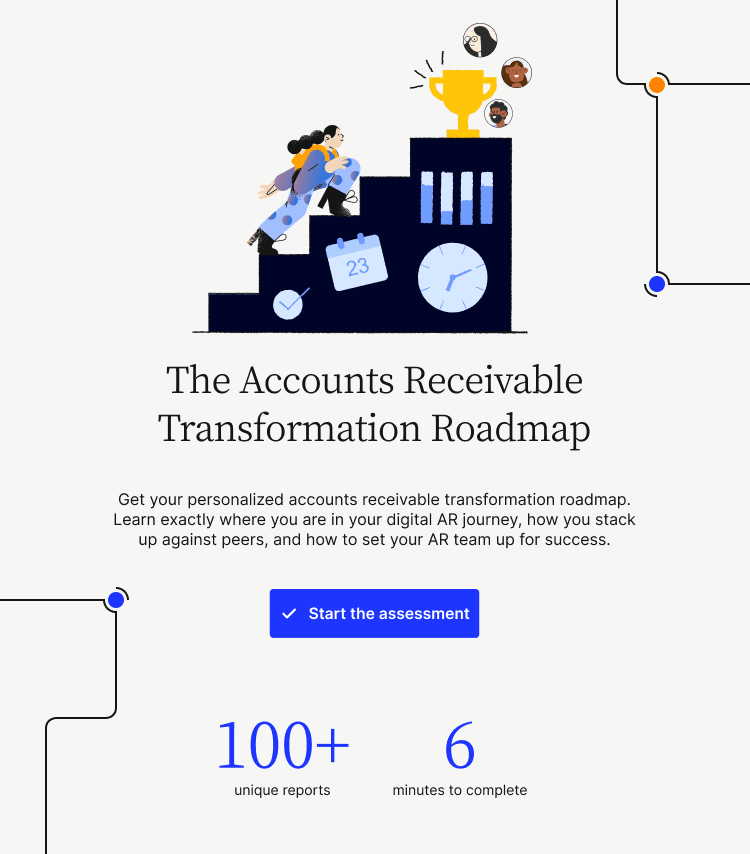 Are your AR processes customer-oriented? 5 questions to ask:
Below are a series of questions we recommend asking to better understand how customer-oriented your AR processes currently are.
In each section, we'll:
Note how you might consider answering each question
Discuss why each is an important question to ask
Highlight the consequences of leveraging automation as a means of addressing each question—without considering customer experience
1. Have you ever lost work due to confusion or conflicts in the invoice-to-cash process?
Ways you might answer this question:
Yes—multiple times
Yes—once
No—never
—
Odds are you have. More than 8 in 10 (82%) of executives state their company has lost work due to miscommunication during the payment process. And this happens frequently. Forty-two percent of leaders report losing business from poor communication occurring multiple times.
Yes, nearly half of the 1,000 businesses we surveyed are directly impacted—more than once—due to ignoring communication challenges within their AR department.
These losses in business are not without financial repercussions, either. Eighty-five percent of executives say miscommunication between their accounts receivable team and their customers has resulted in a customer not paying in full.

Want to reduce conflicts in the I2C process? The implication of automating AR without considering CX
Implementing an AR automation tool that fails to consider your customers' experience will allow miscommunication to fester during all stages in the invoice-to-cash cycle. This will stifle business growth, having an immediate and negative impact on your company's bottom line.
This is because automation alone will rarely bridge the AR Disconnect. To address the full scope of what slows down cash flow—namely, conflicts resulting in invoice disputes—miscommunication needs to be resolved, and unfortunately traditional AR automation will only streamline work such as invoice delivery, reporting, and payment matching.
2. How concerned are you that your accounts receivable department is not customer-oriented enough?
Ways you might answer this question:
Extremely concerned
Very concerned
Somewhat concerned
Not too concerned
Not at all concerned
—
Many (72%) executives are at least somewhat concerned that their AR department is not customer-oriented enough. If you find yourselves in a similar camp, then take note, because these same leaders are currently prioritizing implementing self-service customer payment portals as a means of combatting their CX deficiencies.
This is a stark reversal, as less than 2 in 5 (38%) businesses have currently incorporated these collaboration tools into their payment experiences.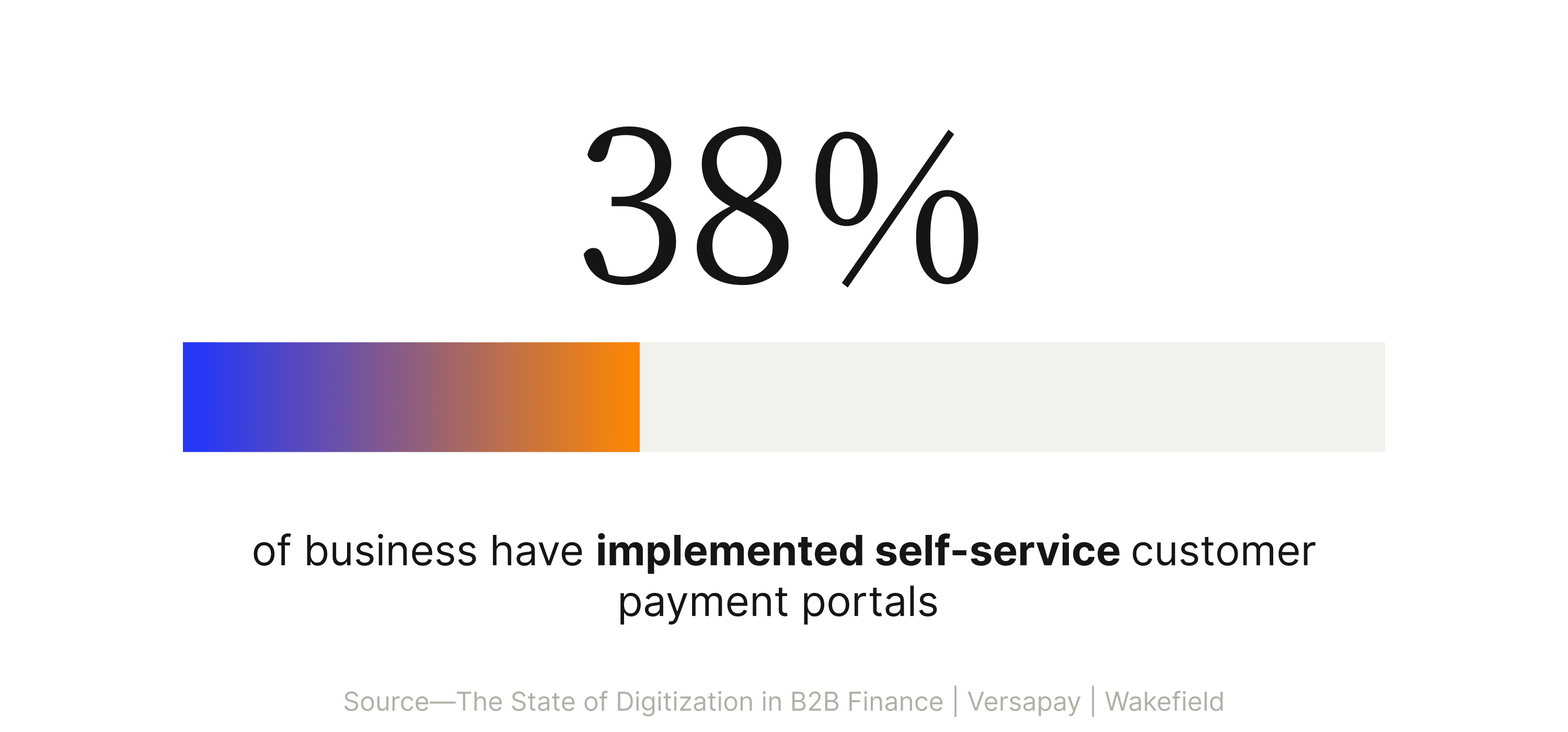 So, if you have concerns about how customer-focused your AR team is, then a pivot toward embracing customer payment portals would give you a way to interact more closely—and effectively—with your customers during the invoice-to-cash process. Even if you aren't concerned, there are ways to be more customer-oriented, that will address efficiency and cash flow concerns and make your payment experience more human for your customers in a Collaborative AR environment.
Want your AR department to be more customer-oriented? The implication of automating AR without considering CX
Introducing automation that addresses your AR team's back-office inefficiencies—but doesn't make it easier for your customers to make payments—can make a bad thing worse by making your team harder to reach when it matters most.
And automation-only tools certainly won't raise the ceiling on how customer-oriented your teams are. Exclusively focusing on streamlining in-house accounts receivable processes will see you failing to address the root causes that hold up cash flow and inadvertently make your customers' experience of doing business with you less human.
3. How often do disputes arise over payments that could have been avoided with better communication between the parties involved?
Ways you might answer this question:
All the time
Often
Sometimes
Rarely
Never
—
Invoice disputes impact normal business operations, going beyond lost revenue and inhibiting cash flow growth, impeding day-to-day operations and straining senior staff. In fact, a whopping 78% of C-level executives—including those working with traditional automation tools—report being plagued by challenges with customer communication in accounts receivable.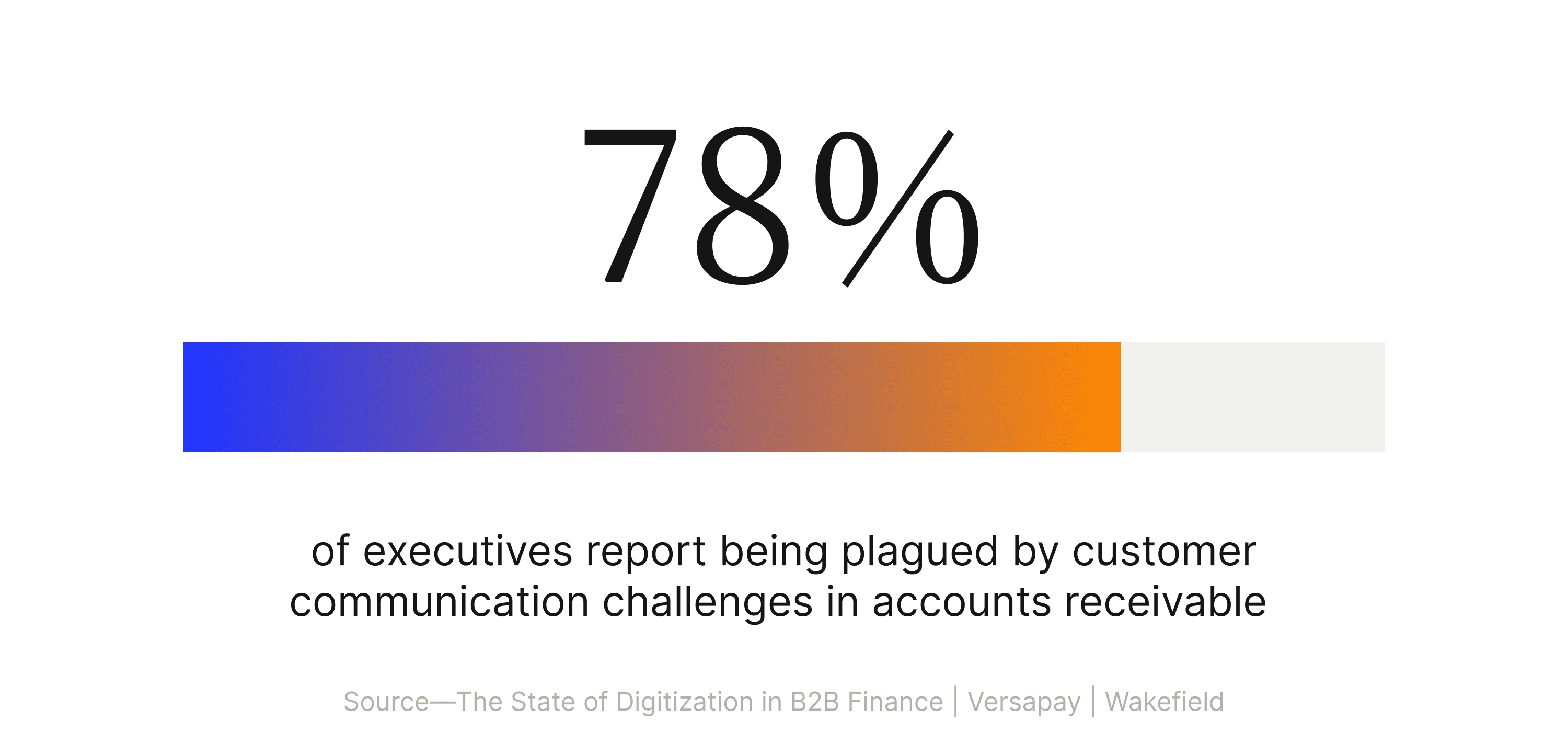 Whether or not you are aware that disputes have arisen for you that better communication could have resolved, nearly half of these executives are often—or all the time—afflicted by payment conflicts that could be alleviated with better communications between the parties involved.
These types of disputes tend to be costly. More importantly, as the speed of doing business continues to increase, it's important to consider how contemporary cloud tools could improve how you address any current, future or unforeseen issues.
Want to resolve disputes with better communication? The implication of automating AR without considering CX
Most digitization efforts in accounts receivable departments focus on:
Automating payment acceptance (45%)
Sending electronic invoices directly to customers' accounts payable systems (44%)
Reporting on the status of receivables in real-time (43%)
Automating payment reconciliation and matching (40%)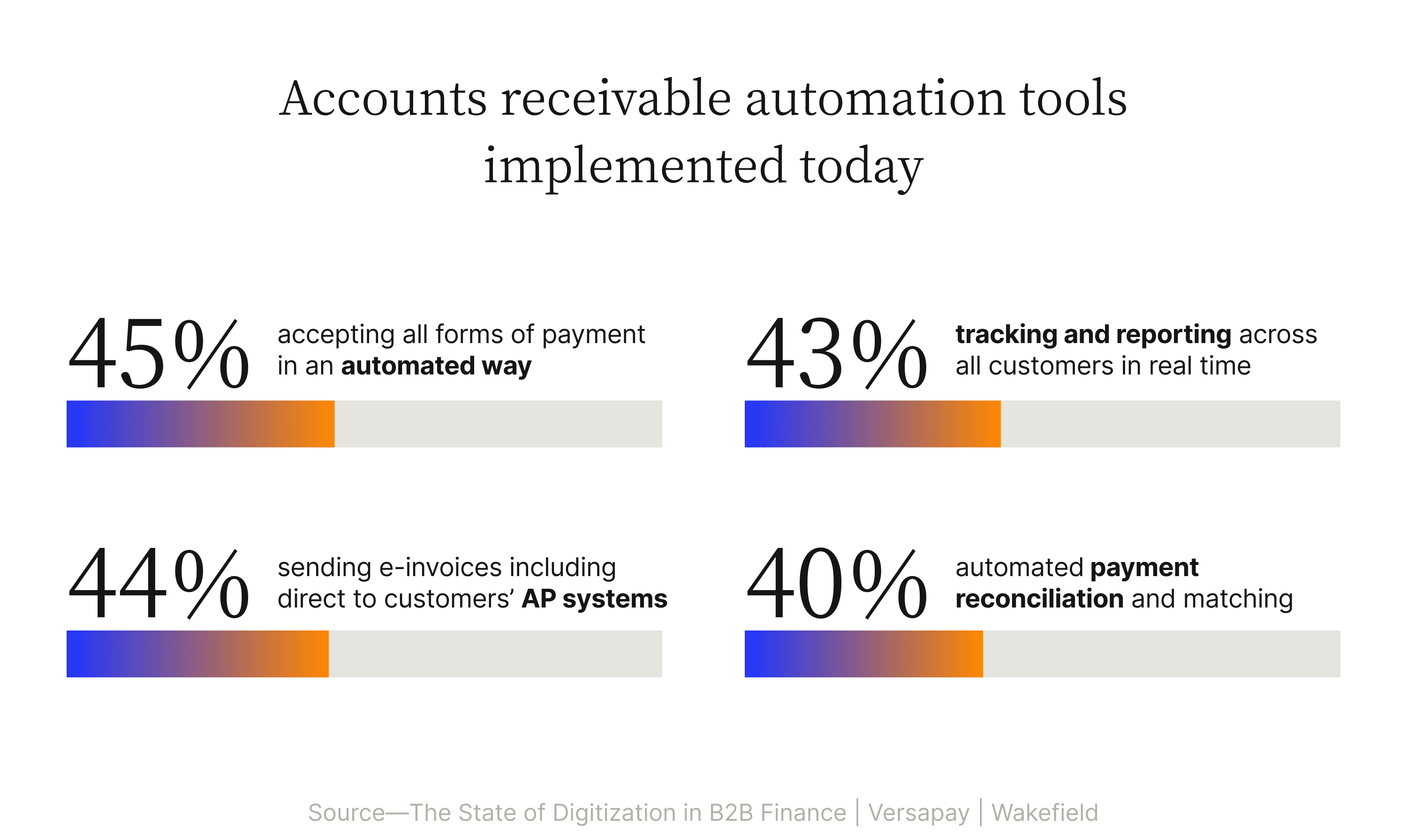 Few focus on strengthening communications between AR teams and their customers.

Yet improving customer communication through the invoice-to-cash cycle can deliver many of the benefits organizations are looking for when setting out to digitize AR in the first place. Automation alone will do little to foster and nurture relationships between buyers and sellers—which is integral to quickly resolving disputes—emphasizing the need to implement tools that deliver outsized benefits to customers, first.
The quality of the billing and payment experience has a real impact on customers' likelihood to pay on time and overall lifetime value. In fact, there's a direct relationship between the humanness of the buying experience and customer satisfaction. Yet, that consideration of the human element is too often missing in the invoice-to-cash process.
4. How much would more transparency and collaboration between AR and customers decrease the amount of invoice disputes your company faces?

Ways you might answer this question:
Decrease significantly
Decrease somewhat
Decrease a little
No decrease at all
—
Invoice disputes are caused by many things, including:
Human error
Issues with goods and services provided
Discrepancies between proposals and invoices
Communication issues
And while it might seem counterintuitive or unproductive to suggest that AR and AP teams spend more time working together to resolve menial billing and payment issues, collaboration is necessary to decrease the number of invoice disputes your company faces.
So, while the impact that increased transparency and collaboration will have on you may vary, there's no denying you'll be impacted. C-level executives nearly unanimously (95%) state that increases to these levels between AR teams and customers would decrease invoice disputes.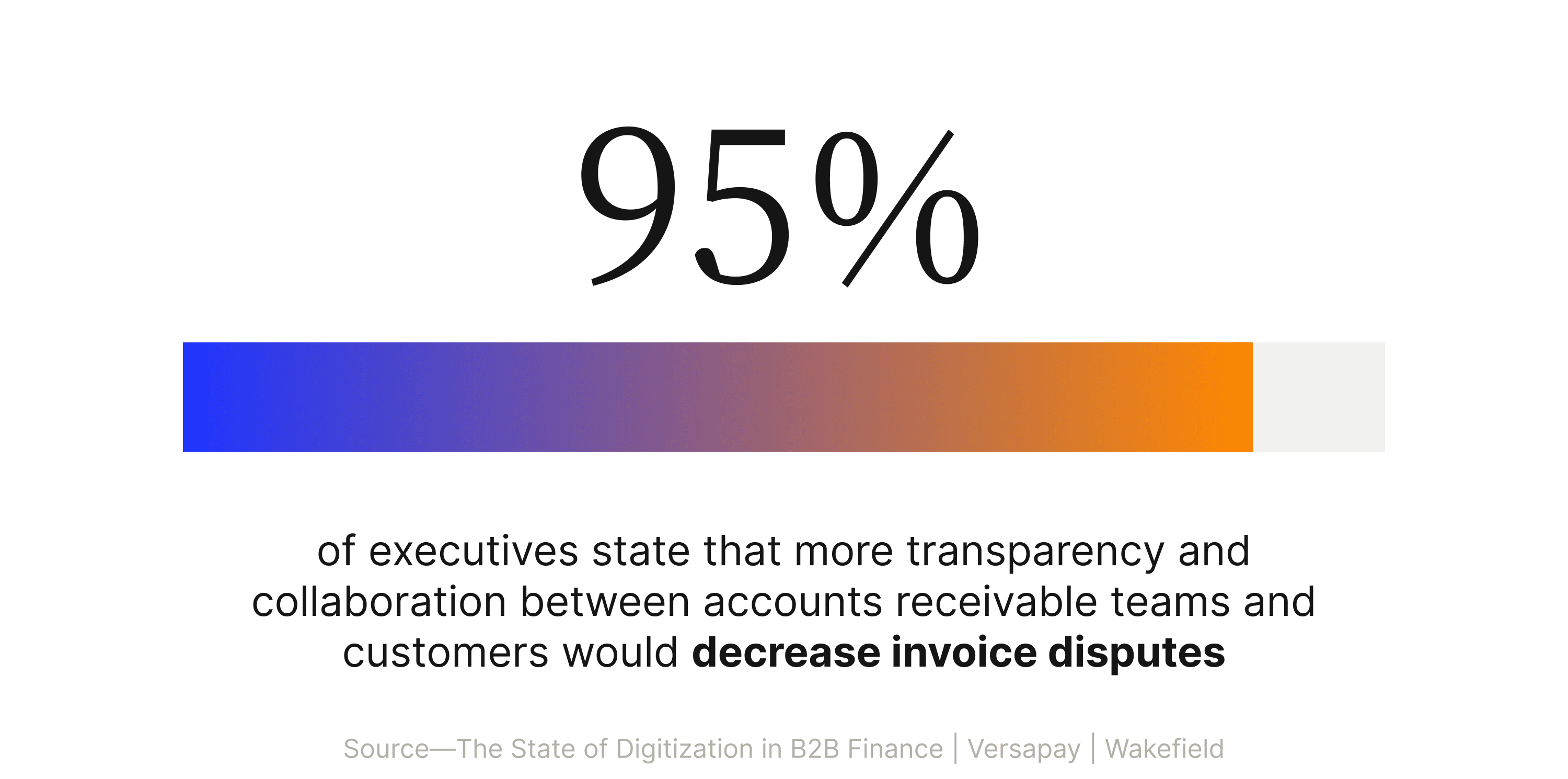 Want to decrease your volume of invoice disputes? The implication of automating AR without considering CX
Neglecting greater transparency and collaboration can be risky. When AR digitization doesn't consider CX, teams often continue to rely on traditional collaboration and communication channels like phone and email, albeit in slightly more sophisticated ways. While helpful to an extent, automation alone won't fix the underlying causes of invoice disputes and confusion among customers and AR team members.
Without heightened transparency, customer relationships will remain robotic and even combative. Communication won't be fluid, and helpful documentation—like invoices and account statements—will still be irretrievable without human intervention.
AR automation technologies that prioritize collaboration, however, empower buyers and suppliers to connect through more effective channels, like cloud-based portals that streamline communication and help compile and store important information, always making it accessible to buyers and sellers.
5. How strongly do you agree with the following statement? The right technology tools can strengthen our relationships with our customers in the invoice-to-cash process
Ways you might answer this question:
Strongly agree
Somewhat agree
Somewhat disagree
Strongly disagree
—
As leaders work toward digitizing their accounts receivable departments, our research shows they're increasingly focused on implementing changes that boost their customers' experience, particularly in the invoice-to-cash process.
In fact, 81% of CEOs admit that AR processes can be a source of negative customer experiences.
Whether you agree or disagree with the above sentiment, the bulk of C-level executives (93%) believe that the right technology can build those customer relationships while simultaneously helping them achieve their efficiency goals so commonly associated with traditional automation. CX and efficiency gains are not mutually exclusive, and executives are recognizing this in spades.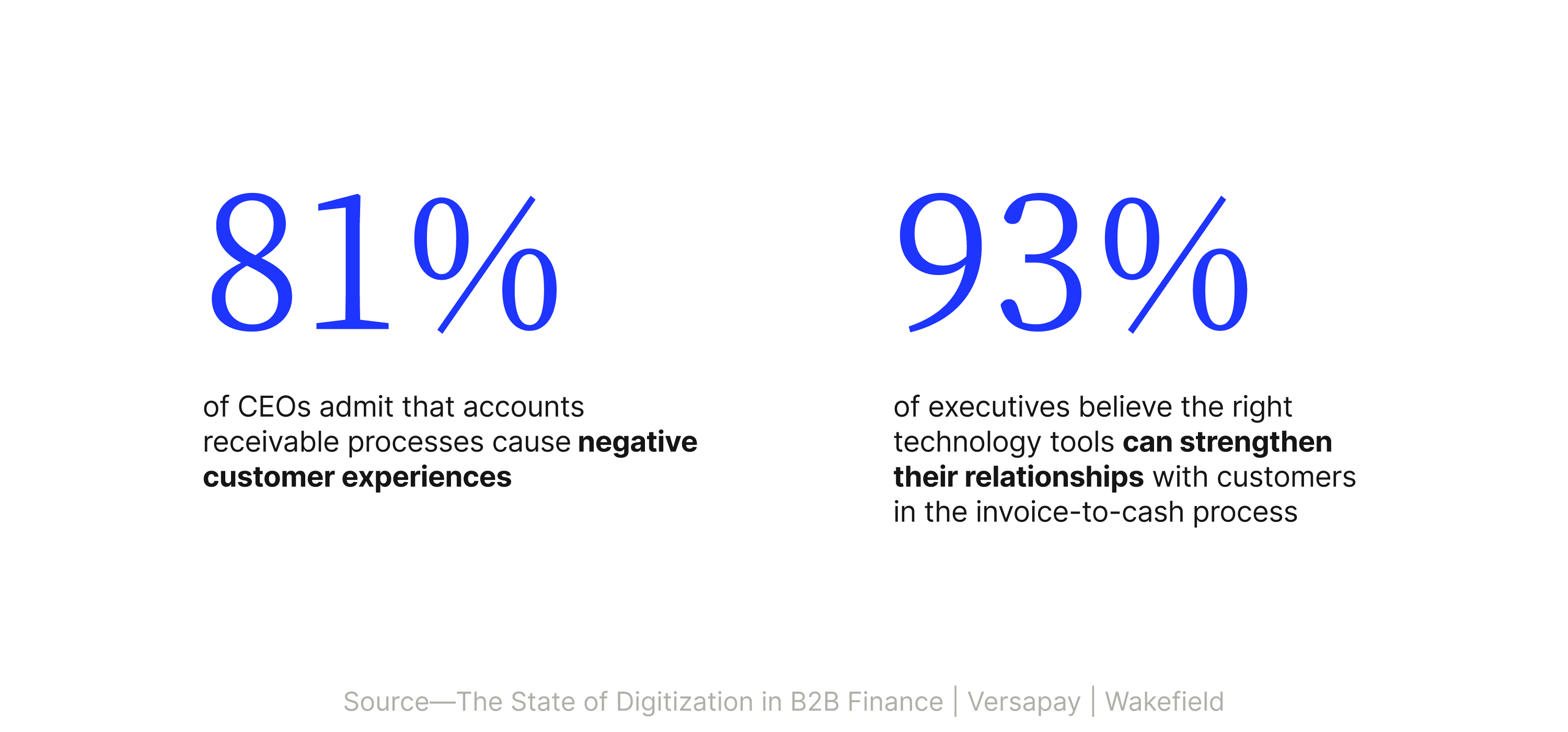 Want to strengthen relationships with your customers? The implication of automating AR without considering CX
Automation alone won't drive true transformation in the accounts receivable department. Despite adding internal efficiencies and making day-to-day tasks easier for AR teams, automation alone by itself actually can make it harder for buyers unless their needs are factored in, too.
To close the gap between your AR department and your customers, you need to make it easier for customers to do business with you.
Traditional automation that doesn't consider CX tends to make processes easier for internal teams—your teams—but leaves your buyers out of the equation. Yet with technology that combines automation and prioritizes customer experience by facilitating greater collaboration between parties, your AR department can make B2B transactions a much more enjoyable experience for all involved.
Prioritize the connection between AR and CX
The connection between accounts receivable and customer experience is clear. And for businesses to truly transform their AR processes, CX must be a driving force. Your customers must be at the helm of any improvements you make, for if they're not, any efficiencies you stand to gain will be for naught.
Luckily, there are many ways you can better your AR processes to deliver better customer experiences. Take our 6-minute assessment and discover how Versapay's Collaborative AR solution gives you the tools you need to transform your accounts receivable and build more meaningful connections with your buyers.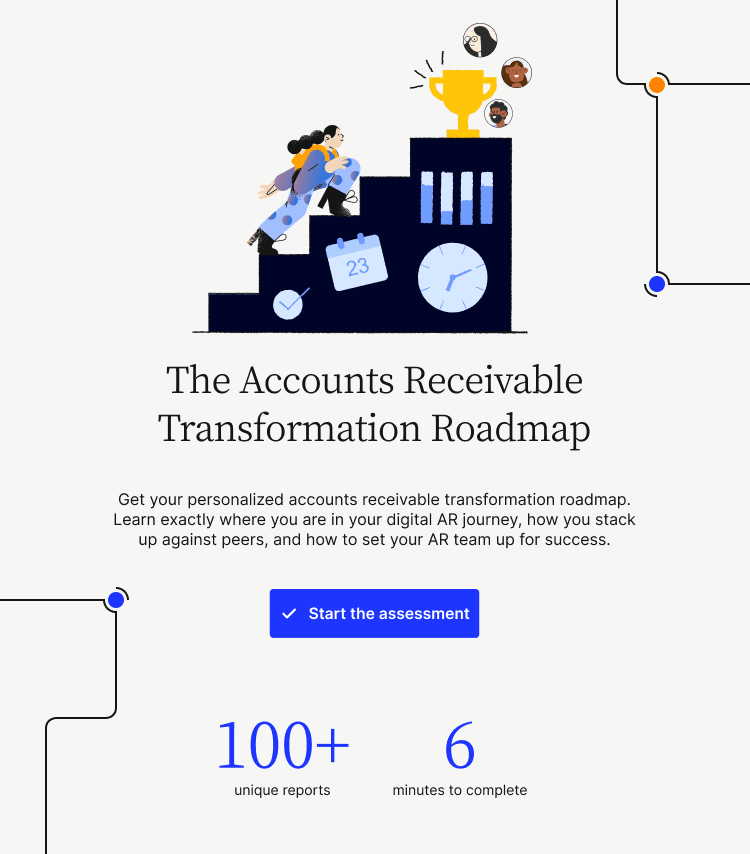 About the author

Jordan Zenko
Jordan Zenko is the Senior Content Marketing Manager at Versapay. A self-proclaimed storyteller, he authors in-depth content that educates and inspires accounts receivable and finance professionals on ways to transform their businesses. Jordan's leap to fintech comes after 5 years in business intelligence and data analytics.
Customer Collaboration and Experience
See how true collaboration in AR creates better results for both you and your customers.