Why AR Automation Software Eliminates the Need for Collection Calls
It's time to eliminate collections calls once and for all!
This articles explores:
Why collections calls are so burdensome
How accounts receivable automation software eliminates the need for them
Why AR automation software outperforms them, and
The business impact of moving away from manually calling for collections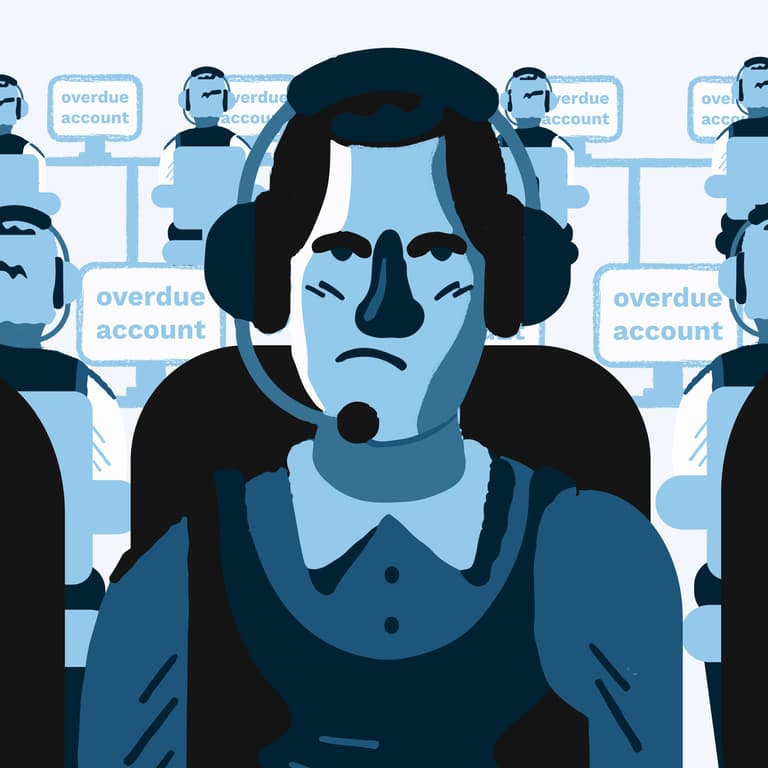 Key takeaways
Collections calls are inefficient—and in many cases ineffective—at helping your company get paid better and faster.

Striving to eliminate these calls altogether is the best path forward for AR teams, as there's a ceiling on their effectiveness.

Companies struggling with collections will find an exciting alternative in AR automation.
—
Companies can't afford to rely on ineffective management of vital business functions. Yet that's what many do when they turn to collection calls to try to get paid on time.

Since collections calls don't function well enough to help companies reliably collect payments, they contribute to cash flow woes, set businesses up to fall short of their financial obligations, and demoralize accounts receivable (AR) teams.

It's time to eliminate this poorly performing business function. Companies struggling with collections will find an exciting alternative in AR automation. Such systems can eliminate the need for collections calls and keep your business in the black.

What's in this article:
What are collections calls?
Collections calls are a key part of the traditional accounts receivable collections process, whereby the finance or AR team assigns delinquent accounts to team members, who make calls to each customer and request payment.

The first call informs a customer that their account is past due and instructs them to pay immediately to avoid late fees and escalation. If the customer still hasn't paid by a certain date, a staff member will call again to follow up and attempt to resolve the issue.

If these calls do not bear fruit, the AR team must turn to other means, such as dunning letters, demand letters, and collections companies to attempt to get payment.

The business burden

of accounts receivable collection calls

Collections calls may seem like a necessity, but there are better ways to encourage customers to pay. These calls are inefficient—and in many cases ineffective—for a number of reasons. Collections calls are:

Slow: Waiting until a customer is in arrears before communicating more frequently and forthrightly slows down the entire payment process.

Resource-intensive: These calls must be done manually, which takes a lot of employees' time and energy that could be spent on higher-value tasks such as strategic planning.

Antagonistic: Collections calls establish the AR team as an antagonist of the customer instead of a partner in doing business.

Disjointed: Calls are a series of isolated—and often non-documented—touchpoints, which are less effective than continuous and transparent communication with customers.
In some cases, the inefficiency of using collections calls to get paid is so pronounced that AR teams have to limit the size of accounts they can pursue. In one example, a company only pursues invoices worth $100,000+ since it is too cumbersome to follow-up on smaller accounts.

It's no wonder that 40% percent of finance leaders say that manual processes like collections calls are the biggest hurdle to payment collection.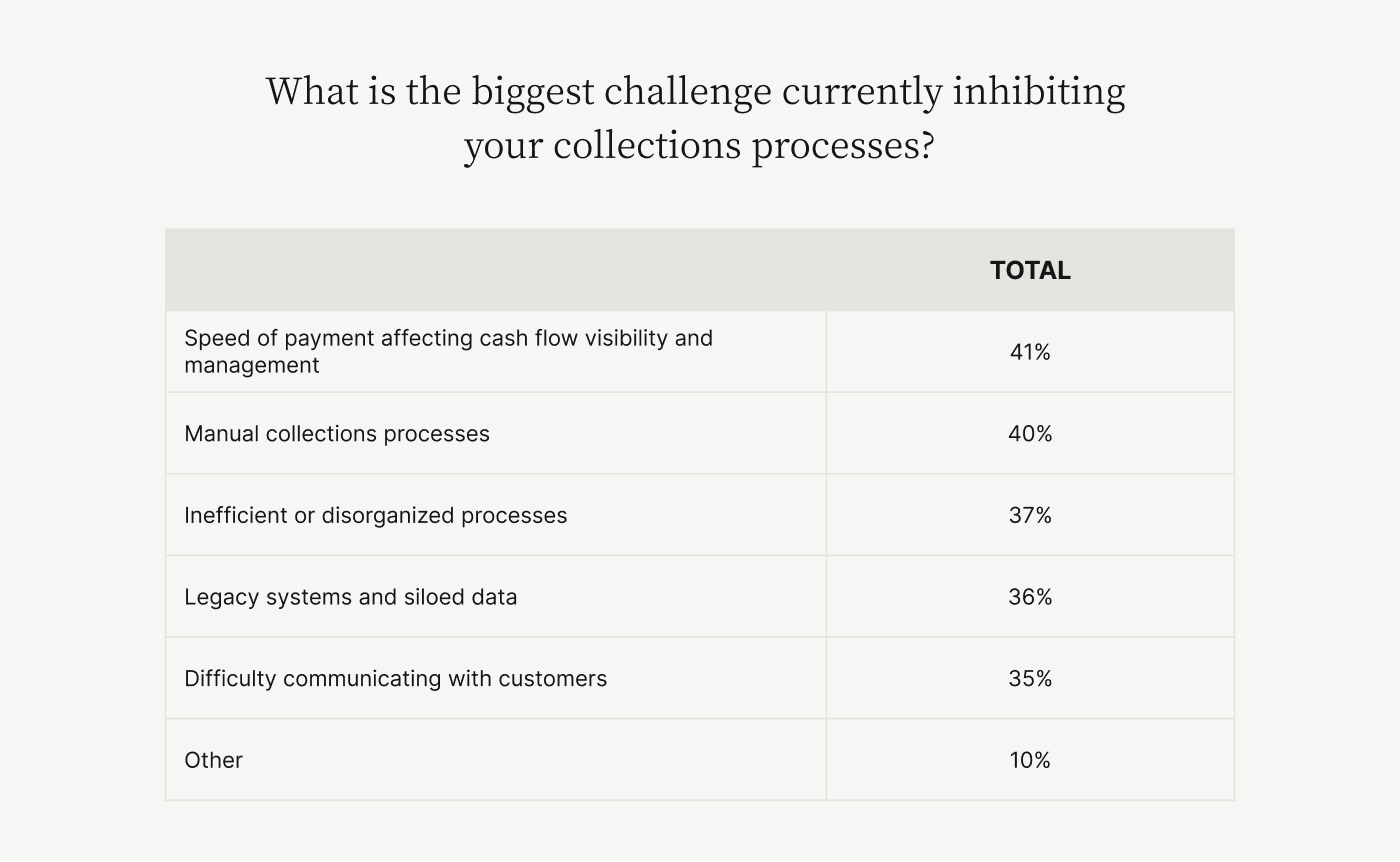 5
reasons why it's time to eliminate

—not just improve—collections calls

Collections calls have been a mainstay of AR operations for so long that teams might balk at doing away with them entirely. One could argue that the process simply needs to be improved in some way to become more efficient.


But AR teams and the companies they serve will typically be better off if they are freed from having to make these calls altogether. Let's look at the disadvantages of relying on this system. Collections calls are:

A waste of resources

Unnecessary due to human error

Negatively impacting the individuals making the calls

Causing poor payment experiences for customers

Locking up receivables and lengthening DSO
1. They're a waste of resources
Collections calls require a lot of work, with AR staff spending large amounts of time having the same set of conversations over and over. Eliminating these calls entirely would save the company money, not to mention increasing retention rates in AR as workers find their jobs more satisfying.

They're unnecessary due to human error
Errors on invoices are one of the most common accounts receivable problems and can cause confusion, miscommunication, and nonpayment. Such issues may not get resolved until the company escalates the account and begins making collections calls. A system that enables earlier and easier resolution of errors would make these calls unnecessary.

3. They negatively impact the individuals making the calls
Accounts receivable teams typically dread making collections calls, and having to make them regularly can lead to poor morale. AR professionals would rather be putting their specialized expertise to use on higher-value work, such as creating more efficient procedures and updating credit policies. Low morale in AR can lead to high turnover and the need for more hiring and training.

This is noteworthy because 71% of finance leaders already report concerns over high turnover rates that are the result of not adopting flexible or remote operating models. Any activities that dispirit AR staff are likely to further complicate retaining and attracting quality finance talent.

4. They cause poor payment experiences for customers
Customers who receive collections calls may feel hounded or intruded-upon, even if they acknowledge they are late in paying their bills. In many cases they may have legitimate reasons for their tardiness, and receiving a call may bring up a negative reaction that they associate with your company.

It's widely understood that customer experience is an integral component of the accounts receivable process—with 97% of finance leaders considering it so. Yet any efforts at maintaining good relationships with late-paying customers are undermined when collections activities are intrusive and fail to consider the customers' needs.


5. They lock up receivables and lengthen days sales outstanding
It makes for a lengthy process to wait to make collections calls until a given point and then follow up over a series of weeks. DSO adds up and receivables remain out of reach during that time.

Accounts receivables teams are already significantly backed up, with only 23% of CFOs reporting their teams are completely up to date on invoices. Delays pose very real threats to a business' overall well-being; and collections calls only serve to exacerbate them, further lock up receivables, and slow down cash flow.

Creating an alternative process that encourages and enables customers to pay sooner reduces this problem.
How automating
AR helps eliminate collections calls
Collections calls can be eliminated—or at least radically reduced—by giving your customers an exceptional payment process. A smoother, more transparent, digitally enabled payment process—that begins with electronic invoicing—leads to a higher likelihood of on-time payments in a number of ways.

Here's what automating accounts receivable does:

It builds stronger partner relationships

It streamlines communications

It makes payment acceptance easier

It encourages proactive behavior and management practices
AR automation builds stronger partner relationships
Automating AR is the best way to build stronger partner relationships. This is because an automated solution enables finance teams to provide their customers a collaborative collections experience—one they could not achieve when doing collections manually.

Automation puts customers in the role of partner when doing business instead of in the role of transactor, or worse—antagonist. Partners, by definition, work together to get business done. So shifting your customers into a partner positioning makes collections calls a last-resort method of communication.

AR automation streamlines communications
AR automation software enables steady, constructive notifications about payments due. And some AR tools (like Versapay) provide an environment for your AR team and your customers to communicate directly with each other over the cloud (via an accounts receivable payment portal). This easy, two-way communication solution allows for quicker, simpler resolution of errors, confusion, and disputes.

Businesses using collaborative payment portals are able to reduce their reliance on collections calls and reorient their skilled AR teams toward higher-value, strategic work. In fact, these portals have helped businesses bring in 44% more cash automatically every month without ever having to pick up the phone.

AR automation makes payment acceptance easier
Digitizing accounting operations allows AR teams to easily accept more forms of payment, which helps get money in the door. Customers want to pay using their preferred methods and typically pay faster when those modes of payment are readily available.

Our research found that 68% of CFOs report accepting more payments over ACH after automating their AR, and 64% accepted more credit cards.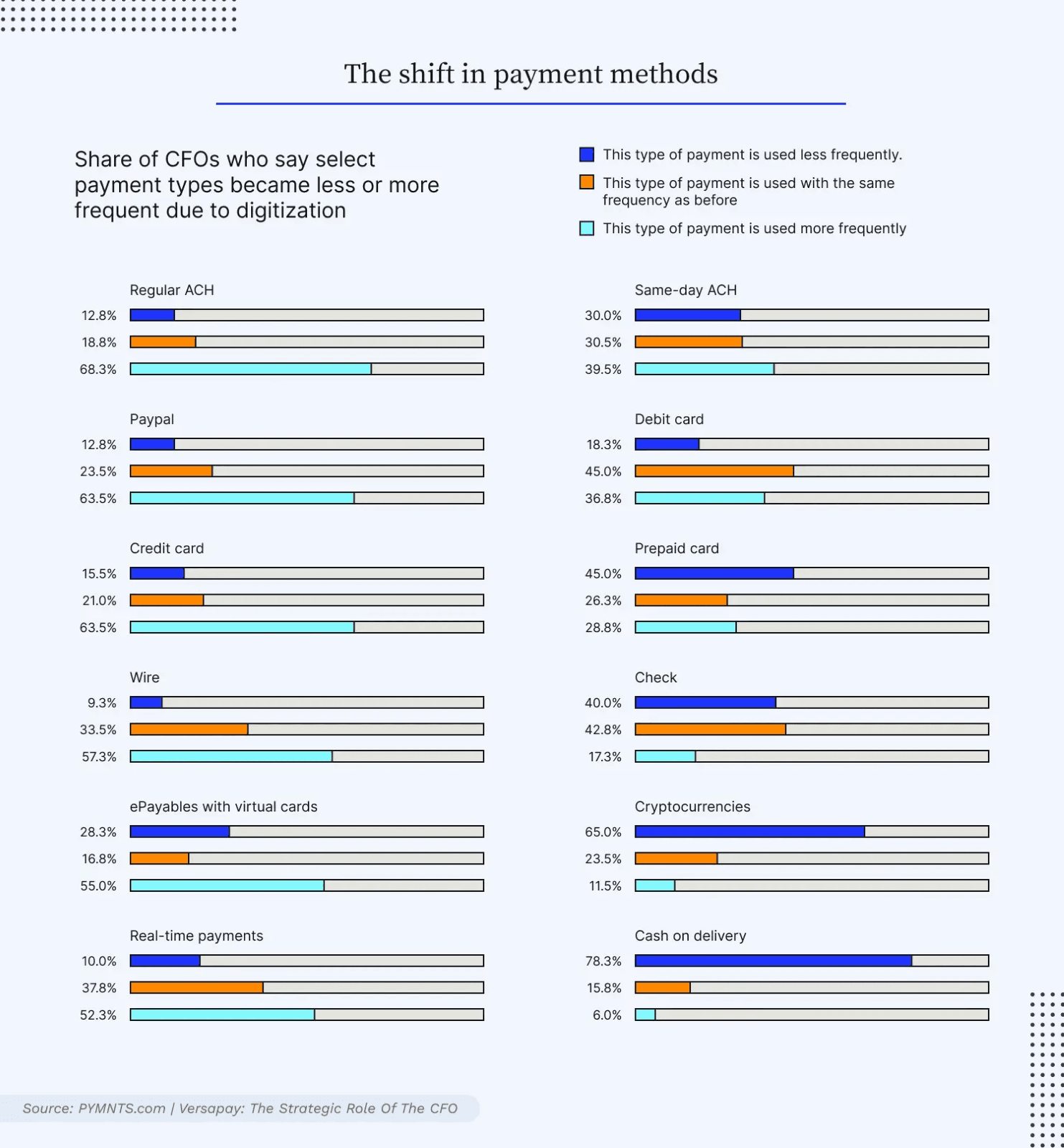 When customers can pay more easily with their preferred methods, they typically pay faster and more reliably, which reduces or eliminates the need for collections calls.

AR automation encourages proactive behavior and management practices
The best AR automation systems allow your accounts receivable team to see where each account stands in the payment process so they can be proactive in managing the payment pipeline. Staff can take early action to prompt payment and resolve issues before payments are late. Such functionality allows for the elimination of many collections calls.

Good AR automation systems enable these benefits in various ways:

Dashboards with AR aging reports to help identify slow-paying customers

Timely notifications to the seller's AR team

Actionable insights that help AR teams understand which customers require immediate attention and intervention

Detailed reporting and customer management through a centralized, single source of truth
These features can vastly reduce or eliminate collections calls. In cases where the calls are still necessary, these options make them more effective and timely.

6 ways
AR automation software beats collections calls
Accounts receivable automation software is a far better system to rely on than collections calls. In addition to what we've just covered above, here are further ways automating your AR benefits you (and beats collections calls):

Time and money savings: Companies save resources by eliminating steps to collection. In one example, a company was able to re-allocate 50 hours per month to high-impact work after automating.

Less human error, fewer disputes: Automating your AR function reduces human error, which cuts down the number of disputes that cause customers to delay payments. Preventing such problems means fewer collections calls.

Accelerated cash flow: Easier communication and digital payment options encourage customers to pay faster, which accelerates cash flow. The same company that re-allocated 50 hours per month saw a 3x increase in revenue since automating.

Real-time visibility: Automation allows AR teams to get insight into customer payment habits and account statuses, allowing for more efficient, proactive management of customer accounts.

Happier AR team: An AR team that is doing fewer collections calls is a happier AR team. They are able to avoid the manual, confrontational work of making these calls, and can spend the time working on higher-value tasks instead.

More satisfied customers: A smoother, more digitally enabled payment experience is positive for customers. Getting notifications over email or via a portal, and being able to pay with a preferred method directly from the invoice is what many customers are looking for these days. And customers who have a good experience with your company are more likely to return.
The
business impact of collections automation software
Relying on collections calls is a sure recipe for slow payment, overburdened AR staff, poor customer relationships, and disjointed communications. Automation helps AR teams accelerate revenue collection, reduce hours spent chasing payment, improve customers relationships, and facilitate partnership-based, two-way communication. On average, Versapay's clients get paid 25% faster than those who use manual processes or other solutions.

Versapay offers many benefits to its customers:
Eliminates the need for manual processes like collections calls
Automates the whole AR lifecycle from order to cash to collections
Enables vendors to accept all payment types across all channels
Frees up staff for higher-value work
Learn more about how Versapay can supercharge your collections in our CFO's guide to accelerating collections.
About the author

Katie Gustafson
Katherine Gustafson is a freelance writer specializing in content for mission-driven changemakers such as tech disruptors, visionary nonprofits, and big-thinking startups. She is the author of a book about innovation in sustainable food, and her writing has appeared in Slate, TechCrunch, Business Insider, and Forbes, among other places.
Collections
Tips, techniques, and practices to get paid what you're owed.