What Is a Dunning Letter? Tips for Collecting Past-Due Invoices Faster
Accounts receivable teams use dunning letters to collect on overdue receivables and prevent accounts from going delinquent.
In this blog, you'll learn:

What a dunning letter is

What delinquent accounts are

What the traditional dunning process looks like

How you can track the performance of your dunning letters and collections

How automation can improve the dunning process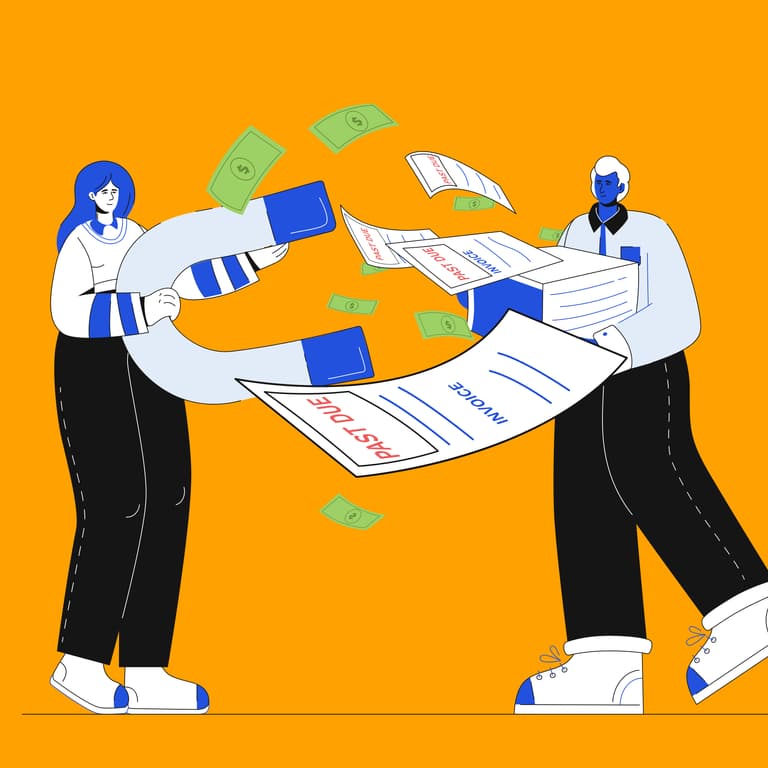 A dunning letter is a collection notice sent to a customer explaining that a payment they owe is overdue.
Dunning letters are a key tool for collections teams because they help with staying on top of and preventing delinquent accounts. Equally as important, dunning letters help you manage your days sales outstanding (DSO) so that you can keep that ever-important financial metric—and your cash flow—in a good place.
What is a delinquent account?
A delinquent account refers to a customer that has not made a payment within their allotted 30-day payment window. Typically, collections teams categorize delinquent accounts into 30, 60, 90, and 120 days late.
Why do customers pay late?
There are many reasons why customers might pay suppliers late.

Sometimes, late payments are due to poorly communicated payment terms, unclear invoices, or the fact that invoices are being paid within customers' own peculiar billing cycles.
Other times, your customer might be having cash flow issues, they might have made an honest mistake in missing one or more email reminders, or they might purposely be avoiding settling their account.
In some cases, your manual, paper-based invoicing process might be delaying when customers are receiving their invoices. This can result in them paying later than you'd expect.
In all of the scenarios above, a more streamlined collections process is the solution.
What does the traditional dunning process look like?
Every collections team wants to keep track of their payments and capture more revenue. So, many follow a traditional, tried-and-true collections process—or dunning process—that looks something like this.
Step 1. Find out which accounts are overdue
The collections team will run an AR aging report to see which invoices are still open, the balances of those unpaid invoices, and how long they've been outstanding.
This report can cover any period from the date the invoice was due, up until 30 days after its due date. Many of these reports can also filter for delinquent accounts beyond 30 days and will include all accounts past-due within 30-60 days, 60-90 days, and those beyond 90 days.
Step 2. Create a repository of delinquent accounts
The AR aging report is your basis for following up with late payers. How you choose to work against this list might vary. You might choose to focus on the accounts most overdue versus focusing on the accounts with the highest outstanding balances. Regardless of your approach, your purpose remains the same. One way or another you need to collect on those unpaid invoices.
This is where the dunning letter or past-due invoice email comes in.
Step 3. Create the dunning letters

Here are some examples of typical dunning letters or past-due invoice email templates.

Sample text for first dunning letter

Hi [Contact First Name],
Thank you for working with [Your Company Name]. This is an automated note to mention [Invoice Number] for [Amount Due] was due on [Due Date].
If you've already paid, please ignore this email. If you've not yet paid, please do so as soon as possible.
You can view the invoice attached.
Let me know if you have any questions or if you need to arrange alternative payment.
Thank you,
[Your Name]

Sample text for fourth/fifth dunning letter
Dear [Contact First Name],
[Invoice Number] for [Amount Due] was due on [Due Date].
Our [three/four] previous reminders have not resulted in payment.
We have now added late fees to your account.
To view your past-due invoice, see attached.
Please let me know if you have questions, or if you want to arrange alternative payment.
Regards
[Your Name]

Once you've set up your past-due notice templates and have identified–and prioritized–your list of overdue accounts, the traditional dunning process does become more organized—but it's still quite manual.
Note that once you start sending these dunning letters, the conversations themselves will often be fairly one-sided. And if you rely on paper-based invoicing, you might be required to send your customer a second invoice in the mail if they are unable to locate the first. This could delay the collections process even more.
Step 4. Review and start sending dunning letters
Prior to sending your dunning letters, you'll likely need a senior member of the collections team to review and vet them.
Review your repository of customer emails and postal addresses and check the letters against their account information. Once you're happy with everything, then you can go ahead and send out your dunning letters—either by sorting postal letters into regional or national piles or by individually emailing each customer with their respective collections letter.
Step 5. (Hopefully) receive payments on past-due invoices
After this, you should start receiving payments on overdue invoices. You'll have a better chance of retrieving those payments if you followed a clear process and communicated the right information to your customers. While some customers may pay you after receiving a dunning letter, others may dispute the charges, while others will still ignore the dunning notice.
How to track dunning letter and collections performance
Having a firm grasp on—and insight into—your DSO will make tracking dunning letter and collections performance easier.
To achieve this, you'll need to establish a central, single source of truth for everything related to your open AR. This will help you better understand the effectiveness of your collections efforts. Accounts receivable software can help you do this by:

Giving you a real-time view of your outstanding receivables.
Proactively contacting customers before their accounts go delinquent.
Helping you see entire account histories so you can understand any common late payment patterns.
A reduction in your DSO rate is a clear sign that these efforts are working.
How to improve the collections process
AR teams that handle collections manually often have no centralized system to see which customers should be reminded about payment and at what time. This can leave teams guessing as to what their outstanding balances will look like next month or next quarter.
The two most common ways that AR teams deal with the heavy workload associated with traditional dunning processes leave much to be desired:
Option 1. Increase AR headcount
One obvious solution is to hire more people to work on collections. But the problem with doing this is that it may not actually improve your DSO. Especially if the underlying collections process remains manual and time-intensive. Growth in accounts will quickly whittle away any gains from added headcount, meaning you're stuck in a recruitment and training cycle.
Option 2. Restructure the collections team
Another option is to re-organize your existing team and assign a dedicated dunning manager and direct report. Dedicating more than one team member to managing dunning letters also helps with preventing loss of account knowledge if one person leaves. However, this still does not address the underlying problems with the dunning process.
But, there is a third solution—which we alluded to earlier—which involves automating your dunning and collections process using AR automation software:
Option 3. Automate your collections efforts
Instead of the traditional dunning letter approach, work smarter–and not harder–by collaborating with your customers for more intelligent collections. Here's a taste of what you can accomplish by improving dunning management with a collections automation solution like Versapay:

Automate collections notices to significantly reduce your team's workload. With Versapay, you can segment your customers and tailor your communications for a more personalized approach.
Customer can't find their invoice? See all your customers' invoices in one place and re-send them in a single click.
Know exactly if and when a customer opened your invoice.
Maximize your collections efficiency and impact by empowering collectors to build great customer relationships. Engage with customers through Versapay's online portal to clear up any issues holding up payment.
Track DSO and overdue receivables in one central dashboard.
With an automated collections process, you don't have to worry about manually sifting through spreadsheets or emails to understand which accounts are overdue and how your DSO is being affected.
AR automation streamlines your collections efforts and drives major improvements to efficiency and customer experience. You'll notice your workload and volume of delinquent accounts significantly decline. With this, you may even eliminate the need for collection calls entirely!
Learn how you can put an end to time-consuming, ineffective collections activities and decrease DSO
here
.
About the author

Jordan Zenko
Jordan Zenko is the Senior Content Marketing Manager at Versapay. A self-proclaimed storyteller, he authors in-depth content that educates and inspires accounts receivable and finance professionals on ways to transform their businesses. Jordan's leap to fintech comes after 5 years in business intelligence and data analytics.
Collections
Tips, techniques, and practices to get paid what you're owed.