Revolutionize Business Operations with ERP Integrations
ERP integration refers to the process of connecting ERP software with other systems to allow for a flow of information. This can be a way to automate business processes to improve efficiency across an organization.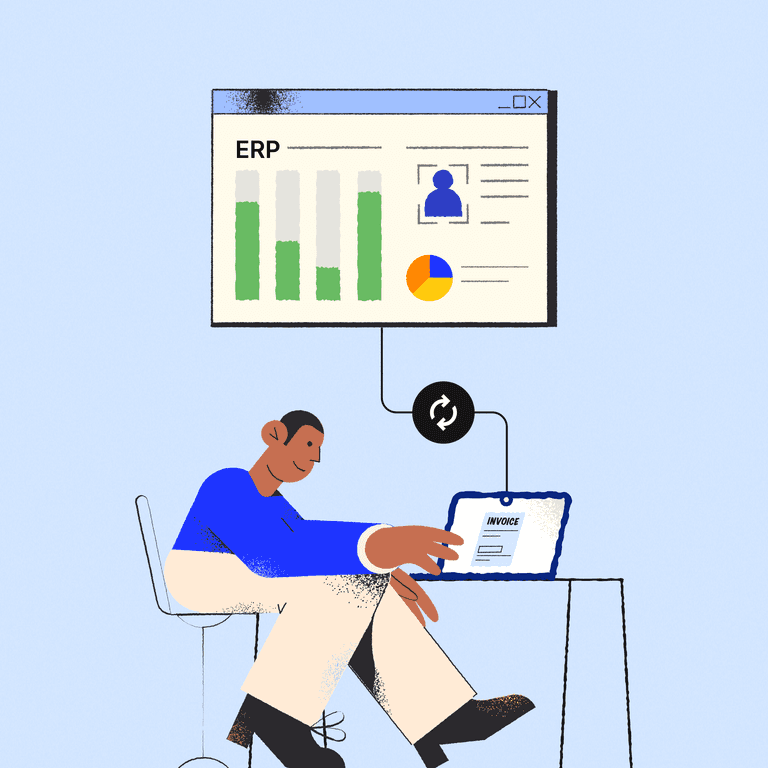 ERP, or enterprise resource planning, refers to the systems and software that streamline business processes in finance, sales, manufacturing, inventory, procurement, and more. These systems and tools bring together data from multiple departments, including financial and employee information, and need to be fully integrated into business operations and goals.

ERP integration is the act of consolidating these various operations into one system. Individual ERP integrations also exist and are designed to enhance the functionality of specific processes within ERPs (like Oracle NetSuite, Microsoft Dynamics, and Sage Intacct).

Building an ERP system, implementing ERP software, and selecting the right ERP integrations for your business needs is no easy task, but it can be done. Read on to gain a better understanding of enterprise resource planning, the benefits of ERP integrations, and those ERP integrations available to you.
What is ERP integration?
ERP integration refers to the process of connecting ERP software with other systems to allow for a flow of information. This can be a way to automate business processes to improve efficiency across an organization.

Successful ERP integration creates a single source of truth across an enterprise, enabling teams to more easily find and share relevant information with other departments.

ERP Integration Methods
There are three common methods for ERP integration, including:
Custom integrations—these are built internally and require the most technical resources
Native integrations—these are out-of-the-box solutions that allow teams to connect with specific applications
Integration Platform as a Service (iPaaS)—these are cloud-based tools that build and deploy integrations
Types of ERP integrations
1. Ecommerce
Ecommerce ERP integrations connect an ecommerce system with your ERP to expand functionality and create better customer experiences. Important customer and order data like lead data, orders, shipping times, and support conversations can all be tracked through a centralized ERP system using an ecommerce integration.

These ERP integrations enable real-time inventory counts and automated financial audits, giving teams the ability to deliver dynamic, customized pricing options for better lead conversion.

2. Payment integrations
One of the most tedious parts of accounts receivable is matching invoices to payments. By using an integrated payments solution, businesses can connect the infrastructure they need for payment processing with their core software systems (like their ERP). This ensures payment information travels to their primary financial management software automatically, saving AR teams the effort of having to post payments manually.

With payment integrations, teams can scale payment acceptance models without hiring more accounting staff members, leading to accelerated cash flows.

3. Customer relationship management
Successful enterprise companies have set procedures for managing and interacting with leads and customers. Customer relationship management (CRM) systems store customer data like purchase history and contact info. Sales and marketing teams use the data to make informed decisions.

CRM ERP integrations help teams manage a wealth of customer information from a centralized database. Data from multiple departments including marketing, sales, support, product, etc., can be accessed company-wide to create personalized customer experiences.

4. Business intelligence
Business intelligence (BI) tools are designed to collect, analyze, and report important data. This increased visibility gives company stakeholders the ability to discover new insights and opportunities that impact the bottom line.

BI ERP integrations expand the accessibility of these data-driven insights and advanced reporting capabilities. These tools increase the value of your company's data by empowering more team members to use it for daily operations.

5. Human resources
Human resources performs a multitude of tasks like payroll, recruitment, evaluations, job offers, and more. Managing HR-related data is daunting, and mishandling sensitive information can be costly.

HR ERP integrations give teams a central module in their ERP system to manage, digitize, and automate HR files and processes.

ERP integrations for HR establish more secure data storage, simplify payroll operations, encourage better employee training and development, and improve management policies. Teams can use these tools to send employee satisfaction or other workplace surveys, configure automated reporting, and manage performance reviews across an organization.

6. Project management
Having visibility into project statuses directly through your ERP system can help collaboration across your organization and improve resource allocation. Incorporating project management ERP integrations helps teams and company leaders better determine project costs, evaluate the success of PM strategies, and collaborate more productively across departments.

Adding a PM module in your ERP system allows each team member to see who is working on what and when project milestones are scheduled to be delivered. This encourages ownership and helps management allocate resources more effectively.

Benefits of ERP integration
The benefits your business will see from ERP integrations are dependent on the types of ERP integrations you implement. Some of the top reasons companies decide to invest in integrating software with their ERP system include:
Faster payment collection
Reduced error by automating data exchange
Improved customer experience with personalization
Better decision-making with centralized data
Collect faster with integrated payments
Expanding the number of ways customers can pay and automating manual payment processing activities enables teams to collect payments faster. Payment integrations offer a means of accepting payments across multiple sales channels directly in your ERP system.

Enhancing your ERP with integrated payments reduces manual AR processing tasks, saves on payment fees, and accelerates payment collections for revenue growth.

Automate data exchange for error reduction
ERP integrations automate secure data exchange between multiple systems and applications. Enterprise-wide automation can streamline business processes and eliminate human error.

ERP integrations can centralize the following information: order information, customer data, shipping details, product price, inventory counts, and purchase orders. These integrations will also automatically share the data between systems for clear visibility.

Improve customer experience with personalization
It's no secret that customized experiences tailored to unique customer needs generate significant benefits. These include increased customer loyalty and revenue over time. But these customized experiences require substantial resources and a comprehensive data management system.

ERP integrations can help teams manage this data and provide better, more personalized customer experiences. By analyzing customer behavior in real-time, marketing professionals can deliver messaging that resonates; sales teams can approach customers at just the right time; and engineers can develop innovative solutions to grow satisfaction.

Centralize data for better decision-making
Modern enterprise organizations have massive databases of valuable business and customer information. But that data is only valuable if it's being used. Large companies are plagued by poor data management. If it's not easy to find, access, analyze, or export, the value of your data is limited.

ERP integrations centralize data and streamline communication and decision-making across departments. Everyone with access can get real-time visibility into various business operations, even in fluid environments. Teams can establish secure frameworks and responsible data management policies with the help of related ERP integrations.

Challenges of ERP integration
The process of integrating tools into a team's core ERP system can be challenging. The process can be long, costly, and introduce security risks. Additionally, ERP integration is technically complex and requires expertise to prevent negative system effects like outages.

ERP integrations can be costly
ERP integrations and management—of said integrations—can add up quickly. Even with the significant benefits, the investment can seem out of reach for many organizations.

The fact is: the benefits will outweigh the cost, especially in the long term. By selecting the best ERP integration solutions for your company, you can maximize the benefits and reduce the need for additional applications.

ERP integrations can be unsecure
Because businesses tend to amass so much valuable information—like customer data and proprietary intelligence—in their ERPs, they can be vulnerable to security breaches.

Using integration tools that include their own security features and taking proactive measures like internal training can prevent malicious attacks on your ERP software.

ERP integrations can be complex
ERP systems are complex, and initial implementation can be difficult. Stakeholders have to overcome internal resistance to new technical systems and business processes. Often, the process starts with poor-quality data that can make implementation more challenging.

Proper training, better communication, and a clear understanding of integration requirements help teams avoid integration failures and encourage system utilization.

For businesses with existing ERPs, implementing natively-accessible ERP integrations—found via ERP application libraries, for example—can ease the stress of a first-time ERP integration. Versapay, for example, offers native payment integrations with three popular ERP systems: Oracle NetSuite, Microsoft Dynamics, and Sage Intacct.

ERP integration best practices
Have an integration plan
Create a plan before starting the ERP integration process. Delegate a project manager who understands the business goals and internal processes. Consider the type of information you're sending to and from the ERP system and any other integrations that will be affected.

Think about as many use cases as you can and how often you expect them to occur, and test how well the integration is able to handle edge cases.

Inform stakeholders
It's common to encounter internal resistance before and during the ERP integration process. It will require employees to change the way they do some of their tasks, change the tools they're using, and adopt new practices. Change can be hard.

Be sure to inform everyone that will be involved and impacted by the integration including employees, partners, and vendors. Implement thoughtful communication policies that ensure transparency and visibility throughout the project.

Invest in data management
The data you move through your ERP system is only valuable if it's clean, reliable, and accurate. Teams should regularly clean data and normalize fonts; validate data; review who has access to data; and delete bad and duplicate data.

Creating a sound data management strategy will make the integration process much smoother.

Improve ERP functionality with Versapay
With payment integrations, teams can process payments directly from within their ERP system. This drives efficiency and cash flow by:
Automating accounts receivable workflows
Allowing you to collect payments across any sales channel
Reducing payment processing costs
Protecting your business from fraudulent activity
Improving customer's billing and payment experiences
Streamlining payment acceptance with integrated payments from Versapay can lead to a 30% reduction in manual AR processing tasks, 20% savings on payment fees on average, and a 25% increase in payment collections.

Versapay offers quick and convenient integration with the most popular ERP systems including Oracle Netsuite, Microsoft Dynamics 365 Business Central, and Sage Intacct. For teams working on other ERP systems, Versapay will develop a tailored solution to meet your needs and technical requirements.

About the author
Ben Snedeker
ERP Optimization
Discover every advantage ERP systems offer and how to maximize their capabilities.