Why Sales and AR Teams Should Collaborate To Enhance Customer Experience and Cash Flow
An effective partnership with their sales department can help accounts receivable teams minimize credit risk and avoid invoice disputes. But so often, these two teams only communicate when there's a dire issue.
In this blog, learn why businesses benefit from closer credit and sales collaboration and how to facilitate this through collaborative AR.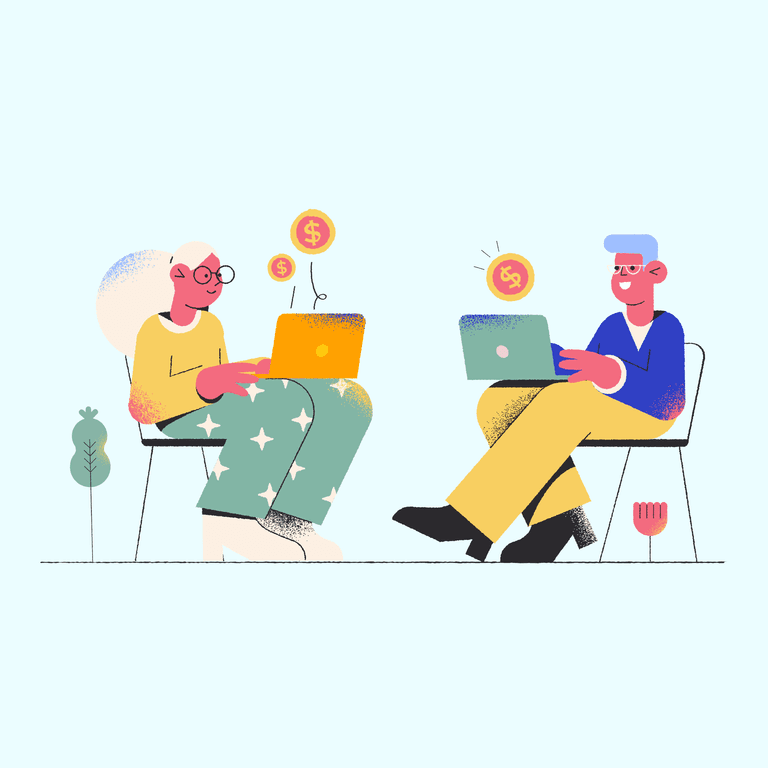 In finance circles, the importance of collaboration between accounts receivable (AR) teams and their customers is drawing greater attention.
The relationship between sales teams and credit departments, however, is one that seldom gets talked about. Boosting collaboration between these critical areas of your organization increases revenues and builds longer-lasting customer relationships. When both teams are working together effectively, they gain a better understanding of the customer. This results in fewer invoice disputes and better credit negotiations.
In this article, you'll learn how credit and sales collaboration can strengthen your company's processes and reputation among customers. We'll cover:
The hurdles a lack of collaboration between sales and credit teams creates
The benefits of sales and credit department collaboration
Strategies for improving credit and sales collaboration
How technology boosts collaboration between sales and AR
A lack of sales and AR team collaboration harms revenue
Sales and AR teams both interact with customers during the billing and payment stage of their journey. The sales team often sets payment terms and credit cycle specifications, while the AR department processes customer payments per these terms.
A miscommunication between these two teams at this stage can very easily lead to customer disputes. Even worse, a sales team that is out of the loop might consistently promise payment terms your company can't afford, leading to misaligned incentives. A company that rewards sales teams for the number or size of deals closed instead of revenue earned could put AR in a tough spot if this results in difficulty collecting from those customers.
Here are three outcomes that a lack of alignment between sales and credit management creates:
1. Poor customer experience
If your sales team promises terms that your AR team can't fulfill, customers will think one part of your organization doesn't speak to the other. Worse still, your business might acquire a reputation for overpromising and underdelivering. Frequent miscommunication will leave customers doubting your organization's efficiency, leading to damaged customer relationships.
2. Delayed cash flow
When there's a miscommunication between sales and accounts receivable, this often results in customers receiving invoices with incorrect prices and terms. For example, if a member of the sales team promises a customer a discount that doesn't get communicated to the AR team, this will most likely lead the customer to short pay their invoice or open a dispute.

An influx of customer disputes delays payment times, giving your business less cash on hand and occupying your AR team's valuable time with dispute handling.
3. Low employee morale
As frustrating as miscommunications about invoices are to your customers, they're equally as frustrating for your staff. When teams communicate in silos, this contributes to low employee morale.
If Sales receives customer backlash from broken promises but doesn't know why, they'll feel isolated. On the flip side, when customers raise disputes due to miscommunications about their payment terms, this leaves your credit management team wondering where the problem arose.
—
Team work really does make the dream work. This on-demand webinar will show you how you can streamline AR by facilitating collaboration with customers.
The benefits of sales and accounts receivable collaboration
Greater collaboration between sales and credit teams brings a host of benefits to both departments individually and your entire organization.
1. The benefits to sales
Sales teams are always looking for better ways to connect with customers and prospects. Greater collaboration with the AR department can give them valuable data that boosts important sales metrics.
Crucially, your credit team can inform Sales about which customers have a tendency to pay severely late. Sales can use this to inform how they extend credit to those customers in the future and what kinds of prospects they choose to pursue.
Greater alignment with AR about which customers consistently pay on time can also inform how the sales team manages relationships and upsell opportunities.
This ultimately results in less bad debt, more revenue for the company, and a better report card for Sales.

2. The benefits to accounts receivable
Greater collaboration with their sales department helps credit departments reduce collection times by avoiding hiccups (like incorrect payment terms) that could lead to non-paying clients.
With greater knowledge of how your company sets payment terms and manages discounts, Sales can do a better job of setting up customers' expectations, further preventing future setbacks when it comes time for payment. Sales teams with greater insight into customer payment histories and credit policies are less likely to offer unsuitable payment terms to customers too.
AR teams can also lean on the strong relationships sales teams have with customers to smooth over any payment issues. This ultimately leads to faster resolution of payment disputes and better preserves those customer relationships.
Greater alignment between credit and sales departments improves customer experience
While enhanced collaboration between credit and sales teams helps each department respectively, the greatest benefits are for your customers to gain.
Here are a few ways in which close collaboration between sales and credit management enhances customer experience (CX):
1. Cohesive customer onboarding
With greater sales and AR alignment, you can consolidate your sources of customer information so that you're not asking customers for the same details twice. This creates a smoother onboarding experience for your customers.
2. Transparent terms and communication
Fewer miscommunications between sales and AR teams mean no more overpromising and underdelivering to customers.
Greater alignment between these two departments also allows for more effective communication with customers. Because sales and AR both have context into customers' agreements and payment terms, customers can get answers to their questions no matter which department they speak to.
3. Faster credit approvals
When Sales extends credit to customers more informedly (meaning they're not offering credit to anyone they shouldn't), AR is more likely to approve those customers' credit applications faster. As a result, customers can get served sooner.
3 strategies for improving sales and AR collaboration
Here are four ways you can get sales and AR teams on the same page and promote collaboration in your organization.
1. Build deeper relationships
Often sales and AR teams only communicate when there's an issue. Instead, encourage more frequent communication between both departments.
With more regular touchpoints between sales and AR, there's less opportunity for misalignment on what discounts and credit terms can be given to customers. This helps lower the number of invoice disputes that come into your credit department.
For the disputes that do come in, AR teams can lean on their close relationship with sales to smooth over negotiations with customers.

2. Align sales goals with accounts receivable
Aligning Sales' goals with AR metrics can incentivize them to focus on bringing in high-quality customers that reliably pay their invoices. One option is to link sales commissions to the percentage of invoices cleared in the first quarter.
Other metrics you might consider tying sales objectives to include customers' percentage of on-time payments and early payment discounts earned.
Increased awareness of these metrics will get your sales team focused on signing clients that boost revenue.
3. Instill a collaborative culture
In businesses, change comes come from the top. When leadership establishes a culture of collaboration and mutual support, this paves the way for cross-department partnerships.
Establish processes that prioritize sharing payment reports with sales teams. Consider hosting monthly (or however regular you need) meetings to unite your disparate teams. Extend collaboration to everything you do.
This collaboration is especially important when it comes to software implementation projects, especially customer payment portals. When introducing these kinds of payment tools to customers, AR staff should involve Sales in the conversation early. This way, Sales can educate customers during the sales cycle on how they'll make payments.
When speaking of the rollout of their customer payment portal, Peter Gibbons, former CEO of the distribution logistics company TireHub, shared this sentiment. "Having our sales team involved was great because they're the voice of the customer," he said. "We presented this not as something we decided to impose on the customer, but an initiative we were doing that we wanted to make sure customers came alongside."
3 ways to increase sales and credit team cooperation with collaborative AR
Beyond creating a culture and processes that prioritize cross-team collaboration, you can incentivize sales and AR team partnerships with the technology you use, namely collaborative AR.
Collaborative AR goes beyond traditional accounts receivable automation by equipping suppliers with features like commenting, task assignment, and document management. Not only is this great for allowing AR teams to communicate directly with customers, but it also facilitates much-needed collaboration with internal teams like sales.
Here are four ways collaborative AR helps sales and credit management teams work in lockstep:
1. Centralizing customer data
The key to enabling transparency across multiple departments is centralizing data. Collaborative AR brings stakeholders like your credit managers and sales reps together in one place, where they can track collections progress.
What's more, with a platform that integrates with your existing accounting system, your entire team can be sure that the data reflects the real-time status of customers' accounts.
In Versapay, team members across multiple departments can view customers' payment history, dispute statuses, and upcoming payments due.
By extending this visibility to the sales team, you help them

Better manage customer relationships
Mitigate credit risk
Make credit renegotiations
Make upsell decisions, and
Set targets based on collections
2. Keeping track of and accounting for sales discounts
Your sales team might be fond of offering customers discounts for early payments. But because enforcing the correct usage of these discounts and applying them to invoices can be especially manual and time-consuming, AR teams aren't always in favor of them.
With a collaborative AR automation tool, however, you can accurately communicate available discounts to customers and easily reconcile them with your accounting system. The sales team gets to offer their customers discounts, while the AR team benefits from faster payment times without the reconciliation headaches.
With Versapay, you can present available discounts to customers when they log into their online payment portal. You can control which payment methods are eligible for discounts and automatically reconcile those applied discounts with your enterprise resource planning (ERP) system.

3. Simplifying the dispute management process
AR teams often need to pull Sales into their conversations with customers when handling disputes.
With collaborative AR software, Sales can chime in to clear up any invoice discrepancies as soon as they arise.
Versapay's cloud-based portal makes it easy for AR teams to keep Sales in the loop during dispute resolution. Customers can leave a comment or ask a question directly on their invoice if a line item doesn't reflect what they were quoted by Sales. AR staff can then tag a member of the sales team to quickly weigh in on the issue.
With all this communication taking place in one thread and directly on the invoice (instead of across various email chains and phone calls), AR teams can resolve payment disputes much faster

Sales can also use these learnings to ensure future miscommunications don't happen.

—
Learn more about how collaborative accounts receivable automation software can enhance the partnership between sales and AR teams, while decreasing collection times. Find more tips on enhancing internal workflows with collaborative AR here.
About the author

Vivek Shankar
Vivek Shankar is a content writer specializing in B2B fintech and technology. He is ambivalent about the Oxford comma and covers the institutional finance markets for industry trade publications. An avid traveler and storyteller, Vivek previously worked in the financial sector as a data analyst.
Customer Collaboration and Experience
See how true collaboration in AR creates better results for both you and your customers.