Cash on Delivery Explained: The Pros and Cons of COD
In this blog, you'll learn:
What cash on delivery (COD) means
How cash on delivery works
The pros and cons of COD (for buyers and suppliers)
The alternatives to traditional COD
How Versapay helps you streamline the way you collect on delivery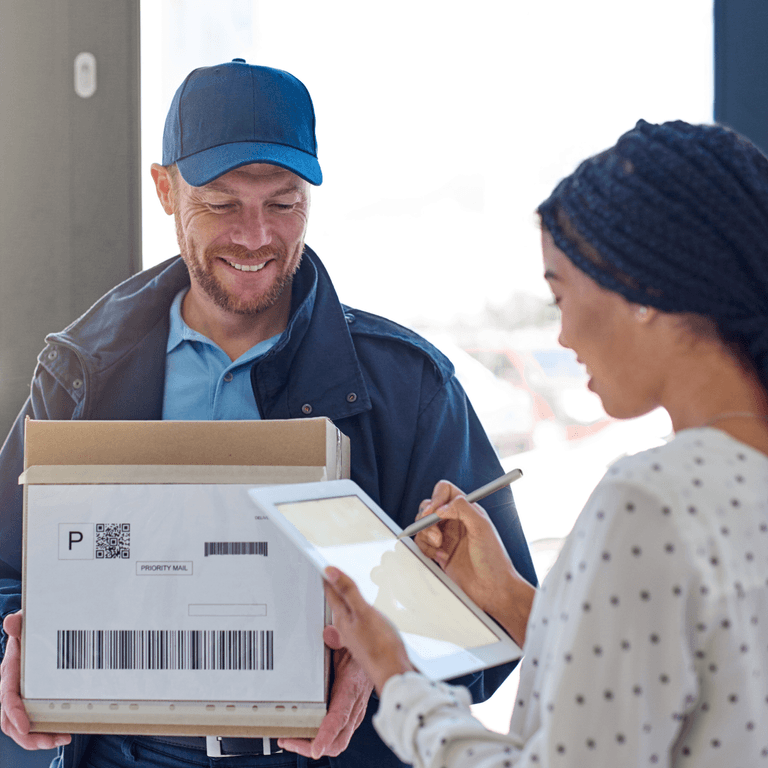 What is cash on delivery?
Cash on delivery, or collect on delivery (COD), is a method of collecting payment that requires customers to pay for goods at the time of delivery.
Companies that manufacture and distribute goods deliver products to potentially thousands of customers every day. These customers can range from big box stores to mom-and-pop shops and have varying levels of creditworthiness.
For customers with less favorable or less established credit histories, suppliers can require they make a full payment at the time their order is delivered instead of on credit. This helps the supplier avoid potential risk from extending credit to these customers and receive payment faster.
How does cash on delivery work?
The terms for how a COD customer is expected to pay will typically be outlined in their purchase agreement with their supplier. When a COD customer places an order (online or through other means), they will select cash on delivery as their payment method.
When their order arrives, the customer will pay the amount owed, usually to a shipping or logistics partner working with the supplier. After deducting any handling charges, the partner will then direct the funds to the supplier.
Just because COD customers aren't paying on credit doesn't mean the supplier won't have to generate invoices for those clients. When deliveries arrive, a printed invoice will usually be attached.
Cash on delivery examples
B2B businesses that might collect from their customers at delivery include companies that sell to retailers such as wholesale distributors.
In our lives as consumers, however, there are many instances in which we might make a payment at delivery. These include ordering pizza, picking up a package from a courier, and going to the dry cleaner.

How are the payment terms for COD different?
When paying on credit, suppliers require their customers to pay on net 30, 60, or 90 terms. This means buyers are expected to make payments within 30, 60, or 90 days respectively.
In contrast, cash on delivery customers must pay at the time of delivery, or their order cannot be released to them. Delivery timeframes for COD customers tend to be shorter than those for customers paying on credit.
What types of payment methods are used for COD?
Although referred to as cash on delivery, COD transactions can include other payment options, such as checks, credit cards, or electronic payments. For that reason, some suppliers may refer to this payment method as collect on delivery instead.
Very often though, customers will pay through "offline" methods like checks or cash, making it hard for suppliers to process and post those payments back to their enterprise resource planning (ERP) systems efficiently.
The pros and cons of COD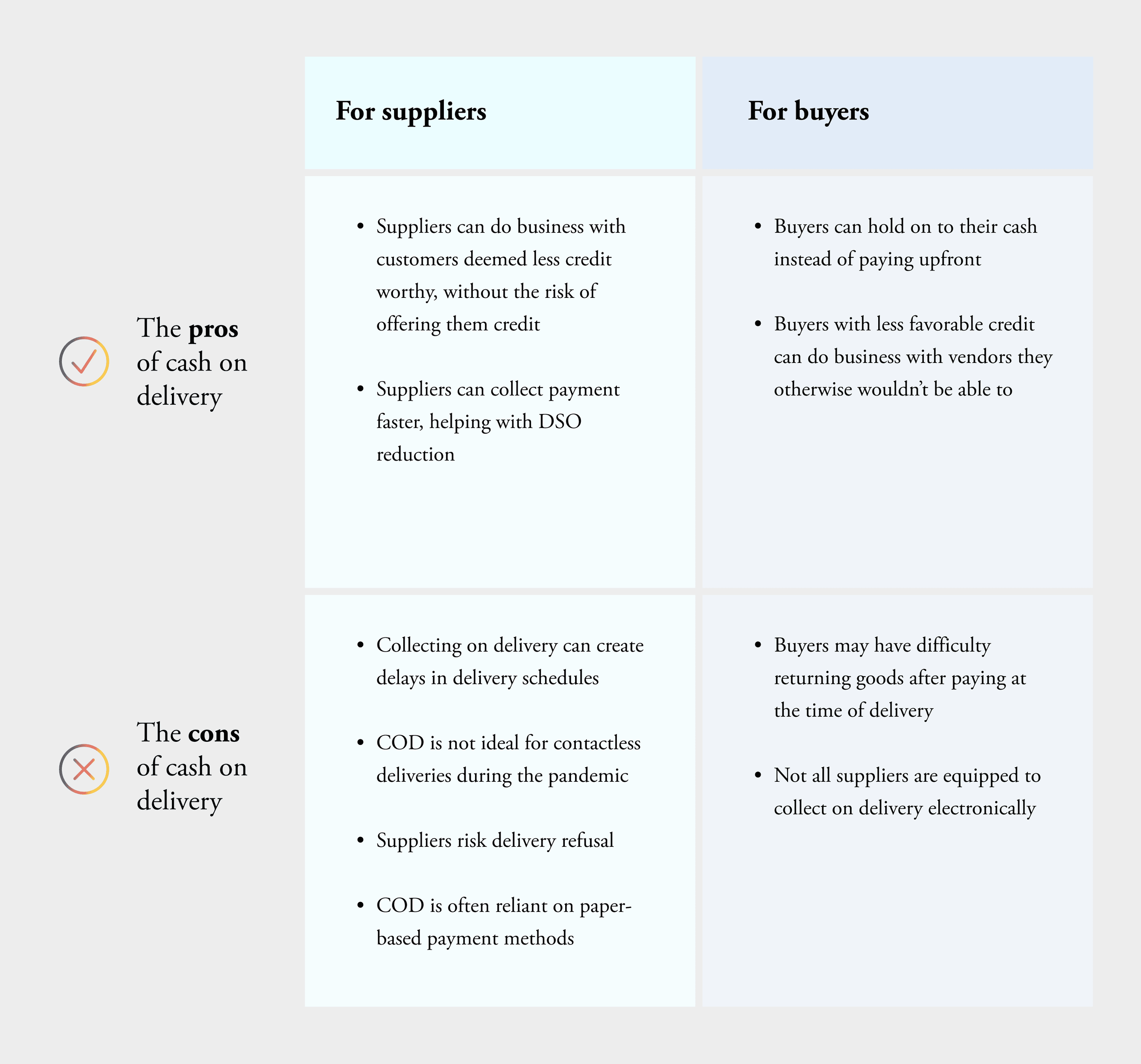 The benefits of cash on delivery for suppliers

Suppliers benefit from accepting cash on delivery as it allows them to increase sales by doing business with customers they would not otherwise extend credit to. Rather than taking the risk of offering credit to those customers from the get-go, COD lets suppliers give them an opportunity to build their credit history and still get serviced.
By requesting payment at the time of delivery instead of on accounts receivable (AR), suppliers also benefit from shorter payment cycles, helping reduce days sales outstanding (DSO) and boost cash flow.
The downsides of cash on delivery for suppliers
However, there are several reasons why collect on delivery is not an ideal payment method for suppliers.
First, having to wait for customers to make their payments can cause drivers to get delayed when making deliveries. During the onset of the COVID-19 pandemic, many suppliers may have halted COD terms altogether to limit contact between customers and delivery staff.
With COD, there's also a higher risk of delivery refusal. This can be especially disastrous when suppliers are transporting perishable goods. When this happens, suppliers lose profit on returned or spoiled goods and may have to pay shipping return fees.
Finally, because collection on delivery so often relies on offline payment methods like cash and checks, facilitating COD creates a lot of manual work for accounting teams. A delivery person must keep track of various checks, then provide them to the supplier's accounting staff, who will then manually process and reconcile the payments with the right customer accounts. This clumsy process ultimately spells trouble for suppliers' cash flow.
The benefits of cash on delivery for buyers
Whereas most ecommerce sales require that customers pay upfront before receiving a product, COD allows customers to manage cash flow by paying at the time of delivery. Cash on delivery also allows customers with minimal or less favorable credit histories to do business with vendors they would otherwise not be able to.
The downsides of cash on delivery for buyers
If a buyer wants to return any goods after having paid for them at the time of delivery, however, this can be a challenge as the supplier might not be under any obligation to accept the return.
And if suppliers are only equipped to collect on delivery via cash or check, this could limit buyers' ability to pay electronically, particularly for those who are aiming to pivot their payment operations away from manual and paper-based methods.
What are the alternatives to traditional COD?
While COD offers suppliers some cash flow advantages and protection from credit risk, it's safe to say the downsides heavily outweigh the benefits—especially when you consider that there are alternatives available for collecting from your COD customers.
Here are two alternatives to traditional COD transactions:
1. Enroll your customers in AutoPay
With an accounts receivable automation platform that supports automated payments, you can get your cash on delivery customers making online payments without needing to extend credit to them.
With Versapay, you have the option of enrolling customers in AutoPay, where they can time payments to go out (via credit card or electronic transfer) as soon as an invoice gets issued—before their order is on its way. This way, COD buyers can still do business with you, and your team will save valuable time by no longer processing and applying manual payments.
In the Versapay platform, you can easily track which of your COD customers have already paid via AutoPay, helping you avoid loading products onto trucks only to have them return to your warehouse.
2. Identify cash on delivery customers on track to being credit-worthy
By engaging with your COD customers through a collaborative AR platform—whether they elect to pay through the platform or not—you also get a clearer audit trail of all your interactions with them. This will make it easier for you when assessing whether some of these customers are suitable to start paying on account.
In cases where your COD customers aren't interested in paying via AutoPay, you may be able to collect from those customers electronically (if deemed creditworthy) if paying with extended terms instead.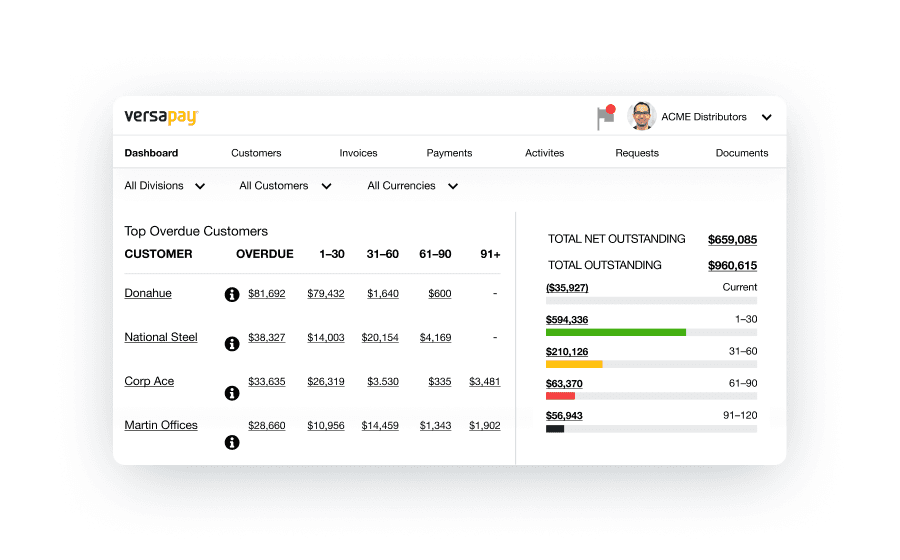 In the Versapay platform, you get a real-time view of all your customers' payment activities in synchronization with your ERP. This makes it easier to track which of your COD customers are current with their payments and may be suitable to extend payment terms to.
Learn more about how you can streamline your accounts receivable processes with automation here.
—
This blog was originally published in July 2020 and has been updated for accuracy and comprehensiveness.

About the author

Nicole Bennett
Nicole Bennett is the Senior Content Marketing Specialist at Versapay. She is passionate about telling compelling stories that drive real-world value for businesses and is a staunch supporter of the Oxford comma. Before joining Versapay, Nicole held various marketing roles in SaaS, financial services, and higher ed.
Collections
Tips, techniques, and practices to get paid what you're owed.