How Mobile Check Deposit Speeds Up Check Processing for Businesses
Mobile check deposit is an application or service that scans checks and turns them into digital images.
This blog explores how:
Businesses can use mobile check deposit to speed up check processing, and
Automatically match payments with remittance advice when collecting payments in the field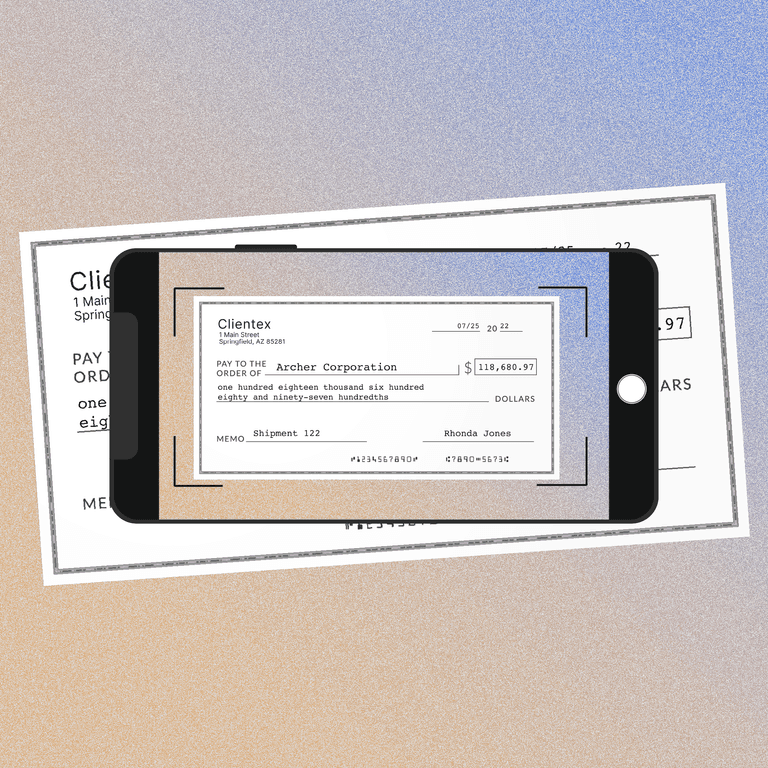 Eighty-five percent of finance leaders report their company is still manually matching payments with remittance advice. This is largely a byproduct of organizations' continued reliance on receiving payments by check (91% still do so).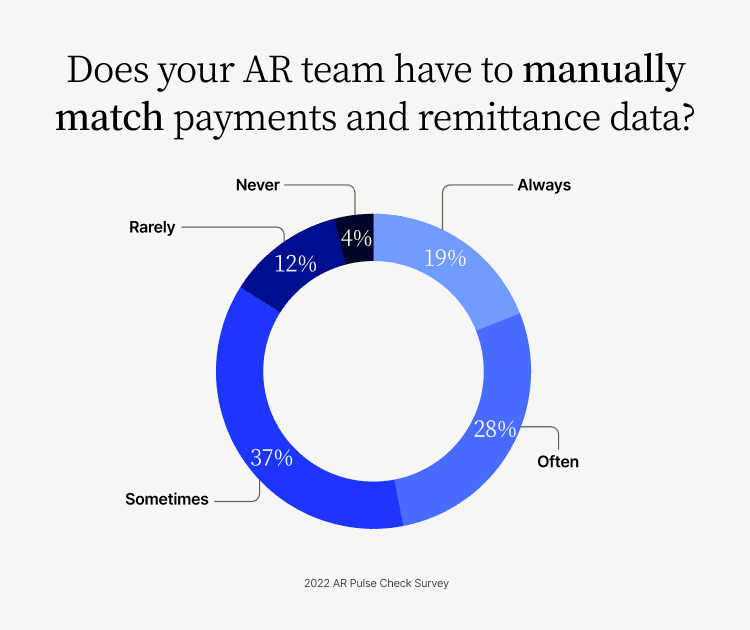 And while electronic payments are gaining traction—with 65% of businesses accepting between one and three quarters of their payments via online or digital methods—checks are still slowing down businesses' collections.
Accounts receivable (AR) teams dedicate hours to processing paper checks and manually keying in pages upon pages of remittance data into their enterprise resource planning (ERP) systems. This process is highly error-prone, creating costly mistakes that become the most frequently reported cause of invoice disputes.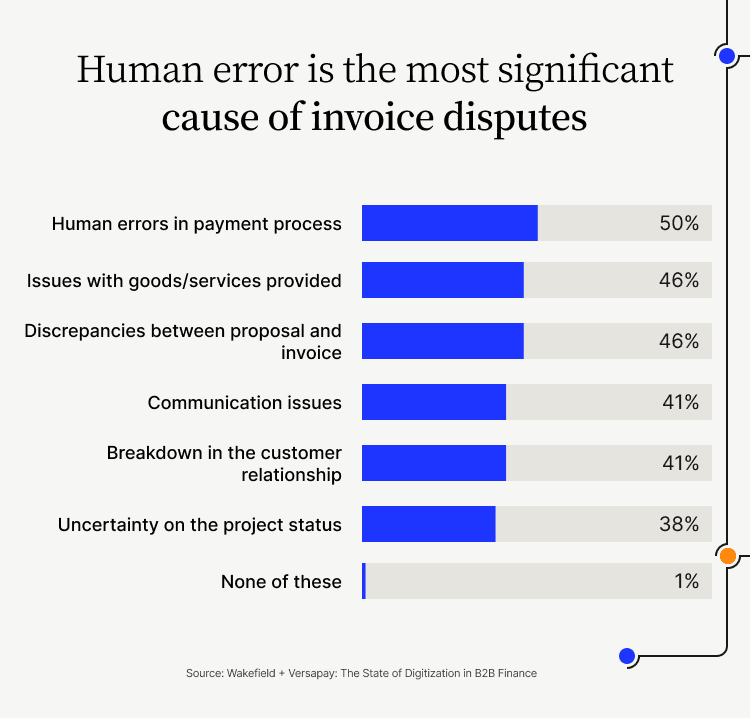 To make matters worse, many businesses collect large volumes of checks by hand. This creates a new host of challenges, like relying on field sales reps to courier the checks before they can be processed. This is especially common with wholesale distributors and manufacturers, whose customers tend to prefer paying via cash on delivery, at the time the goods are received.
While it's worth converting more of your incoming payments to electronic ones, if you find yourself still physically retrieving checks from customers and having to manually match payments with remittance advice, there is a solution that can speed up the whole process. It's called mobile check deposit.
In this article, we'll explore:
What is mobile check deposit?
Mobile check deposit is an application or service that scans checks and turns them into digital images. It's also commonly referred to as remote deposit capture (RDC) and is a staple of consumer banking.
Typically, a user will scan their check using software on their mobile device or a check scanner, and the image they capture is then transmitted to a financial institution where it's posted and cleared.
The process often looks like this:
An individual is in possession of a check.
They scan their check, ensuring the front and back are captured, creating a digital deposit.
That digital deposit is transmitted securely via an encrypted internet connection to a service provider or financial institution.
Once the bank receives the captured imagery and accompanying data, it provides ACH decisioning of the file. The financial institution then clears the items and posts the deposit.
For business-to-business (B2B) payments with complex cash application requirements, however, mobile check deposit is even more powerful. For large sellers—or even banks—mobile check deposit allows payees to collect and reconcile checks in the field, making integrated receivables (where payments can be seamlessly integrated with invoices) possible.
Here, after indicating which invoice(s) an incoming check is for, the seller can capture the payment and accompanying remittance together on the spot. This eliminates the need for them to take the physical check back to the office for processing.
—
🎥 Watch Versapay's cash application product demo to learn how we capture incoming payments like checks, ACH, and wire transfers.
3 benefits of mobile check deposit for businesses
The benefits of mobile check deposit for businesses—especially manufacturers and distributors—are plenty. Here are the three most substantial advantages of using remote deposit, each of which we'll explore in more detail below:
Same-day cash application leads to reduced days sales outstanding
Significantly reduced manual effort and straight-through processing
Efficiency gains lead to increased customer satisfaction
1. Same-day cash application leads to reduced days sales outstanding
Days sales outstanding (DSO) is one of the best indicators of your business' well-being. The lower your DSO, the faster you're collecting from your customers.
When field reps can capture check payments—and associated remittance information—on the go in one simple process, they can eliminate trips to the bank, office, or mailbox entirely. For businesses that service large numbers of customers who hand payments directly to field reps, this can be revolutionary—and a huge contributor to lower DSO.
Take manufacturing giant, Würth Canada, for instance. They have 40,000 customers across Canada serviced by over 470 sales reps. Though they accept a variety of payment methods, checks remain the preferred method of payment for most customers.
While most customers mail their checks to the company's head office, many prefer to hand payments in person to their Würth sales rep. It's not unusual to see 50 checks per day collected in the field. And depending on the rep's distance from the office, it could cost anywhere from $10 to $50 (CAD) to send checks via Purolator or other courier services.
Mobile check deposit helps businesses like Würth Canada achieve same-day cash application for all customers, contributing to faster payment times and a reduction in DSO.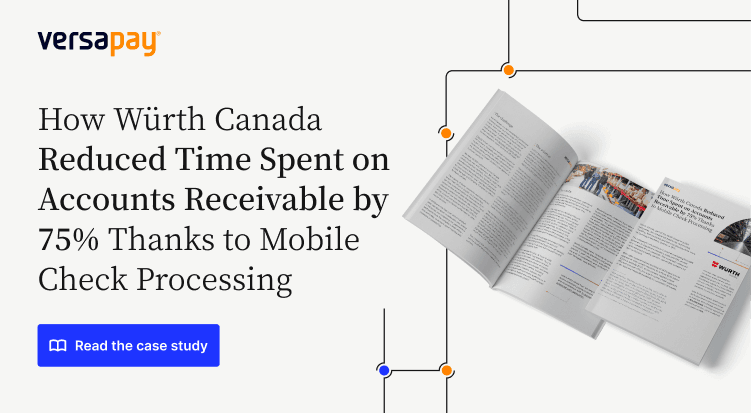 2. Significantly reduced manual effort and straight-through processing
If you recall, 85% of finance leaders are still manually matching payments with remittance advice. Inefficient and disorganized processes like this are one of the biggest challenges inhibiting finance leaders' ability to collect payments quickly.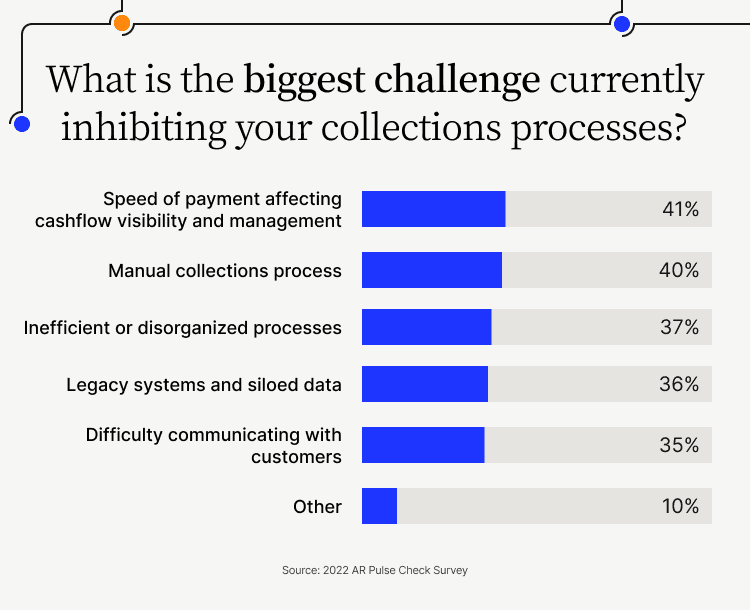 But with mobile check deposit, AR teams can simplify and accelerate the cash application process through automation. As a result, AR teams can potentially save three to five hours per user every week. The user—the field rep or AR teammate—need only indicate on the mobile app the customer and invoices they're dealing with and snap a picture of the payment and related documents.
Those deposits are captured, and the information is sent back to the business' parent AR automation system for automatic reconciliation against invoices. This eliminates the need for AR or cash application specialists to post payments after they've been received.
Bonus—freeing your teammates from having to manually apply cash means being able to reallocate their time to more strategic activities. It also allows your AR team to handle more payments as your company scales without adding more full-time employees.
3. Efficiency gains lead to increased customer satisfaction
Brands with superior customer experience (CX) capture revenue faster than those without, Forrester finds.

And AR teams are attuned to this. They're aware of the role they play—or could be playing—in building exceptional customer experiences. In a recently conducted survey by Versapay and SSON on the need for customer engagement in AR, 97% of finance leaders reported that CX is at least somewhat important in their AR processes.

Unfortunately, inefficient cash application processes directly affect how quickly payments get posted, which has a cascading impact on your customers' satisfaction. Luckily, mobile check deposit addresses this problem and adds real value for your customers.
Here's how. In using mobile check deposit, you're:
Less likely to introduce human errors into your cash application processes. Human error is the most significant cause of invoice disputes, and the automation that mobile check deposit affords allows you to avoid costly mistakes. Prime examples of commonly made mistakes include incorrectly deciphering payment sums or matching payments to incorrect invoices. Fewer errors equal fewer disputes, which equals higher satisfaction levels.
Able to replenish your customers' credit faster. This not only gives customers a smoother experience, but it also increases sales as these customers are freed up to purchase more goods or services.
—
Bonus—other benefits of mobile check deposit include the ability to:
Let your customers pay using their preferred methods (like checks) while keeping processing costs low
Reduce bank relationship and keystroke fees
Reduce the risk associated with having field reps carry high-value payments on their person
Learn more about why mobile payment acceptance matters in accounts receivable.
How Versapay allows for instant bank deposit and customer credit/cash application
Cash application is challenging enough as it is, even for the most efficient and organized AR teams.
Payments and remittances come into the business in all different formats, from various channels. Cash application staff go through manual, time-consuming processes to match payments with invoices. And once matched, updating your ERP to reflect the payments received requires more manual work. Layer on the time it takes to courier and process checks at the bank, and that hill you're climbing suddenly looks a lot more like a mountain.
Here's how Versapay's Mobile AR, Mobile PayNow and Remote Capture solutions speed up check processing for businesses that collect physical checks in the field.

Your customers view and pay invoices from within the mobile customer portal
With Mobile PayNow, you can accept customer payments at the speed of mobile by having your customers view their outstanding invoices in advance, directly from their mobile devices. Your AR team can also send emails or texts to your customers regarding payments.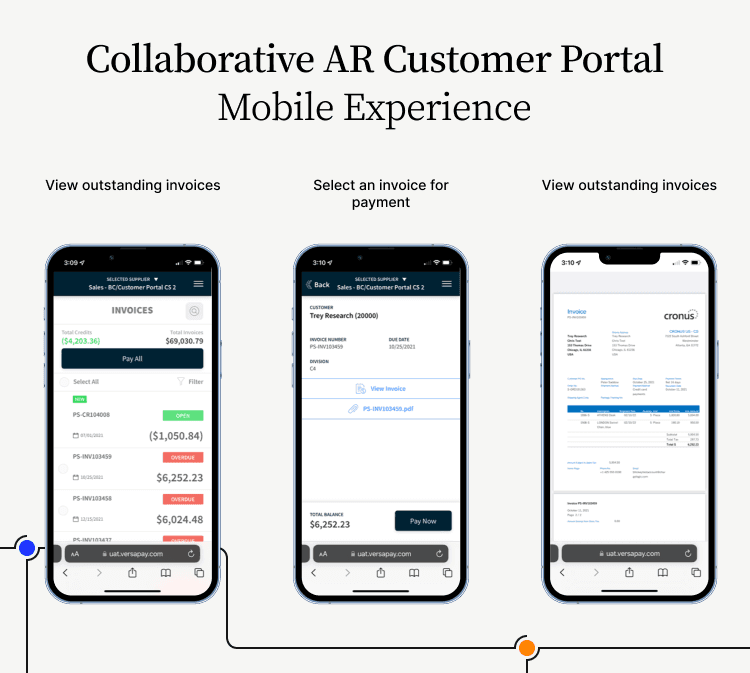 After viewing their invoices, your customers can make payments against them using their mobile devices, by accessing the mobile customer portal. Here they can add or select their preferred payment methods from those they've stored. This makes making payments on-the-fly a breeze for your customers when you collect on delivery. If paying by check, the mobile app can also guide customers through capturing and submitting images of their payment.
This form of electronic cash on delivery also expedites payments for new customers while they establish credit. Because customers can pay you in-person while you're top of mind, this also reduces the likelihood of late payments.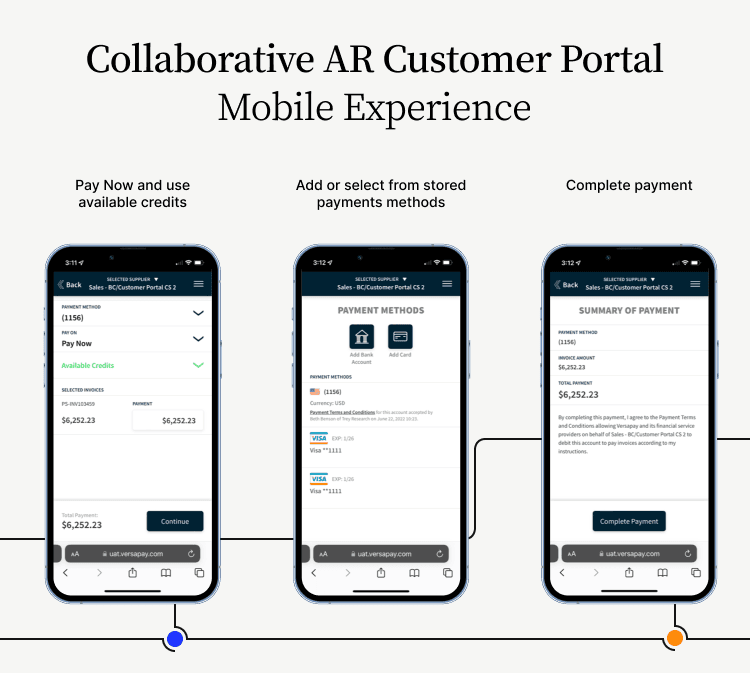 Your AR or sales reps collect check or card payments in the field
What about your customers who aren't yet operational in Versapay's Collaborative AR customer portal? Well, for those customers who prefer making payments by check—or even credit card—you can capture their payment and remittances in the field in just a couple of easy steps. Simply select which customer you're dealing with, indicate their payment type, and snap a couple of photos!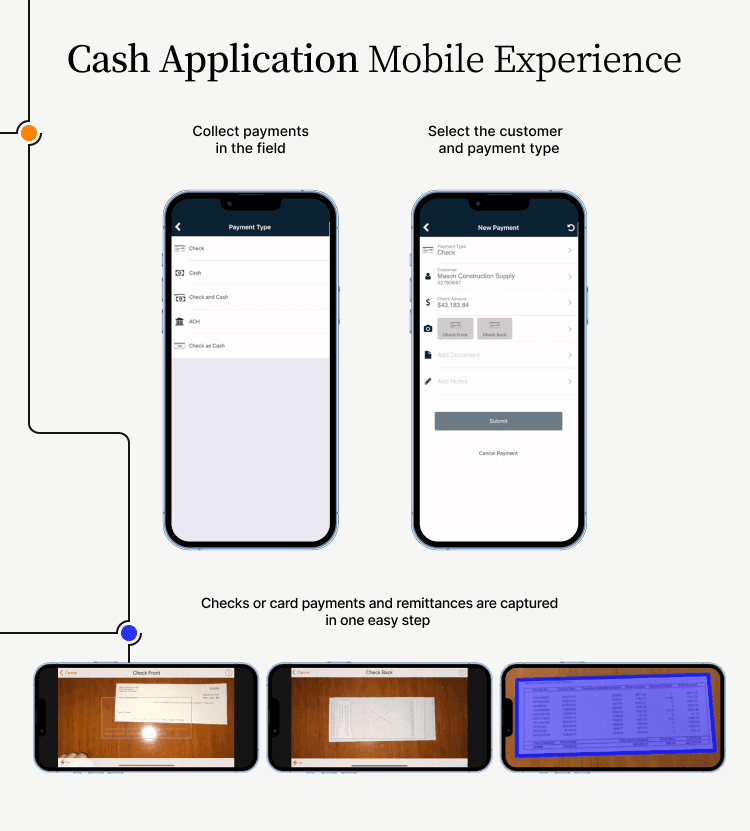 Your AR team closes the loop and reconciles the payment against invoices
Once captured, all deposit details are accounted for. Field reps can then email or text payment receipts to customers on the spot. The application will then send the payment information back to your AR team and automatically match payments against outstanding invoices.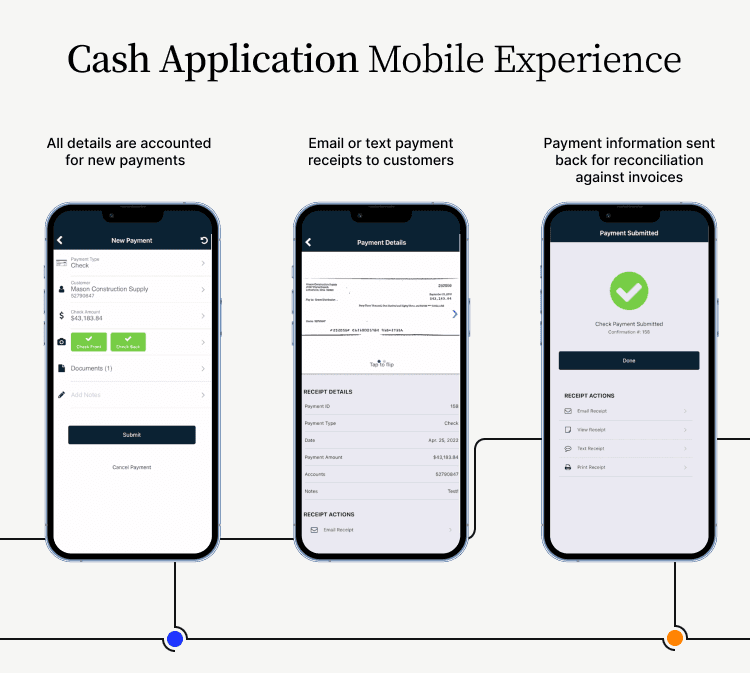 Say goodbye to manual check processing
Manually matching payments with remittance advice is a burden that no AR or sales team should have to endure. Besides being tedious and not particularly interesting work, it's a process with tangibly negative impacts on DSO and customer satisfaction.
For businesses looking to speed up check processing, achieve same-day cash application, and drive exceptional customer payment experiences, we encourage turning your attention to mobile check deposit. It'll lead to major efficiency gains, trim manual administrative work, and streamline your customer interactions.
Learn more about Versapay's solutions for capturing check payments remotely, and how we help finance teams automate payment matching and reconciliation using AI-powered cash application.
About the author

Jordan Zenko
Jordan Zenko is the Senior Content Marketing Manager at Versapay. A self-proclaimed storyteller, he authors in-depth content that educates and inspires accounts receivable and finance professionals on ways to transform their businesses. Jordan's leap to fintech comes after 5 years in business intelligence and data analytics.
Cash Application
Learn about the practices and technologies that help you ensure every payment matches an open receivable.