How AR Automation Software Can Speed Up Cash Flow
Accounts receivable (AR) automation software simplifies the processing of large volumes of invoices. It also reduces the time accountants spend collecting payments from customers and accelerates cash flow as a result.
Learn why investing in this technology is more important than ever.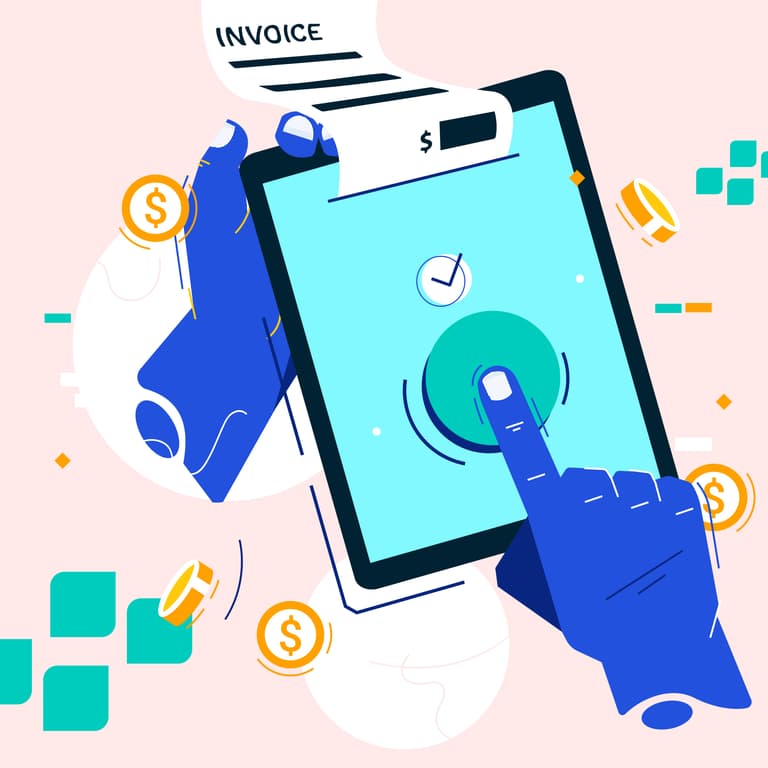 In the last two years, businesses have learned hard lessons on the importance of cash flow management. Many small and medium-sized businesses have struggled to stay afloat or had to close their doors altogether due to poor cash flow. In fact, 82% of the time, poor cash flow is the reason why small businesses fail.
At the same time, the transition to remote work has made accounts receivable (AR) teams realize their manual processes will no longer cut it. With the rise of accounts receivable automation software, they now see their old processes as inefficient and tedious.
In this blog, we'll explore how AR automation software helps you speed up cash flow by collecting and posting payments faster.

What is AR automation?
Accounts receivable automation helps finance teams streamline key functions like invoicing, payment processing, and collections.
With software automating these traditionally time-consuming tasks, AR teams are freed up to spend time on more strategic work.

How to automate accounts receivable
When bringing on an AR automation solution, you'll want to make sure it integrates with whichever accounting system you currently use. The most sophisticated AR automation solutions can sync automatically with your enterprise resource planning (ERP) software, saving you the trouble of moving information from one system to the other.
This way, every time you create an invoice in your ERP, customers will be automatically notified and given access to their invoice online.
The best AR automation solutions options offer a cloud-based customer portal, which lets customers log in to make payments and manage their accounts. This is a feature that many software providers still don't offer but is well worth looking for when researching AR automation vendors.
AR automation software can also be a great boost for your collection efforts. Leading up to and after payments becoming overdue, you can send out reminders automatically. Once you receive a payment, the system can automatically match them with corresponding receivables.
With these kinds of platforms, the more your customers use the payment portal over time, the more you learn about their payment histories. This can be especially helpful for forecasting. You can use these insights to offer discounts to customers who consistently pay early. You can also use them to identify slow paying accounts that might benefit from setting up an autopay option.
The finance teams that approach AR automation with the intent of not just automating existing processes but finding better ways to solve their challenges tend to experience the greatest efficiency gains. For more on this, see our report, Transform Accounts Receivable for Massive Efficiency Gains.
Top reasons why AR automation software accelerates cash flow
Cash management is easily one of the most essential functions that accounts receivable teams handle. By speeding up cash availability with help from AR automation software, you're able to invest in your company's future.
Here are a few of the ways AR automation software improves cash flow.
1. Automated invoicing processes lead to faster payment times
The time it takes accounts payable teams to process a single invoice varies by organization. But on average, best-in-class teams take between 3-4 days while less technology-savvy teams take over 15 days. Approval bottlenecks and manual processes are often the culprit of late processing times.
If sending out your invoices by mail, the time it takes for the invoice to arrive at your customer's office only extends this timeline. By contrast, electronic invoices delivered to your customers automatically can be processed right away.
2. Convenience empowers customers to pay faster
Customer payment portals put the customer in the driver's seat. They can choose the method of payment that works best for their needs. The most advanced payment portals also give customers the ability to contact your team directly, helping to resolve disputes holding up payment much faster.
3. Collections processes are simplified and optimized
Statistically, when a receivable reaches 90 days past due, about 30% of the time it won't get paid at all. A big part of the problem is the tedious and difficult process AR teams go through when manually collecting these payments. Collections automation allows you to send automated messages and reminders, increasing the likelihood that these past-due accounts will be made current.
How accounts receivable automation software saves time for your team
There are three main steps to the typical accounts receivable cycle. First, you must create an invoice and send it to the customer. Next, you must identify unpaid invoices and get in touch with customers to collect them. Finally, you must track incoming payments and match them to their appropriate invoices. Automation can streamline each of these steps while reducing the likelihood of errors arising from manual application.
Better yet, when finance teams implement AR automation software that prioritizes customer collaboration, they benefit from the downstream implications of improving their relationships with customers. In fact, users of Versapay's AR automation software report an industry-leading end-customer adoption rate of over 80%. When you consider the industry average of 20%, it's easy to see the benefits.
In our experience, AR departments that choose to automate their accounts receivable activities also benefit from:
50% reduction in manual work, allowing your employees to focus on those tasks that are most impactful for your business
25% increase in payment speed
30% fewer past-due invoices, helping keep your cash flow positive
What to consider before investing in AR automation software?
Once you see the benefits of accounts receivable automation, you may decide it's exactly what your organization needs. But how do you go about finding the right accounts receivable automation software? These are some key considerations to keep in mind as you shop for an AR automation software partner.
Start by discussing the AR processes already in place with your accounts receivable team. Learn where their specific pain points are and what issues they need to address.


As you assess possible solutions partners, make sure they're set up to handle your company's unique needs. They should have experience with other companies of your industry and size. The solutions they offer should be scalable, growing with your company, and keeping pace with your future projections.


Once you've created a shortlist, evaluate and compare each vendor more closely. Do they offer all of the solutions you identified with your team? Will they address all of the AR issues you currently face?


Look for feedback from the vendor's current customers, along with testimonials and case studies.
With the right AR automation software, you can set your business up for success as your operations grow. To see what AR automation looks like in action, book a Versapay demo today.

About the author

Nicole Bennett
Nicole Bennett is the Senior Content Marketing Specialist at Versapay. She is passionate about telling compelling stories that drive real-world value for businesses and is a staunch supporter of the Oxford comma. Before joining Versapay, Nicole held various marketing roles in SaaS, financial services, and higher ed.
AR Management
The learnings you need to manage AR efficiently, effectively, and with way less work.