What Is a Merchant Account and How To Know if You Need One
A merchant account is a specific kind of bank account businesses can access customer payments through, particularly those paid
by debit or credit card.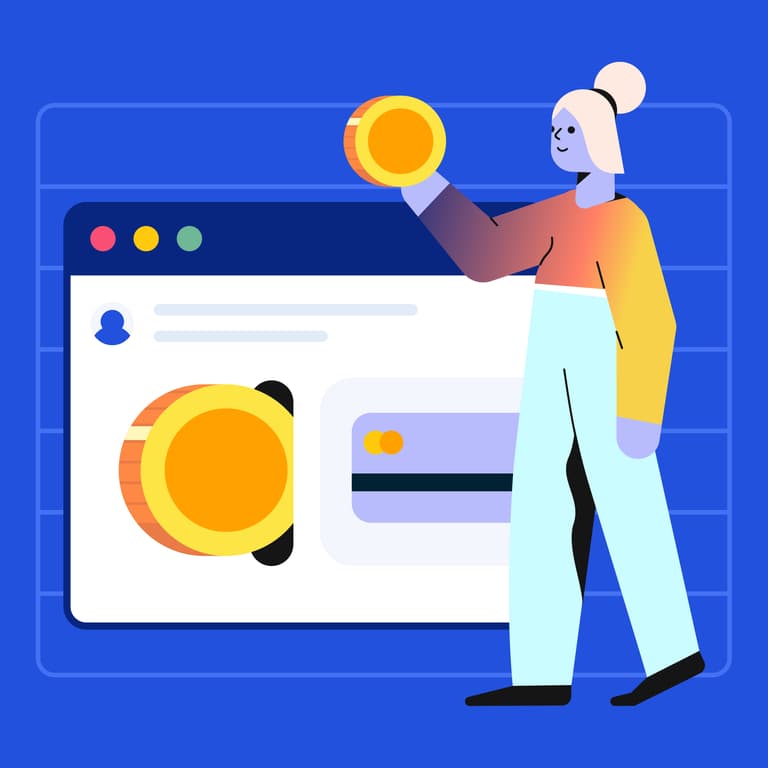 While every business needs a business checking account, companies that accept payment by credit and debit cards must also have a particular kind of account that allows them to transact in these ways.
This is called a merchant account, and it's an arrangement involving multiple institutions that ensures funds get where they need to go when a digital transaction occurs.
In this article, you'll learn:
What is a merchant account?
A merchant account is a specific kind of bank account businesses can access customer payments through, particularly those paid by debit or credit card.
A merchant account is based on an agreement between a retailer, merchant acquirer, and payment processor, which guides the settlement of card transactions. The institution that provides your merchant account and the payment processor may be the same entity, or they may be different.
There are several types of merchant accounts that correspond to the kind of business you do:
1. Retail merchant account
Brick-and-mortar retailers are best served by a retail merchant account, which might have a requirement that a percentage of transactions be made at a physical payment terminal. This account is best for retailers who operate fixed-location storefronts.
2. B2B merchant account
Companies that primarily do business with other companies or government agencies can get a dedicated B2B merchant account. It differs from a typical retail merchant account in that it requires customized setup to make sure commercial credit card transactions can qualify for low interchange rates. This is important given that credit card processing fees are charged based on a percentage of each transaction's value and business purchases tend to be higher ticket items.
3. Internet merchant account
Internet or ecommerce merchant accounts are geared toward accepting online payments, allowing customers to enter their card information via an online payment gateway. You'll need a separate internet merchant account, also known as an online merchant account, for each type of card you want to accept, such as Visa and Mastercard, unless you work with a third-party provider like Merchant Accounts or Moneris. These accounts are necessary for any company that sells through online channels.
4. Mobile merchant account
A mobile merchant account allows users to accept debit and credit card payments via a swipe on a mobile device. This account requires a low-cost card reader that integrates with the mobile device. This account is good for sellers that transact on the go, such as operators of food trucks or vendors at farmers' markets and craft fairs.
5. Telephone merchant account
If you want to be able to accept merchant payments by phone, you'll need a telephone merchant account. Typically, however, other types of merchant accounts offer this option as an additional feature or add-on. A dedicated telephone account is best for companies that advertise on infomercials or via home shopping networks.
6. Mail-order merchant account
A mail-order account allows businesses to accept debit and credit card payments by mail, a popular choice with companies that primarily sell through catalogs.
How do merchant accounts work?

Each time a customer pays for a transaction with a card, the credit card issuer receives a request to authorize payment. This request might come from:
A terminal or credit card reader where the customer swiped their card
A payment gateway through which the customer entered their information, or
A terminal or computer controlled by company staff, who have keyed in card information provided by phone or mail
Once a customer pays via credit card and the issuer approves the charge, the payment processor settles the card transaction. This involves transmitting the data between the merchant, the bank that issued the customer's credit card (the issuing bank), and the merchant's bank (the acquiring bank).
The payment processor approves the depositing of the funds into the merchant account at the acquiring bank. The funds become available after one or several days, and the merchant can then move the money into the company's business bank account.
Download the Ultimate Guide to Credit Card Processing for an in-depth look at the lifecycle of a credit card transaction.
Do I need a merchant account?
If you want to accept credit card transactions, whether in-person, online, by phone, or by mail, you'll need to consider setting up a merchant account.
These accounts require an extensive setup process called underwriting, which is the process of assessing the risk of providing payment services to a merchant. You'll need to provide a lot of information about your business such as your business license, employer identification number (EIN), financial records, and information about your bank account.
An alternative to a dedicated merchant account is to be onboarded as a sub-merchant onto a shared account via a payment service provider (PSP), also known as a payment facilitator (PayFac). A PSP allows you to accept card payments via an aggregated merchant account shared by many businesses. The appeal of this option is the underwriting period is much shorter, allowing you to get up and running faster.
Here are some reasons why you might want to set up your own dedicated merchant account:
1. You need personalized service
If you have specific needs for customer service, pricing, scalability, or features, you'll want to get a dedicated merchant account that can be tailored to your needs. Providers tend to give the white-glove treatment to customers that have dedicated accounts, which can make it easier for you to get your needs met.
2. You have high sales or transaction volume
If you do a lot of business and have an annual transaction volume greater than $1 million, the best fit for you will be to get your own merchant account. With such high sales volume you may even be able to get a discount on transaction fees.
3. You're in a high-risk industry
If your business is in a high-risk industry with a higher probability of fraud and chargebacks (such as lotteries, check cashing services, and multi-level marketing operations), it may be necessary for you to have a dedicated high-risk merchant account since payment service providers may be unlikely to onboard you as a sub-merchant. This is because PSPs take on more risk because they are operating accounts that serve multiple businesses in processing payments.

Here are some reasons you may want to use a payment service provider instead of applying for your own merchant account:
1. You want to get up and running quickly
If you need to get started accepting credit card payments quickly, you may want to opt for a payment service provider, as the onboarding process is much shorter. This is because the set-up requires less input from the business and less extensive underwriting.
2. You have low sales or transaction volume
Payment service providers tend to offer simpler pricing structures and flat-rate transaction fees, which appeals to smaller businesses as this makes it easy to understand what you'll be charged. If you process less than $1 million in annual transactions, opting for a PayFac may be best for your business, especially since you likely won't meet criteria for high-volume discounts from a merchant account provider.
3. You want flexibility
You may want to steer clear of startup costs and long-term contracts if you're just getting started or are not sure where your business will go. Payment service providers often offer month-to-month plans and don't charge setup fees.
What are merchant account fees?
Here are the fees you can expect to pay through the process of setting up your merchant account.
Setup fee: This is a one-time fee that you must pay to set up your business merchant account.
Monthly minimum fee: This is the minimum amount you must pay every month in credit card processing fees. If you have low transaction volume and fall short of this minimum, the processor will charge you the difference.
Monthly or annual fee: The merchant account provider may charge you a fee every month or year to provide the service.
Early termination fee: If you have a long-term contract with a merchant account provider, you'll be charged a fee for bowing out of the agreement early.
Batch fee: If your transactions are all processed in one batch at the end of the day, you may be charged a flat fee when this occurs.
Chargeback fee: You may be responsible for a chargeback fee when a customer disputes a charge.
Merchants may be able to reduce what they pay in processing fees through interchange optimization. The merchant's bank pays interchange to the cardholder's bank to cover costs that might arise from approving the payment, a method of risk management. Interchange optimization means tweaking the conditions of a transaction to qualify for the lowest interchange rates possible.
Can anyone get a merchant account?

To get a merchant account you need to have a business bank account and a business license.
To get started with setting up the best merchant account for your business, you'll have to:
Identify your needs: Before you apply for a merchant account, analyze your business to get a specific sense of your needs. Ask yourself some guiding questions, such as how many sales you currently make annually and how many channels you intend to take payment through. You may need to specify customizable options that will make the account fit you best. Or perhaps your analysis will reveal that you'd be a better fit for a payment service provider.
Do some legwork: Narrow your choices down to three options and then consult with each provider to ask questions, inquire about fees, and request a quote.
Apply for a merchant account: You will need to fill out an application, providing a lot of business and supporting documents to enable underwriting. With this info, the account provider or payment processor can determine if you're eligible for an account and what terms they can offer you.
Additional FAQs about merchant accounts
When do you use a merchant acquirer?
A merchant must use a merchant acquirer, or merchant acquiring bank, to host its merchant account if the merchant is going to offer customers electronic payment options. Merchant acquirers create a detailed account agreement that covers elements like per-transaction costs, fee structures, and monthly or annual fees.
What are some good merchant account providers?
There are a wide variety of merchant account providers to choose from. Some popular options to consider are Square, Stripe, Clover, and Versapay.
How long does it take to get my funds after each transaction?
The length of time it takes for a transaction to be processed varies depending on multiple factors, including what kind of account you have. The time between the transaction and when you see the money in your account tends to be between one and three days.
About the author

Katie Gustafson
Katherine Gustafson is a freelance writer specializing in content for mission-driven changemakers such as tech disruptors, visionary nonprofits, and big-thinking startups. She is the author of a book about innovation in sustainable food, and her writing has appeared in Slate, TechCrunch, Business Insider, and Forbes, among other places.
Payment Processing
Tips to help you process payments like a pro and keep cash flowing.