The Most Common Accounts Receivable Mistakes and How To Avoid Them
In this article, you'll learn which accounts receivable errors are most common, the negative impact each of these mistakes can have, and how AR automation can significantly prevent these errors from taking place at all.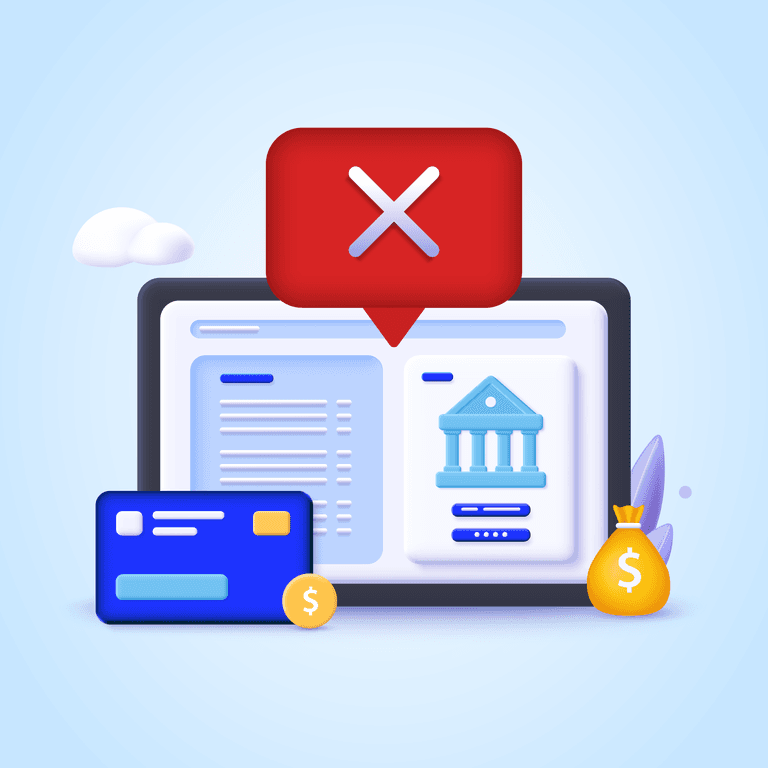 According to a study done by PYMNTS.com and American Express, 49.2% of firms think it's problematic to manage accounts receivable (AR) with manual processes.
The problem with manual AR processes is they tend to lead to a high number of errors, which can cost your company in many ways.

In this blog, you'll learn:
The 5 most common accounts receivable mistakes

The negative impacts these errors have on your company and cash flow

How accounts receivable automation can greatly minimize your likelihood of errors
The 5 most common accounts receivable errors
Here are five common accounts receivable mistakes that many businesses make, especially when their invoice to cash processes are highly manual:
1. Incorrectly listing information on an invoice
Sending out a lot of invoices each day? When workload is high, it's all too possible for invoice errors to arise. Examples include inputting the wrong dollar amount, using the wrong invoice number, omitting discounts, and excluding policies.
Let's say you forget to include your overdue policy—which includes a late fee—on a large invoice. If the buyer then misses their payment date, you won't be able to collect on a potentially sizeable late fee because it wasn't communicated in the original invoice. Clearly listing late payment terms on your invoices is also a strong incentive on its own to get customers paying on time.
2. Miscommunicating with accounts receivable team members
Is your team overburdened with AR-related tasks? How well do you track collections activities to give visibility across your entire team? When accounts receivable teams struggle in both of these areas, there will more likely be miscommunications between team members.
Let's say one member of your AR staff called a buyer to alert them about an overdue invoice but forgot to notify the rest of the team. As a result, another employee calls the same buyer a day later as they're unaware they have already been contacted. That client is not going to be happy.
A common root-cause of this miscommunication is using a fragmented system of record for accounts receivable activities as opposed to one that gives the whole team a centralized real-time view of all receivables.
3. Not following up on overdue invoices
Another common symptom of an overburdened AR team is not following up on overdue payments. Your team might not have an easy way to track which payments are overdue, and even if they do, they might not have the time to follow up on all late payments.
This mistake is disproportionately faced by firms that rely on manual processes, as they take 67% more time to follow up on overdue payments than firms using automated accounts receivable processes, according to the aforementioned PYMNTS study.
4. Making it hard for buyers to pay
According to a study done by Baymard Institute, 7% of respondents said that they abandoned online purchases during the checkout process due to a lack of payment options. You want to make it as easy as possible for buyers to pay you using their preferred payment method (whether it be credit card, debit card, virtual card, or ACH). Increasingly, B2B buyers' preferred way to pay is through digital payment channels.
And what if your invoice doesn't tell customers what kinds of payments your company accepts? In that case, you might get a flood of calls, which would, again, overburden your staff—increasing the likelihood of other mistakes.
5. Applying payments to the wrong invoices
Let's say you receive a payment for $1,500 and you apply it to an invoice for $1,500… but it's an invoice for another buyer. Misapplied payments are a common problem in AR, but one that could have severe consequences. Your collections team might follow up with the buyer who already paid, which could sully the positive relationship you had with that customer. Or, if the other buyer doesn't actually pay their invoice, you could potentially overlook the non-payment.
Bottom line: it's really important to map payments to the right client accounts and invoices. When you have to manually update customer records in your enterprise resource planning (ERP) system, your chances of misapplying payments become much greater.

The negative impacts of common accounts receivable errors
There are three main issues with accounts receivable errors: financial losses, wasted time, and compromised customer relationships. Let's look at these one-by-one:
1. Financial losses
If an invoice has incorrect information or you apply a payment to the wrong invoice, you could experience a financial loss if you fail to collect on all outstanding invoices as a result of the error. A few of these errors can easily add up to thousands of dollars.
Your invoices that are eventually paid—but paid late—still qualify as a financial loss. The reason is because you have less cash on hand while you wait.
PYMNTS and American Express found that businesses that rely on manual accounts receivable processes have 30 percent longer average DSO than firms that rely on medium or high levels of automation for collecting receivables.
2. Wasted time
Many common AR errors are a result of manual processes completed by a team that's stretched to their limit. And when errors arise, your staff has to spend additional time fixing those errors—time that they could have otherwise spent on higher-value tasks, such as financial analysis, forecasting, and reporting.
If your staff is constantly putting out fires, the only way to make progress on top priorities when working with a manual accounts receivable process is to hire more staff—which can get expensive fast.
3. Compromised customer relationships
Some of your buyers will be understanding if you make accounts receivable mistakes. But the more often you make those errors, the less forgiving they'll be.
A less-than-ideal customer experience is a common issue for companies that rely on manual accounts receivable processes. According to PYMNTS and American Express, 58.7% of firms expect to have a better customer experience after innovating their accounts receivable systems.

Accounts receivable automation dramatically reduces errors
A large percentage of accounts receivable mistakes are caused by manual processes. By automating those processes, you can dramatically reduce AR errors—leading to massive efficiency gains.
A collaborative ar automation tool, such as Versapay, can help you automate every area of the invoice to cash cycle. In doing so, you'll also:
Eliminate data entry: Versapay integrates with your ERP system, so payments get applied to the right invoice and client account through automated cash application.
Store all invoices, related documents, and payment history in one place: your customers and collectors can get a real-time view of an invoice's payment status, eliminating the confusion that so often leads to errors.
Incentivize faster payments by letting customers pay online: Versapay's cloud-based customer portal allows your customers to pay their invoices partially or in full using ACH, credit, debit, virtual cards, or bank payments.
Resolve errors easily with collaboration tools: when managing accounts receivable, some level of error will still arise—no matter what you do. What's important is being able to resolve those errors quickly. A collaborative AR tool like Versapay makes it a breeze—for both buyers and suppliers—to resolve disputes. Instead of taking to phone or email to resolve a discrepancy—which could take weeks—you and your customers can leave a comment directly on an invoice.
—
Learn more about how you can automate every step of your accounts receivable operations—and eliminate manual errors in the process—here.

About the author

Nick Vasco
Nick Vasco is a freelance writer who specializes in fintech. His previous experience as an FP&A analyst gave him an understanding of the challenges facing accounts receivable and finance professionals, helping him create content that solves their most pressing problems.
AR Management
The learnings you need to manage AR efficiently, effectively, and with way less work.