Buy Now, Pay Later Is Spreading From B2C to B2B Commerce. Here's Why.
Buy now, pay later (BNPL) has long been popular within B2C circles. But it's becoming increasingly popular in B2B commerce, too. In this blog, learn:
How BNPL works in B2B transactions
How installment payments can successfully be brought to B2B
The benefits of BNPL for merchants and buyers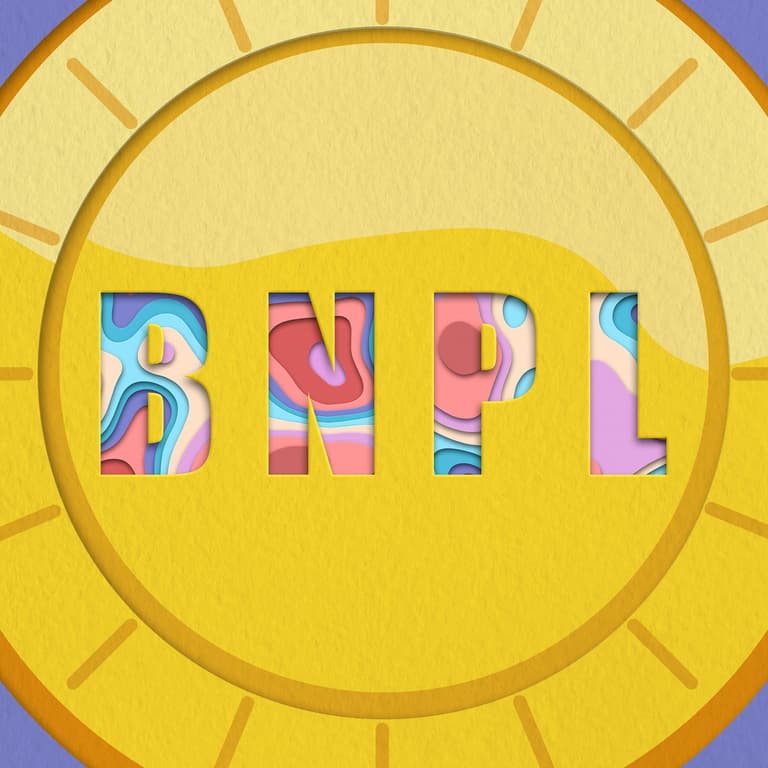 Buy now, pay later (BNPL) is one of the most popular trends in business-to-consumer (B2C) payments. Many Millennials and Gen-Zs are foregoing traditional credit card payments—and the accompanying high interest rates—in favor of interest-free installment payments.

Buy now, pay later is becoming increasingly popular in business-to-business (B2B) commerce too. Since the onset of the pandemic, B2B buyers have shown more interest in short-term financing options. This has paved the way for the rise of BNPL solutions.

Traditionally, businesses get access to liquidity and capital through bank loans. But, low approval rates have made this a challenge for many business owners. According to Biz2Credit's Small Business Lending Index, small business loan approval percentages at big banks were an abysmal 14.1% in October.

Through BNPL, more B2B buyers are able to secure short-term financing faster and at a lower cost than traditional financing.

What does buy now, pay later mean?
Buy now, pay later is a short-term financing option that allows buyers to make purchases and pay for them in equal installment payments, with the first payment due at checkout. The merchant is paid in full at checkout and the customer makes the installment payments to the BNPL provider.

The plans are often interest-free but sometimes come with late fees.

How does buy now, pay later work in B2B transactions?
There are challenges in bringing buy now, pay later to B2B transactions that don't exist with B2C transactions.

A B2C transaction is often initiated and completed in a few minutes or less, whereas a B2B transaction is much more complex. These often have longer sales cycles, more personalization, and services bundled together. This complexity makes it difficult to instantly approve BNPL transactions in B2B. This is because BNPL providers have a tough time quantifying the risk of extending credit to a B2B buyer on the spot. The rules-based systems used for consumer credit simply can't be extended to B2B.

If a provider approves a buy now, pay later transaction from a risky B2B buyer, the potential loss is a lot higher than in B2C. The average consumer purchase through BNPL is around $200, which is not an amount that will make or break the vast majority of providers. A B2B transaction, however, can be several thousands—or even millions—of dollars. The cost of getting it wrong makes some providers hesitant to introduce BNPL options to B2B buyers.

The challenges are not insurmountable, though. It's possible for providers to deploy buy now, pay later in a way that's low-risk for them and convenient for B2B buyers.

How can installment payments be successfully brought to B2B?
The rules-based systems used to make consumer credit decisions aren't sufficient in the B2B world. For buy now, pay later to be successful in B2B, BNPL providers have to build more comprehensive buyer profiles. This will mean gathering more data to inform risk assessments.

Having the data is only half the battle, however, as BNPL providers need to be able to turn those insights into fast approval decisions. The key to making that a reality is integrated payment systems that keep all relevant buyer information in one central location.

What are the benefits of BNPL for B2B merchants and buyers?
Buy now, pay later has massive benefits for both B2B merchants and buyers. The B2B payments experience in general has a lot of room for improvement. It's still common for B2B suppliers to receive paper checks from buyers, for example. As both B2B buyers and suppliers work to move past these dated processes, BNPL becomes more appealing. Let's look at a few benefits of buy now, pay later for each side of the B2B transaction.

The benefits of buy now, pay later for B2B merchants
1. Higher volume of transactions
With buy now, pay later, merchants can provide buyers with appealing short-term financing options. Introducing installment payments helps reduce shopping cart abandonment, resulting in more transactions.

2. Higher average order value
In the B2C payments space, there is evidence that buy now, pay later leads to a higher average order value (AOV). Think back to the average order value of $200 for consumer payments made with BNPL. According to Ally Lending President Hans Zandhuis, the checkout value may be half of that without the BNPL option. Though it'd be rare to see this doubling of checkout value in B2B payments, the introduction of buy now, pay later is likely to result in a much higher AOV.

3. Merchants learn valuable information about their buyers
By deploying BNPL, merchants can learn more about their buyers. Take the following instance for example. With BNPL, a business might see more sales on certain goods or services that buyers previously deemed too expensive. That data can be used to improve existing offerings.

The benefits of buy now, pay later for B2B buyers
1. Buyers receive a low or no-interest short-term financing option
If a buyer is unable to secure a traditional loan, they may not have access to low or no-interest short-term B2B financing options. Merchant cash advances and business credit cards are two popular options, but both typically have double-digit annual percentage rates (APRs). Through buy now, pay later, these buyers finally have access to low or no-cost short-term financing on their purchases.

2. Improved cash flow
Even if a buyer has the ability to make an up-front purchase, they may prefer to keep that money in their business bank account for other uses. In an unpredictable business environment, buyers want to keep as much cash on hand as possible.

3. Seamless purchase experience
Buyers often have to secure short-term financing through outside sources such as banks and alternative lenders. But, by integrating buy now, pay later into their existing payment platform, merchants can give buyers an all-in-one payment experience.

B2B sellers can easily add buy now, pay later to existing payment solutions
With the right payment processing provider, B2B merchants can easily add BNPL to their supported payment methods. By creating an ecosystem that supports a greater variety of payment options, merchants can better meet buyers' needs and increase potential sales in the process.
About the author

Nick Vasco
Nick Vasco is a freelance writer who specializes in fintech. His previous experience as an FP&A analyst gave him an understanding of the challenges facing accounts receivable and finance professionals, helping him create content that solves their most pressing problems.
Digital Payments
All you need to know to make the switch to digital payments.