Paper Check Alternatives: How to Ease Your Transition to Digital Payments
Checks have all but disappeared from consumer payments. So, why do so many businesses still accept them?
In this blog, we unpack the issues surrounding checks, explore paper check alternatives, and offer tips for easing your transition to digital payments.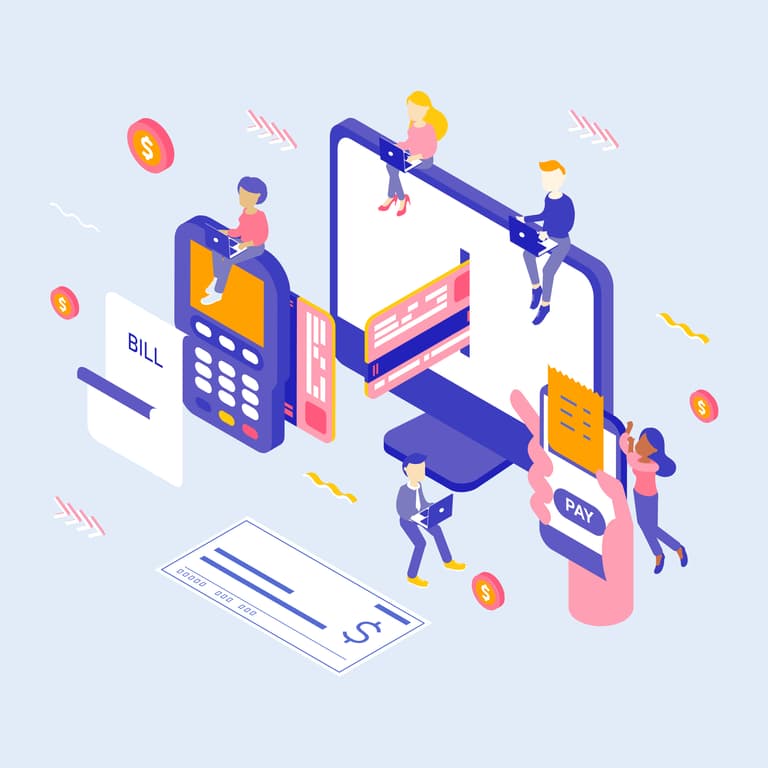 While check usage is on a sharp decline, B2B continues to use it. In fact, 91% of finance tech leaders say their organizations are still receiving check payments from their customers. That's a huge disparity. With the vast majority still using paper checks, is the draw to go digital just hype? We argue no. Digital payments are the future, and adoption will increase exponentially this decade.
In Q1 of 2021, commercial check usage fell to an all-time low with the Federal Reserve reporting 901 million checks collected. This follows a steady decline since the early 2000s. While 901 million might seem significant, it's marginal compared to the 4+ billion checks collected in the same quarter of 2000.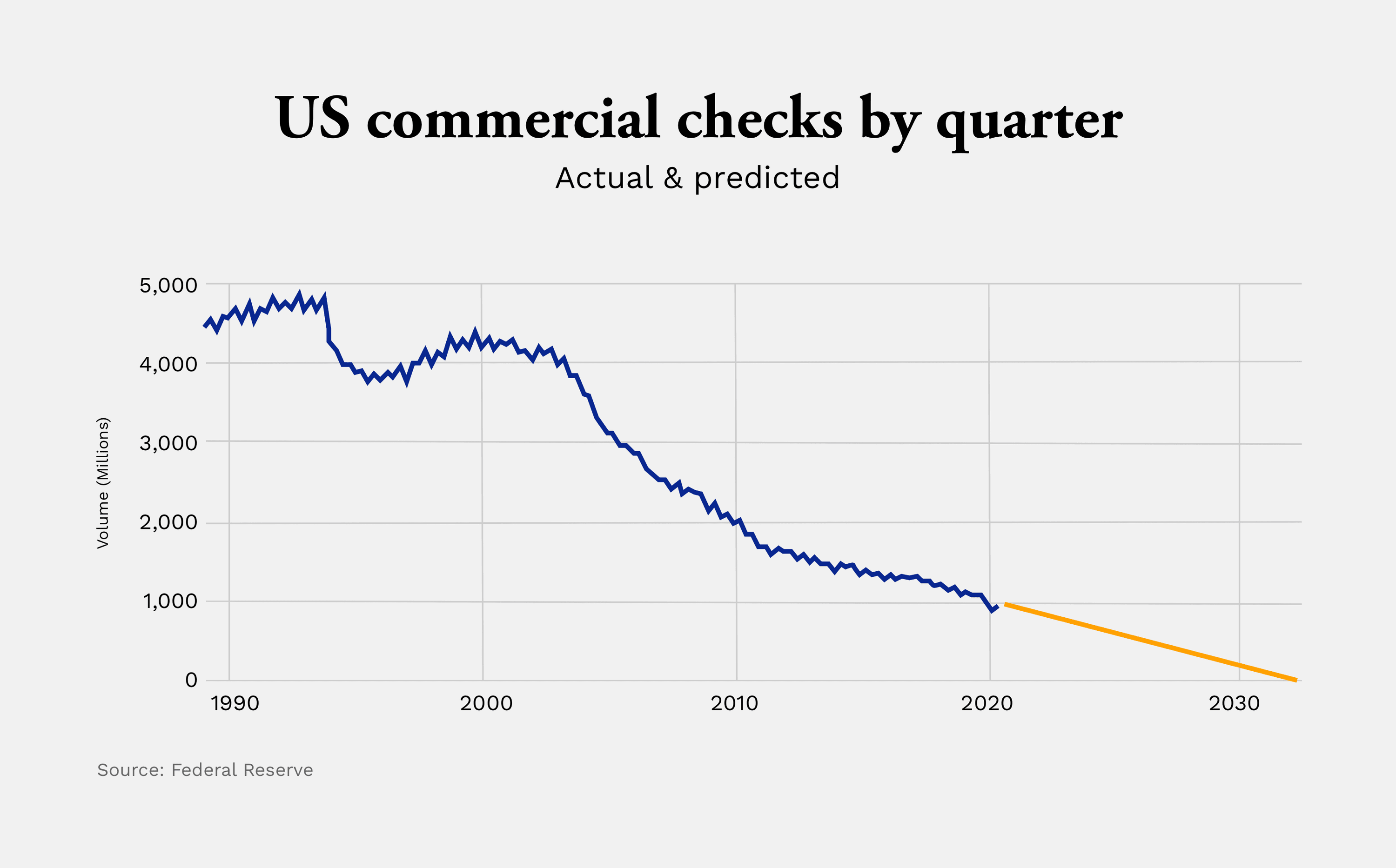 Despite these trends, many businesses remain tethered to using checks. Many reasons exist, and unfortunately the need to accommodate a buyer insistent on paying by check has made it difficult for businesses to make the transition to digital payments. Maintaining check usage is unsustainable. By accepting digital payment methods, you're able to improve business efficiency, increase accounts receivable productivity, enhance your customer's experience, and accelerate cash flow. And with the world becoming increasingly digital, for businesses to progress, they need to take proactive measures.
The way forward for businesses facing this challenge will be to introduce technologies that integrate digital payment acceptance into their existing processes, while allowing them to continue accepting checks in a more streamlined way.
In this blog, we'll explore:
What's wrong with checks?
There's a reason why business paper check usage has declined significantly in the past two decades: Paper checks are an inefficient payment method, which has been made more evident with the emergence of digital payment technologies. And yet, many buyers—and sellers—are resistant to change ingrained buying and record-keeping habits.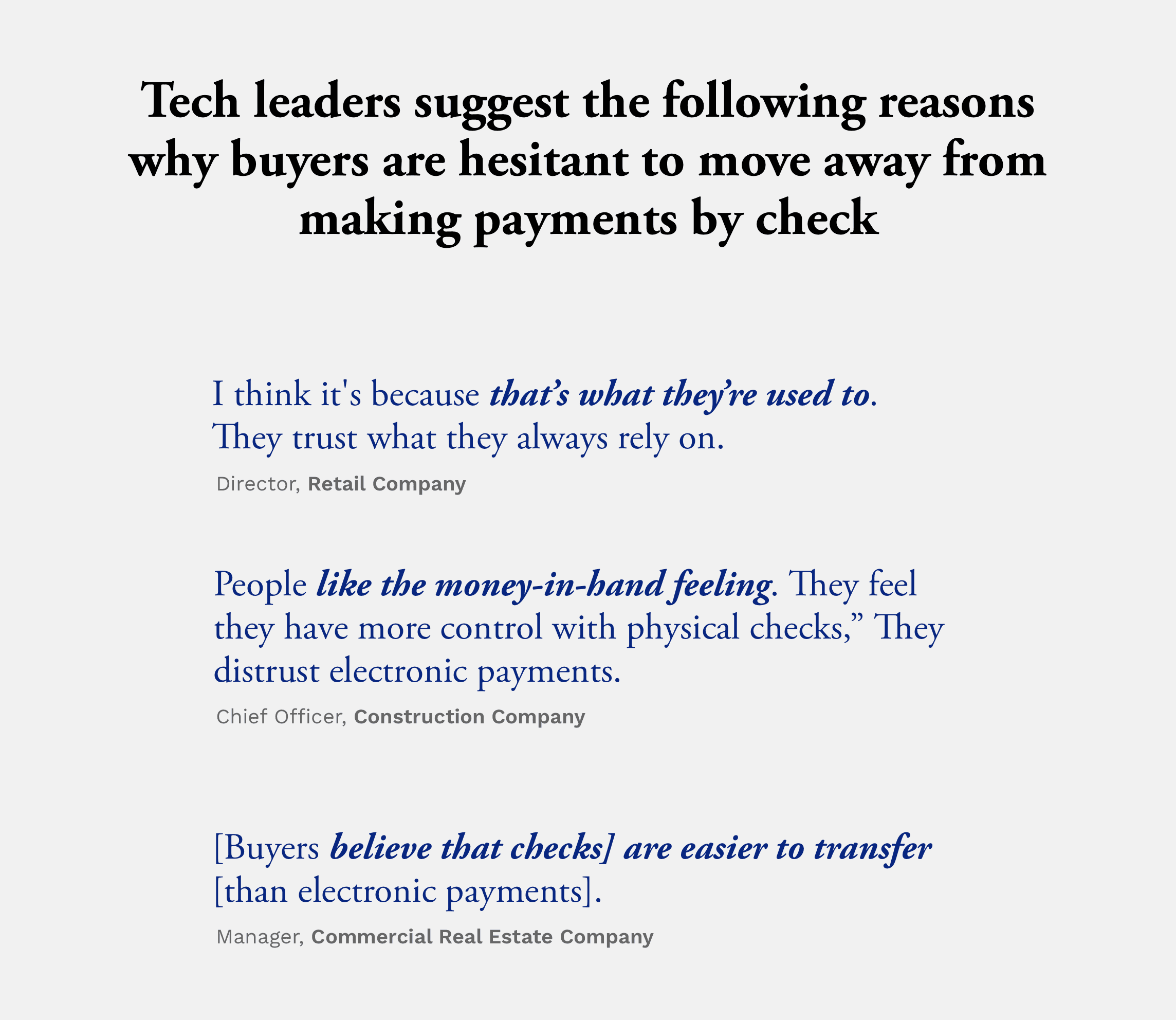 Here are 4 reasons why businesses are looking to move on from paper checks:
1. High cost
Checks are not a cost-effective method of collecting payment. It costs between $4–20 on average to process a single check, according to Bank of America. ACH payments are comparatively cheaper to process, with payment processors usually charging per transaction a flat fee of $0.25 to $0.75 or a flat percentage of 0.5%–1%.
Manually processing checks is also taxing on staff resources. The additional labor involved—from lockbox services to frequent bank trips—adds to the already considerable expense. Especially if you're receiving a large volume of your payments this way.
2. Mail delays
When accepting payment via check, you're also at the mercy of the postal service as to whether you'll be paid on time. Through the US Postal Service, commercial mail deliveries now take an average of four to five days, up from its previous average of 3.5 days, and it looks like these delays may increase.
The unpredictability associated with mail delivery ultimately hinders cash flow, giving finance teams ample reason to prioritize digital payments.
3. Fraud
Check fraud happens more often than you think. In fact, checks are the most targeted payment method for fraud activity, representing 66% of methods subject to attempted and actual payment fraud.
Although banks are vigilant and can mitigate attempts at check fraud, these funds remain inaccessible to your business during the review process.
4. On premise processing
Perhaps the greatest challenge checks pose for accounting departments in a post-COVID world is their reliance on teams being in-office.
Many businesses continue to operate remotely. Continuing to accept paper check payments means some poor soul on your team must commute to the office, just to pick up a stack of checks inevitably waiting on someone's desk.
The sporadic nature of these trips only further delays when these payments get settled. This is an inconvenience to your accounts receivable (AR) team and to your customers' accounts payable (AP) team.
What are the top paper check alternatives?
Beyond cost savings and cash management improvements, businesses are also looking to transition away from paper checks to provide their customers with a better experience. The same survey we referred to earlier unveiled that 87% of finance leaders believe that their buyers are ready to move away from check payments to digital payments.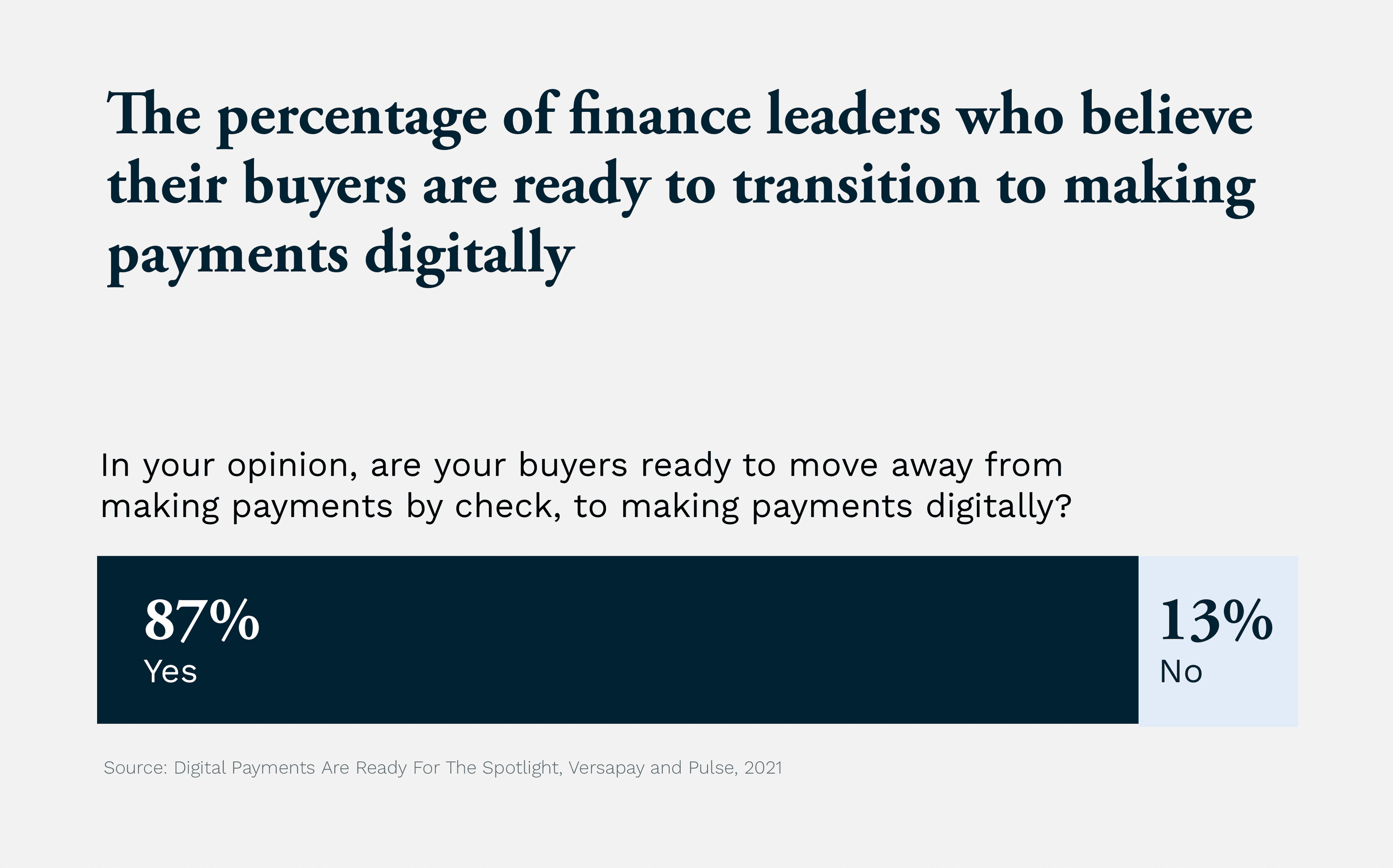 For many businesses, the pandemic was the catalyst that finally prompted them to transform their AR processes to make it easier for their customers to pay digitally. In a survey of over 400 CFOs run by Versapay and PYMNTS, 40% said that since introducing more digitization into their processes, check payments have become less frequent.
As paper check alternatives increase, the digital payment methods primarily replacing them include:
1. EFT and ACH
An Electronic Funds Transfer (EFT) is an electronic transfer of funds from one bank account to another. The transfer can be performed within a single or across multiple financial institutions. EFTs are sent via computer-based systems, requiring no direct intervention from bank staff.

An Automated Clearing House (ACH) payment is a type of EFT available in the US, where funds are moved from one bank to another. These payments are run by the National Automated Clearing House Association (NACHA), a non-profit operating under the Federal Reserve.
ACH transactions are processed either as a credit (where funds are deposited into a bank account) or a debit (where funds are withdrawn from a bank account). These transactions are aggregated and processed in batches, typically three times each business day. It takes on average one to three business days for an ACH to be settled, although use of same day ACH processing is becoming more popular (applicable to credit transactions only).
2. Credit and debit cards
Although costlier to process than ACH payments, credit and debit cards are increasingly used in B2B transactions for their near-instant processing times. When accepting credit and debit card payments, you also eliminate the possibility of having to deal with non-sufficient funds. ACH transfers can fail for this reason even after the transaction is processed.
For suppliers that are hesitant to accept a high volume of credit card payments because of processing costs, there are ways to offset the fees. Such methods include partnering with an integrated payment processor that offers interchange optimization.
3. Virtual cards
A virtual card is a completely virtual version of a credit card. Virtual card issuers generate a temporary card number tied to a buyer's real account, which can be presented at the time of purchase, online. Many buyers enjoy using virtual cards for the added layer of security, as their real account details aren't discernable from the card number in the event of a data breach.
One of the drawbacks of accepting virtual cards, however, is that you must manually enter the card details into your point-of-sale system or virtual terminal and then ensure that information is reflected in your ERP. Thankfully, there are solutions that offer straight-through-processing for virtual cards to make accepting these kinds of payments easier on your AR team.
4. Digital wallets
Digital wallets—or e-wallets—are online services or software applications that allow buyers to securely store their payment information. Customers can use digital wallets to store funds, easily make purchases, and track their payment history.
Online payment services that offer a digital wallet component can make B2B buyers' experiences significantly more convenient, eliminating the need for them to re-enter their payment details when making recurring or repeat purchases.
Why do so many businesses still use checks?
With so many digital payment alternatives available, you might be wondering why some businesses continue to accept a high volume of their payments via check.
For some businesses, their continued acceptance of paper checks is not a result of any personal affinity, but to accommodate their customers'—especially the smaller ones—preferred payment methods.
Others, however, are resistant to accept payments from their customers digitally due to concerns over updating legacy accounts receivable systems and processes. Digital payment methods like ACH can create data reconciliation challenges for AR staff. The remittance information for these payments (which should include at a minimum—but doesn't always—invoice numbers, payment amounts, and payment methods) arrives in a separate file that must then be interpreted.
For checks to go away completely, there needs to be a shift in mindset from both buyers and suppliers. But with businesses' need for digitization accelerated by COVID-19, it looks like this reality is not far.
How to ease your transition to digital payments
Even as more of your customers become interested in paying you digitally, chances are you'll still need to accept the odd check (especially if you have small to mid-sized businesses in your customer base).
To make the shift towards payment digitization while still accommodating your customers who prefer to pay by check, you'll want to implement technology that gives you the ability to streamline your acceptance of both digital and traditional payments.
To ease your transition to digital payments even further, you can:
1. Opt for an integrated payment solution that syncs with your ERP
One of the biggest barriers to digitizing accounts receivable cited by finance teams (with 45.8% of CFOs at US firms with at least $25 million in revenue saying so) is concern around their existing ERP capacities.
With a payment solution that embeds directly with your ERP, you can accept digital payments in your existing accounting infrastructure and avoid the trouble of moving information from one system to another. Look for a solution that has pre-built connectors with your current ERP or that has a flexible API and a dedicated team that will work with you to develop the right connectors for your system.
2. Digitize and automate reconciliation for the checks you do accept
Despite their continued decline, checks remain the most popular payment method for B2B businesses. For the check payments you still receive, simplify how you capture and reconcile them with open receivables with technologies like optical character recognition (OCR) and machine learning.
3. Automate cash application for electronic payments like ACH
If decoupled remittances are what's preventing you from increasing your acceptance of electronic payments, there are tools that can help you manage the reassociation of payments and invoices automatically. Versapay's advanced cash application automation functionality extracts remittance information from a variety of data sources—including AP portals, bank lockboxes, emails, and PDFs—and uses AI to automatically match it to its corresponding invoice.
When your customers make payments within Versapay, the remittance information is posted along with the payment automatically, eliminating the need for your team to spend time matching payments with invoices after the fact.
4. Make paying online a convenient experience for customers
To successfully eliminate paper checks from your payment ecosystem, you need to make paying online an attractive option for your customers (which is easier said than done in B2B). One way to do this is to support a variety of payment options so that customers can pay however they want—whether it's ACH, EFT, credit, debit, or virtual card.
Ease-of-use is also an important factor in determining whether your customers will embrace paying online. Solutions like click-to-pay invoicing that allow customers to make payments without having to create a login are a great way to encourage customer adoption.
Boost cash flow and customer sentiment with digital payments
Embracing digital payments doesn't just make sense for businesses while navigating a global pandemic. It's also a move that has significant wins for cost savings and cash flow improvements.
Accepting digital payments allows you to access your cash much more quickly. Settlement times are faster and complications from check float no longer exist. In a Deloitte study examining B2B businesses' use of digital payments, 73% of organizations surveyed said that accepting card payments improved their cash flow, while 49% said it reduced their cost of doing business.
Perhaps the greatest benefit of increasing your capacity to accept digital payments is the impact this has on your customer relationships. The top reason finance leaders cite for offering digital payment methods (cited by 76% of respondents surveyed by Versapay) is that they're easier for customers to use. While some buyers are still writing checks, most B2B buyers want to pay the way they do most everything else these days—online.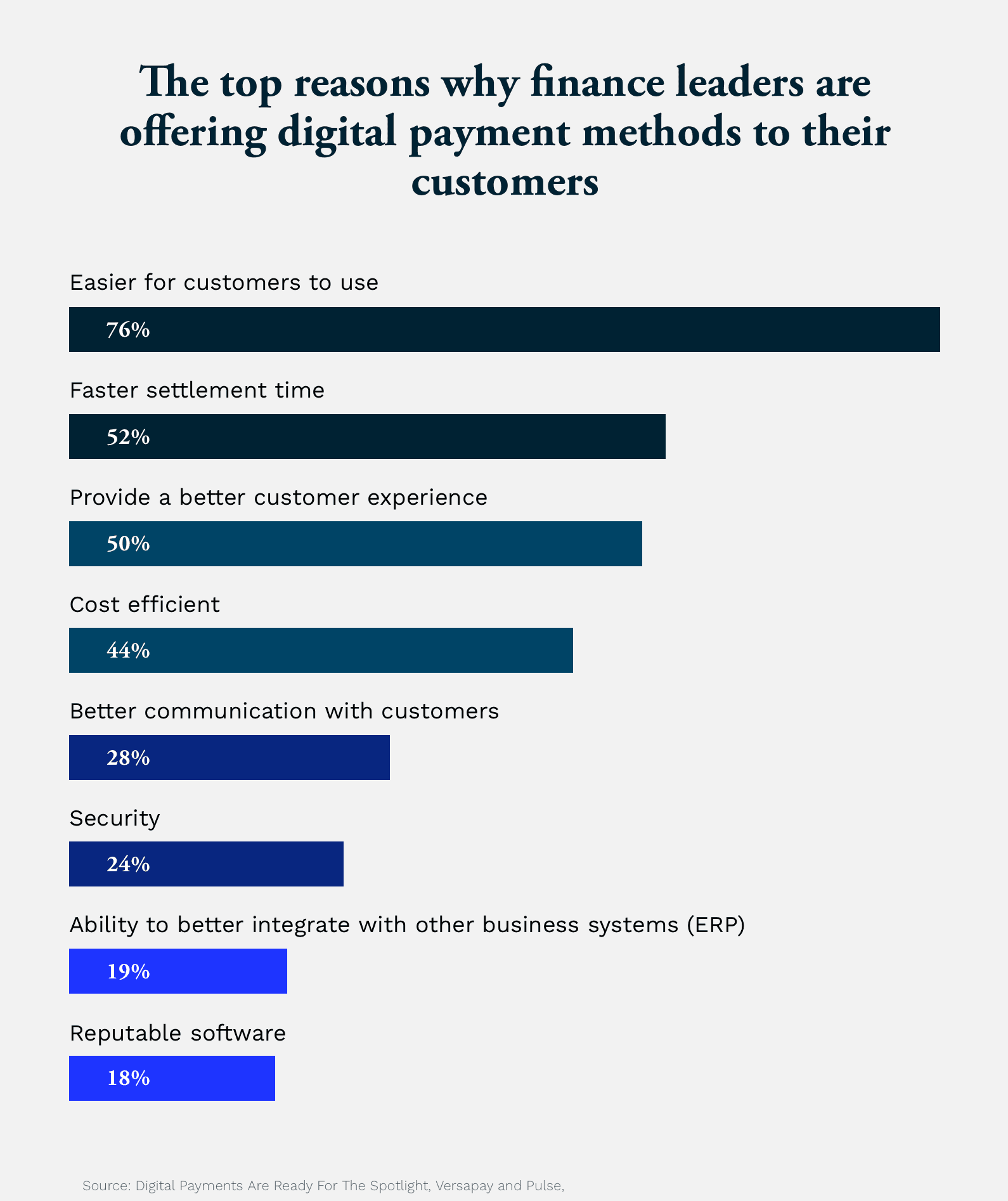 Give your customers the B2B payment experience that delivers the level of convenience they've come to expect from their experiences as consumers by working with a digital payments provider that can play nicely with your existing accounting systems.
—

Want to learn more about what finance tech leaders are saying about business paper check and digital payment use at their organizations? Check out our recent report, "Digital Payments Are Ready For The Spotlight."
About Versapay
Versapay is the leader in Collaborative Accounts Receivable. The Versapay Collaborative AR Network is the first solution that empowers the genius of teams by bridging the gap between suppliers and buyers through a shared, digital experience. Versapay is based in Toronto, Canada with offices in Atlanta and Miami, United States.
About the author

Nicole Bennett
Nicole Bennett is the Senior Content Marketing Specialist at Versapay. She is passionate about telling compelling stories that drive real-world value for businesses and is a staunch supporter of the Oxford comma. Before joining Versapay, Nicole held various marketing roles in SaaS, financial services, and higher ed.
Digital Payments
All you need to know to make the switch to digital payments.