Why Finance Leaders Must Evaluate Software on CX Impact, Not ROI
Nailing your software purchases is crucial to your business' success. And one criteria, above all else, can help you make the right buying decision: its impact on customer experience.
This article explores why companies focusing on CX outperform those focusing on ROI, the elements of great CX, and the role software plays in elevating your business into a CX giant.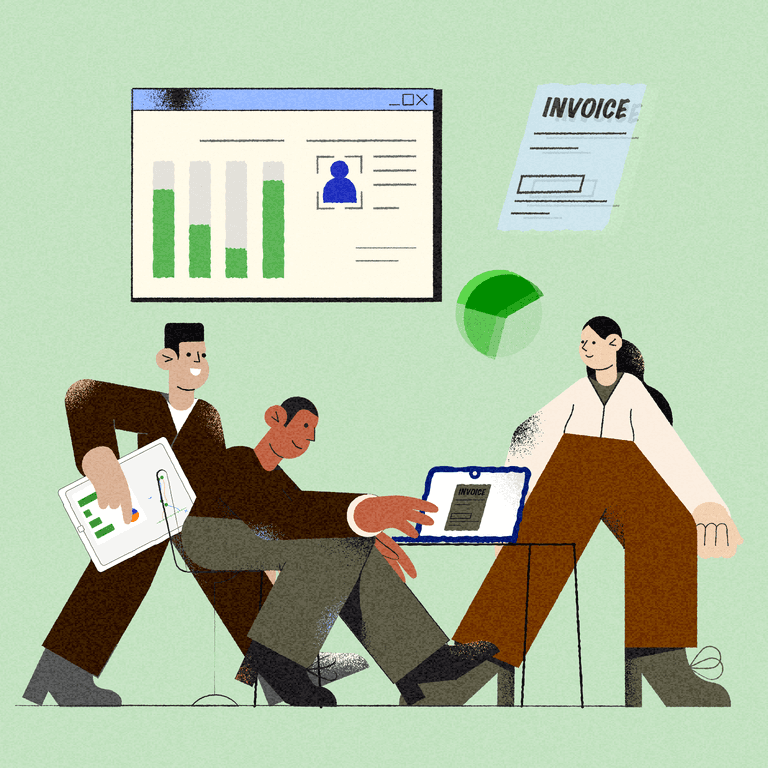 Key takeaways
CX is a better evaluation criterion compared to ROI when purchasing software. However, CX is not always the first focus in some companies.
A CX focus helps you zero in on customer issues and align your teams around customer outcomes. An ROI focus burdens teams with manual work and inefficiency.
The right customer-facing software can deliver great CX—but removing obstacles to adoption is essential.
Examine software's ability to centralize data, enhance process transparency, and add value to your workflows. These increase customer adoption and enhance CX concurrently.
—
Getting software purchases right is crucial to an organization's success. One criterion, above all else, helps companies make the right choice—the impact on customer experience (CX).
Versapay used Gartner's Peer Community platform to survey 400 finance and business leaders to understand business relations with customers, which departments need to boost their CX efforts, and whether digitization is feasible.

Sixty percent of respondents cited the impact on customer relationships as the most important factor in a software purchasing decision. This result might seem surprising in this age of operational and financial efficiency. However, in this article, we break down why this view makes sense by explaining the following:
Why CX-focused companies outperform ROI-focused ones
While companies measure success in revenues and profits, these results emanate from customer satisfaction—indicated by the quality of CX they offer. Customer satisfaction ensures healthy, long-lasting relationships that future-proof a company by acting as a moat during challenging times.

In contrast, an ROI focus prioritizes cost minimization and profit maximization while sidelining CX. While this approach delivers impressive numbers, it reflects short-term thinking. Long-term projects take time to bear fruit, running against the mantra of maximizing ROI at all costs. The result is a lack of long-term vision and inefficiency.

Here are three other reasons why a CX focus trumps an ROI focus.

1. CX-focused companies prioritize processes
Delivering great customer experience is the result of creating several intuitive and customer-oriented processes. In contrast, ROI is a financial result that tells companies what happened. It doesn't reveal potential workflow gaps.

A CX focus forces companies to constantly listen to their customers and evaluate workflow efficiency—leading to ROI, revenues, and profits.

2. CX-focused companies are future-proofed
Consumer preferences change, and an intense focus on customer experience is the best way to align the business with them. Prioritizing CX forces a company to be customer-oriented, no matter what prevailing conditions look like.

The result is a positive brand image and repeat business. Great CX creates a well of positive support companies can draw from during tough times. In contrast, ROI measurement spotlights price dynamics instead of customer preferences.

3. CX-focused companies have simple internal workflows
Focusing on customer experience gives companies a pillar to center their processes around. For instance, when debating two options, CX-focused companies can readily choose the one creating the highest positive impact on the customer.

In contrast, ROI-focused companies choose the cheapest option without necessarily considering the adverse effects on their processes (like more manual work) and the impact on CX (slower customer response times). These compromises lead to additional work for employees, increasing the chances of burnout.

3 ways in which software boosts customer experience
Versapay's survey of Gartner's Peer Community revealed that leaders believe software is critical to improving customer relationships. Sixty-nine percent of respondents are currently—or will be within the next 12 months—evaluating software solutions that improve their customer relationships.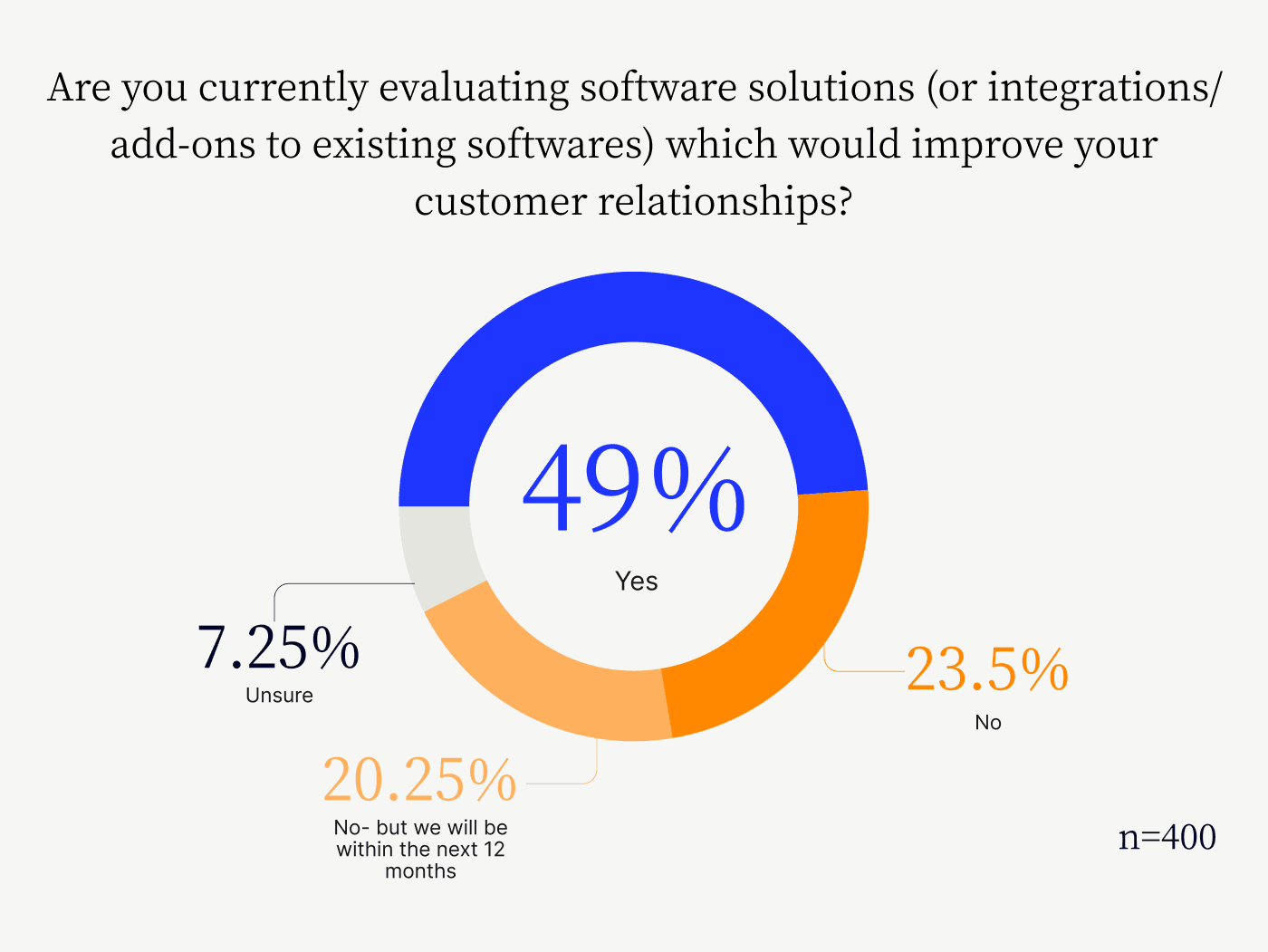 Here's 3 ways software delivers great customer experience.

1. Software ensures consistency
Software helps companies standardize their processes and deliver a consistent end-user experience—a huge CX driver.

For instance, most order-to-cash (O2C) workflows tend to suffer from inconsistent CX. Customers have different payment preferences, creating different workflows and process changes for accounts receivable employees. The best payment processing software helps customers choose from payment options—and businesses to accept them. These features streamline payment acceptance procedures, standardize workflows, and reduce time spent chasing payments.

As a result, customers receive a consistent experience, knowing they can always rely on a business to simplify procedures, instead of adding to workloads.

2. Software offers a single source of truth
The best payment processing software centralizes all customer-related process data, giving employees granular views of issues. Poor visibility into data creates miscommunication internally and with customers, negatively impacting customer experience.

For instance, an accounts receivable team member might not have insights into contract terms their company's sales team negotiated with a customer. As a result, customers might find communicating with them frustrating, ultimately raising a dispute to senior management.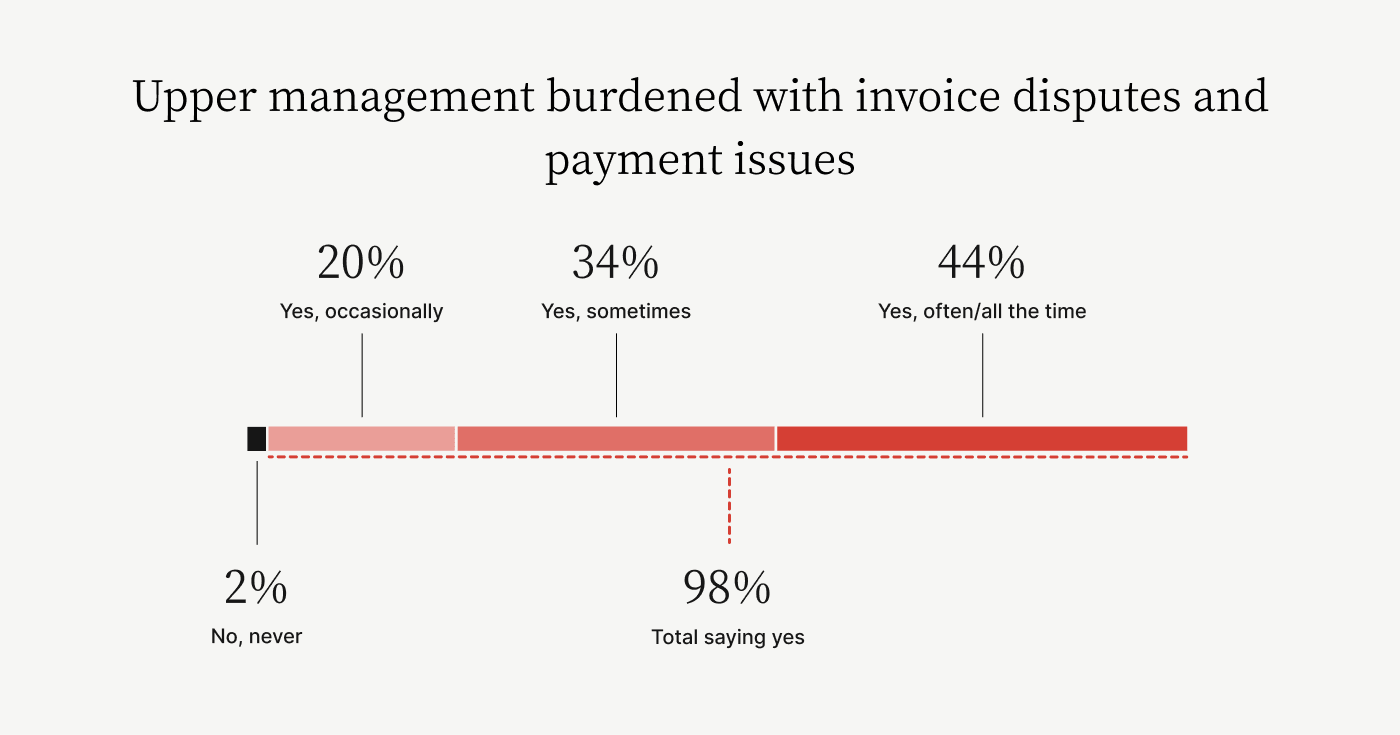 Accounts receivable teams routinely source sales data to check pricing terms and inventory data to confirm product delivery. If these departments have not kept the best records, an AR team member might miss important information (like product discounts) when responding to a customer's issue, increasing customer frustration and lengthening cash collection times.

A good payment processing software's ability to centralize data offers a solution for this mess. In this case, a collaborative payment portal that centralizes accounts receivable data helps customers view payment statuses, and aligns all AR stakeholders, solving the issues mentioned previously.

3. Software removes barriers between customers and businesses
The right software can reorient a company's processes by making them more customer-centric. Digital transformation—instead of mere automation—is the key to this reorientation. Software helps companies reimagine their processes and create custom workflows that boost customer relationships.

For instance, an accounts receivable customer payment portal eliminates the need for endless email chains and phone calls—between AR teams and their customers—when collecting payments. Customers can view payment and dispute statuses in real-time in a shared, cloud-based environment, removing any chance of miscommunication in the invoice-to-cash process.

The result is customers and AR teams that are aligned on issues, giving companies a better understanding of customer needs and future functionality.

How software can turn your finance team into a CX giant
Versapay's survey revealed a disconnect between executives' beliefs about customer experience and their software choices. While acknowledging that CX was a company-wide responsibility, just 16% of respondents reported that their finance tech stacks were customer-facing—a reflection that back office tech stacks could use some CX focus instead of an ROI-driven one.

Modern back-office teams influence the customer's experience as much as traditionally customer-facing ones—like Marketing or Professional Services—do. These teams cannot think like a "back-office." They must recognize their influence on customers and companies must empower them with the software to make an impact.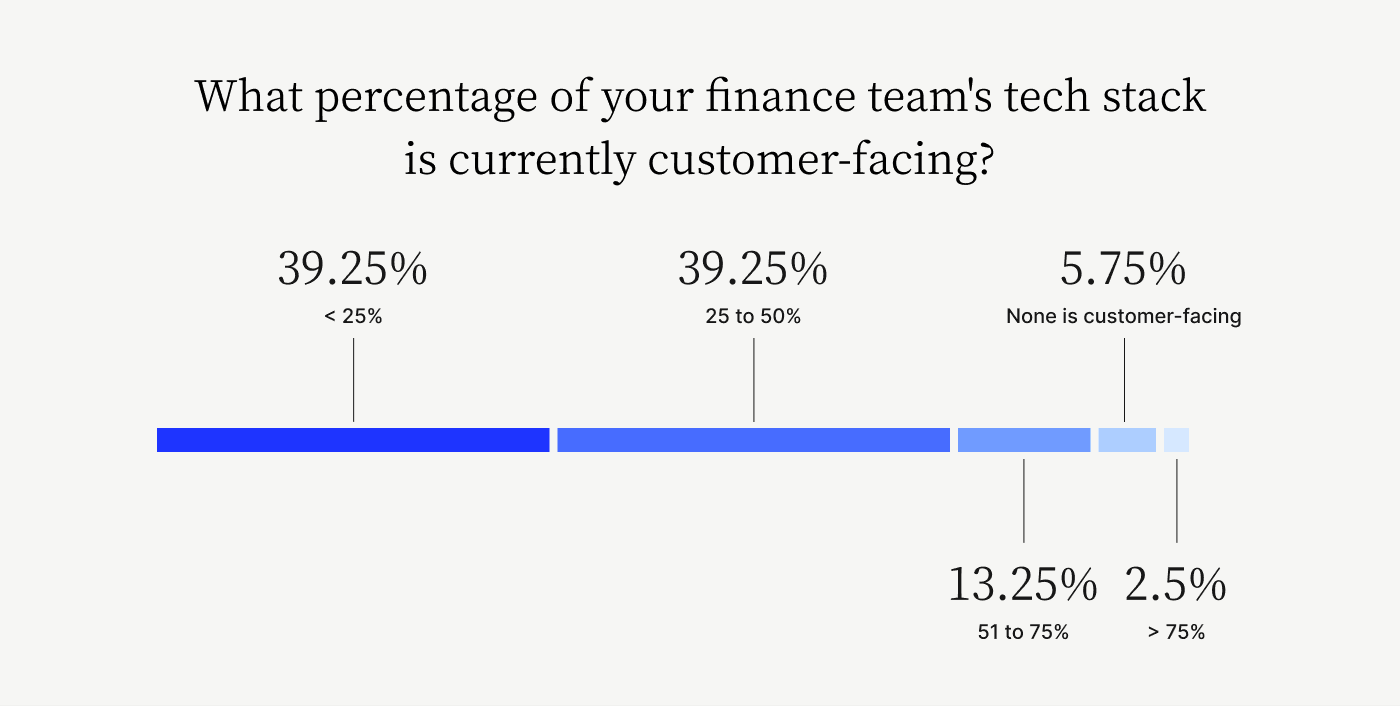 Finance teams particularly are viewed as CX liabilities, with 68% of executives agreeing that software can transform the function into a CX leader.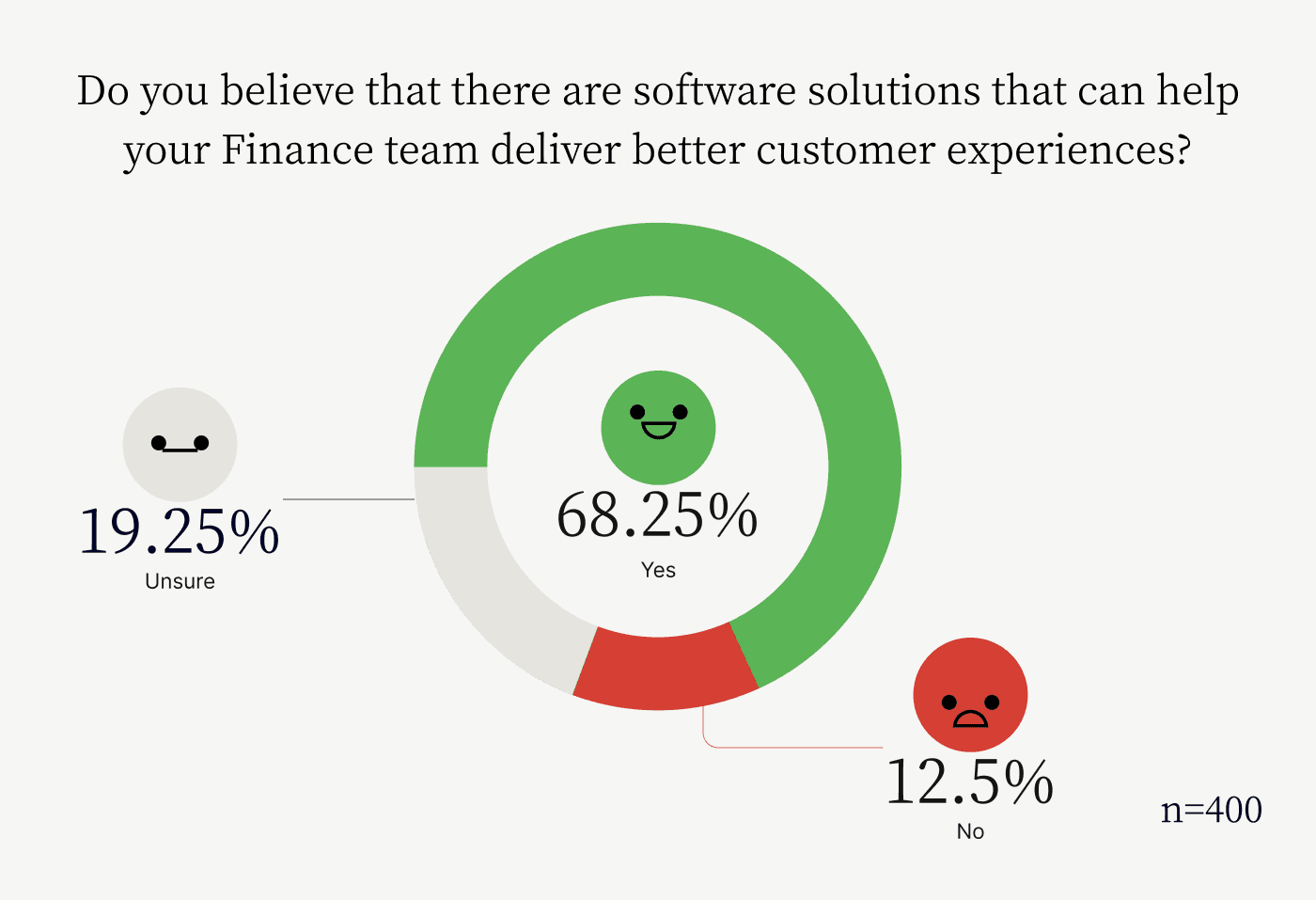 When asked whether customer adoption rates offered a good measure of a customer-facing software's success, roughly 84% of respondents answered yes.

These results clarify what executives must do to transform finance into a CX leader. Invest in the right software, and evaluate it based on its ability to deliver memorable CX, ensuring high adoption.
Here's how companies canevaluate software for its ability to deliver great CX.
1. How easy is it for customers to use?
Customers gravitate toward software that is intuitive and simple to use. In addition, modern customers prefer self-service. A 2020 study conducted by customer success platform Higher Logic revealed that 77% of consumers view organizations more positively if they offer self-service options before having to talk to an employee.

Self-service software thus offers great CX and reduces the burden on internal teams. For instance, a collaborative payment portal helps customers pay outstanding invoices, view dispute statuses, and refer to sales contracts—and other pertinent documentation—seamlessly, without having to loop in their accounts receivable representatives.

It also eliminates manual work for internal teams, ensuring a focus on removing deep-rooted customer issues, rather than simply reacting to them—and not eliminating them—on an ad-hoc basis. These efforts, in turn, produce even better CX.

2. Is onboarding fast and painless?
Onboarding is the key to customer adoption. A 2023 study by Userpilot revealed that 74% of prospects switch apps if their onboarding journey is too complex. Seamless onboarding is a sign of a platform taking customer needs into account.

Enrolling customers in phases to avoid overwhelming support staff and breaking information collection into easily executed workflows are two signs of a great onboarding process. A good onboarding process also guides users through features by prompting them to execute initial tasks and highlighting important buttons within the software.

Seamless onboarding also gives internal teams the data they need to service customer requests quickly. These reduced SLA times further boost CX, giving customers a memorable experience.

3. Does it help you gather customer feedback?
Whether through chat messaging within a portal or analytics that reveal customer actions, software that boosts customer experience often gives companies the ability to communicate and collaborate with their customers. Communication functions such as these also align internal teams around customer needs.

For example, if a customer disputes prices on an invoice based on their prior discussions with sales, a cloud-based payment portal helps them message AR teams directly, who can then loop sales teams into the chat. The result is alignment when solving the issue and speedy resolution.

A collaborative payment portal also centralizes O2C data, removing any potential for missed communication or lost documents that might prolong a dispute and collection times.

—

Software is a necessity in modern business, and the key to squeezing the most out of these investments is evaluating them with a focus on its impact on customer experience. Traditional ROI-based evaluation criteria remove customers from the picture—something companies can ill-afford given the rapid changes in consumer expectations.

Learn why Versapay's Collaborative AR automation software boasts best-in-class customer adoption rates, delivers exceptional customer experiences, and accelerates cash flow for your business.

About the author

Vivek Shankar
Vivek Shankar is a content writer specializing in B2B fintech and technology. He is ambivalent about the Oxford comma and covers the institutional finance markets for industry trade publications. An avid traveler and storyteller, Vivek previously worked in the financial sector as a data analyst.
Customer Collaboration and Experience
See how true collaboration in AR creates better results for both you and your customers.