How RPT Unlocked Major Savings After Ditching Paper Invoicing and Automating Collections
RPT Realty, a New York Stock Exchange listed real estate investment trust (REIT), used to spend an estimated $64,200 per year on paper-based invoicing and cash application. This put a considerable strain on RPT's accounts receivable team.
In this case study, you'll learn how RPT Realty empowered their corporate accounting team and lease administrators to:
Digitize rent payments
Solve payment issues collaboratively with tenants,
Save an estimated $9000 annually on invoice presentment alone, and
Slash their paper-based invoicing and cash application expenses'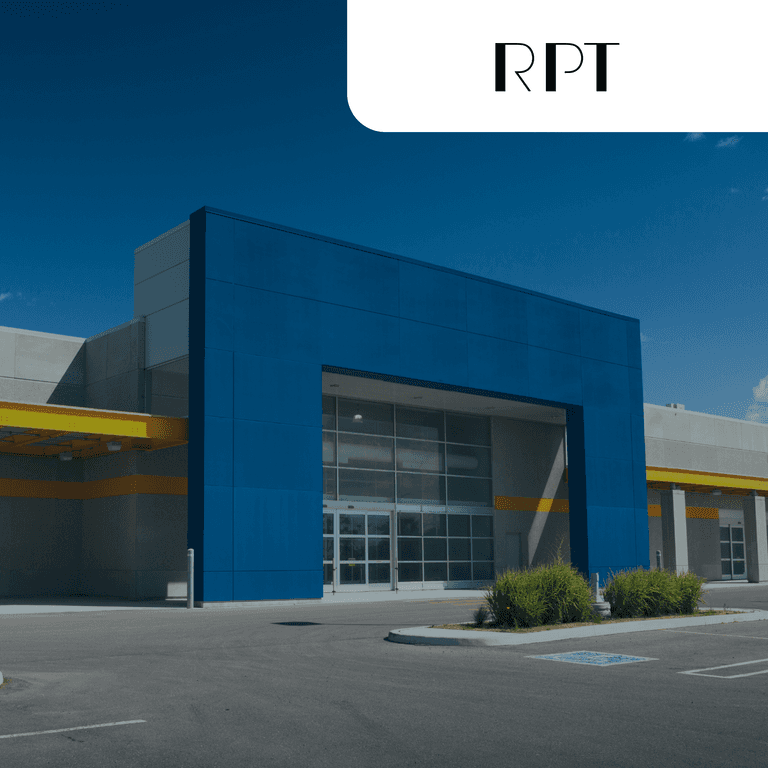 Company profile
RPT Realty owns and operates a national portfolio of open-air shopping destinations principally located in top U.S. markets. They are a fully integrated and self-administered REIT publicly traded on the New York Stock Exchange.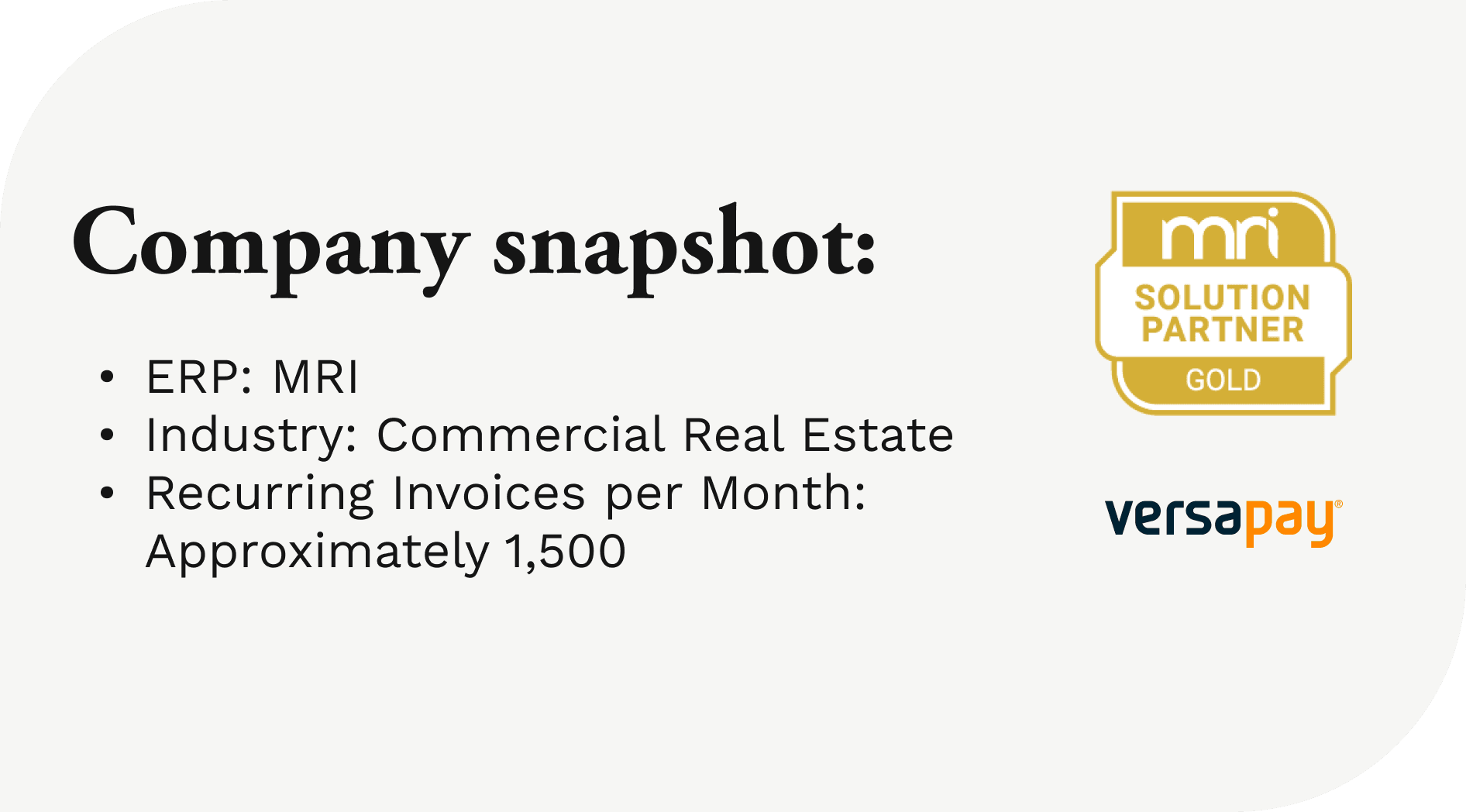 The starting point: paper-based rent collection was costly and difficult
Before Implementing Versapay:
$9,000: The estimated annual invoice postage costs
20: The number of hours 5 employees each spent stuffing envelopes every month
$38,400: The annual cost of staff hours spent researching payment issues
Melinda Breen Hale is RPT Realty's Director of Corporate Accounting. She works closely with RPT's Director of Lease Administration to manage a team of four property accountants, five lease administrators, three accounts receivable specialists, a cash analyst, and a lease administration support clerk.
At the time of implementing Versapay in mid-2020, RPT Realty had approximately 1500 tenants across 49 open-air shopping centers. The company was mailing paper statements to all these tenants every month. This drained the accounts receivable (AR) team's time and energy. It took them 20 hours (nearly three full business days) every month to print the statements, sort them into regional and national tenant bundles, and then stuff them into the correct envelopes before posting them by snail mail.
The turning point: tenants ask to pay online
After Implementing Versapay:
40%: The share of tenants now paying through Versapay
$64,200: The estimated annual savings from automated collections
1: The number of customer complaints about the new tenant portal
With Melinda's leadership, RPT Realty set out to create a business case for transforming their accounts receivable processes in 2019. As she was preparing the business case, tenants were increasingly asking for faster and simpler ways to pay their rent. Tenants were tired of the paper-based collections process too. They wanted to be able to pay invoices digitally using their credit cards and other preferred payment methods.
By the time statements would arrive at a tenant's business address, the balance was already due. Melinda and her team were concerned that this created a 'pay us now' perception among tenants. When the pandemic hit, tenants' aversion to paper invoices escalated.
Paper statements also resulted in a slower time to pay. That was especially the case among the 80% of RPT Realty's tenants that were small shop tenants.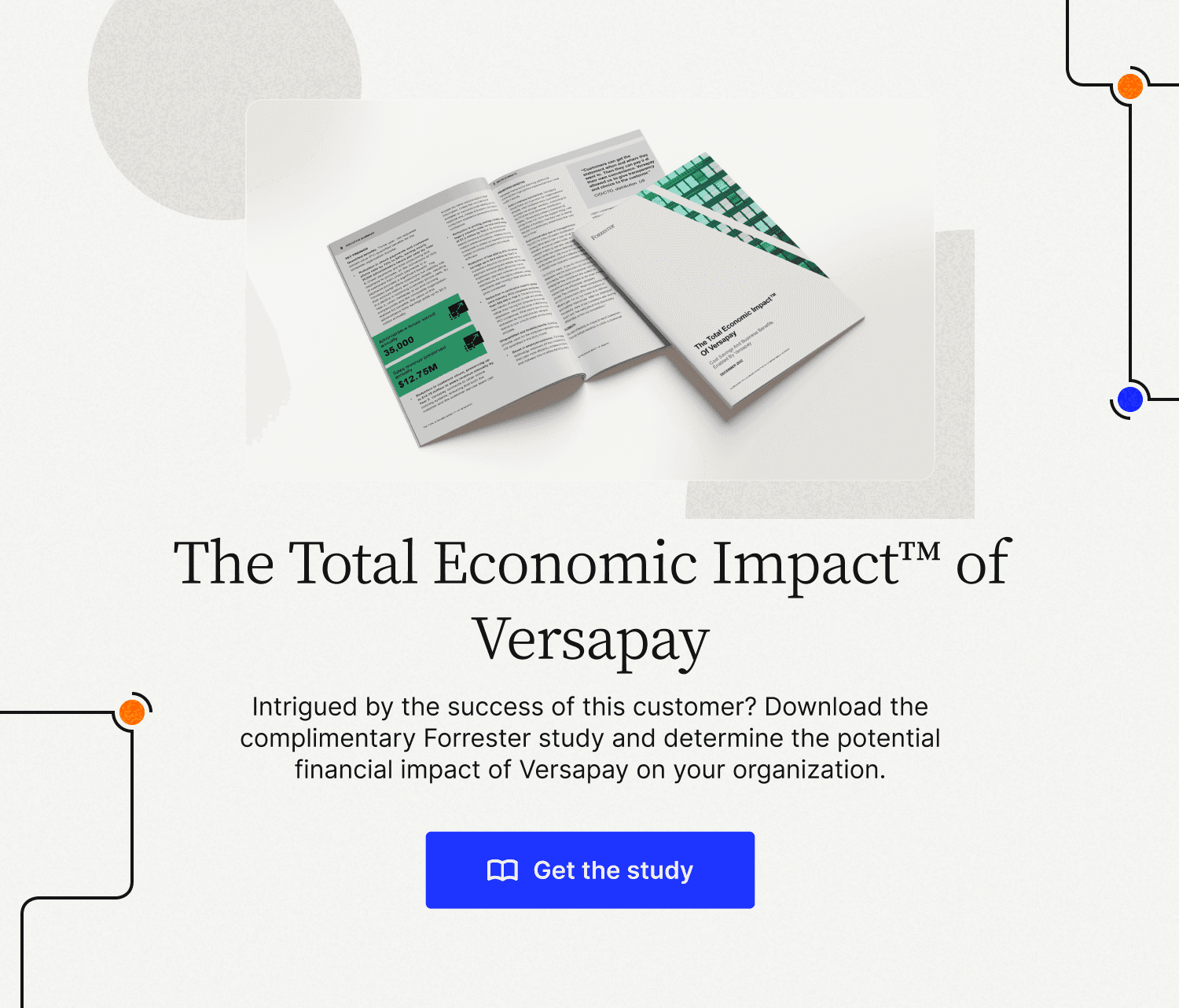 The results: helping real estate accounting teams save time and money

Boosting tenant satisfaction was a key driver for change, but RPT knew they wanted to achieve a number of internal efficiencies too. In automating their accounts receivable operations, the company was focused on:
Digital presentment: Being able to publish and deliver charges in an online payment portal
AR collaboration: Being able to communicate with tenants instantly online
Automated collections: Having better visibility and automated follow-up beyond MRI reports
Cash application: Being able to apply all payments with open receivables and have them synced in real-time with MRI
After implementing Versapay, the benefits came rolling in, and they showed no signs of slowing down:
1. Digital invoicing makes cash application simpler
After going live with the platform in June 2020, Melinda and her colleagues quickly noticed improvements to their cash application process.
Before Versapay, tenants had to tell RPT the dollar amount they were paying and be highly specific as to what invoice it was for. And if a tenant made a payment, often it wasn't immediately clear how to apply that cash because payments weren't neatly recorded or synced to their lease accounting software, MRI. As a result, the payment would sit unapplied for some time.
With Versapay, RPT Realty has elevated the cash application process by empowering their tenants to self-select which invoices they're paying and indicate the exact dollar amount, directly within the cloud-based tenant portal. Now, when payments are made in the portal, they're being matched with open receivables in real-time. The RPT team can now quickly reconcile payment data, eliminate errors from manual data entry, and speed up cash flow.
2. Internal champions drive collaborative collections
With their old processes, RPT Realty's lease administrators were pitching in with the mammoth task of getting all those paper statements out the door every single month. This meant that instead of creating billings and collecting money for the company, they were performing manual administrative activities—often not within their job descriptions.
The shift to Versapay has created a sea change for the lease administration team. They're no longer involved in stuffing envelopes. And more importantly, they no longer need to reprint invoices from MRI because all invoice copies are stored digitally in Versapay.
The company's three accounts receivable specialists have become internal champions of the software, leading the charge to bring more customers onto the cloud-based payment portal.
Whenever they make a collection call to customers not yet paying through Versapay, the accounts receivable specialists explain how they can easily make payments through the portal and communicate and collaborate with the RPT Realty team directly on the platform.
3. Real-time dashboard aids financial management
The benefits of increased visibility into accounts receivable have extended to the wider accounting team, too. Before Versapay, RPT was unsatisfied that collections knowledge and insight was siloed and hard to share. Now, Melinda and the Director of Lease Administration can view a real-time dashboard to see how collections are tracking month-over-month.
They can also view invoice and line-item data if they need it. They also no longer need to worry about outdated aging reports, data exports, or printouts, as the data is synced in real time with MRI.

Make the shift to cloud-based collections
Since automating their accounts receivable activities, RPT Realty has achieved remarkable operational savings and workload efficiencies.
The goals Melinda and the team set at the beginning of their digitization journey have become a reality. The accounting team has:
Automated rent collections
Brought 40% of their tenant base onto the Versapay platform, and
Saved an estimated $64,200 per year on paper-based invoicing and cash application.
Beyond the monetary gains, RPT has significantly improved employee satisfaction within the accounting team by reducing manual work.
Want to learn more about how Versapay helps real estate accounting teams reduce manual AR work and improve tenant experience? Schedule a demo today.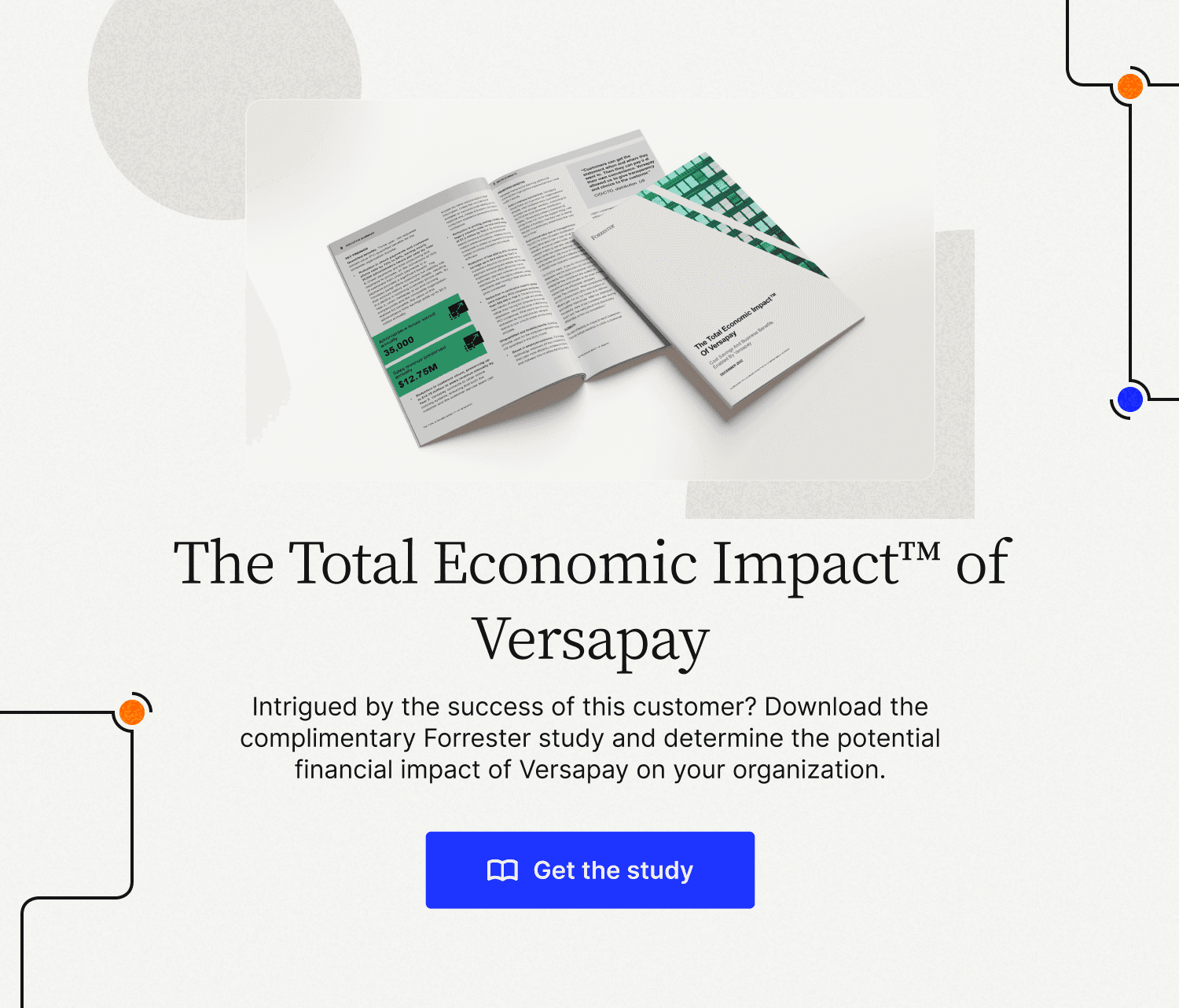 About the author

Jordan Zenko
Jordan Zenko is the Senior Content Marketing Manager at Versapay. A self-proclaimed storyteller, he authors in-depth content that educates and inspires accounts receivable and finance professionals on ways to transform their businesses. Jordan's leap to fintech comes after 5 years in business intelligence and data analytics.
Collections
Tips, techniques, and practices to get paid what you're owed.