Accounts Receivable Management Advice for Wholesale Distributors
Accounts receivable professionals in wholesale distribution are no stranger to paper checks and invoices. But as market pressures leave little room for operational inefficiencies, distributors are now embracing online billing and payments.
In this blog, you'll hear from leading wholesale distributors on:
Transitioning from paper to automated invoicing
Encouraging customers to pay online, and
Getting started with accounts receivable automation software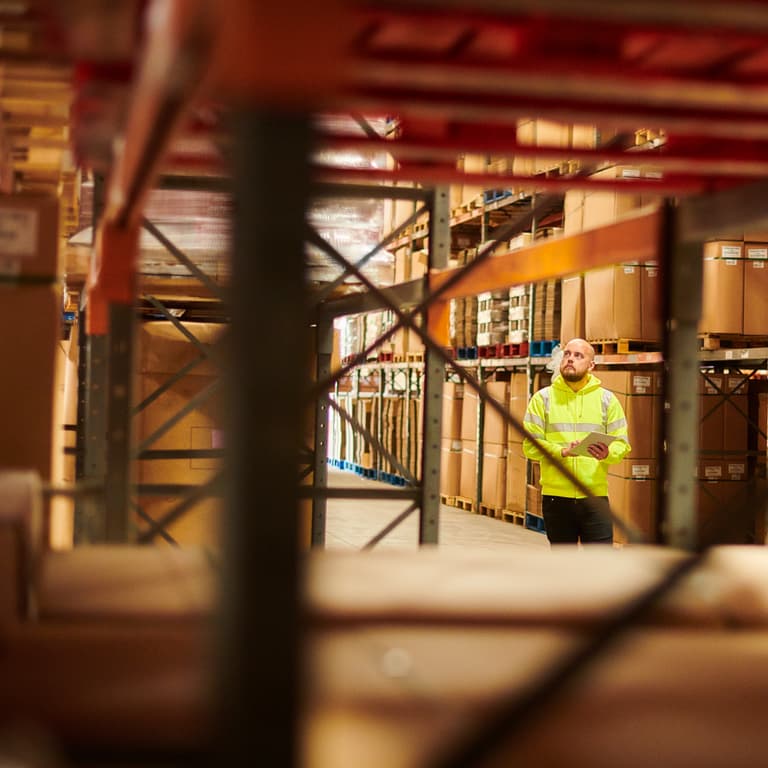 Wholesale distributors have a lot on the go—managing inventory, dealing with supply chain disruptions, and making sure customers' orders arrive on time. Often with narrow margins and market pressures to remain competitive, any opportunity to improve efficiencies and minimize costs is top-of-mind for these businesses.
Despite this, many distributors have yet to upgrade their accounts receivable (AR) processes, choosing instead to mail their customers paper invoices and collect payments via check. But the wholesalers leading in their field are the ones innovating not just in the warehouse, but in the back office too.
In our experience, companies that choose to automate their accounts receivable processes benefit from:
50% reduction in manual work
30% reduction in past-due invoices
25% increase in payment speed
As part of our series of Industry Advisory Councils (IAC), we recently brought together a select group of innovative wholesale distributors to discuss why they're prioritizing accounts receivable management as an area for digital transformation. The council explored the unique challenges of managing accounts receivable in their industry, offered advice for distributors seeking to implement AR automation software, and shared the successes they've enjoyed since partnering with Versapay.
It doesn't feel right to keep these great insights all to ourselves! In this Q&A-style blog, you'll hear from four Versapay clients in wholesale distribution on the benefits of accounts receivable automation software and how they're continuing to optimize their processes.
Q: How are you transitioning away from traditional print invoicing?
Rashid Maqsood, VP of Treasury, Rexel North America
Rexel provides tailor-made electrical equipment and services to businesses engaged in construction, renovation, and maintenance of buildings and infrastructure. The company is headquartered in Paris, France, with a global presence in 30 countries.
"I've been involved in the company's invoicing journey for the last 20 to 25 years, going back to the days when everything was print.
We send out roughly 160,000 invoices every month. Gradually and slowly, we have been converting these from print to email. After about 20 years of significant effort, we got to a point where we were digitizing invoices for about 60% of customers.
When we learned about Versapay, we saw this as a catalyst to eliminate print services. Another driver behind this was definitely COVID-19. More and more, customers are choosing to receive invoices by email because they are working from home. Today we are digitizing close to 95% of invoices. Our goal is to turn off print services in the next 12 months and go completely paperless."
Traci Leffel, Director of Finance, Rocket Industrial
Rocket Industrial is a nationwide distributor that helps solve packaging challenges for businesses across the United States. The company distributes packaging materials and equipment and is focused on packaging testing, development, optimization, and automation.
"At the end of 2020 we acquired a company about half our size. Now, we're focusing on getting them into our enterprise resource planning (ERP) system and are planning on moving their operations into the Versapay platform. We're excited to bring them on and think this will give them great options that they don't have today as far as automating the invoicing process goes.
The accounting team for the company we've acquired is still invoicing manually whereas we're fully automated, so it's a foreign concept for them. When we discussed the integration changes with them, they asked us, 'Who's going to do the invoicing?' And we told them, 'It just happens—nobody needs to do it.' It'll be a big change for them, which we're excited about."
Versapay's Tip 💡: With an invoice automation solution that integrates with your ERP, you can create invoices as you normally would and deliver them to your customers digitally and automatically.
Q: How do you incentivize customers to embrace receiving and paying invoices online?
Rashid Maqsood, VP of Treasury, Rexel North America
"We deal with a range of customers, from the largest corporations in Canada to local contractors. Each has different needs in terms of how we engage with them.
Typically, our small business customers were a bit reluctant to embrace online channels. But, with external factors such as threats of postal service strikes and the COVID-19 pandemic, we've seen that resistance become much lower.
For a lot of companies—large and small—there needs to be a trigger event to get them thinking about their digitization journey. We're here to help our customers along that journey, but in the end, it must be their decision.
To provide that support, we held training sessions with our team of 50 collections staff to build their confidence using the Versapay portal. After this, they were ready to talk about the portal with our customers. We believe in a 'train the trainer' philosophy, meaning once internal staff are trained on the platform, they can advocate its value to customers. That has helped us with adoption. We also created a steering committee within Rexel to engage every part of our management structure—starting with sales, IT, and the credit department—and walk them through Versapay."
Versapay's Tip 💡: When bringing on new customers, consider writing your preferred payment method—such as your online payment portal if you have one—into your contract agreement as the standard through which you'll collect payment.
Q: What advice would you give other wholesale distributors when implementing accounts receivable automation software?
Rashid Maqsood, VP of Treasury, Rexel North America
"When we rolled out Versapay to our customers we started with one division. We did this so we could study how it went and beta test for three months. Then we rolled it out to our remaining nine divisions.
As we went live to all customers, our collectors were concerned about email delivery. With the great tools IT departments have developed to protect the assets of their company against phishing and fraud, this unfortunately affects how we email invoices. Many times, even if you're a recognized company, your emails may be getting blocked. On a typical day, we're sending out about 5000 to 6000 invoices a day. If even 3% of those emails get rejected, then that creates a lot of work.
The solution to this was engaging with customers to update their whitelisting. We worked with a third party to help customers make those changes. Now close to a year after our full Versapay launch, email rejections are a nonissue."
Matthew Brown, Regional Credit Manager, JJ Haines
JJ Haines is the largest floor covering distribution company in the United States, with operations covering the Northeast, Mid-Atlantic, and Southeast.
"We initially started by inviting the customers that would give us the biggest bang for our buck on the Versapay platform. These were the customers that were already receiving some sort of email or electronic invoice. These were naturally the early adopters. We went for those customers first and then focused on our customers paying by credit card and sending checks by fax.
We were able to greatly reduce manual processing of credit cards and check-by-fax payments once these customers were engaged on Versapay. We surcharge customers 2% for credit card payments, which nearly eliminates our transaction costs for credit card payments. Since we've moved credit card transactions from our internal gateway over to the Versapay platform, we've been able to cut our expenses in this area by a huge margin."
Q: What benefits have you uncovered since using Versapay?
Matthew Marin, Continuous Improvement Manager, TireHub
TireHub is a national tire distributor that delivers the full passenger and light truck tire portfolios of Bridgestone and Goodyear to US tire and automotive retailers.
"We've been on the Versapay platform for a little over a year now. We are seeing good results with our small to mid-size customers. We've gone from around 10% payment automation to 55%, which we see as a huge success. We also transitioned to Versapay as our payment facilitator for payment processing and that experience was seamless."
Rashid Maqsood, VP of Treasury, Rexel North America
"Before Versapay, when we sent out invoices, we would have to later call customers to remind them to make their payments. The invoice scheduling feature now available to us through Versapay has helped us in the collection process.
When we were looking for a technology provider, we wanted a system that would assist us in getting to the next phase beyond emailing simple PDF invoices, where customers could make better use of their invoices. One of the challenges in our collections department was tracking which payments were past-due. When our collectors would get in touch with those customers, the number one response we got was always 'I don't have the invoice.' Now with the online portal, customers can self-serve, which improves our collection ability and makes our collectors more productive as well.
With Rexel included in several sustainability indexes such as the Dow Jones Europe Sustainability Index, we're also on an ongoing journey to go paperless. We made a commitment to reduce our consumption by 45%. Eliminating paper from our back-office processes with Versapay aligns with our mission to be a leader in the sustainability movement."
The main takeaways
Summed up, wholesale distributors looking to improve the way they manage accounts receivable should consider:
Ditching print invoices by automating the invoicing process with dedicated software
Working across teams in their organization—sales, IT, credit management—to get buy-in on the value of accounts receivable automation
Working with customers to make sure their invoice communications are being whitelisted
Introducing online invoicing and payments to one customer segment at a time
Learn more about Versapay's cloud-based accounts receivable automation solution, here. With our collaborative approach to AR automation, we help you communicate with your customers, accept online payments, manage invoicing and collections, and automate cash application.
About the author

Nicole Bennett
Nicole Bennett is the Senior Content Marketing Specialist at Versapay. She is passionate about telling compelling stories that drive real-world value for businesses and is a staunch supporter of the Oxford comma. Before joining Versapay, Nicole held various marketing roles in SaaS, financial services, and higher ed.
AR Management
The learnings you need to manage AR efficiently, effectively, and with way less work.