Accounts Receivable: Your Dark Horse in the Race to Superior Customer Experience
A collaborative approach to accounts receivable is integral to helping AR teams work more efficiently with customers throughout the entire invoice and payment lifecycle.
Learn why AR should prioritize customer experience to not only delight customers, but ensure payments come in faster and generate greater, more sustainable revenue gains.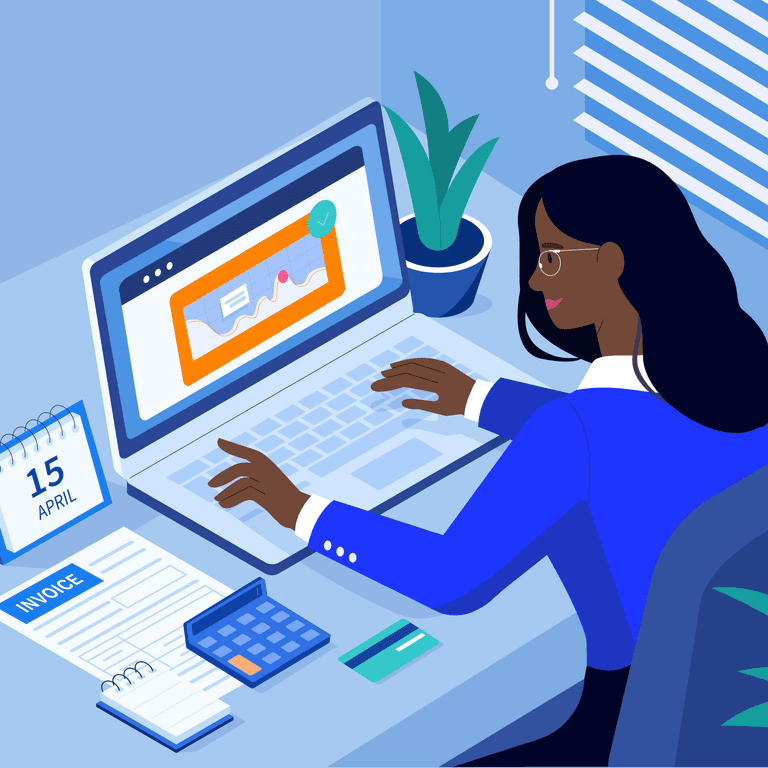 According to Forrester, brands with superior customer experience (CX) bring in 5.7 times more revenue than competitors that lag in that respect.
5.7 times more revenue. Let that sink in.


With this rapidly evolving digital era in full throttle, it's becoming increasingly difficult for businesses to differentiate themselves based on product functionality alone. When competition is fierce, markets saturated, and customers able to switch suppliers easily, sustainable competitive advantages must be found elsewhere—often in areas most overlooked and underutilized, namely, customer experience.
And where better to deliver exceptional customer experiences than from your accounts receivable (AR) department?
Yes, there was a time when bold packaging and creative marketing sufficed, but those days are rapidly diminishing. Customers today—especially business-to-business (B2B) customers—expect to be catered to by their suppliers in every way imaginable. From in-person to online interactions, from first touch to recurring payments, customers are loudly making their desire for exceptional customer experiences known.
Accounts receivable is one of the only disciplines that provides engagement opportunities across nearly each of these touch points. So, if customer experience and AR aren't top of mind or an upcoming area of focus, it's high time you prioritize them.
Billing and payments provide an untapped opportunity to reshape CX
Accounts receivable can—and should—be your ace-in-the-hole when determining how you can deliver more engaging customer experiences.
Most finance departments fail to fully engage the interpersonal skills their AR teams innately possess. Instead, they limit their involvement to administrative, manual activities—like printing and stuffing checks and reconciling invoices—and erect communication barriers between them and their customers, forcing them to connect over dated, inefficient channels like email, print mail, and telephone.
Accounts receivable is continually relegated to the back office, yet the potential for it to be a source of strategic change that benefits the bottom line—and builds customer loyalty, trust, and lifetime value—is game changing.
It's no secret that AR teams are struggling with manual work. We recently surveyed—in partnership with SSON—103 Shared Services and Outsourcing (SSO), Global Business Services (GBS), and Finance leaders and found that 85% of them are still manually matching payments with remittances. Another 86% report using clunky communication methods like phone and email as their primary customer contact methods.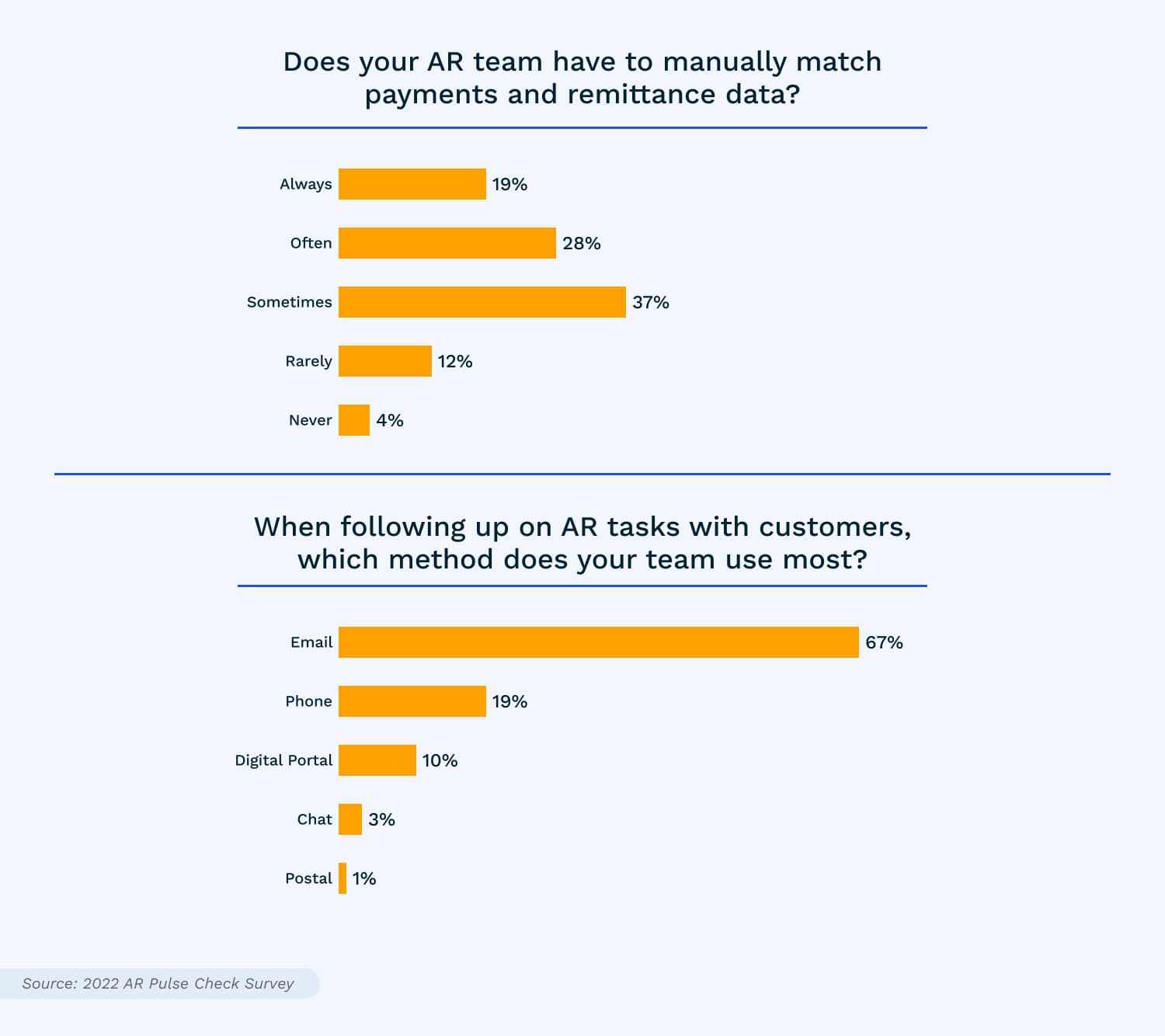 What's become clearer of late is the impact these inefficiencies have on customer experience. The collections process is a two-way street, with AR teams relying heavily on their customers to pay on time. And how quickly they get paid is directly correlated to their ability to make contact and stymie the intensifying communication barriers aggravated by traditional AR operations. (Of which there are plenty, stemming from paper invoice and check usage, legacy systems, sluggish order-to-cash execution, and more.)
Improved communication with customers—and a greater overall experience—reflects value-added efficiency gains because an enhanced ability and willingness to pay will reduce cash flow delays.
Finance teams are more attuned to this now, so while addressing the systems and manual practices plaguing and inhibiting their collections processes remain top-of-mind, more business and finance leaders—35% to be exact—are recognizing that their difficulties communicating with customers are preventing them from capturing revenue faster.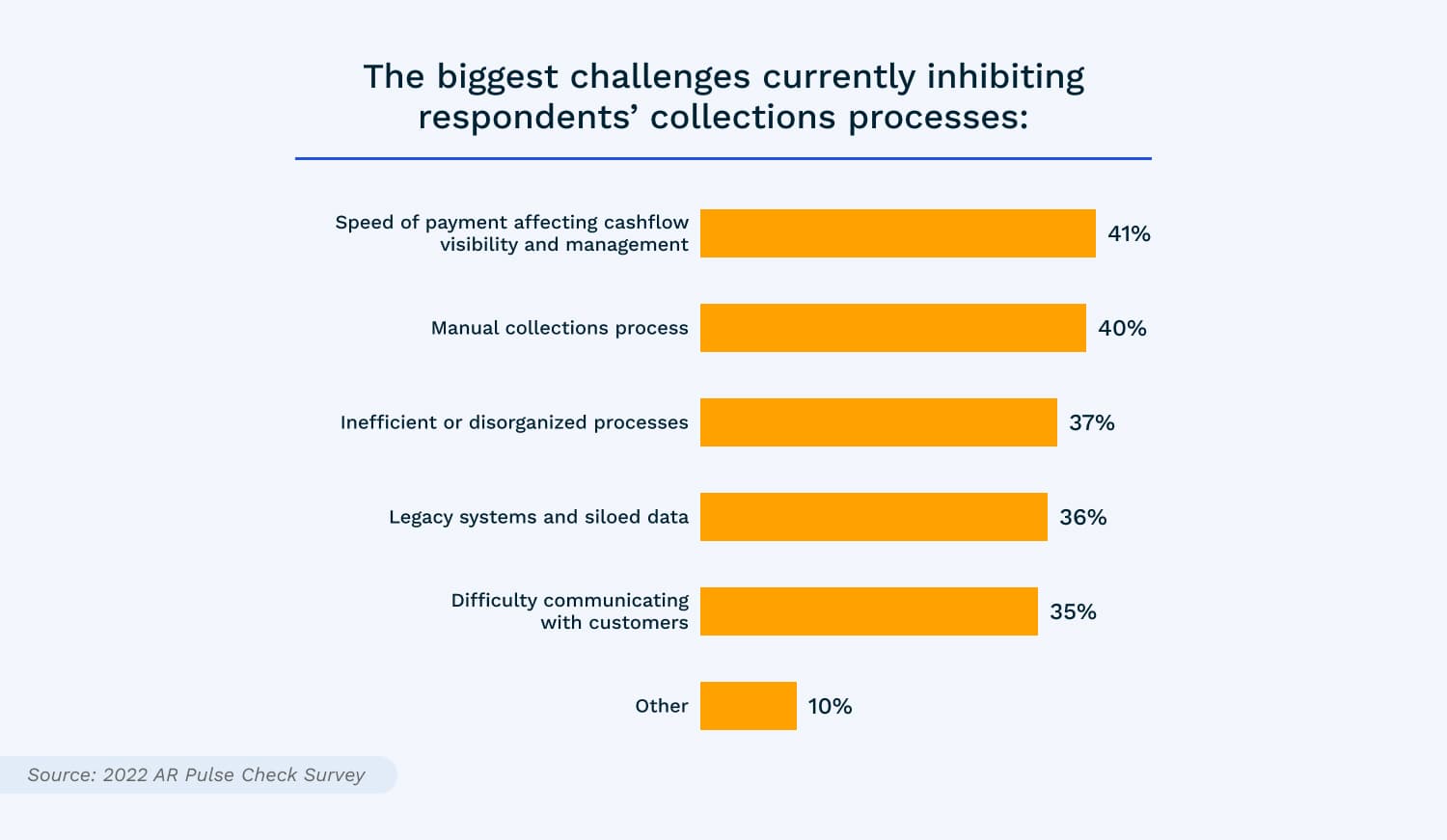 Traditional AR processes—and even automation software designed to eradicate manual, repetitive tasks—assume mutual exclusivity between enterprise efficiency and excellent customer service. This is important, as survey respondents are divided between wanting to implement automation to help with manual tasks and wanting to improve customer communication and experience.
That doesn't have to be the case. There exists a world where accounts receivable is both hyper-efficient and a core contributor to customer experience.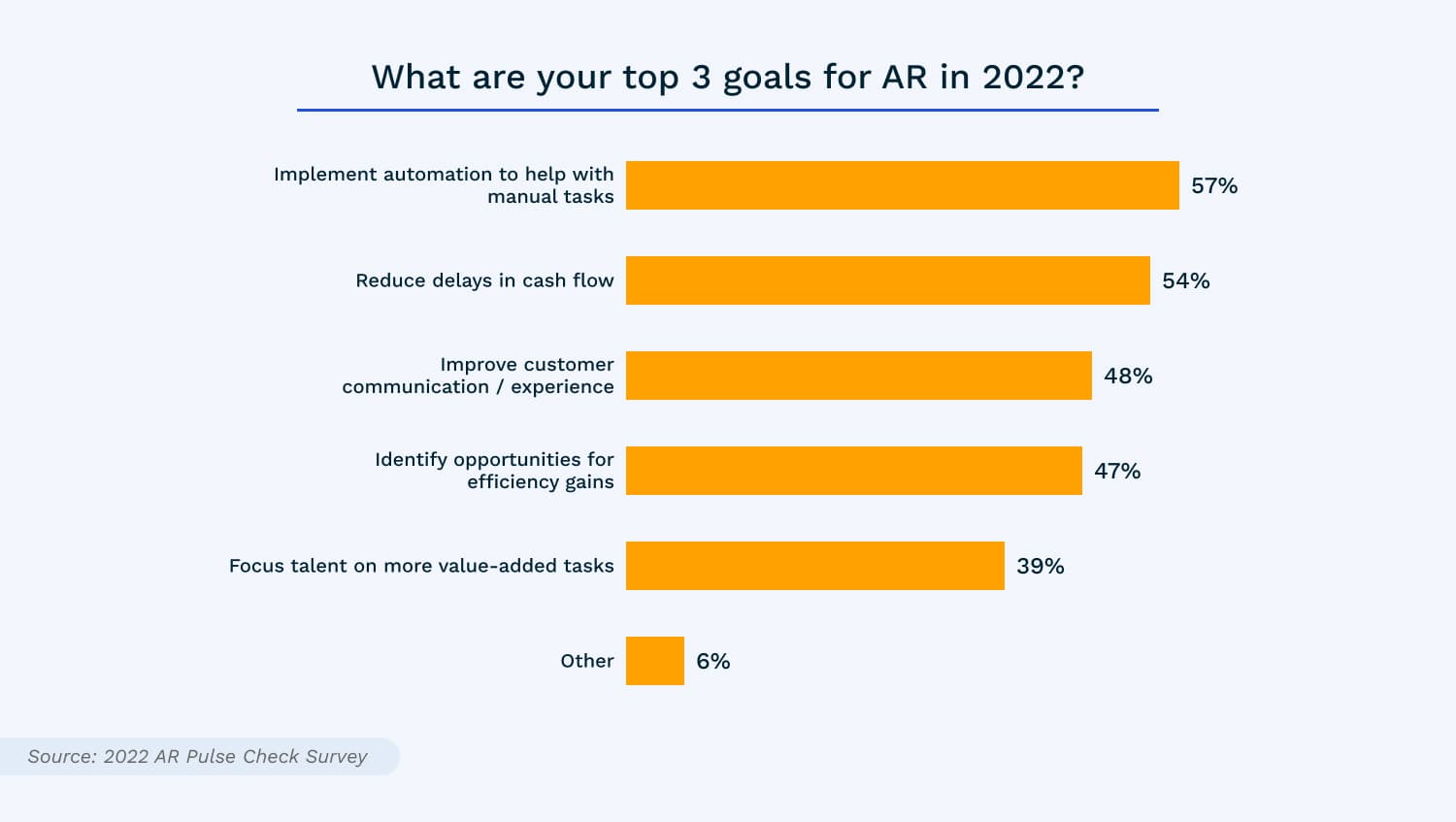 Finance executives don't need to forgo CX in favor of remedying challenges associated with manual work—or vice versa. Instead, they can improve their customer communications and simultaneously experience a cascading, positive impact across their entire AR operations.
The catalyst and missing ingredient? Collaborative AR software.
The CX revolution starts—and ends—with collaborative AR
As the survey illustrates, finding ways to deliver greater customer experience without sacrificing efficiency is paramount for finance leaders. Ninety-seven percent of respondents consider customer experience an important part of their AR processes, with another 65% prioritizing improving customer-centricity / personalization / experience.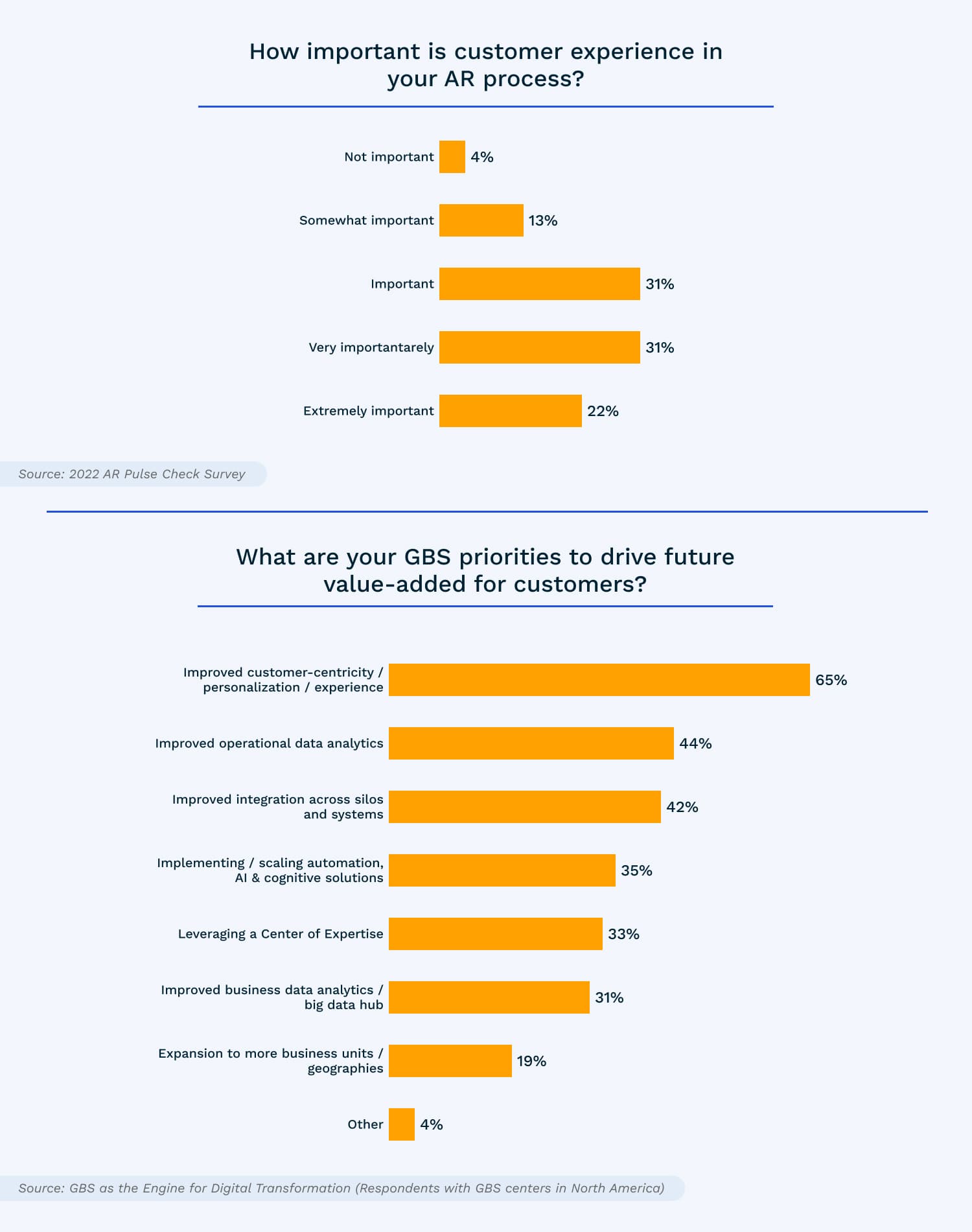 But actually finding the tools capable of delivering on both fronts has been a greater challenge for businesses. Fifty percent of the market surveyed is currently investing in cloud computing, yet only 10% report communicating with their customers via cloud-based customer portals.
This indicates that most AR teams are still wasting time digging through inboxes to manage customer relationships—even those leveraging AR automation software.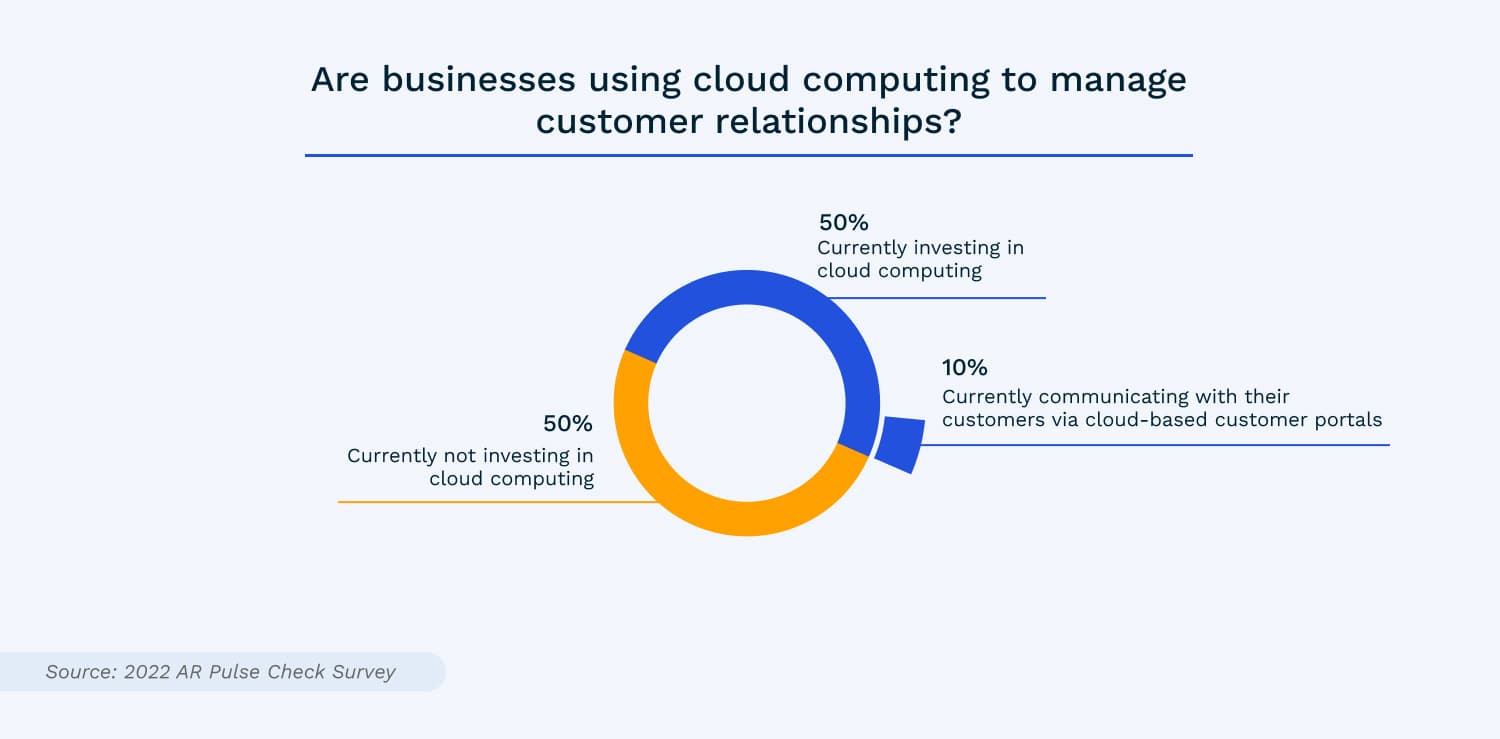 Therein lies the problem with traditional accounts receivable solutions. Be they cloud-based or on-premises, traditional AR solutions fail to address the customer's needs, instead choosing to focus on automation to relieve pain around wasted time, underutilized talent, and delayed cash flow—all benefits intrinsic to the seller. Automation has proven to ease some of those pains, but it continues to neglect the significant issues that arise from the seemingly ever-widening communication gap between AR teams and their customers.
When automation solutions fail to consider the customer, your efforts at efficiency improvements are undercut, and customer experience is jeopardized. Despite your best efforts, you're likely making it worse.
Collaborative AR is a true customer-forward approach to managing accounts receivable and executes against both objectives—efficiency from automation and greater CX. It's a revolutionary way of approaching AR automation that is designed to empower the genius of teams. It transforms your accounts receivable by bringing a traditional back-office function into the front-office. It turns AR into a core advocate of and contributor to customer success, unlike legacy solutions that simply make broken processes less manual through automation.
Collaborative AR combines industry-leading AR automation with collaboration tools associated with modern, cloud-based applications. A shared portal allows for direct collaboration between a seller's AR team and a customer's AP team throughout the entire order-to-cash process. It also unites real-time account information and payment history with automated cash application, while simultaneously facilitating digital transactions. What this all results in are faster payments and accelerated cash flows.
Layer on a next-generation B2B payments network and you're suddenly presented with a solution that shatters the disconnect between AR teams and their customers.
Collaborative AR is uniquely suited to solve age-old accounts receivable challenges
AR teams still have quite a way to go before becoming CX leaders.

Despite the overwhelming consensus that customer experience is an important part of the AR process, surprisingly, customer satisfaction was not ranked by finance leaders among the top three metrics used to assess AR performance.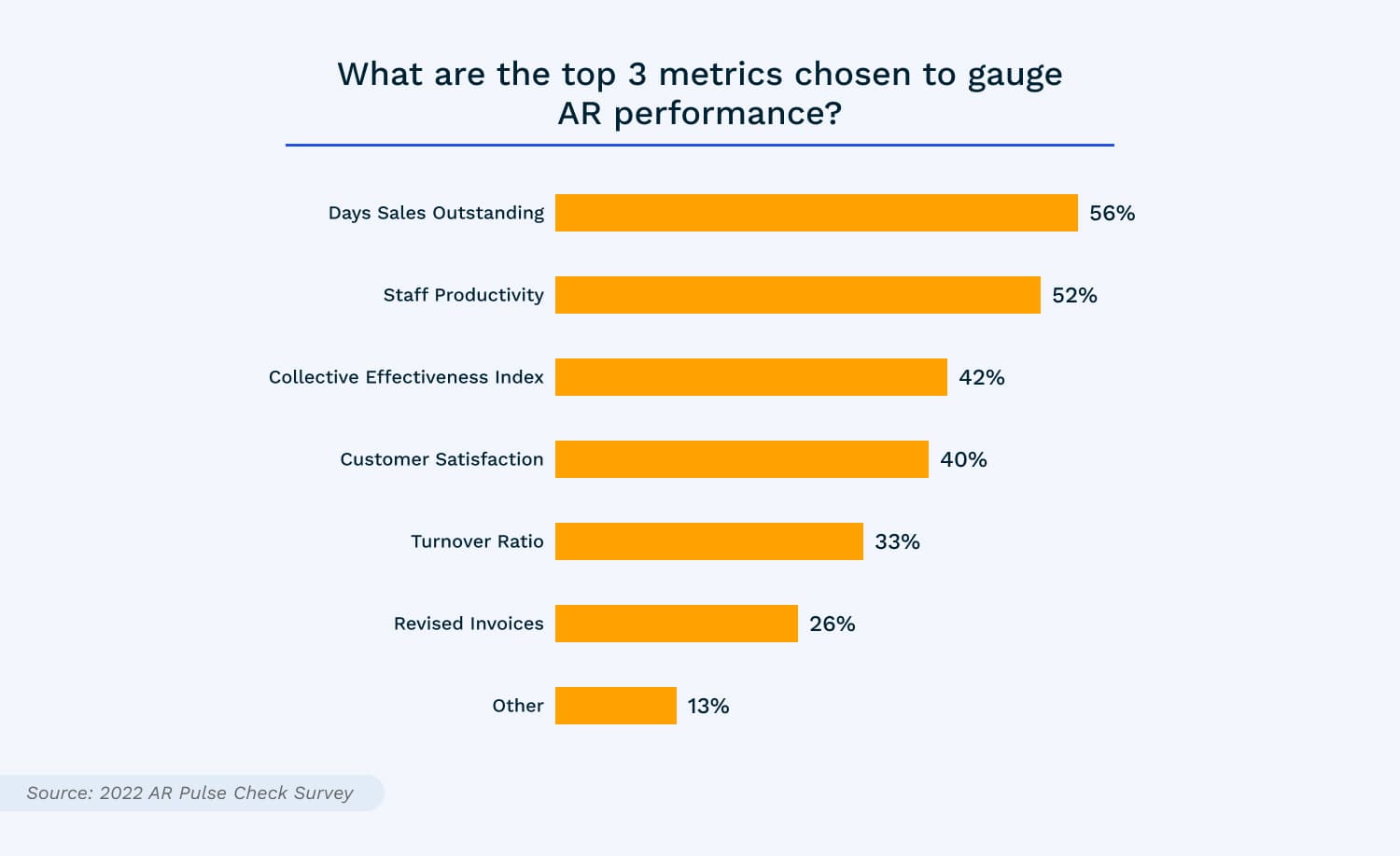 Responses show that AR teams see customer experience as an important priority, but still less so than efficiency metrics like days sales outstanding (DSO) or staff productivity. Collaborative AR ensures both aims can be achieved in tandem. Here's how this approach to accounts receivable solves for both efficiency and CX:
Collaborative AR and its impact on efficiency
Collaborative AR and its impact on customer experience
Note that none of the above features are mutually exclusive, and each plays an integral role in supporting the others.
—
The bottom line is this: through ensuring customers and AR teams have shared access to the same information, collaborative AR can support many of finance leaders' objectives. When AR teams work in tandem with their customers, opportunities are amplified by virtue of people, processes, and technologies all being aligned.
Accounts receivable has frequent touch points with customers, and prioritizing customer experience at those stages will not only delight customers, but ensure payments come in faster, generating greater, more sustainable revenue gains.
So, if you're looking to bring in 5.7 times more revenue than your competitors—and let's be honest with ourselves, who isn't?—look to your accounts receivable department. It's made up of real people who are chomping at the bit to collaborate with customers—not stuff envelopes.
Download Collaborative Accounts Receivable: How the AR Pulse Check Survey Reveals an Urgent Need for Instant Customer Engagement and see for yourself why a collaborative approach to AR is integral to helping AR teams work more efficiently with customers throughout the entire invoice and payment lifecycle.

About the SSON 2022 AR Pulse Check Survey
103 Shared Services and Outsourcing (SSO), Global Business Services (GBS), and Finance leaders comprised SSON's 2022 AR Pulse Check Survey.
The Shared Services & Outsourcing Network (SSON) is the largest and most established community of shared services and outsourcing professionals in the world, with over 170,000 members. Established in 1999, SSON recognized the revolution in support services as it was happening and realized that a forum was needed through which practitioners could connect with each other on a regional and global basis.
About the author

Jordan Zenko
Jordan Zenko is the Senior Content Marketing Manager at Versapay. A self-proclaimed storyteller, he authors in-depth content that educates and inspires accounts receivable and finance professionals on ways to transform their businesses. Jordan's leap to fintech comes after 5 years in business intelligence and data analytics.
Customer Collaboration and Experience
See how true collaboration in AR creates better results for both you and your customers.