How eBilling Saves Time and Gets You Paid Faster
In this article, we explore:
What electronic billing is
How it works, and
The numerous benefits of eBilling for businesses
We'll also share several examples of eBills and show you what to look for when choosing an eBilling provider.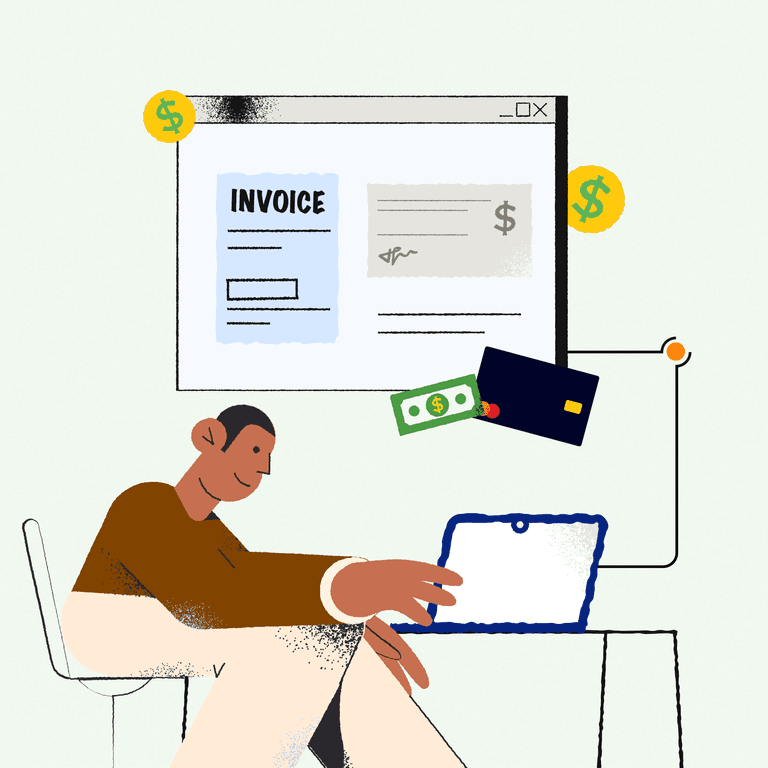 Many businesses still use manual billing and invoicing processes that are time-consuming, error prone, and expensive. While switching from paper-based methods to a digital electronic billing or invoicing system (eBilling/eInvoicing) may seem daunting, the productivity and strategic benefits far outweigh any perceived difficulties.

An eBilling system is a solution that enables online invoicing and one-click payments. eBilling typically includes an accounts receivable (AR) automation platform for generating and/or distributing invoices, and a payment portal for customers to make digital payments.
While eBilling systems are suitable for any type of payment, they're particularly useful for those that are large, complex, or recurring. With an eBilling solution in place, businesses of all sizes can generate and deliver electronic invoices automatically, send payment reminders, keep better records of transactions and payment histories, and, most importantly, get paid faster.
Consider this: One Versapay client used our click-to-pay eInvoicing solution to reduce overdue accounts by 70%—from $800,000 to less than $200,000. Organization leaders were amazed at how automating the billing process and providing more payment options for customers accelerated their cash flow.
Jump to a section of interest:
In this article, you'll learn why sellers and customers both prefer eBilling, you'll see several examples of electronic invoices, and you'll learn what to look for when choosing an eBilling provider.
The benefits of eBilling
eBilling offers many benefits over manual methods that involve paper, printers, and postage. By automating everything from invoice generation to payment acceptance, you can achieve:
Greater accuracy: eBilling systems eliminate human error by integrating billing with your Enterprise Resource Planning (ERP) system or accounting software.


Greater visibility: Automatic invoice tracking enables more efficient follow-up and improves cash flow forecasting. Gain real-time visibility into payment details and trends, past-due and delinquent accounts, and individual invoice and customer data so you can make more informed decisions.


Faster payments: eBills make it easier for customers to pay you with a single click. With an ERP integration, your AR team can capture and apply payments automatically, and instantly post them back to your ERP.


Better customer experiences: Customer experience is a key factor in securing payments. The convenience and professionalism of eBilling solutions give your customers a choice of invoice delivery and payment options—including the ability to make auto-payments using stored payment methods. Receiving personalized invoices and documentation (and having that payment flexibility) through a collaborative AR solution, for instance, gives your customers more confidence in the collections process.


Lower costs: Automated invoicing reduces costs while freeing up your AR team to work on more productive activities, such as analyzing customer payment trends and developing strategies to improve collections. eBilling also eliminates costs associated with printing, mailing, waiting for checks, and getting them to the bank. eBilling systems can scale as your needs change and some solutions can even automate the creation and delivery of paper invoices—if you still have a need for them or aren't ready to fully automate your processes.


Less environmental impact: eBilling uses less energy than manual billing processes, making it an earth-friendly choice.
💡 Want more on the benefits of eBilling? Read the Executive's Guide to Electronic Invoicing.

Why do sellers prefer eBilling?
Sellers prefer eBilling because it's a modern solution that eliminates paper and improves productivity. For example, one Versapay eInvoicing client, a leading cybersecurity company, gained 50 hours each month that they now reallocate to high-impact work.

While there are innumerable benefits (beyond time-savings), the most significant include:
Improving the performance and efficiency of your AR team

Accelerating cash flow

Boosting customer experience

Helping your accounting team balance and reconcile accounts

Providing valuable insights on payments, payment histories, and past-due and delinquent accounts

Traditionally, sellers send bills through the mail—email is common, too, yet nearly as tedious. The process of entering data, printing invoices, stuffing envelopes, and waiting for payment is labor-intensive, inefficient, and disorganized.

Electronic billing makes it easier to get your invoices to your customers—and for them to pay you faster through expedited approvals and one-click payments. And with a collaborative accounts receivable solution—one that hosts invoices and supporting documentation in the cloud where it's accessible 24/7—customers gain easy access to all the documents they need, significantly reducing late payments and disputes over incorrect invoice amounts.
And because eBilling systems integrate with your ERP or accounting system, you're much more likely to keep a well-organized system of record (SOR).

Why do customers prefer eBilling?
Customers like eBilling systems for the convenience, accuracy, and professionalism they provide. eBills are modern and dynamic. They can be delivered in a way that best suits each customer's needs, such as through a payment portal, in an email, or via machine-readable data formats like electronic data interchange (EDI).
Portals are particularly appealing because they give customers easy access to bills and associated documents. When invoices enter their accounts payable system more quickly—and all pertinent information is up to date and readily available—customers enjoy a simplified payment experience and are more likely to pay faster, leaving you with fewer outstanding invoices and more predictable cash flow.
How does eBilling work?
Here are the basic steps an eBilling system takes to accelerate cash flow and boost your accounts receivable teams' efficiency:
Generate invoice: An electronic invoice is generated using data from your ERP system and your accounts receivable (AR) automation solution.

Deliver invoice: Your AR solution delivers the invoice to your customer via email, online portal, or other digital means.

Send payment reminders: Automated texts, emails, and other notifications keep your invoice top of mind and reduce the likelihood of a late payment.

Receive payment: Your customer pays you by credit card or ACH directly from the eBill they receive and the money is deposited into your bank account automatically.

Reconcile accounts: After you receive a payment through the AR automation platform, the system reconciles accounts and flags any discrepancies.
Record transaction: The transaction is automatically posted back to your ERP.
What does an eBill look like?
An eBill is a digital invoice, usually in PDF format, that looks just like a paper invoice. Unlike paper bills, eBills may include a "Pay Now" button that makes it easy for customers to pay online via credit card or ACH.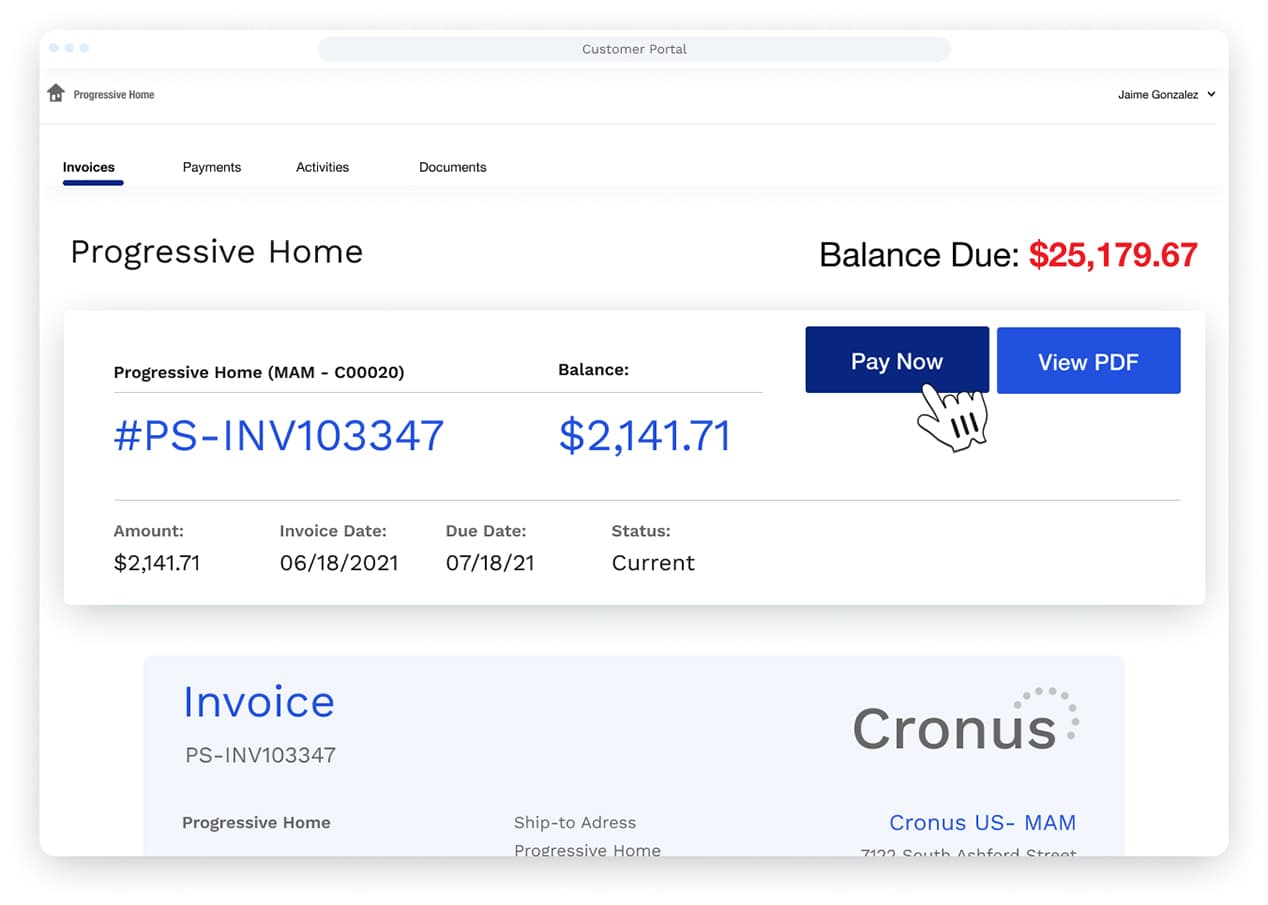 What's great about eBilling is that you can easily customize your invoices to further boost the customer experience, accelerate cash flow, optimize invoice delivery, reduce errors, and mitigate customer disputes. Here are two examples of custom invoices you could create using Versapay—notice these include custom fields like PO#, sales codes, Serial# and U/M: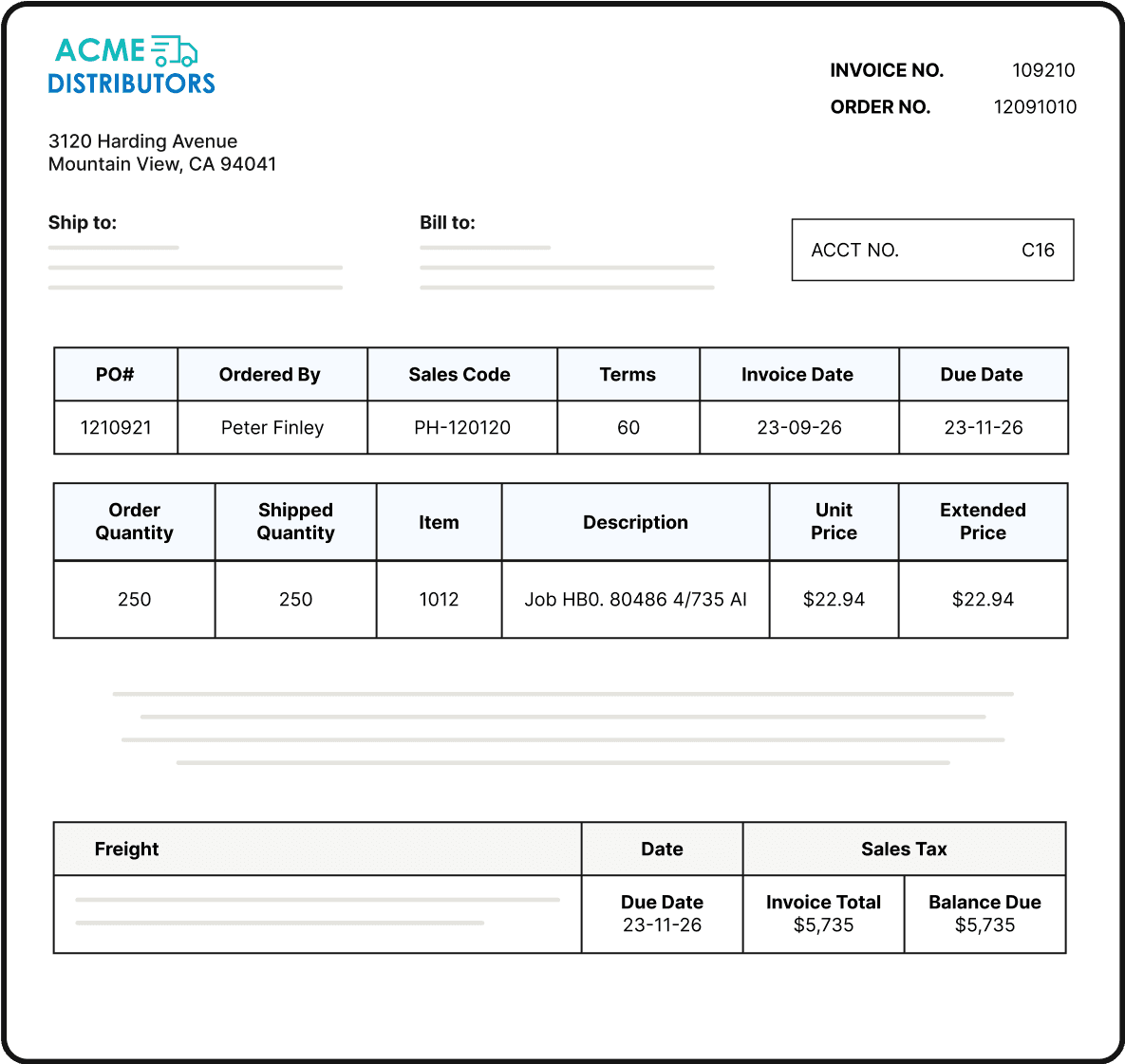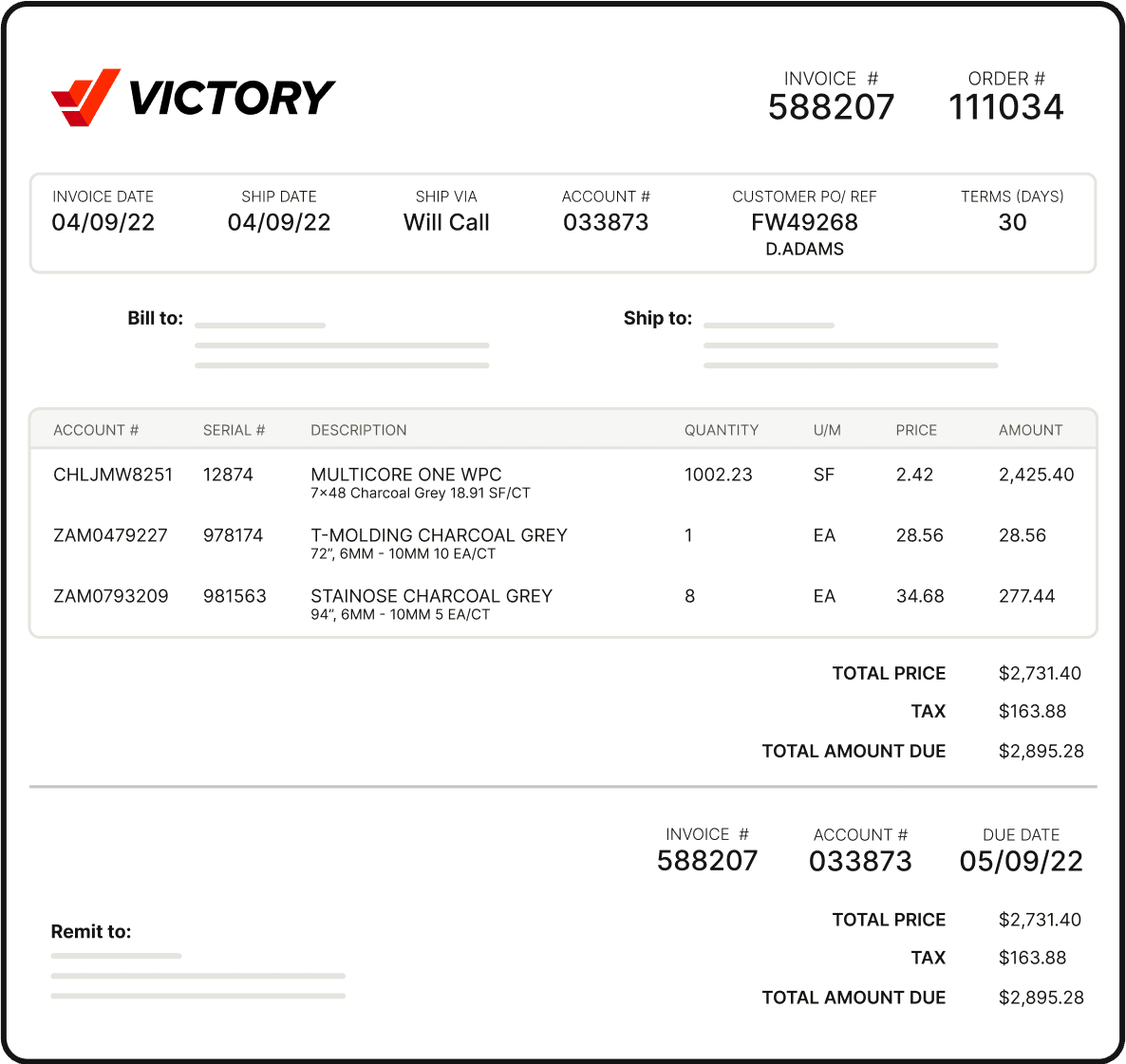 What to look for in an eBilling system
AR professionals have many eBilling and eInvoicing systems to choose from. Here are four key things to look for:
Ease of use—Some eBilling systems are easier to use than others. Choose a solution with an intuitive interface and templates for producing professional invoices fast.

Integration capabilities—eBilling systems that integrate with your accounting or ERP software provide greater insights and consolidated reporting, while eliminating the need for error-prone manual data entry. Look for solutions that can be implemented quickly.

Scalability—Make sure the solution you choose can accommodate rapid growth. The cybersecurity client we mentioned earlier, for example, credits digital payments with increasing company revenues by 300%.

Value—Shopping by price alone may not give you all the eBilling features your business requires. Be sure to analyze what you're getting for the money before you choose any solution.
At a more tactical level, use the checklist below to assist your research into different eBilling solutions: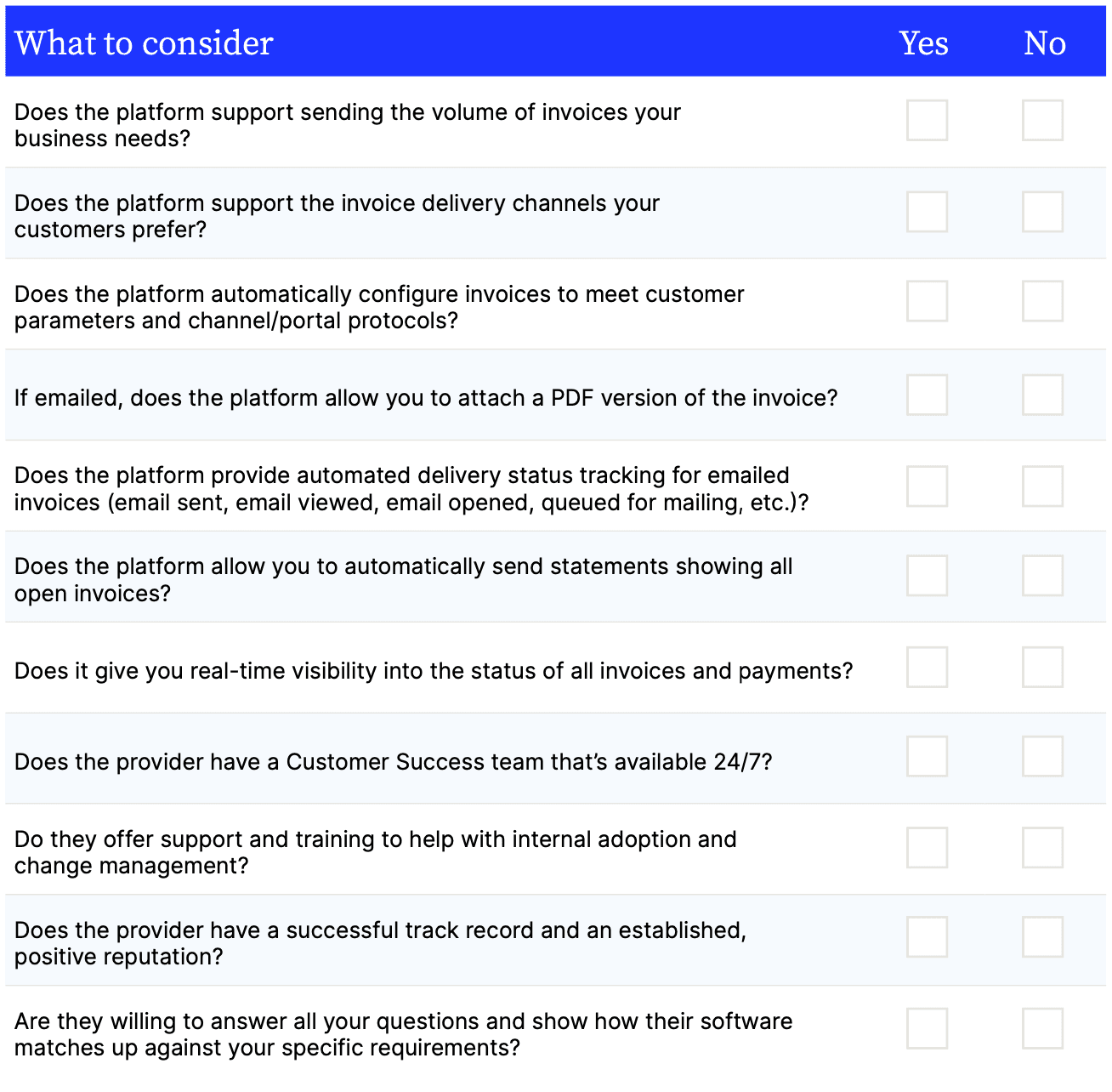 Get started with eBilling today
eBilling makes invoicing and payments much easier for sellers and buyers alike. While your cash flow improves, your customers will appreciate the extra levels of convenience and professionalism they receive with eBills.
Versapay's world-class, omni-channel invoicing system can lower your costs, drive digital invoice acceptance, and help you capture more payments more quickly. Request a demo today and see how easy it can be to integrate with your ERP and get your business on a path to greater productivity and growth through digital payments.

Not ready for a demonstration right now? No sweat! Check out our Executive's Guide to Electronic Invoicing in the meantime:
Other eBilling FAQs
Who sets the standards for electronic billing and coding?
The National Electronic Payments Association (NACHA) determines how electronic bills can be generated and transmitted. Standard formats for exporting files include electronic data interchange (EDI), extensible markup language (XML), or comma-separated values (CSV). NACHA also establishes and enforces rules for ACH payments in the U.S.

Are there any downsides to eBilling?
Switching from paper-based systems to an electronic system can be complex, but once you make the switch you'll be glad you did. Once you have an eBilling system in place, you may have to ensure that emailed eBills aren't filtered out as junk, but that can be addressed easily by explaining your new system to your customers in advance.

What kind of businesses use eBilling systems?
eBilling systems are used by small, medium, and large businesses across industries to reduce paperwork and administrative costs. eBilling systems are also deployed by government agencies and nonprofit organizations.

About the author

Jordan Zenko
Jordan Zenko is the Senior Content Marketing Manager at Versapay. A self-proclaimed storyteller, he authors in-depth content that educates and inspires accounts receivable and finance professionals on ways to transform their businesses. Jordan's leap to fintech comes after 5 years in business intelligence and data analytics.
Invoicing and Billing
Tips for creating and tracking invoices so you can get paid on time with less work.