The 5 Benefits of AR Automation
Learn the many benefits of AR automation and how it can help businesses overcome the impact poor invoicing and collections practices have on cash flow and CX.
We'll cover:
What AR automation is
The benefits of AR automation
How to choose the right AR automation solution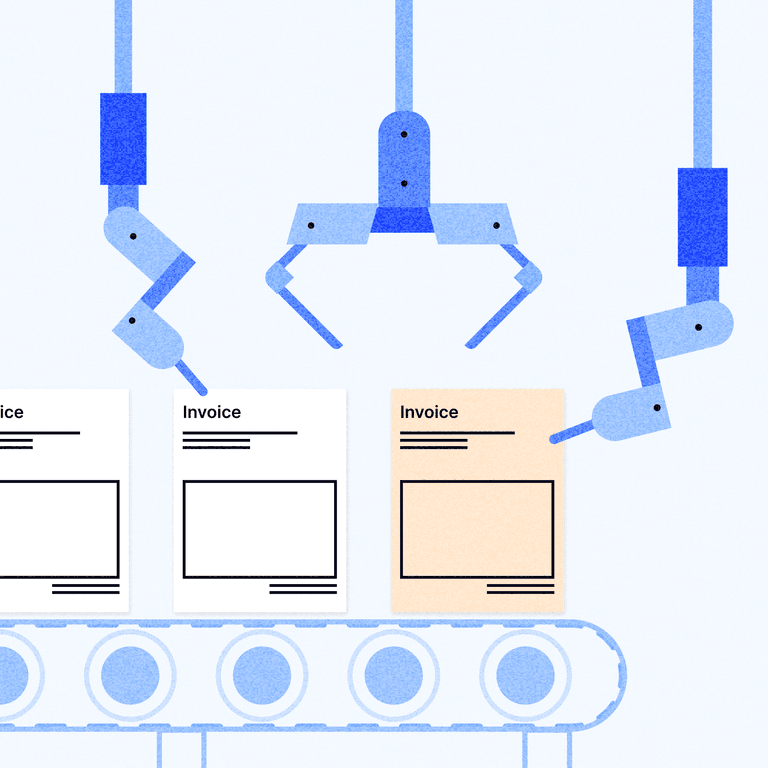 The invoicing process impacts the entire accounts receivable team—and the financial org. Effectively managing AR is crucial for productive business accounting, and yet a recent Wakefield-Versapay study found that 77% of AR teams face delays with invoice processing.
Nearly all delays trace back to poor invoicing practices that result from operational miscues and inadequate technologies.

An organization's financial success depends on its ability to consistently and efficiently manage the AR lifecycle. Automating invoice generation, payment processing, collections, and reconciliation can foster healthy cash flow, positive customer relationships, and financial stability.
However, automating existing processes without addressing underlying issues can lead to missed opportunities for optimization. Simply automating broken processes may lead to marginal improvements but will not deliver substantial enhancements in efficiency or effectiveness.
This article will investigate the benefits of AR automation and discuss how it can help businesses overcome the invoicing delays that ripple throughout the financial org.
Jump to a section of interest:
What is AR automation?
AR automation eliminates or sharply reduces human intervention in various accounts receivable processes such as invoice generation and delivery, accepting and processing payments, and reconciling payments to invoices. Overall, it enhances the efficiency and accuracy of the invoicing process.
AR automation software also helps:
Streamline financial reporting.

Enhance collections activities, cash application, and dispute management.
Having software automatically perform manual work significantly reduces human errors in managing the accounts receivable workflow.
Manual AR processes are inherently error-prone. Common errors include incorrect invoices, miscommunication with AR clients, inadequate payment follow-up, and the misapplication of payments to incorrect invoices. The result? AR teams inadvertently waste time, cause financial losses, and put customer relationships at risk.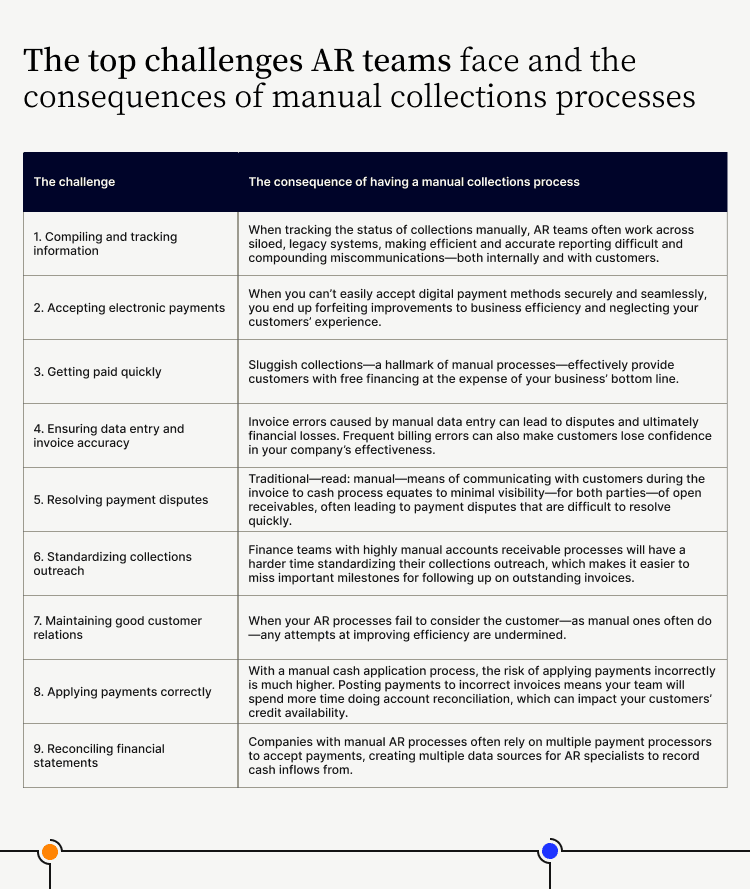 —
🎙️ Hear from Versapay's Chief Commercial Officer, Nancy Sansom, on why B2B commerce is lagging behind its B2C counterparts, why the complexities and challenges of B2B accounts receivable are compounded by manual processes, the value of collaboration, how digitization and a front-office mentality can elevate accounts receivable, AR's influence on customer experience, and more!
Benefits of accounts receivable automation
Automating accounts receivable processes result in at least five major workflow benefits:

Reduce manual labor.

Accelerate cash flow.

Simplify and accelerate the collections process.

Improve customer experience.

Generate valuable customer analytics and insights.
Here's how automating AR can bring about all these benefits.

1. Reduce manual labor
Manual accounts receivable is a time-consuming and error-prone process that significantly slows your cash flow. Automating the process of issuing, delivering, and tracking invoices minimizes errors, ensures accuracy, verifies delivery, cuts costs, and accelerates payment. It also has the added benefit of saving your AR team a lot of time.
Automating invoice creation also provides real-time visibility into the invoicing process. Finance teams can track the status of invoices, monitor payment timelines, and generate reports to analyze invoice-related data.
As for cash application, an automated system can quickly match payments to open invoices, optimizing straight-through processing and improving efficiency. By automating this process, AR streamlines the payment reconciliation process and minimizes the need for manual intervention.
AR automation software that uses Optical Character Recognition (OCR) can import data from physical checks and lockbox files, harvest remittance data from AP portals and emails, and perform accurate matching of buyer and supplier codes. OCR provides rule-based exception handling and various other functionalities, expediting the cash application process and allowing full-time employees to focus on other essential tasks.
According to Forrester's Total Economic Impact of Versapay, AR users that implemented Versapay's collaborative AR automation solution were able to save an impressive 35,000 administrative hours each year. By streamlining invoice generation and payment processing and reconciliation, AR automation software alleviates the administrative burden on AR professionals and can help them transform team productivity and efficiency.
2. Accelerate cash flow
By embracing AR automation, businesses can revolutionize their payment processes, empowering customers to pay faster with convenient payment methods. Days-long manual invoice processing can become instant with electronic invoices.
By minimizing errors, AR automation software significantly reduces the need for time-consuming reconciliations, resulting in a streamlined approach that facilitates faster payment processing and accelerates cash flow.
AR automation software allows clients to directly contact your AR team with questions, concerns, or issues. Communicating directly with the AR team can speed up dispute resolution, leading to faster payment turnaround and accelerated cash flow.

3. Simplify and accelerate the collections process
Manual collections processes are known for being laborious, challenging, and costly, particularly in terms of time investment. Automating the process can lower Days Sales Outstanding (DSO) through automated payment reminders, enhanced payment visibility, and efficient dispute resolution. The result is prompt payments and shorter cash conversion cycles.
For example, an AR automation platform helps your AR team contact your customers in real-time to manage disputes and answer questions as they arise. Instead of reactively nudging their customers about delinquent payments, they can communicate proactively before a payment becomes delinquent.
Teams also gain valuable, actionable insights into which customers require immediate attention, letting the software handle the rest. Consequently, the AR team can prioritize their collection efforts and handle exceptional cases more thoroughly.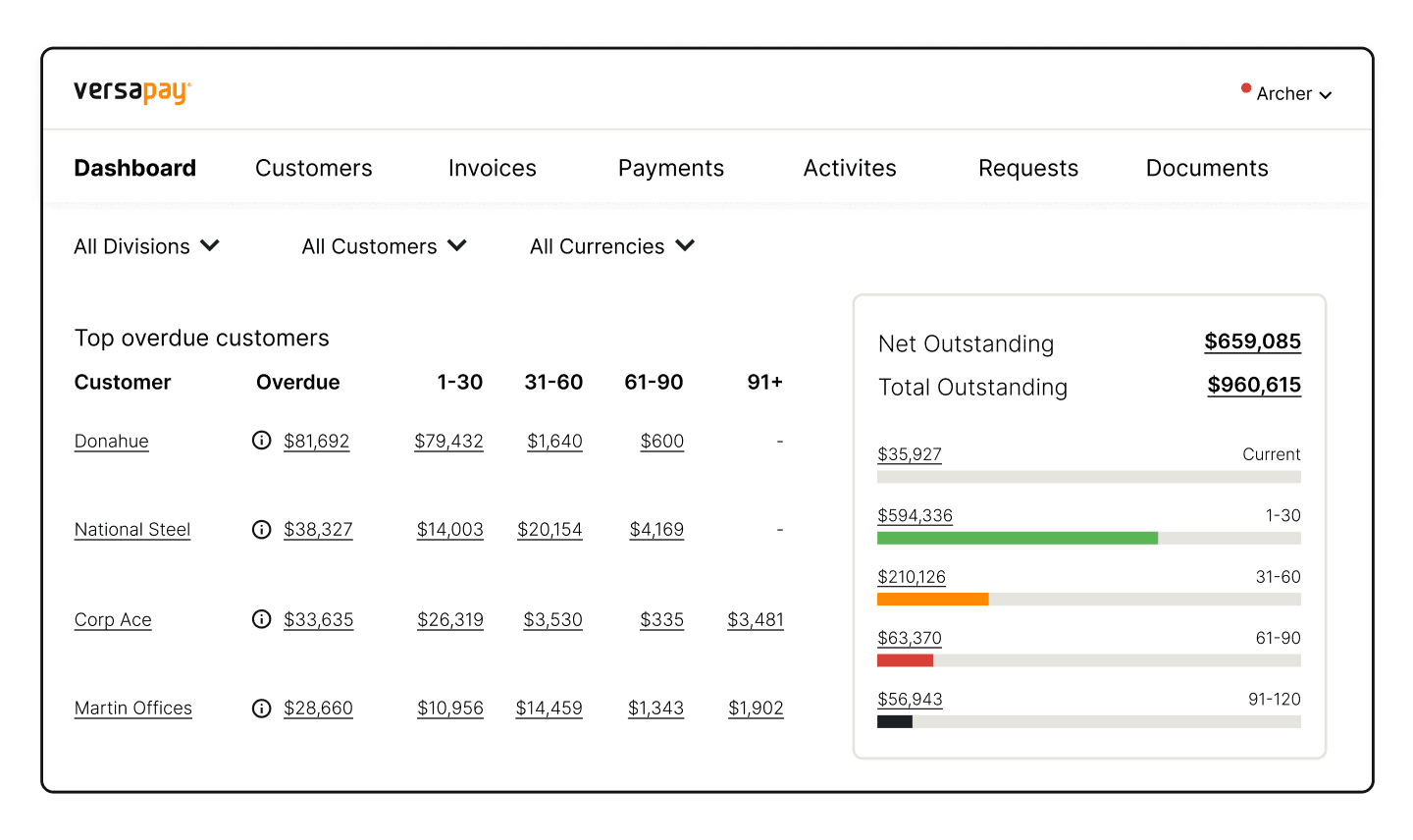 Automation can also improve dunning management with systematic and timely follow-ups on overdue payments, which reduces the reliance on manual collection efforts and optimizes the overall collections workflow.
Implementing automation also eliminates time-consuming collections calls. Automated communications and reminders allow businesses to engage customers and encourage payment without making individual phone calls.
Finally, AR automation reduces operational costs while expediting collections. Automating tasks like invoice generation, payment reminders, and collections follow-ups helps businesses prevent a backlog of bad debt and reduce delinquency rates. According to the Forrester study, businesses can benefit from annual savings of $4.9 million in consumer bad debt by leveraging automated AR software.
4. Improve customer experience
Automation does not infer a less human experience; it actually frees up your team to provide a better customer experience. Automation extends the value your human AR professionals can provide while offering the better digital options your customers are looking for.
According to a recent report by Versapay and Wakefield Research, an overwhelming 97% of C-level executives acknowledge that customer experience is a critical component of their accounts receivable process. And AR automation can deliver big on customer experience.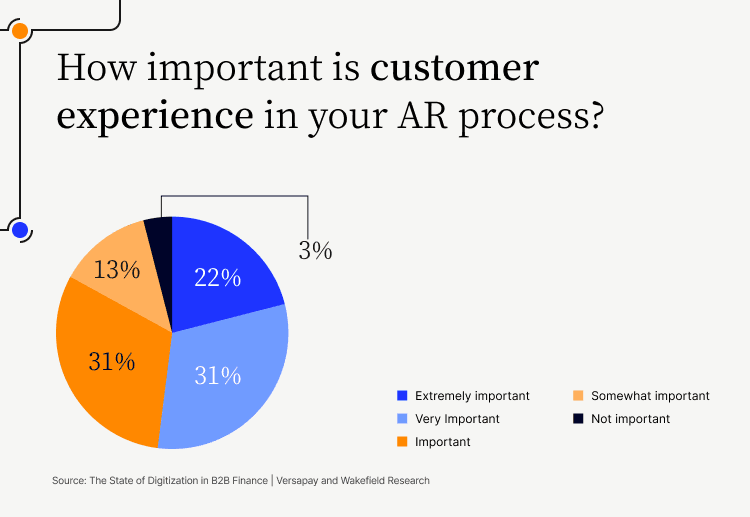 Automation provides customers with the flexibility to receive invoices in the manner they prefer. Whether it's through email, online portals, or other electronic channels, automation delivers invoices in a timely and convenient manner.
Additionally, AR automation offers customers seamless payment options that cater to their preferences. Customers can conveniently pay through ACH, credit card, third-party AP portal integrations, or any preferred method. This simplifies invoice posting and eliminates the requirement for customers to manually submit invoices.
Implementing top-notch AR automation software improves collaboration and communication between AR teams and their customers' AP teams. Streamlined interactions expedite dispute resolution and ensure relevant account and invoice documents are always available. Ultimately, AR automation software bridges the AR disconnect, resulting in a better overall customer experience.

5. Gain valuable customer analytics and insights
Automated AR software enables businesses to obtain better and faster reporting into AR metrics such as DSO, ADP (Average Days Payable), and other relevant trends. In addition, automated AR software provides the capability to filter AR reporting by customer, even down to company division level, facilitating insight into payment behavior patterns.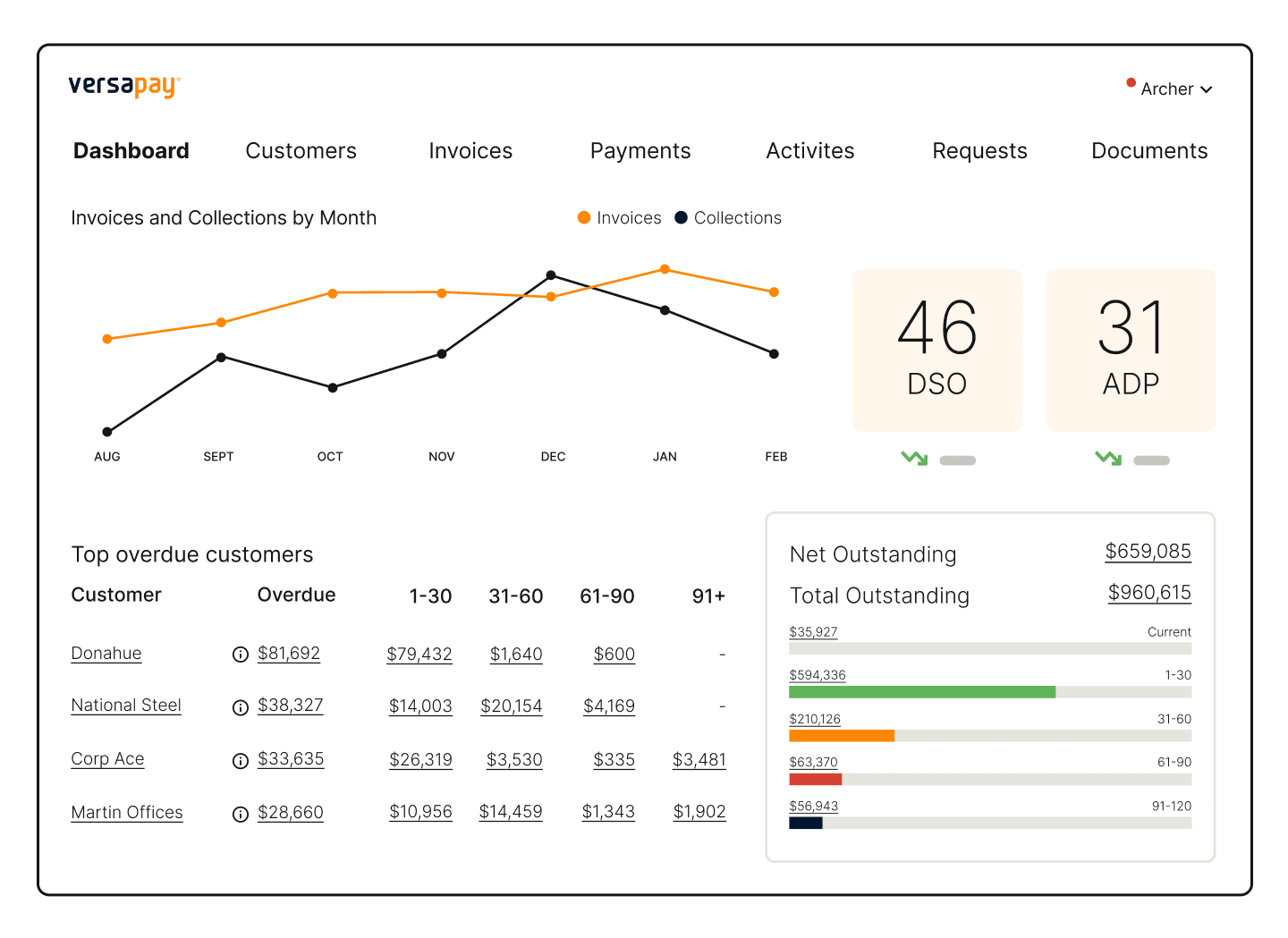 Businesses can leverage AR automation software to effortlessly export data and easily integrate with corporate reporting systems. Additionally, they can expedite the preparation and analysis of aging reports to identify slow-paying customers and optimize collections efforts. Regularly automating aging reports provides valuable insights into how long invoices have remained outstanding.
Finally, AR automation enhances cash flow forecasting by providing accurate and up-to-date information on invoicing, payment statuses, and outstanding balances. Businesses can leverage this data to make informed decisions to effectively manage cash flow and improve financial planning.

How to choose the right AR automation solution
Selecting the appropriate AR automation solution necessitates evaluating your current and future AR requirements. Take our AR Transformation Roadmap assessment to learn exactly where you are in your digital AR journey, how you stack up against peers, and how to set your AR team up for success.
Be sure to define the key performance indicators (KPIs) you will use to measure the automation's success, identify potential cultural impacts, and assess how the solution will enhance the overall customer experience.
Lastly, check out our in-depth guide for how to choose accounts receivable automation. This guide offers valuable information and guidance to help businesses make informed decisions and choose the most suitable software solution for their specific needs.

About the author
Ben Snedeker
AR Management
The learnings you need to manage AR efficiently, effectively, and with way less work.