How Collaborative Dispute Management Gets AR Teams Paid Faster
55% of AR professionals say managing disputes is their most difficult task. A collaborative approach to dispute management can make the process easier and help you capture more revenue, more quickly.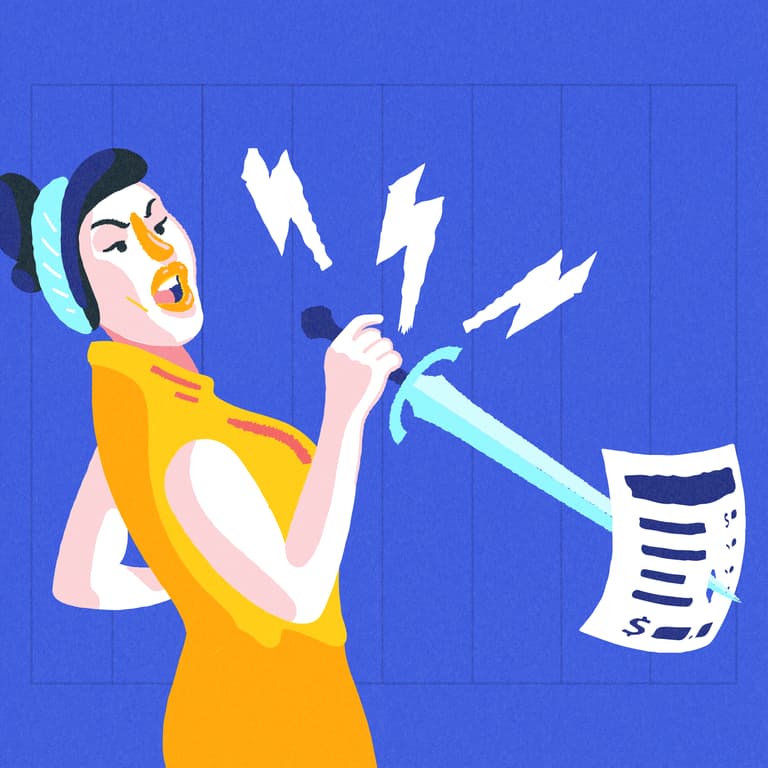 SSON and Versapay's 2022 AR Pulse Check survey revealed that 84% of business and finance leaders consider customer experience to be an important part of accounts receivable (AR).
And yet, 35% report that the biggest challenge inhibiting their collections processes is difficulty communicating with customers.
In short, organizations recognize AR's contribution to overall customer experience but have a clear blind spot in how that translates to the way they communicate with their customers.
Nowhere is effective communication between AR and customers more important than in the dispute resolution process. Dispute management is your team's prime opportunity to deliver great customer experiences and directly combat communication breakdowns that so often result in slow collections and late payments.
In this blog, we'll discuss:
What is dispute management in AR?
Dispute management in accounts receivable is a set of processes that define how AR attends to customer needs when they raise issues on an invoice. Poor dispute handling impacts your ability to collect open receivables, slowing down your company's cash flow and adversely influencing customer sentiment.
Managing disputes is not something AR specialists are always comfortable with, especially when they don't have the necessary technology to support it and instead rely on manual processes.
A study revealed that 55% of AR professionals say managing disputes is their most difficult task.
This is largely due to manually resolving disputes giving AR little insight into the root causes of disputes. Customers will often make a short payment or hold off on paying an invoice and your team will have no idea why. Lengthy and cumbersome back and forth exchanges–either by phone or email–will leave customers frustrated and delay payment even further.
High quality dispute handling helps you free up more cash for working capital and build stronger customer relationships.
Why an efficient AR dispute resolution process is important
Efficiently resolving disputes offers your company the following benefits:
Better customer experiences: Your customers will appreciate the care and attention you give them to resolve issues quickly. This boosts repeat purchases, heightens customer life-time value, and builds greater brand affinity.
Less manual labor in AR processes: An efficient resolution process frees up staff time to execute against greater value-added work, allowing your teammates to contribute in more strategic ways.
Better cash flow visibility: From short paid invoices to line item disputes, an optimized process for managing disputes will deliver a clearer picture of the status of your cash flow.
What is deduction management in AR?
A "deduction" in accounts receivable refers to an unpaid amount on an invoice caused by a customer raising a dispute.
No matter the type of dispute, the deduction amount remains the same. Deduction management is the set of processes AR executes to determine whether the claimed deduction is valid or not.
Deduction management and dispute management consist of similar steps. Teams prioritize claims, gather data, research the claim, and (hopefully) arrive at a resolution.
—
Managing disputes is a breeze when you have the right collaboration tools. Get an inside look at what it takes in this on-demand webinar packed with valuable insights.
What are the different types of disputes?
Not all disputes are the same. Here are four broad categories a dispute might fall under that your company could encounter.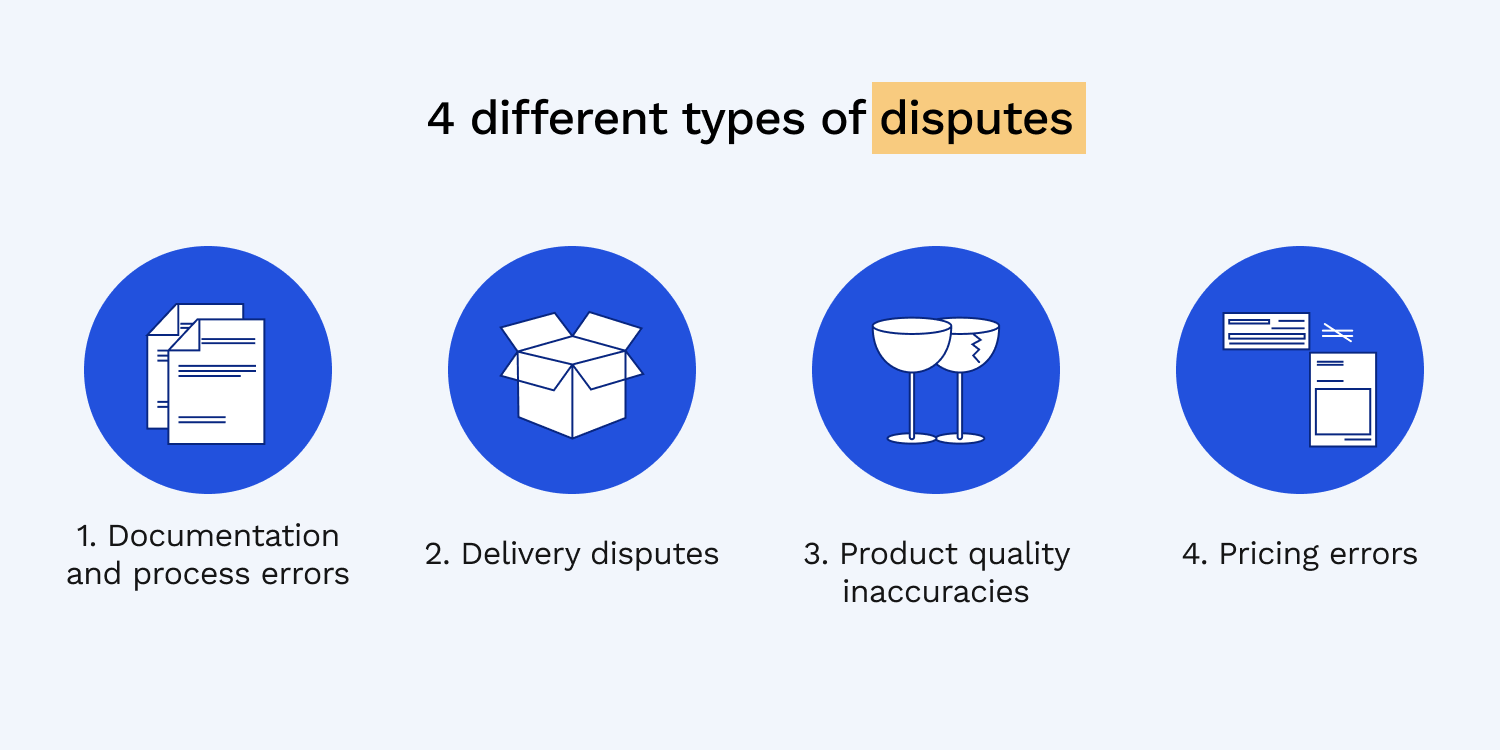 1. Documentation, process and billing errors
Examples of documentation and process errors include incorrect invoice amounts, addresses, or purchase order details, and missing documents. All of these contribute to invoice disputes in varying extents.
2. Delivery disputes
Delivery disputes happen when a supplier ships incorrect items to a customer or delivers services lesser–or significantly varying–in scope than originally agreed upon.
3. Product quality inaccuracies
Disputes can occur when the condition of a product a supplier has delivered does not match customer expectations. A prime example of this is when goods arrive damaged.
4. Pricing errors
When a supplier incorrectly charges a customer, this will often lead to a pricing dispute. For instance, your sales team might have offered the customer a discount but failed to communicate this to AR. Rightly so, the customer will raise a dispute over the higher than expected prices
The 5 steps in the AR dispute management process
Collaboration is the key to successful dispute management. When investigating disputed invoices and payment disputes, you want to avoid creating an adversarial situation that could damage your relationship with your customers (or lead to future disputes)
The five-step process we describe below is rooted in taking a collaborative—not adversarial—approach and building an enjoyable payment experience for customers.
Step 1: Prioritize the claim
The first step you must take is to log and prioritize disputes. Create criteria that will help you define the priority order of unresolved disputes.
Consider ordering priority by the time that has passed since the dispute was raised, the dollar amount under dispute, the importance of the customer relationship, and the dispute reason.
If you and your customers have access to a shared, cloud-based payment portal, you can have them provide a reason when they make a short payment dispute reasons from a preset menu linked to dispute codes. You can assign these codes different priorities, making it easy to create a task list as disputes arise.
Make sure you affix a dispute resolution deadline before moving to the next step. Communicating this deadline and the status of the dispute to your customer is essential.
Step 2: Research the dispute
This stage of the invoice dispute management process takes AR the longest to execute, especially if it's handled manually. AR specialists must review the information provided by the customer when they dispute invoices. They must also identify appropriate stakeholders and investigate the context of the dispute.
AR automation solutions can centralize all invoice-related documentation, offering your team instant insight into an issue. Customers and AR alike can also easily upload and reference documentation, eliminating the need to sift through endless email threads.
AR analysts staff can quickly retrieve bills of lading, invoices, purchase orders, and proof of delivery documents from a single, shared access point.
In some cases an AR team member might have to request more information from the customer to arrive at a conclusion, which can take a while when waiting for a response through email or over the phone.
Digital tools that allow AR to collaborate more seamlessly with customers with a single audit trail can significantly cut down on time spent fielding multiple communication channels.
Step 3: Recommend an action internally
Once the AR specialist has researched and determined the cause of the dispute, they will recommend whether the team should accept the dispute as valid or reject it. This step triggers another round of reviews and approvals that consume valuable time that could be otherwise spent modeling cash flow and studying payment trends. Higher-risk disputes usually need multi-level approvals too, and following up on them can be extra tedious.
Advising customers of the status of their dispute is also challenging when relying on manual processes. Customer payment portals can give customers visibility into the status and handling of their dispute, so they don't feel left in the dark.
Step 4: Communicate decision to customer
Not all disputes are valid. Some customers might raise a dispute by mistake, while others might be trying to delay payment. Whatever your decision, ensure you communicate with non-paying clients using the right strategies.
Remember to maintain a collaborative stance when communicating next steps. If the dispute is valid, your AR team will issue debit or credit memos or process a return. If a dispute is invalid, you must offer data-backed reasons for rejecting customer claims to claim full payment on the invoice.
Your customer will likely have follow-up questions, too. Make sure you address them using data-backed conclusions. Addressing those questions is easier if you're able to connect with your customers over-the-cloud. Addressing disputes and having conversations in real-time makes for a stellar customer experience.
Step 5: Update customer records
Once all parties have agreed on a result, you must log changes in your enterprise resource planning (ERP), accounting, and CRM systems. Change invoice details as necessary and update customer records for future reference. This step in managing disputes can be streamlined if your AR automation software is deeply integrated with your ERP.
You'll also want to run reports every month to track the efficiency of your dispute management processes. Some metrics you can track are:
Case frequency per dispute code
Dispute resolution time
Cash locked in disputes
Average percentage of invoices collected
Percentage changes in the above metrics
3 dispute management challenges AR faces
Dispute management is challenging for many AR teams. In fact, 99% of accounts receivable professionals confirmed that disputes contribute to late payments. Here are three common hurdles that AR deals with during this process.
1. Resolutions are time-intensive
Investigating disputes and receiving approvals takes time since every case is different. And what this often results in, is an average collection period of approximately 54 days. (And if your AR relies on manual processes, which many still do, you will likely exceed this period.)
A lack of automated processes complicates matters for AR. It increases the number of clerical tasks they have to perform, delaying resolution.
2. Unified data sources are lacking
Dispute investigations need data from multiple business units such as logistics, operations, and sales. Ideally, your team can draw from a centralized data repository to quickly commence research. AR, however, has to spend significant time gathering data in a single place before they can confidently assess the situation and deliver a recommendation.
Such work is tedious for highly-qualified AR professionals. What's more, the data they receive is often incomplete. As a result, communicating with customers is tough, and transparency is hard to achieve.
3. Standardized processes are non-existent
Companies standardize very few portions of the dispute management process. A lack of digital processes is to blame–and not having access to the automation tools that make standardization possible. You can standardize electronic processes with greater velocity and ease than you can manual ones, which will simplify dispute resolution for your teams.
For instance, you can centralize your data and automate case priority assignments. You can also automate approval workflows and create collaborative environments where your AR can collaborate and converse with customers in real-time via direct chat.
Neglecting such innovations will only have you waiting for money and paying for it.
Dispute management is an opportunity to enhance customer experience
AR and your adjacent finance department functions are central to creating great customer experiences. Ninety-five percent of respondents in Versapay and PYMNTS' The Strategic Role of the CFO report highlighted benefits to customers and vendors as the primary reason to digitize AR operations.

Dispute resolution places your AR team directly in touch with your customers. Many companies view disputes as an event where your customer is unhappy. Instead, view it as an opportunity to enhance their buying experience. Here are three examples of where you can turn disputes on their head, to deliver more enjoyable customer purchasing experiences:
1. Display empathy
Every customer loves it when a company understands their issues thoroughly and works hard to have them resolved quickly. Your AR team is more than a dispute solver. It is your resource–your golden opportunity–to understand pressing customer needs by demonstrating empathy.
The speed with which your AR team resolves issues will leave your customers with a lasting, positive impression–of both their payment experience and the company overall. As a result, they are more likely to return to you when they have pressing needs and require solutions. (And you're likely to enjoy higher retention and lower churn rates.)
2. Eliminate common pain points
Despite conducting extensive market research, products and services are not without their challenges–particularly, those experienced by customers, which are very difficult to predict in advance. Disputes offer you insight into your customers' minds by highlighting these issues.
Be sure to track trends in common complaints. You can gain insight into issues that plague your product, delivery, or payment processes. All these issues offer opportunities to enhance your customer's buying experience.
3. Offer greater visibility
Disputes offer you the chance to highlight how transparent your internal processes are. Transparency and visibility are essential elements of a great customer experience. A collaborative, self-service AR platform helps your customers open disputes and highlight issues directly on the invoice itself.
As a result, AR can centralize dispute-related data easily, communicate directly with your customers, and resolve issues quickly. One-to-one communication of this kind offers your AR team the opportunity to display empathy and communicate their thought process regarding issues.
By providing deep visibility for your customers into your resolution processes you'll in turn receive better insight into their issues.
The collaborative approach to AR dispute resolution
Traditional dispute resolution methods disengage your customers from your accounts receivable teams. That's not ideal. To transform your accounts receivable and transition it from a back-office function into one that's customer-facing, strategic, and integral to customer experience, you'll need to bridge that AR disconnect.
Disputes are best handled when AR collaborates with internal teams and customers. A digitized, automated dispute management process helps you store AR data in one place and initiate direct communication channels with your customers–thereby helping you build long-lasting relationships with them.
—
Curious about how you can automate your collections processes and resolve disputes using collaborative AR automation software? Learn more about Versapay's Intelligent Accounts Receivable solution here.
About the author

Vivek Shankar
Vivek Shankar is a content writer specializing in B2B fintech and technology. He is ambivalent about the Oxford comma and covers the institutional finance markets for industry trade publications. An avid traveler and storyteller, Vivek previously worked in the financial sector as a data analyst.
Dispute and Deduction Management
Learn how collaborative AR lets you track and resolve disputes faster.