5 Ways to Collect Payments Faster | Tips for Enterprise Sellers
Manual processes are the Achilles heel of accounts receivable. And the only thing you'll get from a dysfunctional collections process is a dented bottom line.
That's why in this blog, you'll learn 5 strategic ways you can collect payments faster so you can have more cash on hand and more satisfied customers.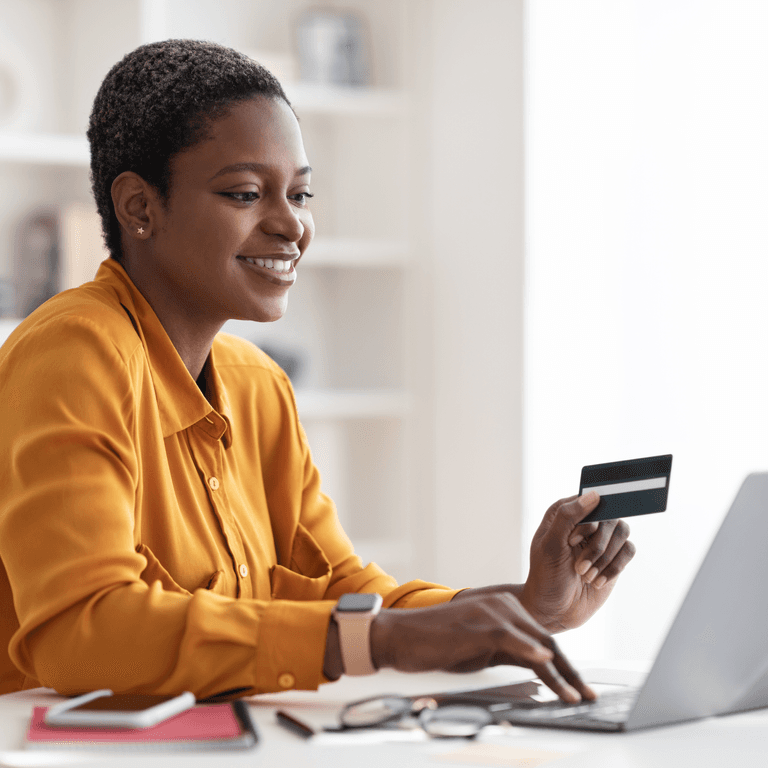 Accounts receivable (AR) teams have a challenging job, and the chronic aggravation of a sluggish payment process is one of the most difficult parts. Many AR teams are constantly behind on invoicing, which causes collections to slow down.

Alarmingly, 38% of CFOs report that their AR teams are weeks, months, or hopelessly behind, with 77% reporting they're delayed.

Meanwhile, company leadership feels the pain, too: 98% of C-level executives report feeling burdened by inefficient and problematic collections processes.

The ultimate impact of dysfunctional collections is a dented bottom line. When you collect payments slowly, it has the same impact as providing customers free financing. Needless to say, remedying this problem should be a priority because the ability to collect payments faster is a competitive advantage.

You'll reap more cash-on-hand, have better cash flow projections, and more satisfied customers.
Read on to learn why manual processes are the Achilles heel of accounts receivable and explore five ways to speed up payments collection.
Table of contents:
The big problem:

Manual accounts receivable management

Companies that collect payments slowly are typically suffering from poor invoicing procedures, which are almost always traditional, manual processes. Think paper invoicing and dunning letters, disjointed outreach efforts via phone and email, and disorganized and opaque documentation management.


A study by PYMNTS.com and American Express found that 49% of companies see manual processes as one of the most problematic aspects of their AR process. The same study found that AR teams using manual practices take 67% longer to collect payments on outstanding invoices than those that use automated AR tools. And according to a study by Versapay and SSON, 85% of finance leaders say they spend time manually matching payments with remittance information.


Slow payments have an outsized impact on mid-sized and larger companies, which are almost twice as likely as smaller companies to face slowdowns from inefficient AR processes due to the large volume of invoices they're handling.

5 strategic ways to collect payments faster
Everything has sped up in the digital age, and payment processes are no different. What used to take mailing a check can now be done with the click of a button as companies collect payments online. That's why so much of the operational transformation required to collect payments faster is about digitizing.

With that in mind, here are 5 ways you can collect payments faster (jump to a strategy of interest):

1.
Invoice electronically
💡 TLDR: Invoicing electronically makes it easy to encourage digital payment, which helps you collect payments faster.

—

A hallmark of traditional AR processes is reliance on sending paper invoices by mail to collect payments. This method of corresponding with customers is slow, labor-intensive, and expensive. The mechanics of it gobble up staff time, as AR teams must design, print, pack, and mail invoices, as well as reprint and re-mail invoices that contain errors.

Additionally, manual invoicing processes make it harder for customers to pay using digital B2B payment methods like credit cards and bank transfers. Even in a world dominated by technology, 91% of finance leaders say they still collect payments via check from their customers.

Invoices delivered by electronic means like email or via an accounts receivable payment portal, by contrast, can make it simple to collect payments online, with customers just needing a few clicks to make payments online.

2.
Collect payments online
💡 TLDR: Collecting payments digitally helps customers remit faster, reduces fraud and disputes, and makes for smoother processing.

—
Customers are used to paying digitally these days and are likely to be receptive if you make it easy to collect payment online. Despite the fact that almost all finance leaders still report getting payments made by check in the mail, 87% of them believe their buyers want to pay digitally more often.

Customers who pay online are likely to remit faster, too, helping accelerate payments and improve cash flow.

There are other benefits, too: Collecting payments online through a reputable payment processing service can reduce fraud and limit fraudulent chargebacks, which leads to fewer disputes, less administrative overhead, and smoother payment processing.

Collecting digital payments means enabling more than just credit card transactions: Payment processing software can enable payment via many channels, including ecommerce, POS, phone, card-not-present, and others.

3.
Use accounts receivable automation software
💡 TLDR: AR automation software digitizes and streamlines everything from creating invoices to reconciling payments.

—

Emailing invoices and collecting payments online might feel transformational—and both strategies will certainly help you collect payments faster—however, even these arrangements can come with their own inefficiencies.

After all, you may still be creating PDF invoices and reconciling incoming payments by hand. You may be facing unacceptably high levels of errors and disputes as a result. The answer is AR automation software, which digitizes and streamlines all parts of the collection process.

These solutions have numerous benefits, such as real-time tracking of invoice status, easy digital payment acceptance, backup documentation and transparent info-sharing, and automated payment reminders—to name a few—which all work in service of reducing days sales outstanding, streamlining dispute resolution, facilitating customer communications, and increasing cash flow.

With AR automation software, complete digitization of virtually all routine accounts receivable tasks—those processes that slow down your ability to collect payments—is achievable. And considering these solutions are likely to completely overhaul your AR function, it's important to choose AR automation software wisely.

4.
Prioritize customer experience
💡 TLDR: Enabling digital payments and engaging and collaborating directly with customers via AR automation software are key routes to building better customer relationships and delivering better payment experiences.

—

Your customer's invoicing and payment experience has a major impact on your ability to collect payments faster, since paying promptly is in part a function of whether the customer feels they have a positive relationship with you, their vendor.

Additionally, the ability for customers to receive invoices in their preferred format and over their preferred channels—and make payments using their preferred methods—is key to them having an exceptional collections experience.

This a big reason why 97% of finance leaders consider customer experience an important part of AR, and 72% of executives believe their AR departments aren't customer-oriented enough. When AR teams and customers miscommunicate or don't communicate effectively enough, the "AR Disconnect" arises. The consequences are real: Late payments, dissatisfied or lost customers, lowered productivity, and legal disputes, to name a few resulting issues.

Collecting payments online, communicating with customers via streamlined methods, maintaining documentation in an orderly way to increase transparency, and other aspects of a modernized AR process all help boost customer experience.

Many of these things are enabled by implementing a collaborative accounts receivable payment portal (see next), which 99% of CFOs say would improve overall customer experience more than a standard payment portal.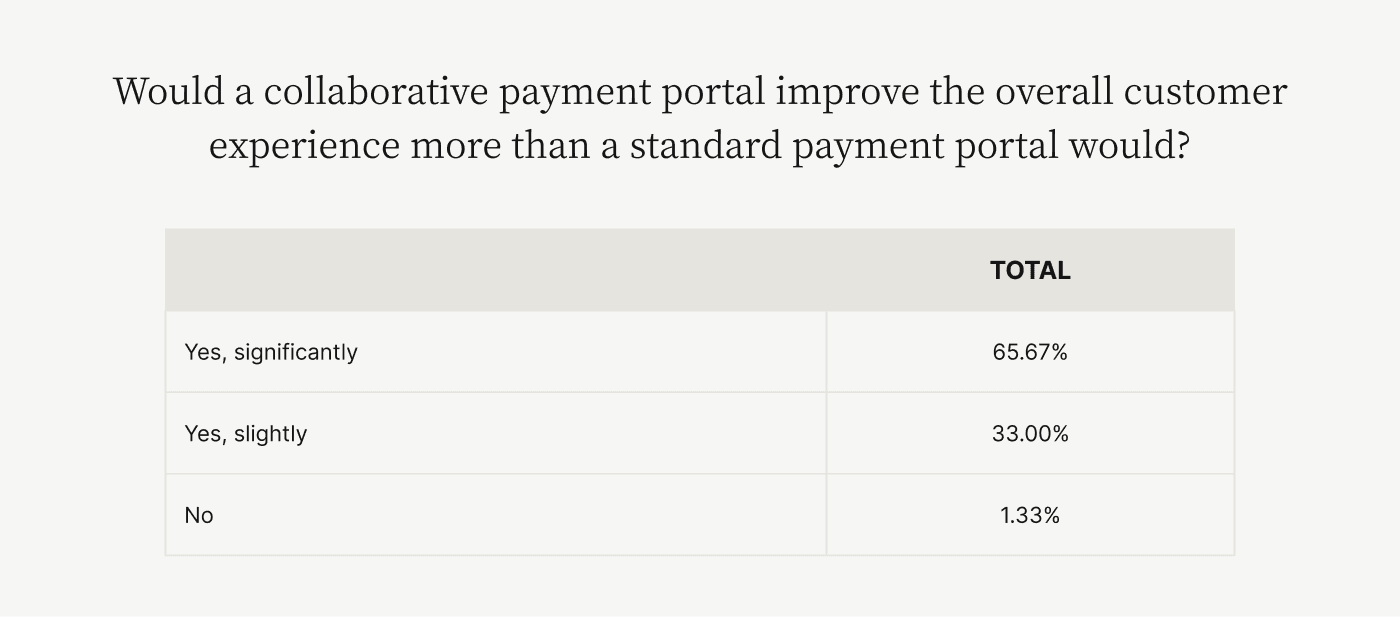 5.
Implement a collaborative accounts receivable payment portal
💡 TLDR: Collaborative accounts receivable payment portals put your entire AR process on one Cloud-based platform, with tremendous benefits to your business such as faster payments, higher customer satisfaction, and increased productivity.

—

The ultimate way to collect payments faster is to implement a collaborative AR payment portal, which enables digital payments and AR task automation while also increasing the ease and transparency of customer communication.

Customers can access and pay their invoices within the cloud-based portal, and payments made in the portal are automatically reconciled with open invoices. AR teams and customers can communicate and share data directly within the portal, vastly streamlining the back-and-forth that can occur around payments.

This communication benefit is extremely beneficial, considering that 78% of C-level executives report being plagued by challenges with customer communication in AR, and 27% of invoices on average are delayed by communication breakdowns.

Additionally, 96% of CFOs say their AR teams would be more productive if they could work more collaboratively with their customers' AP teams and their own internal teams.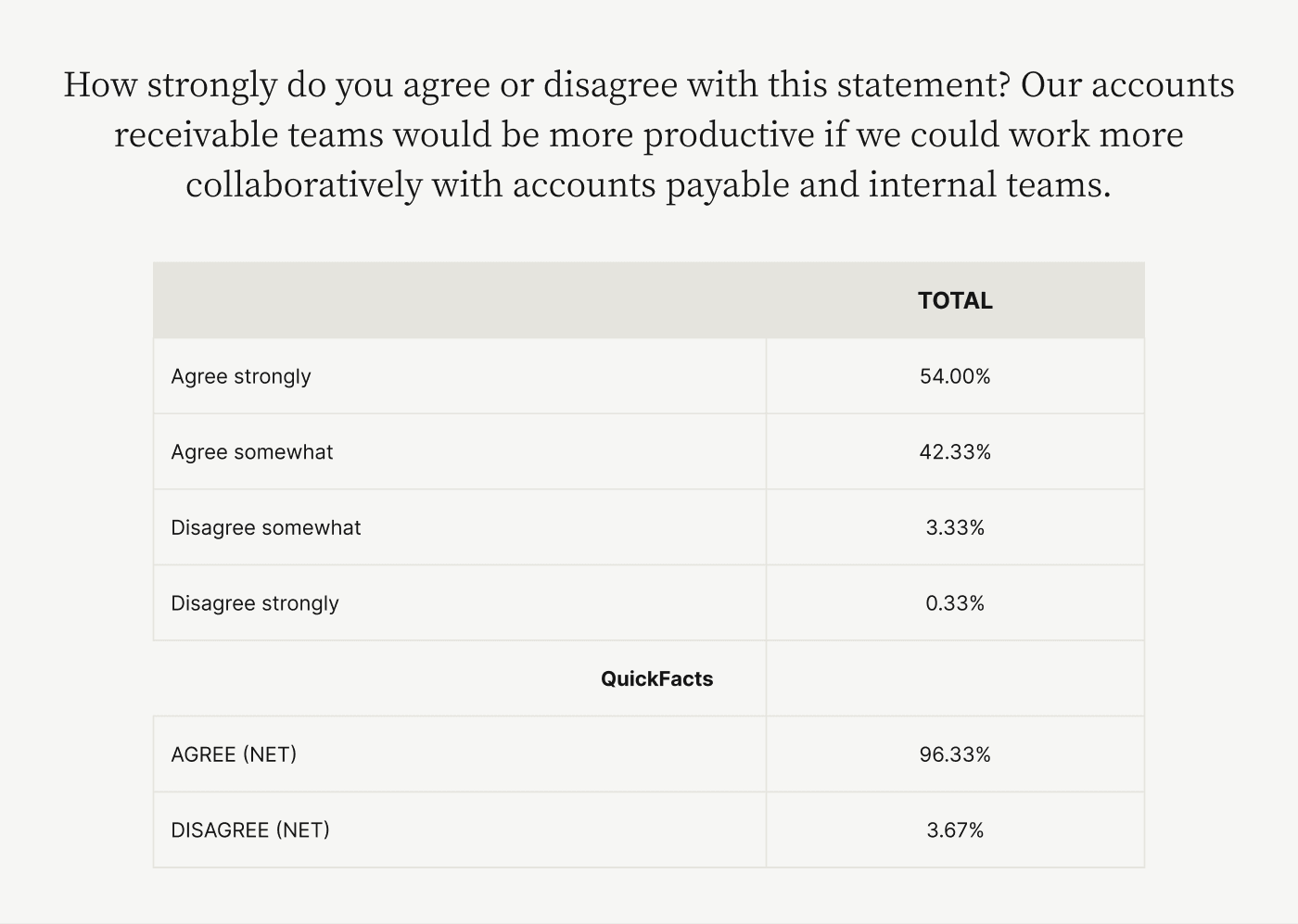 Collaborative accounts receivable payment portals enable all of this communication and collaboration, increasing productivity on every level.

By streamlining the entire AR process from invoicing to dispute resolution to payment acceptance, collaborative portals make it easy for customers to pay online, and for you to automate many AR functions to free up staff time, improve efficiency, and boost customer experience.

All of these improvements speed up collections and bolster cash flow.

When you collect payments faster, you boost your mood… and your bottom line

With many companies facing major headaches and payment slowdowns due to inefficient AR approaches, the time is now to rethink traditional, manual processes.

Some of the best things you can do to improve your operations is send invoices digitally and accept payments online. But better yet, put a collaborative AR portal in place to streamline the entire AR process from start to finish.

Not only do collaborative payment portals ensure you collect payments faster, they also ensure your AR team delivers an exceptional invoicing and payment experience. And happy customers paying faster will boost not only your mood, but also your bottom line.
Check out our guide on how to choose AR automation software to get started on your own journey to faster collections.

About the author

Katie Gustafson
Katherine Gustafson is a freelance writer specializing in content for mission-driven changemakers such as tech disruptors, visionary nonprofits, and big-thinking startups. She is the author of a book about innovation in sustainable food, and her writing has appeared in Slate, TechCrunch, Business Insider, and Forbes, among other places.
Collections
Tips, techniques, and practices to get paid what you're owed.