How To Match +90% of Payments With Cash Application Automation
In this blog, you'll discover:

Why traditional cash application processes are manual and inefficient

How digitization and electronic payment methods are exposing gaps in how businesses capture and reconcile payment data

How finance teams can leverage cash application automation software to perform more effective cash application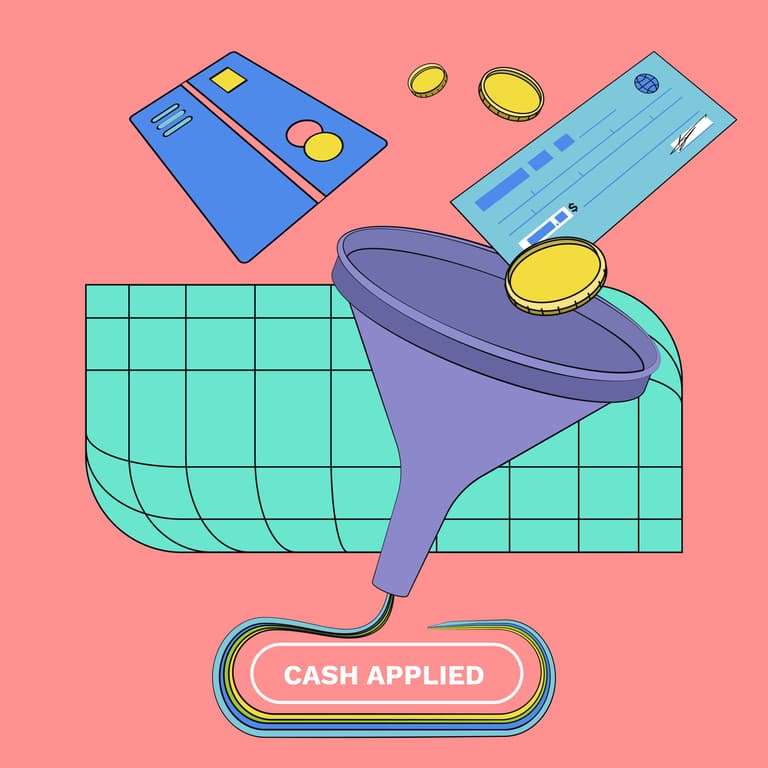 Tim Stahl, Senior Vice President of Sales at Versapay recently sat down with PYMNTS.com. They discussed how digitizing and automating the cash application process—a critical component of your accounts receivable (AR) operations—can allow you to match +90% of payments with open invoices. Without requiring human intervention.
During this conversation, Tim examines the process AR professionals go through to apply incoming payments with the correct customer accounts and invoices.
He also exposes the challenges and impacts of having inefficient cash application processes. We're then offered a unique perspective on how technological transformation, digitization, and larger B2B payment trends are affecting cash application. Tim then introduces us to the concept of cash application automation, explaining how finance teams can leverage AR automation software to perform cash application more accurately and efficiently.
In this blog, we explore and expand on Tim's key insights, delving into:

Listen to PYMNTS' podcast, Digitizing the Cash Application Process Reduces Supplier DSOs by 30%, Improves Cash Flow, to hear Tim Stahl speak more on this topic.
What do traditional cash application processes look like?
At its core, the cash application process involves taking incoming payments and matching them with the correct customer accounts and open receivables. When performed manually—traditional—cash application is time-consuming, inefficient, and prone to data entry errors. This is partly due to the way businesses receive payments and remittance information, and the current processes for matching these with open AR.
The manual cash application process is difficult and often frustrating. This is because when payments are deposited, the payment details (or remittances) are often received separately. In some cases, they arrive in illegible forms. In other cases, remittances are never sent. Up until recently, companies were stuck spending countless human hours resolving case after case.
Before the boom in digital payments, manual reconciliation was feasible because the list of used payment methods was small. And most businesses transacted with other businesses in a similar fashion. Traditionally, a supplier or merchant would generate a physical, paper invoice that they'd send their customer in the mail. The customer in return would send payment in the form of a check.
In this scenario, the check played the part of both payment and remittance. It detailed an itemized list of what the payment was for.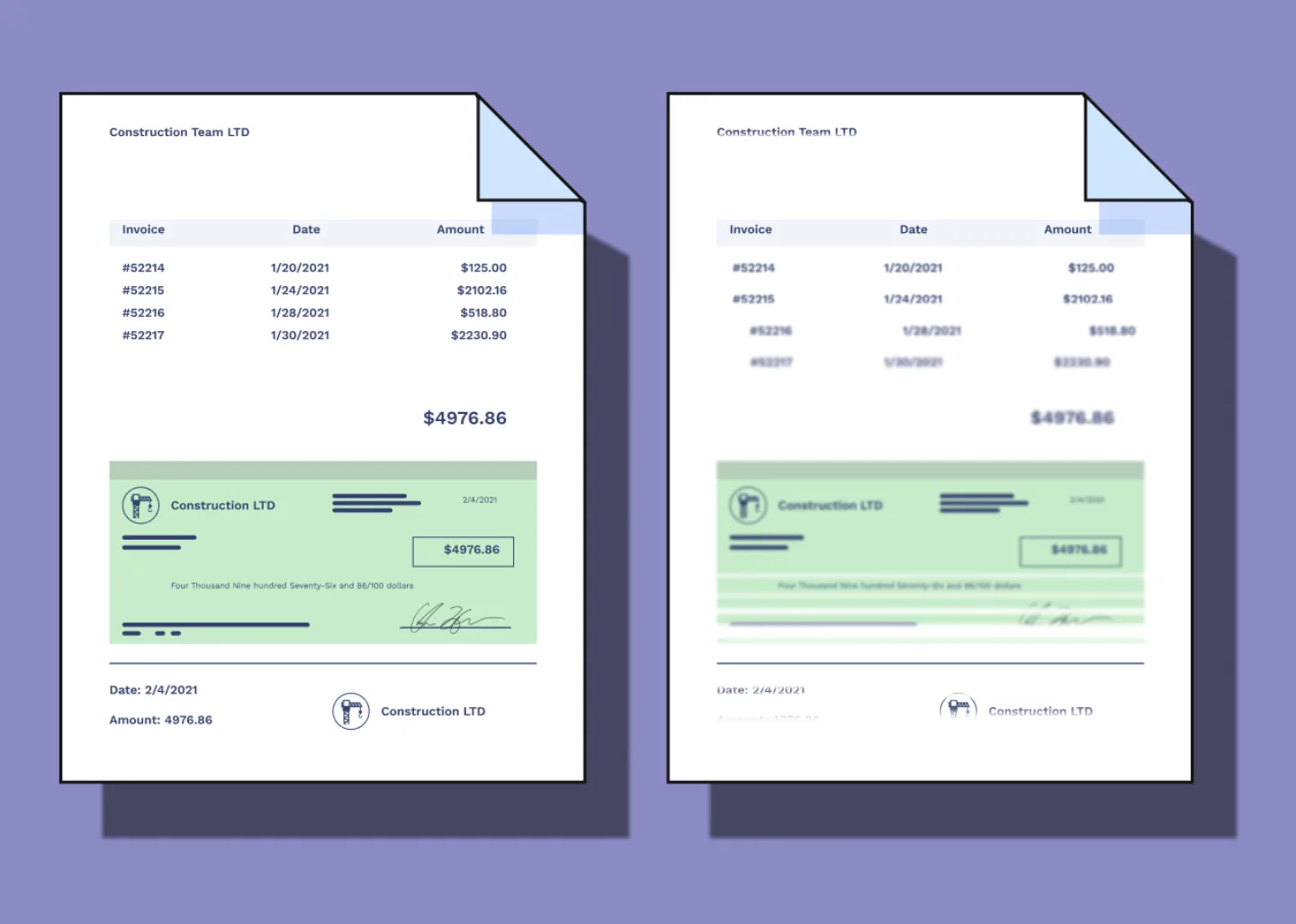 Here's where things get messy. Sellers might only be dealing with one payment method. But this entire experience—from invoice generation to payment matching—is far from perfect. Buyers routinely omit payment details when paying by check. This leads to extended collection periods, unapplied payments, and unpaid invoices. All this results in significant manual labor increases, compromised cash flows, and frustrated AR teams. Teams who could be spending their time performing more strategic initiatives.
Relying on checks and paper invoices is also costly for many other reasons. In a traditional cash application scenario, marrying payments with company billings and invoices takes immense human effort, which translates to unnecessarily high costs.
Let's recap. Traditional cash application processes are often accompanied by delays in payment. This leads to inflated DSO and delays in realizing revenue and closing books. These processes are time-consuming and distressing. And when cash is in limbo, it's difficult for businesses to meet operational expenses like salaries and overhead costs, reinvest in the business, and drive expansion plans.
—
🎥 Watch Versapay's cash application product demo to learn how we use machine learning to match any payment type with open receivables:
What impact is the rise of digital payments having on cash application processes?
The use of paper checks is on the decline. Yes, business-to-business (B2B) transactions still incorporate checks, but nowhere near as often as they did 20 years ago. In fact, commercial check usage has steadily abated, falling to an all-time low in 2021.

Taking their place, are digital payment methods. These include ACH, debit, credit, prepaid cards, virtual cards, EFTs, and wire transfers. Their rise has been driven by businesses' need for cost savings and improved efficiency. Improved cash management and reporting capabilities, lessened regulations surrounding electronic payments, and the explosion of ecommerce are also big contributors. B2B Buyers, too, are demanding more convenient, digital payment experiences—like what they're accustomed to as consumers.

The pandemic has further accelerated businesses' use of digital payments. Seventy six percent of businesses say that COVID-19 has pushed them towards digital payments. A further 82% state they're changing their processes for sending and receiving payments.
This is exciting from a cash management perspective due to the potential for faster payment times. Digital payments are also more convenient for buyers. Unfortunately, the digital payment phenomenon is making the cash application process more complex.
Before, cash application revolved around sending invoices, receiving checks, and making a 1:1 match (while handling exceptions when they occurred). Now, many of your customers have sophisticated AP systems you need to account for. Extracting remittances from those web portals comes with its own challenges. Many invoices are often paid in one fell swoop, but just as many will have short pays.
There are now more payments flows for AR teams to reconcile, and payments and remittances are being decoupled more often. In some cases—such as when invoices are paid using ACH—remittance data might not be provided at all, as it's up to the customer to provide the additional documentation. Having to link payments with remittances manually is time-consuming and labor-intensive. It's even harder when those remittances don't exist.
All these cash application challenges have compounded, causing a strain on AR departments across industries.
A power shift is occurring, and the influence sellers once held is waning. Buyers—especially the larger ones—are forcing sellers to abide by their processes and accept their payment methods. And cash application suffers the consequences.
How can finance teams perform cash application more accurately and efficiently?
Despite the challenges, the outlook for AR departments and cash application teams is far from grim. Digitization breaks down barriers to cash by introducing intelligence into the system before a human must become involved. Modern accounts receivable software can automate manual processes, but it can also go one big step further. It can transform AR processes so that they're completely streamlined, re-imagined and improved.
The advent of electronic payment methods may have made cash application more complex. But, it's also laid the foundation for it to become much, much easier.
There are AR and cash application automation solutions that encourage buyers to pay digitally, while addressing the growing cash application problem on suppliers' end. But not all AR automation software is made equal. Only a solution that understands the role both suppliers—the accounts receivable side—and buyers—the accounts payable side—play can solve this problem.

In our traditional, analog example, there's a lot of paper flying back and forth, but not a lot of information being processed. There's limited visibility into what your customer is doing. You don't know whether an invoice has been received, whether a check has been mailed, when a payment might be received, etc.

When you empower your customers to pay digitally, there's more opportunity for both parties to collaborate and ensure payments are matched with the correct accounts and open receivables.

The most sophisticated cash application automation solutions understand that the headaches associated with cash application all stem from the same place. Invoice generation. Rather than rely on paper-based invoicing procedures, these solutions deliver invoices digitally. This creates a more robust audit trail. It empowers AR teams to track how their customers are engaging with their invoices.
The second piece of the puzzle requires a cloud-based payment and invoicing portal. A place where customers can log in, and see what they owe, what invoices are outstanding, and what credits are available. This payment portal should store customers' preferred payment methods, too. This gives customers the opportunity to source invoices, group them together, and make payments. In this scenario, cash application is taken completely out of your team's hands. It's the customer who's dictating what payments are being applied to what invoices.
How can cash application automation software solve for pesky exceptions and offline payments?
Remember when we mentioned that check use is still prevalent among B2B transactions? Those types of payments—what we call offline payments—make for some pesky exception handling. (Offline payments are payments that do not occur within the bounds of an AR automation software. Like check payments made to lockboxes, or EDI payments, for example.)

An exception is when a payment doesn't match the corresponding invoice amount. This usually happens when a customer has opted not to pay in full. That might be because the order or payment is in dispute, or there's an agreed-upon promotion or discount that hasn't been recorded. Exceptions might also refer to unapplied payments. These are payments that don't match any invoices in your system and have yet to be applied. Exception handling refers to the activities your AR team performs when searching for the reasons behind these payment-invoice discrepancies. This also includes the process for recording them in your enterprise resource planning (ERP) system.
Checks and other offline payments are notorious for causing these exceptions. This is all because their accompanying remittance information rarely indicates what invoices they are for, or why dollar amount discrepancies exist. Let's not forget, there's also the effort required by AR specialists to scan and manually transfer payment and remittance information into their ERP.
But cash application automation software can still help businesses that accept checks and offline payments shore up efficiencies and perform better cash application. Even if a complete transition to digital payments methods is not in your immediate future.

Remittance data can be messy, and checks are among the worst (we've seen some of your handwriting). What the best AR automation software can do is take those check payments containing illegible characters, unstructured formats and missing information, and analyze, normalize, and import it into its system. It can automatically extract payment and remittance data from lockboxes and other sources—like emails and PDF attachments. Artificial intelligence-powered algorithms can then kick in and complete the cash application process. In some cases, you can expect over 90% match accuracy.
But what about those unapplied payments and the outstanding 10%? Well, human intervention might still be required. But, you can streamline that process too through AR automation software, with integrated tools, warnings, and workflows.

Cash application automation software can empower your AR department to collaborate with customers through a cloud-based portal. Your AR specialists can seek clarification in real-time. They can even have customers apply their own payments. Rather than dig through open receivables and make assumptions—which would then need customer verification—you can go direct to the source in real time to confirm and more accurately match payments with invoices.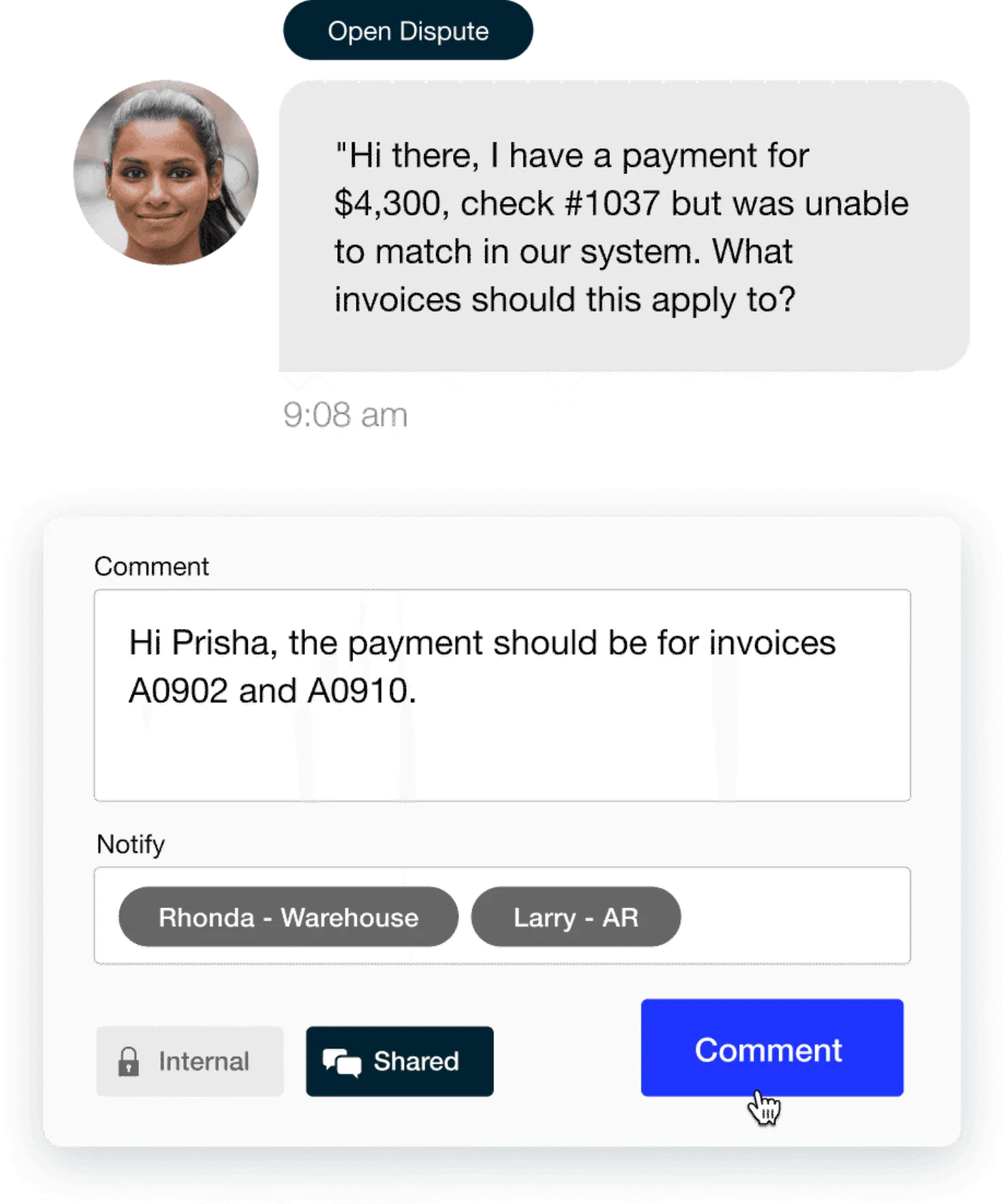 Transform your cash application process into a strategic advantage
The ability to quickly and accurately match payments with open receivables and customer accounts is paramount. When done well, cash application amounts to:
Better processing rates and lower fees,
Lower DSO or AR aging, and
More timely financial closings.
The benefits of automating your cash application are even more plentiful. You'll:
Reduce AR costs by up to 50%,
Unlock more cash,
Free up your AR team to perform higher value work, and
Deliver improved customer experiences.

Traditional cash application processes are mired in manual effort and inefficiencies. Digitization and electronic payment methods are exposing gaps in how businesses capture and reconcile payment data. But now with cash application automation software, there are opportunities aplenty for businesses to cut data entry errors, reduce time-spent manually applying cash, and speed up cash flow.

Download The Ultimate Guide to Cash Application to learn how advanced cash application automation can transform your AR department and make matching payments with open receivables simple.
About the author

Jordan Zenko
Jordan Zenko is the Senior Content Marketing Manager at Versapay. A self-proclaimed storyteller, he authors in-depth content that educates and inspires accounts receivable and finance professionals on ways to transform their businesses. Jordan's leap to fintech comes after 5 years in business intelligence and data analytics.
Cash Application
Learn about the practices and technologies that help you ensure every payment matches an open receivable.